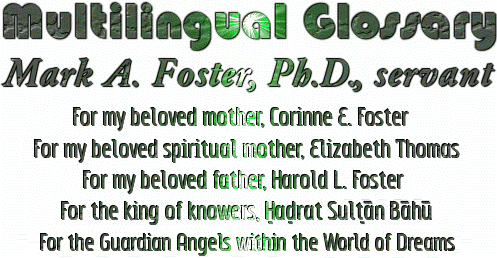 O Glory of the All-Glorious!
God bless you all. This extensive multilingual glossary is a personal project. I develop Dialectical metaRealism™ (an eclectic version of critical realism) and apply it, through Heartfulness Inquiry™, to sociology, including religious studies, along with many other subject areas. My selection criteria combine The Unicentric Paradigm™ with simple personal interest. If one or more of the original languages are not displaying properly, you do not have the relevant Unicode fonts installed on your computer. You can, as an alternative, download a reasonably current PDFed version of the copyrighted book for your personal use. However, it is not for further distribution or for reposting.
Arabic (ʾal-ʿArabiyyaẗ), the default language for any non-English words defined in this text, is transliterated according to my own system★. Pāli, a language which is now only studied by buddhologists, other scholars, and Buddhist scholar-practitioners, is conventionally transcribed with the Dēvanāgarī Sanskrit (Saṃskṛtam) script. Modern Hiṃdī (Hindi), Angikā, Nepālī, and, sometimes, Marāṭhī, Koṃkaṇī, Kashmiri (Kaśura), and ʾUrdū are also written in Dēvanāgarī. Sanskrit, Pāli, Hiṃdī, Angikā, Nepālī, Marāṭhī, Koṃkaṇī, and Kashmiri are Romanized using the International Alphabet of Sanskrit Transliteration (IAST).
Please also note that the glossary is an ongoing project. It is primarily intended for browsing. Any errors in scholarship are entirely my own, including with translations, transliterations, and Romanizations (rough transliterations). I am only fluent in English, but through hard study, and with the help of my personal library and online sources, I have been relearning Hebrew and working my way through the other languages, especially Arabic. Needless to say, praises go to God alone (ʾal-ḥamdʾullꞌah). For me, focusing on translation, transliteration, and Romanization has been a way to draw close, in my heart, to the individuals and ideas being discussed. Perhaps your own experiences have been similar. Learning any language comes through love.
Aamadu Bamba Mbàkke (Wolof language), 1853–1927, of Senegal (French, le Sénégal, or Wolof language, Senegaal) inspired the development of ʾal-Ṭarīqaẗ ʾal-Murīdiyyaẗ (see glossary entry). His Arabic name was ⫯Aḥmad ʾibn Muḥammad ʾibn Ḥabīb ʾAllꞌah (

أَحْمَد اِبْن مُحَمَّد اِبْن حَبِيب الله

), the highly praised one, son of Muḥammad, son of the Friend (or the Beloved) of God. He was also known by the title, H̱ādim ʾal-Rrasūl (

خَادِم الرَّسُول‎

), servant of the Messenger (Muḥammad). See also the glossary entry, ʾal-Rasūl.
ʾal-⫯Ab (الأَب‎) or ʾal-ʾÂb (الْآب‎) is the Father (Bahá'u'lláh). ʾal-ʾÂbāˁ (الآبَاء) is the plural form (collectively, "fathers" or "parents"). ʾal-⫯Abawāni (الأَبَوانِ‎), the dual form, is the parents. ⫯Abawānī (أَبَوانِي‎), the possessive or an appurtenance of ⫯abawān (أبوان‎), is my parents. ⫯Abū (ابُو) is a combining or constructing form ("father of"), as in ʾAbū ʾal-Naǧib Suḥrawardī (see glossary entry) and ⫰Ibrāhīm ʾibn Ṣamū⫯īl ⫯Abū ʾal-ʿAfiyaẗ (see the glossary entry, ʾẠḇərāhām bẹn Šəmūʾēl ʾAbūləʿạp̄əyāh).
ʾal-⫯Abaʿād ʾal-ḍāfiyyaẗ (

الأَبْعاد الضَافِيَّة

), dimensions additional (or dimensions exhaustive), is extradimensionality.

Compare with the glossary entry, ʾal-Taʿaddud ʾal-⫯abaʿād. See also the glossary entry, ʾal-Ẓẓawāhiru ʾal-⫯abaʿād ʾal-ḍāfiyyaẗ.

ʾal-⫯Abaʿād ʾal-ddāẖiliyyaẗ (

الأَبْعاد الدَّاخِلِيَّة

), dimensions interior, is inner-dimensionality (alternatively, endodimensionality, entodimensionality, or esodimensionality). This term refers to the World of Dreams (see the glossary entry, ʾal-ʿĀlam ʾal-Bāṭin) of Archangels (see the glossary entry, ʾal-Malā⫯ikaẗ ʿAllaỳ). ʾal-Kā⫯ināt ʾal-⫯abaʿād ʾal-ddāẖiliyyaẗ (

الْكَائِنَات الأَبْعاد الدَّاخِلِيَّة

), beings of the dimensions interior, are inner-dimensional beings. ʾal-Kā⫯in ʾal-⫯abaʿād ʾal-ddāẖiliyyaẗ (

الكائِن الأَبْعاد الدَّاخِلِيَّة

), being of the dimensions interior, is the singular form.
ʾal-ʾÂbāˁ ʾal-kanīsaẗ (

الْآبَاء الكَنِيسَة

), the fathers (or the parents) of the church, is patristics. Compare with the glossary entry, ʾal-Ddirāsaẗ ʾal-ḥayyāẗ wa-maḏhab ʾal-bābāwāt.
ʿAbara ʾal-šaẖṣiyyaẗ (

عَبَرَ الشَخْصِيّة

) is cross, trans, through, or over personality. It is an Arabic term for transpersonality or, as an adjective or appurtenance, transpersonal (i.e., beyond the personal). See also the glossary entry, Rāˁ ʾal-ʿilmu ʾal-nafs.
ʾal-ʿAbaṯiyyaẗ (العَبَثِيَّة), absurdism (French, absurdisme), is associated with various writers, including Albert Camus (

أَلْبِير كَامُو

, ⫯Albīr Kāmū), 1913-1960 A.D. Absurdism, which focuses on the dissonance (see the glossary entry, ʾal-Naẓariyyaẗ ʾal-tanāfur) arising between an individual's search for meaning and a meaningless universe, is, arguably, an offshoot from existentialism (see the glossary entries, ʾal-Mārksiyyaẗu ʾal-Wuǧūdiyaẗ and ʾal-Wuǧūdiyaẗ). Camus and self-styled existentialist philosopher Jean-Paul Sartre were estranged friends. ʾal-ʿAbaṯiyy (العَبَثِيّ), the possessive or an appurtenance, is the absurd (or the absurd one).
ʾĀḇ-hā-ʾẠynūʾ hā-Mạləʾāḵə (Hebrew, אָב־הָאַינֻא הָמַלְאָךְ), ⫯Ab-ʾal-⫯Aynū ʾal-Malāk (أَب ـ الأَيْنُو الْمَلَاك), Pidar-i ʾÂynū Farištah (Persian, پِدَرِ آیْنُو فَرِشْتَه), or Pūpa-i ʿAynū Farištah (ʾUrdū, پُوپَِ عَینُو فَرِشْتَہ) is Father of the Ainu the Angel, possibly among the Guardian Angels (see the glossary entries, ʾal-Ḥafaẓaẗ and ʾal-Malāk ʾal-Ḥāris) residing in the World of Dreams (see the glossary entry, ʾal-ʿĀlam ʾal-⫯Ahlām). My added Hebrew vowel-points are only approximations.
ʾẠbbāʾ (Hebrew, אַבָּא‎) is father. "And he [Jesus] said, Abba, Father, all things are possible unto thee; remove this cup from me: howbeit not what I will, but what thou wilt." (Jesus quoted in Mark 14:36. American Standard Version. 1901.)
ʾal-⫯Abbālātšiyā (الأَبَّالَاتْشِيَا) is Appalachia. See also the glossary entry, ʾal-Mūsīqaỳ ʾal-šaʿbiyyaẗ ʾal-⫯Abbalāš.
ʾal-ʿAbd (العَبْد‎), with ʾal-ʿabīd (العَبِيد‎) and ʾal-ʿubdān (العُبْدان‎) as plural forms, is "the servant" or "the slave."
ʾal-⫯Abdāl (الأَبْدَال‎), or ʾal-badīl (البَدِيل‎) in the singular form, are the substitutes. They are the mystic pool of Ṣūfiyy leaders, directly below the quṭb, from whom the next living quṭb is selected. See glossary entry, ʾal-Quṭb.
ʿAbd ʾul-Bahāˁ, ʿAbd ʾal-Bahāˁ, or, conventionally, ʽAbdu'l-Bahá (

عَبْد البَهَاء

), is Servant of the Light, Glory, or Splendor (1844-1921 A.D.). ʿẠbədūl-Bạhāʾ (Hebrew,

עַבְּדּוּל־בַּהָא

) is a Hebraized spelling (with my own approximated vowel-points). The full form of the Beloved's title and name is ʿAbd ʾul-Bahāˁ ʿAbbās, ʿAbd ʾal-Bahāˁ ʿAbbās, or, conventionally, ʽAbdu'l-Bahá 'Abbás (عَبْد البَهَاء عبَّاس). ʿAbdʾul-Bahā ʿAbbās (Persian,

عَبْداُلْبَهَا عبَّاس

, or ʾUrdū,

عَبْداُلْبَہَا عبَّاس

) is a transliteration of the Persianized and ʾUrdūized Arabic spellings. In His stylized signature, He commonly used the initials of His title and name, ʿ ʿ (ع ع), pronounced ʿAyn ʿAyn (عَيْن‎ عَيْن‎). I have included numerous photographs and portraits. See also the glossary entries, ʾal-ʿAyn and ʾal-Ġuṣn ʾal-⫯Aʿẓam.
ʿAbd ʾal-Karīm Quṭb ʾal-Ddīn ʾibn ⫰Ibrāhīm ʾal-Ǧīliyy (

عَبْد الكَرِيم قُطْب الدِّين اِبْن إِبرَاهِيم الجِيلِيّ‎

) lived 1365-1424. He is commonly referred to as ʾal-Ǧīliyy (الجِيلِيّ‎), "generational," and was associated with ʾal-ṭarīqaẗ (see glossary entry) of ʾal-Qādiriyyaẗ (see glossary entry). He may have been the individual who, in 1387 A.D., first brought that ṭarīqaẗ to India. ʾal-Ǧīliyy was also known as a writer of commentaries on the work of ʾIbn ʾal-ʿArabiyy (see the glossary entry, ʾal-Waḥidaẗ ʾal-wuǧūd). For instance, ʾal-Ǧīliyy was the author of the widely esteemed, ʾal-⫯Insānu ʾal-Kamīl (see glossary entry). See also the glossary entries, ʾẠḇərāhām and ʾal-Quṭb.
ʿAbd ʾal-Qādir ʾal-Ǧīlāniyy (

عَبْد القَادِر الجِيلانِيّ‎

) lived 1078-1166 A.D. He was ʾal-⫯imām (see glossary entry) of ʾal-Qādiriyyaẗ (see glossary entry). This blessed being was born in the city of ʾÂmul (Persian, آمُل) in ʾIyrān (Persian, اِیْرَان‎), and he died in the city of Baghdad (بَغْدَاد‎, Baġdād) in present-day ʿIrāq (العِرَاق‎, ʾal-ʿIrāq). He was a sayyid (see the glossary entry, ʾal-Sayyid). ʾal-Qādir (القَادِر‎) is the powerful

one

. ʾal-Ǧīlāniyy (الجِيلَانِيّ‎) is the mighty

one

. Therefore, his name translates as "servant (or slave) of the powerful and mighty

One

." He is also known, respectfully, as Pīr-i Pīrān (see glossary entry).
ʿAbdʾul-Raḥmān Bābā (Pashto,

عَبْداُلْرَحْمَان بَابَا‎

) lived 1653–1711 A.D. He was a Pashtun poet from modern-day Pākistāna. ʾal-Raḥmān (الرَحْمَن) or, slightly varying the original Arabic, ʾal-Rraḥmān (الرَّحْمَن), the name of a sūraẗ in ʾal-Qurʾân, is the All-Beneficent or the Merciful. See the glossary entries, Bābā, the Bhakti-Ṣūfiyy movement, Paṣ̌tū, ʾal-Qurʾân, and ʾal-Sūraẗ.
ʾĀbəʾạbiyniyliyy hā-Mạləʾāḵə (Hebrew,

אָבְּאַבִּינִילִיּ הָמַלְאָךְ

) or ⫯Abābīnīliyy ʾal-Malāk (أَبَابِينِيلِيّ الْمَلَاك), Great Spirit or Great Mystery (Chickasaw) the Angel, is Ababinili the Angel, possibly among the Guardian Angels (see the glossary entries, ʾal-Ḥafaẓaẗ and ʾal-Malāk ʾal-Ḥāris) residing in the World of Dreams (see the glossary entry, ʾal-ʿĀlam ʾal-⫯Ahlām). The Hebrew-language spelling, including the vowel-points, is my own.
ʾẠḇəʾālōqiyṭẹsəwəwəʾrāh (or ʾẠḇəʾālōqiyṭẹsəvəvəʾrāh) hā-Mạləʾāḵə (Hebrew, אַבְאָלוֹקִיטֶסְוְוְארָה הָמַלְאָךְ), ⫯Afālūkītsāfārā ʾal-Malāk (أَفَالُوكِيتْسَافَارَا الْمَلَاك), ʾÂvālūkītišivārā Farištah (Persian, آوَالُوکِیتِشِوَارَا فَرِشْتَه), ʾAvālūkitēšvara Farištah (ʾUrdū, اوَلُوکِتَیشوَرَ فَرِشْتَہ), or Avalōkitēśvara Fariśtā (Dēvanāgarī Hiṃdī/Sanskrit script, अवलोकितेश्वर फ़रिश्ता), the One Who looks down when

hearing

the sound

or cry of the needy

(Sanskrit) the Angel, is Avalokitesvara or Avalokiteshvara (Dēvanāgarī Sanskrit script, अवलोकितेश्वर, Avalōkitēśvara) the Angel. My added Hebrew vowel-points are only approximations. Avarōkitēshuvara (Japanese, アヴァローキテーシュヴァラ) is given as a Japanese spelling. Compare with the glossary entry, Qəwōʾən-Yin hā-Mạləʾāḵə.
ʿẠḇəddiyʾēl hā-Mạləʾāḵə (Hebrew,

עַבְדִּיאֵל הָמַלְאָךְ

), ʿAbdʾullꞌah ʾal-Malāk (

عبْداللہ الْمَلَاك

), and Ángelos Abdiḗl (Greek, Ἄγγελος Αβδιήλ) refer to Abdiel the Angel, Servant of God the Angel. He is the blessed Angel of faith. The twin cognates ʿābạd (Hebrew,

עָבַד

) and ʿabd (عَبْد) are servant or slave. Abdiel the Angel might be a Resident of the World of Dreams (see the glossary entry, ʾal-ʿĀlam ʾal-Bāṭin) and its Archangels (see the glossary entry, ʾal-Malā⫯ikaẗ ʿAllaỳ).
ʾĀbəhiymūqəhiyy hā-Mạləʾāḵə (Hebrew,

אָבְּהִימוּקְהִיּ הָמַלְאָךְ‎

), ⫯Abhīmūẖiyy ʾal-Malāk (أَبْهِيمُوخِيّ الْمَلَاك‎), ʾAbhī Mūẖī Farištah (Persian, اَبْهِی مُوکهِی فَرِشْتَه‎), ʾAbhimukhī Farištah (ʾUrdū, ابْھِمُکھِی فَرِشْتَہ‎), ʾAbhimukhī Farišatah (Šāh Mukhī Punǧ°ābī script, ابْھِمُکھِی فَرِشَتَہ‎), Abhimukhī Fariśtā (Dēvanāgarī Hiṃdī/Sanskrit script, अभिमुखी फ़रिश्ता), or Abhimukhī Fariśatā (Guramukhī Pajābī script, ਅਭਿਮੁਖੀ ਫ਼ਰਿਸ਼ਤਾ), Turned Towards or Facing (Sanskrit) the Angel, is Abhimukhi (Dēvanāgarī Sanskrit script, अभिमुखी, Abhimukhī) the Angel, possibly among the Guardian Angels (see the glossary entries, ʾal-Ḥafaẓaẗ and ʾal-Malāk ʾal-Ḥāris) residing in the World of Dreams (see the glossary entry, ʾal-ʿĀlam ʾal-⫯Ahlām). The Hebrew-language spelling, including the vowel-points, is my own.
ʾẠḇərāhām (Hebrew, אַבְרָהָם) or ⫰Ibrāhīm (إِبْرَاهِيم), commonly spelled "Abraham" in the English language, is, according to tradition, the Prophetic Patriarch of the Semitic peoples. His divine Name translates as Father of many or Father of a multitude. Reportedly, His designation, prior to beginning His Prophetic Mission, was ʾẠḇrām (Hebrew, אַבְרָם), high Father. My own approximate phonetic Arabization of ʾAḇrām is ⫰Ibrām (إِبْرَام). In both ⫰Islām and the Bahá'í Faith, ⫰Ibrāhīm (ʾẠḇərāhām) is also called ʾal-Waliyy ʾAllꞌah (

الوَلِيّ‌ الله‌

) or ʾal-H̱alīl ʾAllꞌah (

الخَلِيل‌ الله‌

), the Friend of God.
ʾẠḇərāhām bẹn Šəmūʾēl ʾAbūləʿạp̄əyāh (Hebrew,

אַבְרָהָם בֶּן שְׁמוּאֶל אַבּוּלְעַפְיָה

) or ⫰Ibrāhīm ʾibn Ṣamū⫯īl ⫯Abū ʾal-ʿĀfiyaẗ (

إِبْرَاهِيم اِبْن صَمُوئِيل أَبُو العَافِيَة

), circa 1240-1291 A.D., was the originator of a system of Jewish experiential mysticism (combining words, breathing, bodily movement, contemplation, and concentration) which he called hā-Qạbbālāh hā-Nəḇiyʾiym or, alternately transliterated, hā-Qạbbālāh hā-Nəviyʾiym (Hebrew,

הָקַבָּלָה הָנְבִיאִים

), the Kabbalah of the Prophets. It is also sometimes known, in the English language, as either Prophetic Kabbalah or Ecstatic Kabbalah. I have an extensive collection of materials related to ʾẠḇərāhām bẹn Šəmūʾēl ʾAbūləʿạp̄əyāh on my Judaism Resources page. See the glossary entries, hā-Qạbbālāh and ʾal-Nabiyy.
ʾĀbərāʾqāʾdāʾbərāʾ (Hebrew,

אָבְּרָאקָאדָּאבְּרָא

) or, as modified by Aleister Crowley (see the glossary entry, Thelema), ʾābərāʾhāʾdāʾbərāʾ (Hebrew,

אָבְּרָאהָּאדָּאבְּרָא

) is the Kabbalistic formula or invocation, abracadabra (or abrahadabra). My added Hebrew vowel-points are only approximations. ⫯Abrākādābrā (

أَبْرَاكَادَابْرَا

), ʾAbrākādābrā (Persian,

ابْرَاکَادَابْرَا

), and ʾabrāhādābrā (Arabic,

ابْرَاهَادَابْرَا

, and Persian,

ابْرَاهَادَابْرَا

) are Arabized and Persianized spellings. See also the glossary entry, hā-Qạbbālāh.
ʾal-⫯Abǧad (الأَبْجَد) is an acronym (أَبْجَد,   

⫯̸ ā b ǧ a̸ d

) formed by the first four letters (excluding short vowels) of various Semitic alphabets (in effect, "the order").

The term refers to Arabic, Hebrew, Aramaic, and some other Semitic languages which are based upon consonants. The short vowel-points are not always written out. They are either nonexistent or optional. (Contrast ʾal-⫯abǧad with the glossary entry, ʿƏbugida.)
In Modern Standard Arabic, an ⫯abǧad (أَبْجَد), with ⫯abǧadāt (

أَبْجَدَات

) as the plural form, is an alphabet. ⫯Abǧadī (أَبْجَدِي), "my

own

alphabet," and ⫯abǧadiyy (أَبْجَدِيّ), "alphabetical" or "alphabetic," are the possessives or appurtenances.
However, the more common usage of ⫯abǧad or, conventionally, abjad in the Bahá'í texts is to the traditional and symbolic associations between letters and numbers in Arabic and in Arabized scripts (compare with the glossary entry, ʾal-ʿIlmu ʾal-⫯aʿdād).

Compare with the glossary entry, ʾal-⫯Abǧadiyyaẗ.

ʾal-⫯Abǧadiyyaẗ (الأَبْجَدِيَّة), with ʾal-⫯Abǧadiyyāt (الأَبْجَدِيَّات) as the plural form, is the alphabet. Compare with the glossary entry, ʾal-⫯Abǧad.
ʾal-⫯Abǧadiyyaẗ ʾal-Duwaliyyaẗ min ⫯aǧl ʾal-Naqḥaraẗ ʾal-Sanskrītiyyaẗ (

الأَبْجَدِيَّة الدُوَلِيَّة مِنْ أَجْل النَقْحَرة السنْسْكْريتيّة

), the alphabet international of (or from) for the transliteration of Sanskrit, is my Arabic-language translation of the International Alphabet of Sanskrit Transliteration (IAST).
ʾal-⫯Abǧadiyyaẗ ʾal-Ṣawtiyyaẗ ʾal-Duwaliyyaẗ (

الأَبْجَدِيَّة الصَوْتِيّة الدُوَلِيَّة

), the alphabet phonetic international, is the International Phonetic Alphabet.
ʾal-⫯Abhā (الأَبْهَا) is the superlative form of Bahāˁ (see the glossary entry, Bahāˁ ʾUllꞌah), i.e., the Most Glorious (or the All-Glorious), the Most Splendrous, or the Most Luminous. These words are variations in the presentation of the Greatest Name (see the glossary entry, ʾal-ʾIsm ʾal-⫯Aʿẓam). See also the glossary entry, Yā Bahāˁ ʾal-⫯Abhā.
ʾal-⫯Abḥāṯ (

الأَبْحَاث

) is research, search, consideration, study, or seeking. See also the glossary entry, ʾal-Baḥaṯa.
ʿĀbīr lil-qārrāt (

عَابِر لِلقَارَّات

), traversing of the continents, is intercontinental. ʾal-Qārraẗ (القَارَّة) is the continent.
ʾĂḇiyhūʾēl hā-Mạləʾāḵə (Hebrew, אֲבִיהוּאֵל הָמַלְאָךְ), He

is

the Father ʾĔlōhiym (see glossary entry) the Angel, is Ebuhuel (or Abihuel) the Angel, possibly among the Guardian Angels (see the glossary entries, ʾal-Ḥafaẓaẗ and ʾal-Malāk ʾal-Ḥāris) residing in the World of Dreams (see the glossary entry, ʾal-ʿĀlam ʾal-⫯Ahlām). ʾĂḇiyhūʾ (Hebrew,

אֲבִיהוּא

) is "he

is

father." With four cognates, Hū-ʾal-ʾÂb-ʾAllꞌah ʾal-Malāk (

هُو ـ الْآب ـ الله الْمَلَاك

), He

is

-the Father-God the Angel, is my Arabic-language translation. Ángelos Ebouḗl (Greek, Ἄγγελος Εβουήλ) is a Greek (or Hellenized) spelling.
ʾal-⫯Ab ʾal-nafsāniyy (

الأَب النَفْسانِيّ

) is spiritual father (more precisely, ensouled father or mental father). My spiritual father (more precisely,

my

ensouled father or

my

mental father) is ⫯abī ʾal-nafsāniyy (

أَبِي النَفْسانِيّ

). Pidar-i maʿnawī (

پِدَرِ مَعنَوِی

) is Persian for "spiritual father" (literally, father spiritual). However, a more familiar or intimate Arabic and Persian term for father (also found in other languages) is bābā (see glossary entry). Rūḥānī bāpa (ʾUrdū,

روحانی باپ

) is spiritual father in ʾUrdū.
hā-ʿĂḇōḏāh hā-dōqəṭōrāṭ (Hebrew,

הָעֲבוֹדָה הָדּוֹקְטוֹרָט

), the dissertation (alternatively, thesis or paper) doctoral, is the doctoral dissertation (or the doctoral thesis).
ʾal-⫯Abrār (الأَبْرار) are the righteous

ones

. It is a title given to Ṣūfiyy (see the glossary entry, ʾal-Ṣūfiyy) leaders.
ʾAbrū (Persian and ʾUrdū, ابرو) is eyebrow. The Persian and ʾUrdū, ʾabrū, and the English-language, brow, are cognates. The similarity between the Persian and English-language words fascinated me in my early teens. At the time, I did not know that these near homophones (see the glossary entry, ʾal-Lafẓaẗ ʾal-mutaǧānisaẗ) were derived, etymologically, from the same Indo-European root, bhru (brow). The Sanskrit bhrū (Dēvanāgarī Sanskrit script, भ्रू) and the Bengali bhru (ভ্রু), for "brow" or "eyebrow," are also cognates.
ʾal-⫯Abū ʾal-Hawl (

الأَبُو الهَوْل

), the father of horror, is the Sphinx (a man-lion). However, the Sphinx can also be referred to as ʾal-⫰Insān ʾal-Bāraʿ (

الإِنْسَان البارع

,) "the man masterful" (i.e., the masterful man), or using the loanword, ʾal-Sfīnks (

السْفِينْكْس

). Compare with the glossary entry, Nārəsiyməhāh-ʾĀwəwāṭʾạr hā-Mạləʾāḵə.
ʾAbū ʾal-Naǧib Suḥrawardī (Persianized Arabic,

ابُو النَجِیب سُهْرَوَرْدِی

), a Sunniyy (see the glossary entry, ʾal-⫯Ahl ʾal-Ssunnaẗ w-ʾal-Ǧamāʾaẗ) Muslim (see the glossary entry, ʾal-Muslim) who lived 1097–1168 A.D., founded ʾal-Suḥrawardiyyaẗ (السُهروَردِيَّة) Ṣūfiyy (see the glossary entry, ʾal-Ṣūfiyy) order (see the glossary entry, ʾal-Ṭarīqaẗ). ʾal-Suḥrawardiyy (السُهروَردِيّ) is the possessive or an appurtenance. ʾal-Suḥrawardī (السُهْرَوَرْدِی) is a Persianized Arabic spelling. ʾAbū ʾal-Naǧib Suḥrawardī was unrelated to Šahāb ʾad-Dīn ʾas-Suḥrawardī (see glossary entry).
ʾẠbūn (in Hebrew script,

אַבּוּן

, or in Syriac script, ܐܒܘܢ), sometimes transliterated as either Abwûn or Abwoon, is "our Father" in Aramaic, referring to the beginning of the Lord's Prayer by His Blessed Presence Jesus. An Arabic transliteration (Arabization) would look something like "⫯Abūn" (أَبُون). Meditatively, the word can be imagined while breathing in and out (ʾab-ūn). The Koinḗ, or Common, Greek version is Páter ēmṓn (Πάτερ ημών), literally "Father

of

ours." See also the glossary entry, ʾal-⫯Ab.
ʾal-ʾÂb w-ʾal-ʾIbn w-ʾal-Rrūḥ ʾal-Qudus (

الْآب وَالْاِبْن وَالرُّوح الْقُدُس

), the Father and the Son and the Spirit Holy, are the Father, the Son, and the Holy Spirit. See also the glossary entry, Patéras ton gio hágio pneúma.
Ācārya (Dēvanāgarī Sanskrit script, आचार्य) is teacher or, more formally, preceptor. In order to designate instructional systems or specific preceptors, the word is frequently combined with other Sanskrit or Sanskritized terms, such as Ādi Śaṅkarācārya (see the glossary entry, Ādi Śaṅkarā), Śrī Nimbārkācārya (see the glossary entry, Dvaitādvaita), and Śankarācārya (see the glossary entry, Ṭrānseṃḍaiṃṭala Dhyāna).
ʾĂḇạddōn hā-Mạləʾāḵə (Hebrew, אֲבַדּוֹן הָמַלְאָךְ), Destruction the Angel, is Abaddon the Angel, possibly among the Guardian Angels (see the glossary entries, ʾal-Ḥafaẓaẗ and ʾal-Malāk ʾal-Ḥāris) residing in the World of Dreams (see the glossary entry, ʾal-ʿĀlam ʾal-⫯Ahlām). ʾĀḇạḏ (Hebrew,

אָבַד

) is to perish.

⫯Abāddūn ʾal-Malāk (أَبَادُّون الْمَلَاك‎), Abaddon the Angel, is an Arabic rendering. Ángelos Apollýōn (Koinḗ, or Common, Greek, Ἄγγελος Ἀπολλύων) is the Koinḗ, or Common, Greek (or Hellenized) spelling. ⫯Abūlliyūn (

أَبُولِّيُون

) is an Arabic spelling of Apollyon. This Angel, referred to in both the Old and New Testaments, supervises the punishment (i.e., the purification) of souls.
They [those without the seal of God on their foreheads] have over them as king the angel of the abyss: his name in Hebrew is Abaddon, and in the Greek tongue he hath the name Apollyon. (Revelation 9:4, American Standard Version. 1901.)

ʿĀḇạriyʾēl hā-Mạləʾāḵə (Hebrew, עָבַרִיאֵל הָמַלְאָךְ‎), Pass Over in ʾĔlōhiym (see glossary entry) the Angel, is Abariel (or Abriel) the Angel, possibly among the Guardian Angels (see the glossary entries, ʾal-Ḥafaẓaẗ and ʾal-Malāk ʾal-Ḥāris) residing in the World of Dreams (see the glossary entry, ʾal-ʿĀlam ʾal-⫯Ahlām). ʿĀḇạr (Hebrew,

עָבַר

) is to pass over. Tamurr fī ʾAllꞌah ʾal-Malāk (

تَمُرّ فِي الله الْمَلَاك‎

), Pass Over (or Pass Through) in God the Angel, is my Arabic-language translation. Ángelos Abariḗl (Greek, Ἄγγελος Αβαριήλ) is a Greek (or Hellenized) spelling.
ʾĀḇēl hā-Mạləʾāḵə (Hebrew, אָבֵל הָמַלְאָךְ‎), Meadow (or Mourning) the Angel, is Abel the Angel, possibly among the Guardian Angels (see the glossary entries, ʾal-Ḥafaẓaẗ and ʾal-Malāk ʾal-Ḥāris) residing in the World of Dreams (see the glossary entry, ʾal-ʿĀlam ʾal-⫯Ahlām). Marǧ ʾal-Malāk (مَرْج الْمَلَاك‎), Meadow the Angel, is an Arabic rendering. Abel, in this context, should not be confused with the Biblical individual named Abel (see the glossary entry, Qābīl wa-Hābīl).
ʾĂḇiyʾēl hā-Mạləʾāḵə (Hebrew, אֲבִיאֵל הָמַלְאָךְ), ʾĔlōhiym (see glossary entry) is My Father the Angel, is Abiel (or Aviel) the Angel, possibly among the Guardian Angels (see the glossary entries, ʾal-Ḥafaẓaẗ and ʾal-Malāk ʾal-Ḥāris) residing in the World of Dreams (see the glossary entry, ʾal-ʿĀlam ʾal-⫯Ahlām). hā-ʾĀḇ (Hebrew,

הָאָב‎

) is the father. ʾÂbī⫯īl ʾal-Malāk (

آبِيئِيل الْمَلَاك‎

), Abiel the Angel, is my Arabization. Ángelos Abiḗl (Greek, Ἄγγελος Αβιήλ) is a Greek (or Hellenized) spelling.
ʾĀḇiyḡạyil hā-Mạləʾāḵə (Hebrew, אֲבִיגַ֫יִל הָמַלְאָךְ), My Father is Joy (or Father's Joy) the Angel, is Abigail (or Abigayil) the Angel, possibly among the Guardian Angels (see the glossary entries, ʾal-Ḥafaẓaẗ and ʾal-Malāk ʾal-Ḥāris) residing in the World of Dreams (see the glossary entry, ʾal-ʿĀlam ʾal-⫯Ahlām). ⫯Abīǧāyil ʾal-Malāk (أَبِيجَايِل الْمَلَاك‎) is an Arabic version. Other renderings include: ʾAbīgayila Farištah (Persian, ابِیگَیِلَ فَرِشْتَه, and ʾUrdū, ابِیگَیِلَ فَرِشْتَہ), Abīgaila Fariśtā (Dēvanāgarī Hiṃdī/Sanskrit script, अबीगैल फ़रिश्ता), Abīgaila Phariśatā (Guramukhī Pajābī script, ਅਬੀਗੈਲ ਫਰਿਸ਼ਤਾ), Tenshi Abigeiru (Japanese, 天使 アビゲイル), and Ángelos Abigaía (Greek, Ἄγγελος Αβιγαία).
ʾÂbdast (Persian, آبْدَسْت‎), the Persian term for ablutions, is, literally, hand washing. ʾÂb (Persian, آب‎) is water. Dast (Persian, دَسْت‎) is hand. The Indo-European root, "ab" (river or water), is included in both "ʾabdast" and "ablutions." The Indo-European root, "leu" (-lutions), is "dirt." For the corresponding Arabic term, see the glossary entry, ʾal-Wuḍūˁ.
⫯Abǧāl ʾal-Malāk (أَبْجَال الْمَلَاك‎), Ferryman (Arabic) the Angel, is Abgal the Angel, possibly among the Guardian Angels (see the glossary entries, ʾal-Ḥafaẓaẗ and ʾal-Malāk ʾal-Ḥāris) residing in the World of Dreams (see the glossary entry, ʾal-ʿĀlam ʾal-⫯Ahlām). Rạp̄əsōḏạʾiy hā-Mạləʾāḵə (Hebrew, רַפְסוֹדַאִי הָמַלְאָךְ), Ferryman the Angel, is my Hebrew-language translation.
ʾal-⫯Abrāǧ ʾal-niẓāmiyyaẗ (

الأَبْرَاج النِظَامِيَّة

), constellations (or towers) systematic, is systemic constellations (a form of psychotherapy).
ʾal-⫯Adab (الأَدَب) is courtesy, good manners, or etiquette.
ʾĀḏạḇiyʾēl hā-Mạləʾāḵə (Hebrew, אָדַבִיאֵל הָמַלְאָךְ), Grieving in ʾĔlōhiym (see glossary entry) the Angel, is Adabiel the Angel, possibly among the Guardian Angels (see the glossary entries, ʾal-Ḥafaẓaẗ and ʾal-Malāk ʾal-Ḥāris) residing in the World of Dreams (see the glossary entry, ʾal-ʿĀlam ʾal-⫯Ahlām). ʾĀḏạḇ (Hebrew,

אָדַב‎

) is to grieve. Ḥazina fī ʾAllꞌah ʾal-Malāk (

حَزِنَ فِي الله الْمَلَاك‎

), grieving in God the Angel, is my Arabic-language translation.
ʾal-ʿAdālaẗ ʾal-ǧinā⫯iyyaẗ (

العَدَالَة الجِنَائِيَّة

), justice of the criminal (or justice penal), is criminal justice. ʾal-Ǧinā⫯iyyāt (

الجِنَائِيَّات

) are criminals.
ʾal-ʿAdālaẗ ʾal-ʾiqtiṣādiyyaẗ (

العَدَالَة الاقْتِصَادِيَّة

), justice economic, is economic justice. See also the glossary entries, ʾal-ʿAdl and ʾal-Tabaʿiyyaẗ ʾal-ʾiqtiṣādiyyaẗ ʾal-ʾaḥtiyāǧāt ʾal-maḥrūmīn.
ʾal-ʿAdālaẗ ʾal-ʾiǧtimāʿiyyaẗ (

العَدَالَة الاجْتِمَاعِيَّة

), justice social, is social justice. See also the glossary entry, ʾal-ʿAdl.
ʾal-ʿAdālaẗ ʾal-taṣāluḥiyyaẗ (

العَدَالَة التَصَالُحِيَة

), justice restorative (or justice conciliatory), is restorative justice. See also the glossary entry, ʾal-ʿAdl.
ʾal-ʿAdāˁ lil-muhāǧirīna (

العَدَاء لِلمُهَاجِرِينَ

), the aggression for (or to) the immigrants, is the bigoted, populist philosophy of nativism.
ʾĀḏām (אָדָם‎) is Hebrew for ruddy man, earthman, or earthling. His name in Arabic is ʾÂdam (آدَم). In contemporary Hebrew, hā-ʾĀḏām (הָאָדָם‎) is "man." See also the glossary entries, hā-ʾĀḏām Qạḏəmōn, hā-ʾIyš, and ʾal-Raǧǧala ʾal-⫯awwal.
ʾĀḏām-hā-Ḥādāš hā-Mạləʾāḵə (Hebrew, אָדָם־הָחָדָשׁ הָמַלְאָךְ) or ʾÂdam-ʾal-Ǧadīd ʾal-Malāk (آدَم ـ الجَدِيد الْمَلَاك), Man New the Angel, is New Man the Angel, possibly among the Guardian Angels (see the glossary entries, ʾal-Ḥafaẓaẗ and ʾal-Malāk ʾal-Ḥāris) residing in the World of Dreams (see the glossary entry, ʾal-ʿĀlam ʾal-⫯Ahlām). He came to me in a dream on the afternoon of October 31ˢᵗ, 2014.
ʿAdam ʾal-ʿilmu bi-ʾal-ššayˁ (

عَدَم الْعِلْم بِالشَّيْء

), non knowledge of the thing, is unenlightenment, unawareness, unfamiliarity, unacquaintance, or unlearnedness.
ʾal-ʿAdamiyyaẗ (العَدَمِيَّة), with ʾal-ʿadamiyy (العَدَمِيّ) as the possessive or an appurtenance ("nihilist" or "nihilistic"), is nihilism ("nothingism"). ʾal-ʿAdamiyyūna (العَدَمِيُّونَ) are nihilists. The term, nihilism (German, Nihilismus), was coined by Friedrich Heinrich Jacobi (

فْرِيدْرِيش هَاينْرِيش جَاكُوبِي

, Frīdrīš Hāynrīš Ǧākūbī), 1743–1819.
hā-ʾĀḏām Qạḏəmōn (Hebrew,

הָאָדָם קַדְמוֹן‎

) or Adam Kadmon, the man (or earthling) ancient (or primordial), is the Kabbalistic (see the glossary entry, hā-Qạbbālāh) concept of the original man (or the primal man). See also the glossary entries, ʾĀḏām, ʾĀḏām-Qạḏəmōn hā-Mạləʾāḵə, and ʾal-Raǧǧala ʾal-⫯awwal.
ʾĀḏām-Qạḏəmōn hā-Mạləʾāḵə (Hebrew, אָדָם־קַדְמוֹן הָמַלְאָךְ‎), Earthling (i.e., Adam) Primordial the Angel, is Adam Kadmon the Angel, possibly among the Guardian Angels (see the glossary entries, ʾal-Ḥafaẓaẗ and ʾal-Malāk ʾal-Ḥāris) residing in the World of Dreams (see the glossary entry, ʾal-ʿĀlam ʾal-⫯Ahlām). With three cognates, ʾÂdam Qadīm ʾal-Malāk (

آدَم ـ قَدِيم الْمَلَاك

), Earthling Primordial (alternatively, Old or Ancient) the Angel, is my Arabic-language translation. ʾÂdam-i Qadīmī Farištah (Persian,

آدَمِ قَدِیمِی فَرِشْتَه

), Earthling of Primordial (alternatively, Old or Ancient) Angel, is my Persian translation. See also the glossary entries, ʾĀḏām and hā-ʾĀḏām Qạḏəmōn.
ʾÂdam-Rūḥāniyy ʾal-Malāk (

آدَم ـ رُوحَانِيّ الْمَلَاك‎

), Earthling (i.e., Adam) Spiritual the Angel, is Adam Ruhani the Angel, possibly among the Guardian Angels (see the glossary entries, ʾal-Ḥafaẓaẗ and ʾal-Malāk ʾal-Ḥāris) residing in the World of Dreams (see the glossary entry, ʾal-ʿĀlam ʾal-⫯Ahlām). ʾĀḏām-Rūḥāniyy hā-Mạləʾāḵə (Hebrew,

אָדָם־רוּחָנִיּ הָמַלְאָךְ‎

) is my Hebrew-language translation. ʾÂdam-i Rūḥānī Farištah (Persian,

آدَمِ رُوحَانِی فَرِشْتَه‎

), Earthling of Spiritual Angel, is my Persian translation. See also the glossary entries, ʾĀḏām and ʾal-⫯Ismāʿīliyyaẗ.
ʿAdam taḥammala ʾal-lāktūz (

عَدَم تَحَمَّلَ اللَاكْتُوز‎

), non- (or in-) tolerance of lactose, is lactose intolerance. The remedy is lactase enzyme or, using the English-language loanwords, ʾal-⫰anzaym ʾal-lāktayz (

الإَنْزَيْم اللَاكتَيْز

).
⫯Aḏarbayǧān (أَذَرْبَيْجَان) is Azerbaijan.
ʾǍḏār hā-Mạləʾāḵə (Hebrew, אֲדָר הָמַלְאָךְ‎), Dark (Assyrian) the Angel, is Adar (or Addaru) the Angel, possibly among the Guardian Angels (see the glossary entries, ʾal-Ḥafaẓaẗ and ʾal-Malāk ʾal-Ḥāris) residing in the World of Dreams (see the glossary entry, ʾal-ʿĀlam ʾal-⫯Ahlām). ʾǍḏār (Hebrew,

אֲדָר

), the name of a Hebrew month, was originally the Ancient Chaldean God of Saturn. ⫯Adār ʾal-Malāk (أَدَار الْمَلَاك‎) is an Arabic version. ʾAdār Farištah (Persian, ادَار فَرِشْتَه, or ʾUrdū, ادَار فَرِشْتَہ) is the Persian and ʾUrdū style. Tenshi-Adaru (Japanese, 天使アダル) is a Japanese form. Ángelos Adár (Koinḗ, or Common, Greek, Ἄγγελος Αδάρ) is a Koinḗ, or Common, Greek (or Hellenized) spelling.
ʾal-ʿĀdaẗ (العَادَة) is the habit, the custom, or the practice. It can be used as an Arabic-language translation of the Swahili word, kawaida (tradition, reason, normal, or common).
ʾal-⫯Adāẗ ʾal-samʿiyyaẗ (

الأَدَاة السَمْعِيََّة

), assistance auditory, is hearing aid. ʾal-Muʿīnāt ʾal-samʿiyyaẗ (

المُعِينَات السَمْعِيََّة

), aids auditory, are hearing aids.
ʾal-⫯Adāt ʾal-⫰iliktrūniyy (

الْأَدَاة الْإِلِكْتُرُونِيّ

), gadget (alternatively, tool or instruments) electronic, is electronic gadget (alternatively, electronic tool or instrument). ʾal-⫯Adawāt ʾal-⫯iliktrūniyyaẗ (

الْأَدَوَات الْإِلِكْتُرُونِيَّة

), gadgets (alternatively, tools or instruments) electronic, are electronic gadgets (alternatively, electronic tools or instruments). See also the glossary entry, ʾal-⫯Iliktrūniyyaẗ.
ʾal-ʿĀdātu (العَادَاتُ), with ʾal-ʿādaẗ (العَادَة) in the singular form, are mores (French, les mœurs). See also the glossary entries, ʾal-Fiqh ʾal-ǧamāʿaẗ and ʾal-Ṭarīqaẗ ʾal-šaʿbiyyaẗ.
ʾal-ʿAdda (الالعَدَّ), with ʾal-⫯aʿdād (الْأَعْدَاد) in the plural form, is the number. I will provide a few illustrations of numbering systems (all given 0-9). First, these are the traditional Arabic digits:

٠ ١ ٢ ٣ ٤ ٥ ٦ ٧ ٨ ٩

. Here are the Dēvanāgarī numerals (Sanskrit, Hiṃdī, etc.):

० १ २ ३ ४ ५ ६ ७ ८ ९

. This is the Telugu and Kannaḍa system:

౦ ౧ ౨ ౩ ౪ ౫ ౬ ౭ ౮ ౯

. Here is the Bengali and Assamese convention:

০ ১ ২ ৩ ৪ ৫ ৬ ৭ ৮ ৯

. Finally, this is the Malayaḷaṃ version:

൦ ൧ ൨ ൩ ൪ ൫ ൬ ൭ ൮ ൯

. In all cases, the numbers are written from left to right. However, throughout most (not all) of both West Asia (see glossary entry) and South Asia (see glossary entry), the Western styling of numbering (0-9) is now commonly in use. See also the glossary entry, ʾal-⫯Anẓimaẗ min ʾal-tarqīm.
ʾal-ʿAddād ʾal-masāfāt (

العَدَّاد المَسَافَات

), the meter (or counter) of distances, is the odometer. ʾal-ʿAddādāt ʾal-masāfaẗ (

العَدَّادَات المَسَافَة

), the meters (or counters) of distance, are the odometers.
ʾẠdẹləp̄iyāh hā-Mạləʾāḵə (Hebrew, אַדֶּלְפִיָה הָמַלְאָךְ), ⫯Adīlfiyā ʾal-Malāk (أَدِيلْفِيَا الْمَلَاك), ʾÂdilfiyā Farištah (Persian, آدِلْفِیَا فَرِشْتَه), or Ángelos Adélphia (Ancient Greek, Ἄγγελος Ἀδέλφια), Brotherhood (Ancient Greek) the Angel, is Adelphia the Angel, possibly among the Guardian Angels (see the glossary entries, ʾal-Ḥafaẓaẗ and ʾal-Malāk ʾal-Ḥāris) residing in the World of Dreams (see the glossary entry, ʾal-ʿĀlam ʾal-⫯Ahlām). My added Hebrew vowel-points are only approximations.
ʾẠḏəmiyʾēl hā-Mạləʾāḵə (Hebrew, אַדְמִיאֵל הָמַלְאָךְ), Man (alternatively, Earthling or Person) of ʾĔlōhiym (see glossary entry) the Angel or (as a variation) ʾĔlōhiym's Earth the Angel, is Admiel (or Admael) the Angel. He might be a Resident of the World of Dreams (see the glossary entry, ʾal-ʿĀlam ʾal-Bāṭin) and its Guardian Angels (see the glossary entries, ʾal-Ḥafaẓaẗ and ʾal-Malāk ʾal-Ḥāris). ʾẠḏəmiyʾēl (Hebrew,

אַדְמִיאֵל

) is based upon the word, ʾĀḏām (see glossary entry). ʾÂdmī⫯īl ʾal-Malāk (

آدْمِيئِيل الْمَلَاك

) is my Arabization. Ángelos Admiēl (Greek, Ἄγγελος Ἀδμιηλ) is a Greek (or Hellenized) spelling. See also the glossary entry, ʾĀḏām.
ʿẠḏənạḥiyʾēl hā-Mạləʾāḵə (Hebrew, עַדְנַחִיאֵל הָמַלְאָךְ), Pleasure of ʾĔlōhiym (see glossary entry) the Angel, is Adnachiel (alternatively, Advachiel, Advahiel, Adernahael, or Aduachiel) the Angel, possibly among the Guardian Angels (see the glossary entries, ʾal-Ḥafaẓaẗ and ʾal-Malāk ʾal-Ḥāris) residing in the World of Dreams (see the glossary entry, ʾal-ʿĀlam ʾal-⫯Ahlām). hā-ʿẠḏənạḥ (Hebrew,

הָעַדְנַח

) is pleasure. Mutʿaẗ ʾal-⫰Ilhiyyaẗ ʾal-Malāk (

مُتْعَة الإِلهِيّيَة الْمَلَاك

), Divine Pleasure the Angel, is my Arabic-language translation. Ángelos Adnachiḗl (Greek, Ἄγγελος Αδναχιήλ) is a Greek (or Hellenized) spelling.
ʾẠḏərạmmẹlẹḵ hā-Mạləʾāḵə (Hebrew, אַדְרַמֶּ֫לֶך הָמַלְאָךְ), ⫯Adrammilik ʾal-Malāk (أَدْرَمِّلِك الْمَلَاك), or Ángelos Adramelech (Greek, Ἄγγελος Αδραμελεχ), Majestic King (Hebrew) the Angel, is Adramelech (alternatively, Adrammelech, Adramelek or Adar-malik) the Angel, possibly among the Guardian Angels (see the glossary entries, ʾal-Ḥafaẓaẗ and ʾal-Malāk ʾal-Ḥāris) residing in the World of Dreams (see the glossary entry, ʾal-ʿĀlam ʾal-Bāṭin).
ʿẠḏəriyʾēl hā-Mạləʾāḵə (Hebrew, עַדְרִיאֵל הָמַלְאָךְ), My Help is ʾĔlōhiym (see glossary entry) the Angel, is Adriel the Angel, possibly among the Guardian Angels (see the glossary entries, ʾal-Ḥafaẓaẗ and ʾal-Malāk ʾal-Ḥāris) residing in the World of Dreams (see the glossary entry, ʾal-ʿĀlam ʾal-⫯Ahlām). ʿĀdrī⫯īl ʾal-Malāk (

عَادْرِيئِيل الْمَلَاك

) is my Arabization. Ángelos Adriḗl (Greek, Ἄγγελος Ἀδριήλ) is a Greek (or Hellenized) spelling. Compare with the glossary entries, ʿẠzəriyʾēl hā-Mạləʾāḵə, ʾĒl-ʿẠḏərʾēl hā-Mạləʾāḵə, and Yạʿəzēyriyʾēl hā-Mạləʾāḵə.
Ādi Śaṅkaraḥ or

Adi Shankara

(Dēvanāgarī Sanskrit script, आदि शङ्करः), 788-820 A.D., is also known as Ādi Śaṅkaraḥcāri (Dēvanāgarī Sanskrit script, आदि शङ्करःचारि), Ādi Śaṅkarāḥcārya (Dēvanāgarī Sanskrit script, आदि शङ्करःचार्य), and Śaṅkaraḥ Bhagavatpādācārya (Dēvanāgarī Sanskrit script, शङ्करः भगवत्पादाचार्य). He promoted the nondual school of Advaita Vedānta (Dēvanāgarī Sanskrit script, अद्वैत वेदान्त). The objective was mokṣa (see glossary entry). Śaṅkaraḥ (Dēvanāgarī Sanskrit script, शङ्करः) is repeatedly referenced by the late Indian-English philosopher Roy Bhaskar. Śaṅkaraḥ (Dēvanāgarī Sanskrit script, शङ्करः) and śaṃkara (Dēvanāgarī Sanskrit script, शंकर) are bliss-maker. See also the glossary entries, Ācārya, Advaita, Šəʾạnəqār hā-Mạləʾāḵə, and Veda.
ʿǍḏiyʾēl hā-Mạləʾāḵə (Hebrew, עֲדִיאֵל הָמַלְאָךְ), Ornament of ʾĔlōhiym (see glossary entry) the Angel, is Adiel the Angel, possibly among the Guardian Angels (see the glossary entries, ʾal-Ḥafaẓaẗ and ʾal-Malāk ʾal-Ḥāris) residing in the World of Dreams (see the glossary entry, ʾal-ʿĀlam ʾal-⫯Ahlām). ʿAdī⫯īl ʾal-Malāk (عَدِيئِيل الْمَلَاك) is an Arabization. Ángelos Adiḗl (Biblical Koinḗ, or Common, Greek, Ἄγγελος Ἀδιήλ) is a Greek (or Hellenized) spelling.
ʾẠḏiyr hā-Mạləʾāḵə (Hebrew, אַדִיר הָמַלְאָךְ), Mighty (alternatively, Capable, Able, Great, or Powerful)

One

the Angel, is Adir (alternatively, Ariririon, Adiri, Adiririon, Adiriron, Adi, Adiron, or Adiri) the Angel, possibly among the Guardian Angels (see the glossary entries, ʾal-Ḥafaẓaẗ and ʾal-Malāk ʾal-Ḥāris) residing in the World of Dreams (see the glossary entry, ʾal-ʿĀlam ʾal-⫯Ahlām). Qadīr ʾal-Malāk (قَدِير الْمَلَاك) Mighty (alternatively, Capable, Able, Competent, or Potent)

One

the Angel, is my Arabic-language translation. Ángelos Adiron (Greek, Ἄγγελος Αδιρον) is a Greek (or Hellenized) spelling.
ʾẠdiyṭiyy hā-Mạləʾāḵə (Hebrew, אַדִּיטִיּ הָמַלְאָךְ), ⫯Adītiyy ʾal-Malāk (أَدِيتِيّ الْمَلَاك), ʾAdītī Farištah (ʾUrdū, ادِیتِی فَرِشْتَہ), Aditi Fariśtā (Dēvanāgarī Hiṃdī/Sanskrit script, अदिति फ़रिश्ता), or Ángelos Aditi (Greek, Ἄγγελος Αδιτι), Limitless (Sanskrit) the Angel, is Aditi the Angel, possibly among the Guardian Angels (see the glossary entries, ʾal-Ḥafaẓaẗ and ʾal-Malāk ʾal-Ḥāris) residing in the World of Dreams (see the glossary entry, ʾal-ʿĀlam ʾal-⫯Ahlām). Aditi (Dēvanāgarī Sanskrit script, अदिति) is limitless.
ʾẠdiyy-Būḏəhāʾ hā-Mạləʾāḵə (Hebrew, אַדִּיּ־בּוּדְהָא הָמַלְאָךְ), ʿĀdiyy-Būḏā ʾal-Malāk (عَادِيّ ـ بُوذَا الْمَلَاك), ʾÂdī Būdā Farištah (Persian, آدِی بُودَا فَرِشْتَه), ʿAdī Budhā Farištah (ʾUrdū, عَدِی بُدھَا فَرِشْتَہ), ʾÂdī Budhā Farišatah (Šāh Mukhī Punjabi, آدِی بُدھَ فَرِشَتَہ), Ādi Budha Fariśatā (Guramukhī Pajābī script, ਆਦਿ ਬੁੱਧ ਫ਼ਰਿਸ਼ਤਾ), Ādi Buddha Fariśtā (Dēvanāgarī Hiṃdī/Sanskrit script, आदि बुद्ध फ़रिश्ता), or Ángelos Ádi-Boúdas (Greek, Ἄγγελος Άδι-Βούδας), Source Buddha (Sanskrit) the Angel, is Adi Buddha (Dēvanāgarī Sanskrit script, आदि बुद्ध, Ādi Buddha) the Angel, possibly among the Guardian Angels (see the glossary entries, ʾal-Ḥafaẓaẗ and ʾal-Malāk ʾal-Ḥāris) residing in the World of Dreams (see the glossary entry, ʾal-ʿĀlam ʾal-⫯Ahlām). Some of my added Hebrew vowel-points are only approximations.

The Adi Buddha is honored by Buddhists from a variety of schools.
Budꞌdha Ityādi (Bengali, বুদ্ধ ইত্যাদি), Eien-no-Hotoke (Japanese, 永遠の仏) or Adi-Botoke (Japanese, アディ仏), Yǒng-Héng-De-Fú (Chinese, 永恒的佛), and Yŏngwŏnhan Puch'ŏnim (Korean, 영원한 부처님) are additional names for the Adi Buddha, the Eternal or Primordial Buddha (literally, the Source Buddha).
ʾal-Būḏā ʾal-ꞌAbadiyy (

البُوذَا الأَبَدِيّ

) and hā-Būḏəhāʾ hā-Niṣəḥiy (Hebrew,

הָבּוּדְהָא הָנִצְחִי

), the Buddha Eternal, are Arabic-language and Hebrew-language translations. Prōtarchikós Boúddas (Greek, Πρωταρχικός Βούδδας), primordial (or primary) Buddha, is a Greek version.

See also the glossary entries, Buddha and Buddha Dharma.

ʾal-ʿAdl (العَدْل) and ʾal-ʿadālaẗ (العَدَالَة) translate as "justice." ʾal-ʿAdālāt (

العَدَالَات

) are "justices." See also the glossary entry, ʾal-ʿAdālaẗ ʾal-taṣāluḥiyyaẗ.
ʾĂḏōnāy (Hebrew,

אֲדֹנָי

) and ʾĀdōn (Hebrew,

אָדוֹן

) are Hebrew for

Majestic

Lord. ⫯Adūnāy (

أَدُونَاي

) is an Arabized Hebrew form. See also the glossary entries, ʾĂdōnāyāh Yəhōwāh hā-Mạləʾāḵə, ʾĂḏōnāyʾēl hā-Mạləʾāḵə, and ʾĂḏōnāy hā-Mạləʾāḵə.
ʾĂḏōnāyāh-Yəhōwāh hā-Mạləʾāḵə (Hebrew, אֲדֹנָיָה־יְהֹוָה הָמַלְאָךְ), Lord YHWH Jehovah the Angel, is Adonayah Yahovih the Angel, possibly among the Guardian Angels (see the glossary entries, ʾal-Ḥafaẓaẗ and ʾal-Malāk ʾal-Ḥāris) residing in the World of Dreams (see the glossary entry, ʾal-ʿĀlam ʾal-Bāṭin). Rabb-YHWH-Yihuwah ʾal-Malāk (رَبّ ـ يْهْوْهْ ـ يِهُوَه الْمَلَاك), Lord YHWH Jehovah the Angel, is my Arabic-language translation. Compare with the glossary entries, ʾĂḏōnāyʾēl hā-Mạləʾāḵə and ʾĂḏōnāy hā-Mạləʾāḵə. See the glossary entries, ʾĂdōnāy and YHWH.
ʾĂdōnāyʾēl hā-Mạləʾāḵə (Hebrew, אֲדֹנָיאֵל הָמַלְאָךְ), Lord (see the glossary entry, YHWH) is ʾĔlōhiym (see glossary entry) the Angel, is Adonael (or Adoniel) the Angel, possibly among the Guardian Angels (see the glossary entries, ʾal-Ḥafaẓaẗ and ʾal-Malāk ʾal-Ḥāris) residing in the World of Dreams (see the glossary entry, ʾal-ʿĀlam ʾal-Bāṭin).

ʾĀḏōniyʾēl hā-Mạləʾāḵə (Hebrew, אָדוֹנִיאֵל הָמַלְאָךְ) is an alternate version. hā-ʾĀḏōn (Hebrew,

הָאָדוֹן

) is the Lord.
Rrabb ʾAllꞌah ʾal-Malāk (

رَّبّ الله الْمَلَاك

), Lord God the Angel, is my Arabic-language translation.
Ángelos Adonaḗl (Greek, Ἄγγελος Αδοναήλ) is a Greek (or Hellenized) spelling.

Compare with the glossary entries, ʾĂdōnāyāh Yəhōwāh hā-Mạləʾāḵə and ʾĂdōnāy hā-Mạləʾāḵə. See also the glossary entry, ʾĂdōnāy.

ʾĂḏōnāy-Ẹrẹṣ hā-Mạləʾāḵə (Hebrew, אֲדֹנָי־אֶרֶץ הָמַלְאָךְ), Lord of the Land (i.e., Israel) the Angel, is Adonai Aretz the Angel, possibly among the Guardian Angels (see the glossary entries, ʾal-Ḥafaẓaẗ and ʾal-Malāk ʾal-Ḥāris) residing in the World of Dreams (see the glossary entry, ʾal-ʿĀlam ʾal-⫯Ahlām). Rrabb-⫯Arḍ ʾal-Malāk (

رَّبّ ـ أَرْض الْمَلَاك

), Lord of the Land the Angel, is my Arabic-language rendering. Compare with the glossary entry, hā-Ẹrẹṣ hā-Mạləʾāḵə.
ʾĂḏōnāy hā-Mạləʾāḵə (Hebrew, אֲדֹנָי הָמַלְאָךְ), Lord the Angel, is Adonay (alternatively, Adonin or Adoneus) the Angel, possibly among the Guardian Angels (see the glossary entries, ʾal-Ḥafaẓaẗ and ʾal-Malāk ʾal-Ḥāris) residing in the World of Dreams (see the glossary entry, ʾal-ʿĀlam ʾal-⫯Ahlām). Rabb ʾal-Malāk (

رَبّ الْمَلَاك

), Lord the Angel, is my Arabic-language translation. Ángelos Adōnái (Greek, Ἄγγελος Αδωνάι) is a Greek (or Hellenized) spelling. Adonai-Tenshi (Japanese, アドナイ天使) is a Japanese rendering. Compare with the glossary entries, ʾĂdōnāyāh Yəhōwāh hā-Mạləʾāḵə and ʾĂḏōnāyʾēl hā-Mạləʾāḵə. See also the glossary entry, ʾĂdōnāy.
ʾĀḏōniys hā-Mạləʾāḵə (Hebrew, אָדוֹנִיס הָמַלְאָךְ), ⫯Adūnīs ʾal-Malāk (أَدُونِيس الْمَلَاك), and Ángelos Ádōnis (Ancient Greek, Ἄγγελος Ἄδωνις), Majestic Lord the Angel, refer to Adonis the Angel, possibly among the Guardian Angels (see the glossary entries, ʾal-Ḥafaẓaẗ and ʾal-Malāk ʾal-Ḥāris) residing in the World of Dreams (see the glossary entry, ʾal-ʿĀlam ʾal-⫯Ahlām). He is, according to John Randolph Price, the Angel of Discernment. Ádōnis (Ancient Greek, Ἄδωνις) was a borrowing from ʾĂḏōnāy (see glossary entry).
Advaita (Dēvanāgarī Sanskrit script, अद्वैत) is Sanskrit for nonduality. ʾal-⫯Adfāytā (

الأَدْفَايْتَا

) is an Arabized spelling. Compare advaita with the glossary entry, ʾal-Waḥidaẗ ʾal-wuǧūd. See also the glossary entries, Advaita Mata and Ḥaḍraẗ Manṣūr ʾal-Ḥallāǧ.
Advaita Mata (Dēvanāgarī Sanskrit script, अद्वैत मत) is Sanskrit for nonduality doctrine or path. One illustration is provided by the movement started by Prem Rāwat or Rāvat (Dēvanāgarī Hiṃdī/Sanskrit script, प्रेम रावत) a.k.a. Guru Mahārāji (Dēvanāgarī Hiṃdī/Sanskrit script, गुरु महाराजी), born in 1957. See also the glossary entry, Advaita.
ʾal-⫯Adwār ʾal-takmīliyyaẗ (

الأَدْوَار التَكْمِيلِيَّة

), the roles complementary (or supplementary) or, more fully, ʾal-⫯Adwār ʾal-takmīliyyaẗ ʾal-raǧila w-ʾal-mar⫯aẗ (

الأَدْوَار التَكْمِيلِيَّة اللرجل والمرأة

), the roles complementary (or supplementary) of the man and the women, refer to complementarianism. It is the Christian theological view that women and men have different, but complementary, social roles (see the glossary entry, ʾal-Dawr). In some branches of Christianity, complementarianism has been challenged by egalitarianism (see the glossary entry, ʾal-Misāwātiyyaẗ).
ʾal-⫯Adwiyyaẗ ʾal-ḏahāniyyaẗ (

الأَدْوِيَّة الذهانيَّة

), medications psychotic, are psychotropic (or antipsychotic) drugs. ʾal-Ddawāˁ ʾal-ḏahāniyy (

الدَّوَاء الذهانيّ

), medication psychotic, is the psychotropic (or antipsychotic) drug. See also the glossary entry, ʾal-Ṯūrāzīn.
ʾal-⫯Adwiyyaẗ ʾal-rrūḥiyyaẗ (

الأَدْوِيَّة الرُّوحِيَّة

), medication (or medicines) spiritual, are entheogens. ʾal-Dawaˁaẗ ʾal-rrūḥiyyaẗ (

الدَوَاءَة الرُّوحِيَّة

) and ʾal-Dawaˁ ʾal-rrūḥiyy (

الدَوَاء الرُّوحِيّ

), medicine spiritual, are my Arabic-language translations of the entheogen. The excitation of the heart (see the glossary entry, ʾal-Qalb), through prayer and meditation, is a better option for one's spiritual development than any form of chemical intoxication. Replacing hard work with drugs, in any context, is cheating.

The English-language term, entheogen, is a portmanteau of éntheos (Greek, ἔνθεος), "God filled," and, taken from "hallucinogen," genésthai (Greek, γενέσθαι), "generation" (in the sense of "production" or "accomplishment"). The term, entheogen, was intended to replace its hyponym (see the glossary entry, ʾal-Kalimaẗ ʾal-munḍawiyaẗ), "psychedelic" (see the glossary entry, ʾal-Muhalwisāt). The following are among the better-known substances:

See also the glossary entries, ʾal-⫯Afyūn, ʾal-ʿIlāǧ ʾal-muẖaddar, ʾal-ʿIlmu ʾal-lāhūt ʾal-ʿaṣabiyy, and ʾal-Rā⫯id ʾal-nafsiyy.

ʾal-⫯Adyān ʾal-dārmā (

الأَدْيَان الدَارْمَا

), religions (or judgments) of dharma, is my Arabic-language translation of the dharmic faiths. ʾal-Ddīn ʾal-dārmā (

الدِّين الدَارْمَا

), religion (or judgment) of dharma, is my Arabic-language translation of the the dharmic faith. See also the glossary entry, Dhārmika Āsthāoṃ.
ʾAfġānistān (Pashto, Persian, ʾUrdū, and Arabic,

افْغَانِسْتَان

) is Afghanistan. The Hiṃdī spelling is Afaġānistāna (Dēvanāgarī Hiṃdī/Sanskrit script, अफ़ग़ानिस्तान). The Guramukhī Punjabi spelling is Aphagānisatāna (ਅਫਗਾਨਿਸਤਾਨ). The Telugu spelling is Āphganistān (ఆఫ్గనిస్తాన్). The Tamiḻ spelling is Āpkāṉistāṉ (ஆப்கானிஸ்தான்). The Bengali spelling is Āphagānistāna (আফগানিস্তান). The Malayaḷaṃ spelling is Āphagānistāna (ആഫഗാനിസ്താന). The Gujarātī spelling is Aphaghānistāna (અફઘાનિસ્તાન). The Ōṛi⫯ā spelling is Āphagānistāna (ଆଫଗାନିସ୍ତାନ). See also the glossary entries, Fārsī and Paṣ̌tū.
ʾal-ʿĀfiyaẗ (العَافِيَة‎) is health, good health, vigor, or wellbeing.
ʾal-⫯Afkār ʾal-mutakarriraẗ (

الأَفْكَار المُتَكَرِّرَة

), thoughts recurrent (recurrent thoughts), is, in figurative English, the echo chamber (or echo chambers). It refers to the circular process of interacting mostly with like-minded people. The result is constant reinforcement and little challenge. Many sectarian (exclusivistic) and triumphalistic religions (see the glossary entry, ʾal-Tafawwuq) tend to operate as echo chambers.
ʾal-⫯Afnān or al-Afnán (الأَفْنَان‎), with ʾal-fanan (الفَنَن) as the singular form, are the twigs (alternatively, the branches). ʾAfnān (افْنَان‎) is a Persianized Arabic spelling. For Bahá'ís, this word refers to the descendents of the Báb (see the glossary entry, ʾal-Bāb).
ʾal-ʿAfwiyyaẗ ʾal-ṯawriyyaẗ (

العَفْوِيَّة الثَوْرِيَّة

), spontaneity revolutionary, is revolutionary spontaneity or "spontaneism."
ʾal-⫯Afraqaẗ (الأَفْرَقَة) is Africanization.
ʾal-⫯Afyūn (الأَفْيُون) is opium. ʾal-⫯Anbūb ʾal-⫯afyūn (

الأنْبُوب الأَفْيُون

), the pipe of opium, is the opium pipe. ʾal-⫯Anābīb ʾal-⫯afyūn (

الأَنَابِيب الأَفْيُون

), the pipes of opium, are the opium pipes. See also the glossary entry, ʾal-⫯Adwiyyaẗ ʾal-rrūḥiyyaẗ.
ʾal-ʿAǧalaẗ Fīrīs (

العَجَلَة فِيرِيس

), the wheel Ferris, is the Ferris wheel. ʾal-ʿAǧalāt Fīrīs (

العَجَلَات فِيرِيس

), the wheels Ferris, are the Ferris wheels. Another term for a Ferris wheel (also a windmill and a pinwheel) is ʾal-dūlāb al-hawāˁ (

الدُولاب الهَوَاء

), the wheel (alternatively, the cupboards or the cabinets) of the air (or the atmosphere). ʾal-Dawālīb ʾal-hawāˁ (

الدَوَالِيب الهَوَاء

), the wheels (alternatively, the cupboard of the cabinet) of the air (or the atmosphere), is the plural form. The Ferris wheel was invented by George Washington Gale Ferris, Jr. (

جُوْرْج وَاشِنْطُن غَيْل فِيرِيس، الاِبْن

, Ǧūrǧ Wāšinṭun Ġayl Fīrīs, ʾal-ʾibn), 1859-1896.
ʾĂḡạp̄ hā-Mạləʾāḵə (Hebrew, אֲגַף הָמַלְאָךְ), Wing the Angel, is Agaf the Angel, possibly among the Guardian Angels (see the glossary entries, ʾal-Ḥafaẓaẗ and ʾal-Malāk ʾal-Ḥāris) residing in the World of Dreams (see the glossary entry, ʾal-ʿĀlam ʾal-⫯Ahlām). hā-ʾĂḡạp̄ (Hebrew,

הָאֲגַף

) is, in the Talmud (see the glossary entry, hā-Talmūd), the wing of a bird. Ǧanāḥ ʾal-Malāk (

جَنَاح الْمَلَاك

), Wing the Angel, is my Arabic-language translation.
Agathángelos (Ancient Greek, Αγαθάγγελος) or Agatʻangeġos (Armenian, Ագաթանգեղոս) is "Good Angel."
ʾẠGəLə″ʾǍ hā-Mạləʾāḵə (Hebrew, אַגְּלְ״אֲ הָמַלְאָךְ) is AGLA the Angel. ʾẠGəLə″ʾǍ (Hebrew,

אַגְּלְ״אֲ

) is my own rendition of the Hebrew acronym for ʾẠtāh Gibōr Lə-ʿōlām ʾǍḏōnāy (Hebrew

אַתָּה גִּבּוֹר לְעוֹלָם אֲדֹנָי

), Thou

art

Mighty Forever

O

Lord (given in order). ʾAĠLĀ ʾal-Malāk (

اغْلَا الْمَلَاك

), AGLA the Angel, is my Arabization. ⫯Anta Ǧabbār fī ʾal-ʿĀlam bi-lā Nihāyaẗ, Yā Rabb, ʾal-Malāk (

أَنْتَ جَبَّار فِي العَالَم بِلَا نِهَايَة، يَا رَبّ، الْمَلَاك

), "Thou

art

Almighty in the World without End, O Lord, the Angel," is my Arabic-language translation. Ángelos ÁGLA (Άγγελος ΆΓΛΑ) is a Greek (or Hellenized) spelling.
ʾẠgāsəṭəyāh hā-Mạləʾāḵə (Hebrew, אַגָּסְטְיָה הָמַלְאָךְ), ⫯Aġāstyā ʾal-Malāk (أَغَاستيَا الْمَلَاك), or ʾAgāstyā Farištah (Persian, اگَاسْتْیَا فَرِشْتَه), Mountain Thrower (Tamiḻ and Sanskrit) the Angel, is Agastya, Agastyar, or Agastiar (Tamiḻ, அகத்தியர், Akattiyar; or Dēvanāgarī Sanskrit script, अगस्त्य, Agastya) the Angel, possibly among the Guardian Angels (see the glossary entries, ʾal-Ḥafaẓaẗ and ʾal-Malāk ʾal-Ḥāris) residing in the World of Dreams (see the glossary entry, ʾal-ʿĀlam ʾal-⫯Ahlām). My added Hebrew vowel-points are only approximations.
ʾẠḡəʾạyāh hā-Mạləʾāḵə (Hebrew, אַגְאַיָה הָמַלְאָךְ‎), ʾAǧāyā ʾal-Malāk (اجَايَا الْمَلَاك‎), ʾAǧayā Farištah (Persian, اجَیَا فَرِشْتَه‎, or ʾUrdū, اجَیَا فَرِشْتَہ‎), ʾAǧā Farišatah (Šāh Mukhī Punjabi, اجَا فَرِشَتَہ), Ajayā Fariśtā (Dēvanāgarī Hiṃdī/Sanskrit script, अजया फ़रिश्ता), or Aja⫯ā Fariśatā (Guramukhī Pajābī script, ਅਜਆ ਫ਼ਰਿਸ਼ਤਾ), Invincible (Sanskrit) the Angel, is Ajaya (Dēvanāgarī Sanskrit script, अजया, Ajayā) the Angel, possibly among the Guardian Angels (see the glossary entries, ʾal-Ḥafaẓaẗ and ʾal-Malāk ʾal-Ḥāris) residing in the World of Dreams (see the glossary entry, ʾal-ʿĀlam ʾal-⫯Ahlām). My added Hebrew vowel-points are only approximations.
ʾĀgəniyy hā-Mạləʾāḵə (Hebrew, אָגְּנִיּ הָמַלְאָךְ‎), ⫯Aǧniyy ʾal-Malāk (أَجْنِيّ الْمَلَاك‎), ʾÂgnī Farištah (Persian, آگْنِی فَرِشْتَه‎), ʾAgnī Farištah (ʾUrdū, اگنِی فَرِشْتَہ‎), Agni Fariśtā (Dēvanāgarī Hiṃdī/Sanskrit script, अग्नि फ़रिश्ता), or Aguni-Tenshi (Japanese, アグニ天使), Fire (Sanskrit) the Angel, is Agni (Dēvanāgarī Sanskrit script, अग्नि, Agni) the Angel, possibly among the Guardian Angels (see the glossary entries, ʾal-Ḥafaẓaẗ and ʾal-Malāk ʾal-Ḥāris) residing in the World of Dreams (see the glossary entry, ʾal-ʿĀlam ʾal-⫯Ahlām). My added Hebrew vowel-points are only approximations.
ʾĀḡiyʾēl hā-Mạləʾāḵə (Hebrew, אָגִיאֵל הָמַלְאָךְ), an Angel allegedly associated with Saturn, is Agiel (unknown translation) the Angel, possibly among the Guardian Angels (see the glossary entries, ʾal-Ḥafaẓaẗ and ʾal-Malāk ʾal-Ḥāris) residing in the World of Dreams (see the glossary entry, ʾal-ʿĀlam ʾal-⫯Ahlām). ʾAġī⫯īl ʾal-Malāk (

اغِيئِيل الْمَلَاك

) is my Arabization. Ángelos Agiēl (Άγγελος Ἀγιηλ) is a Greek (or Hellenized) spelling.
ʾal-⫯Aǧniḥaẗ ʾal-⫯Almāniyyaẗ (

الأَجْنِحَة الأَلْمَانِيَّة

), the wings German, is Germanwings (the airline).
ʾal-⫯Aǧniḥaẗ ʾal-Yūrū (

الأَجْنِحَة اليُورُو

), the wings Euro, is Eurowings (the airline).
ʾal-⫯Aǧsām ʾal-maġmūraẗ ʾal-maǧhūlīna (

الْأَجْسَام المَغْمُورة المَجْهُولِينَ

), objects submerged unidentified, are unidentified submerged objects (USOs).
ʾal-⫯Aġṣān or al-A

gh

ṣán (الأَغْصَان), with ʾal-ġuṣn or al-

gh

uṣn (الغُصْن) as the singular form, are the branches. ʾAġṣān (اغْصَان) is a Persianized Arabic spelling. For Bahá'ís, this word refers to the descendents of Bahá'u'lláh (see the glossary entry, Bahāˁ ʾUllꞌah). See also the glossary entry, ʾal-Ġuṣn ʾal-⫯Aʿẓam.
ʾal-⫯Agtiyāl (الإغْتِيَال) is killing, murder, homicide, or assassination. See also the glossary entries, ʾal-⫯Agtiyāl ʾal-siyāsiyy and ʾal-Qatl.
ʾal-⫯Agtiyāl ʾal-siyāsiyy (

الإغْتِيَال السِيَاسِيّ

) is killing political, is (specifically) assassination. See also the glossary entries, ʾal-⫯Agtiyāl, ʾal-Qatl, and ʾal-Ra⫯īs Yaḥyaỳ Fītzǧīrāld Kīnādiyy.
ʾal-⫯Aẖ (الأَخ), with ʾal-⫯aẖwaẗi (الإَخْوَةِ) as the plural form ("brothers" or "brethren"), is the brother. The obvious Hebrew cognate hā-ʾāḥ (Hebrew,

הָאָח

), with hā-ʾāḥiym (Hebrew,

הָאָחִים

) in the plural form, is also the brother. See also the glossary entry, ʾĀḥiyʾēl hā-Mạləʾāḵə.
ʾĀhạḇiyʾēl hā-Mạləʾāḵə (Hebrew, אָהַבִיאֵל הָמַלְאָךְ), Love of ʾĔlōhiym (see glossary entry) the Angel, is Ahaviel (or Ahabiel) the Angel, possibly among the Guardian Angels (see the glossary entries, ʾal-Ḥafaẓaẗ and ʾal-Malāk ʾal-Ḥāris) residing in the World of Dreams (see the glossary entry, ʾal-ʿĀlam ʾal-⫯Ahlām). hā-ʾĀhạḇ (Hebrew,

הָאָהַב

) is love. ʾAhāfī⫯īl ʾal-Malāk (

اهَافِيئِيل الْمَلَاك

) is my Arabization. Ḥubb ʾal-⫯Ilhiyy ʾal-Malāk (

حُبّ الإِلهِيّ الْمَلَاك

), Divine Love the Angel, is my Arabic-language translation.
ʾẠẖạṯ (Hebrew,

אַחַת

) and ⫯aḥad (

أَحَد

) translate as "one."
⫯Aḥad ⫯atbaʿ Mānī ʾal-Fārisiyy (

أَحَد أَتْبَاع مَانِي الْفَارِسِيّ

), someone who follows Mani the Persian, is a Manichæan.
ʾal-⫯Aḥaddayhi ʾal-Šaḏḏaẗ (

الأَحَدَّيْهِ الشَاذَّة

), monism anomalous, is anomalous monism.
ʾal-ʾÂẖar (الآخَر) or, alternatively, ʾal-ʾâẖir (الآخِر) is the noun and the adjective for (the) other or (the) different. ʾal-ʾÂẖarūn (الآخرون) are the others. ʾal-⫯Uẖraỳ (الْأُخْرَى), "the Other" (German, die Andere), is an important concept in continental philosophy (see the glossary entry, ʾal-Falsafaẗ ʾal-qāriyaẗ), sociology (see the glossary entry, ʾal-ʿIlmu ʾal-⫯iǧtimāʿa), and other disciplines.

See also the glossary entry, ʾal-⫯Uẖraỳ ʾal-Muqaddasaẗ.

ʾal-ʾÂẖar ʾal-muʿammam (

الآخَر المُعَمَّم

), the other generalized, is the generalized other, an important concept in symbolic interactionism (see the glossary entry, ʾal-Tafāʿuliyyaẗ ʾal-ramziyyaẗ). The generalized other is, as I explain it, a mental construct of "mes" (see the glossary entries, ʾal-⫯Anā wa-li-ya and ʾal-Dawr). Compare with the glossary entry, ʾal-Naẓariyyaẗ yabḥaṯu ʾal-zuǧǧāǧ ʾal-nafs.
ʾal-ʿĀhaẗ (العاهَة), with ʾal-ʿāhāt (العاهَات) as the plural form, can be translated as disability. The concept should be distinguished from impairment (see the glossary entry, ʾal-ʾIʿtilāl). For an explanation, see the glossary entry, ʾal-Namūḏaǧ ʾal-⫯iʿāqaẗ ʾal-ʾiǧtimāʿiyyaẗ. See also the glossary entry, ʾal-⫯Iʿāqaẗ.
ʾal-⫯Aḥbār ʾal-Zzaman (

الأَحْبَار الزَّمَن

) is the Inkwells of Time (literally, the Inks of Time). This thirty-volume work was written by ⫯Abū ʾal-Ḥasan ʿAliyy ʾibn ʾal-Ḥusayn ʾibn ʿAliyy ʾal-Masʿūdiyy (

أَبُو الحَسَن عَلِيّ اِبْن الحُسَيْن اِبْن عَلِيّ المَسْعُوديّ

), commonly known as ʾal-Masʿūdiyy (المَسْعُوديّ). He lived 896-956 A.D. ʾal-Ḥibr (الحِبْر) is "ink."
ʾal-ʿAhd (العَهْد), with ʾal-ʿahūd (

العَهُود

) as the plural form, is the Covenant. See also the glossary entry, ʾal-ʿAhd ⫯Alašt.
ʾal-ʿAhd ⫯Alašt (

العَهْد أَلَسْت

) is the Covenant of "am

I

not

your Lord?

"

It is the Ancient or Eternal Covenant of God.
"O MY FRIENDS! Have ye forgotten that true and radiant morn, when in those hallowed and blessed surroundings ye were all gathered in My presence beneath the shade of the tree of life, which is planted in the all-glorious paradise? Awe-struck ye listened as I gave utterance to these three most holy words: O friends! Prefer not your will to Mine, never desire that which I have not desired for you, and approach Me not with lifeless hearts, defiled with worldly desires and cravings. Would ye but sanctify your souls, ye would at this present hour recall that place and those surroundings, and the truth of My utterance should be made evident unto all of you." (Bahá'u'lláh, The Hidden Words. Persian number 19. Pages 27-28.)

See also the glossary entry, ʾal-ʿAhd.

ʾal-ʿAhd ʾal-Ǧadīd (

العَهْد الجَدِيد

), the testament (or covenant) new, is the New Testament. See also the glossary entry, ʾal-ʿAhd ʾal-Qadīm.
ʾal-ʿAhd ʾal-Qadīm (

العَهْد الْقَدِيم

), the testament (or covenant) old, is the Old Testament. See also the glossary entry, ʾal-ʿAhd ʾal-Ǧadīd.
ʾẠḥəlāmāh hā-Mạləʾāḵə (Hebrew, אַחְלָמָה הָמַלְאָךְ), Ǧamašt ʾal-Malāk (جَمَشْت الْمَلَاك‎), Yāqūt-i ʾAraġavānī Farištah (یَاقُوتِ ارَغَوَانِی فَرِشْتَه‎), or Nīlum Yāqūt Farištah (ʾUrdū, نِیلُم یَاقُوت فَرِشْتَہ‎) is Amethyst the Angel, possibly among the Guardian Angels (see the glossary entries, ʾal-Ḥafaẓaẗ and ʾal-Malāk ʾal-Ḥāris) residing in the World of Dreams (see the glossary entry, ʾal-ʿĀlam ʾal-Bāṭin).
ʾal-ʾÂẖiraẗ (الآخِرَة), the other

world

, is the hereafter or the next world. Compare with the glossary entry, ʾal-Dunyā. See also the glossary entry, ʾal-⫯Uẖraỳ ʾal-Muqaddasaẗ.
ʾal-ʾÂẖir ʾal-Mārksiyyaẗu (

الآخِر المارْكِسِيَّةُ

), "the latest Marxism," or, alternately, mā baʿdi ʾal-Mārksiyyaẗu (

مَا بَعْدِ المارْكِسِيَّةُ

), "what

is

after Marxism," is post-Marxism. See also the glossary entries, ʾal-Mārksiyyaẗu and ʾal-Mārksiyyaẗu ʾal-ǧadīdaẗ.
ʾal-⫯Aẖiṣṣā⫯iyy (الأَخِصَّائِيّ), with ʾal-⫯aẖiṣṣā⫯iyyūna (الأَخِصّائِيُّونَ) as the plural form, is the specialist, the expert, or the technician. Compare with the glossary entry, ʾal-⫯Iẖtiṣāṣiyy.
ʾĀḥiyʾēl hā-Mạləʾāḵə (Hebrew, אָחִיאֵל‎ הָמַלְאָךְ), Brother in ʾĔlōhiym (see glossary entry) the Angel, is Ahiel (or Achiel) the Angel, possibly among the Guardian Angels (see the glossary entries, ʾal-Ḥafaẓaẗ and ʾal-Malāk ʾal-Ḥāris) residing in the World of Dreams (see the glossary entry, ʾal-ʿĀlam ʾal-⫯Ahlām). ʾAḥī⫯īl ʾal-Malāk (

َاحِيئِيل الْمَلَاك‎

) is my Arabization. ⫯Aẖ ʾal-⫯Ilhiyy ʾal-Malāk (

أَخ الإِلهِيّ الْمَلَاك

), Divine Brother the Angel, is my Arabic-language translation. Ángelos Aiḗl (Greek, Ἄγγελος Αἰήλ) is a Greek (or Hellenized) spelling. See also the glossary entry, ʾal-⫯Aẖ.
ʾĀhūb hā-Mạləʾāḵə (Hebrew, אָהוּב הָמַלְאָךְ), Maḥbūb ʾal-Malāk (مَحْبُوب الْمَلَاك), and Maḥbūb Farištah (Persian, مَحْبُوب فَرِشْتَه‎, or ʾUrdū, مَحْبُوب فَرِشْتَہ‎) are terms for Beloved the Angel, possibly among the Guardian Angels (see the glossary entries, ʾal-Ḥafaẓaẗ and ʾal-Malāk ʾal-Ḥāris) residing in the World of Dreams (see the glossary entry, ʾal-ʿĀlam ʾal-⫯Ahlām). The name occurred to me during a personal meditation. I then searched, successfully, to see if anyone else referred to this Angelic Being. Compare with the glossary entry, Ḥāḇiyḇiyʾēl hā-Mạləʾāḵə.
ʾal-⫯Aḥkām ʾal-Malik (

الأَحْكَام المَلِك‎

) or, modifying the short vowels, ʾal-⫯aḥkām ʾal-Mulk (

الأَحْكَام المُلْك‎

) are the decrees (or the provisions) of the Kingdom (or the Dominion).
ʾal-⫯Ahl (الأهل‎), with ʾal-⫯ahlūna (الأَهْلُوْنَ‎) and ʾal-⫯ahlīna (الأَهْلِيْنَ‎) as plural forms, is people, family, league, or, sometimes, household. In the Bahá'í Faith, all Bahá'ís are blessed to be members of the family of the Father, Bahá'u'lláh. Compare with the glossary entry, ʾal-⫯Ahl ʾal-Bayt. See also the glossary entry, Yā ⫯ahl ʾal-Bahāˁ.
ʾal-⫯Aẖlāqiyyāt (الأَخْلاقِيَّات) with ʾal-⫯aẖlāqiyyaẗ (الأَخْلاقِيَّة) as the singular form ("morality," "ethical," or "moral"), are ethics. See also the glossary entry, ʾal-⫯Aẖlāqiyyāt.
ʾal-⫯Aẖlāqiyyāt ʾal-ḥālāt ʾal-ẖāṣṣaẗ (

الأَخْلاقِيّات الحَالَات الخاصَّة

), the ethics of situations specific (or special), are situation ethics. This philosophy was developed by Joseph Fletcher (

يُوسِف فْلِيتْشِر

, Yūsif Flītšir), 1905-1991. See also the glossary entries, ʾal-⫯Aẖlāqiyyāt and ʾal-Ḥālaẗ.
ʾal-⫯Aẖlāqiyyāt ʾal-mihnaẗ ʾal-ṭibbu (

الأَخْلَاقِيّات المِهْنَة الطِبُّ

), ethics of the profession of medicine, are medical ethics.
ʾal-⫯Aẖlāqiyyāt ʾal-taʿāmul (

الأَخْلَاقِيَّات التَعَامُل

), the ethics of cooperation, is the Golden Rule. See also the glossary entry, ʾal-Qāʿidaẗ ʾal-ḏahabiyyaẗ.
ʾal-⫯Ahl ʾal-Bayt (الأَهْل البيت‎) is people of the house or, in other words, household. The term refers, generally, to individuals related to or descended from the Prophet Muḥammad (see glossary entry). ʾal-Buyūtuṇ (البُيُوتٌ) or ʾal-buyūtāt (البيوتات) is houses. See the glossary entry, ʾal-⫯Ahl.
ʾAhl-i Haqq (Persianized Arabic,

اهْلِ حَقّ‎

), the People of Truth, or Yārsān (Kurdish, یَارْسَان‎) are a religious movement in parts ofʾIyrān and ʿIrāq.
ʾal-⫯Ahl ʾal-Kitāb (

الأَهْل الكِتَاب

) are the people of the Book.
ʾal-⫯Ahl ʾal-Ssunnaẗ w-ʾal-Ǧamāʾaẗ (

الأَهْل السُّنَّة والجَمَاعَة

) are the people (see the glossary entry, ʾal-⫯Ahl) of the party (ʾal-ǧamāʾaẗ) of the Sunnaẗ (see glossary entry, ʾal-Ssunnaẗ). They are also called ʾal-⫯Ahl ʾal-Ssunnaẗ (

الأَهْل السُّنَّة

), the people of the Ssunnaẗ, and ʾal-Sunniyyaẗ (السُنِّيَّة). Sunniyy (سُنِّيّ), my Sunnaẗ, is the possessive or an appurtenance. Sunniyyāt (سُنِّيَّت) is the plural form ("Sunnis"). ʾal-⫯Ahl ʾal-Ssunnaẗ w-ʾal-Ǧamāʾaẗ are the largest major branch of ⫰Islām.
ʾal-⫯Aḥmad (الأَحْمَد), the highly praised

one

, is taken from the same Semitic root as Muḥammad (see glossary entry). The Persian, ʾUrdū, and Šāh Mukhī Punjabi spelling is ʾAḥmad (اَحْمَد). The Hiṃdī version is Ahamada (Dēvanāgarī Hiṃdī/Sanskrit script, अहमद). The Guramukhī Pubjabi form is Ahimada (ਅਹਿਮਦ). The Telugu and Malayaḷaṃ version is Ahmad (Telugu, అహ్మద్, and, Malayaḷaṃ, അഹ്മദ്). The Tamiḻ convention is Akamatu (அகமது). The Gujarātī form is Ēhamada (એહમદ). The Modern Turkish spelling is Ahmed. The Indonesian forms are Ahmad and Ahmed.
ʾAḥmadiyah (ʾUrdū, احْمَدِیَہ, or Persian, احْمَدِیَه) or ʾal-⫯Aḥmadiyyaẗ (

الأَحْمَدِيَّة

), with ʾAḥmadī (ʾUrdū and Persian, احْمَدِی) or ʾal-⫯Aḥmadiyy (الأَحْمَدِيّ) as the possessive or an appurtenance, is a branch of ʾal-⫯Islām (see glossary entry) founded, on March 23, 1889, by Ḥaḍrat Mīrzā Ġulām ʾAḥmad (see glossary entry). The Hiṃdī, Telugu, and Malayaḷaṃ spelling of the movement's name is Ahmadiyā (Dēvanāgarī Hiṃdī/Sanskrit script, अहमदिया; Telugu, అహ్మదీయ; and Malayaḷaṃ, അഹ്മദിയാ). Ahmatiya (Tamiḻ, அஹ்மதிய) is the Tamiḻ form. The Guramukhī spelling is Ahamadi⫯ā (Guramukhī Pajābī script, ਅਹਮਦਿਆ). Āh‌madīẏā (আহ্‌মদীয়া) is the Bengali form. Āham⫯madīẏa (Ōṛi⫯ā, ଆହମ୍ମଦୀୟ) is the Ōṛi⫯ā convention. Ahmediye is the Modern Turkish spelling. Ahmadiyat is the Indonesian form. Ahmadijskaâ (Russian, Ахмадийская) and Ahmadíjskaâ (Ukranian, Ахмадійская) are two Cyrillic versions. In 1914, this Punjabi movement divided into two factions:

See also the glossary entries, ʾal-⫯Aḥmad, Panǧāba, and South Asia.

ʾAhrīman or

Ahriman

(Persian,

اهْرِیمَن

) is the modern Persian spelling of the Ancient Avestan term for "malevolent spirit," Aŋra Mainiiu (Ancient Avestan, ). ʾAhrīmanān (Persian, اهْرِیمَنَان) is the Persian literary plural form. ʾAhrīmanhā (Persian, اهْرِیمَنْهَا) is the Persian colloquial plural form. See also the glossary entries, ʾAhūrā Mazdā, Pārasī Maḏhab, ʾal-Zzarāduštiyyaẗ, and Zartušt.
ʾal-⫯Aḥtirām ʾal-ḏāt (

الإحْتِرَام الذَات

), esteem (alternatively, honor, respect, reverence, deference, or veneration) of the self, is self-esteem.
⫯Aẖanūẖ (

أَخَنُوخ

) is Enoch. Ḥănōk (

חֲנוֹך

) is the Hebrew form. H̱anūẖ (

خَنُوخ

) is the Persian spelling. Hanūk (

ہَنُوک

) and ʾAynūha (

اینُوهَ

) are two ʾUrdū variants. Enoha (Dēvanāgarī Hiṃdī/Sanskrit script, एनोह) is the Hiṃdī convention. Hanōka (Guramuhkī Punjabi script, ਹਨੋਕ) is the Guramuhkī Punjabi version. Some Muslims identify Him as the Prophet ⫯Idrīs (see the glossary entry, Hĕrmĕs hā-Mạləʾāḵə). See also the glossary entry, ʾal-Saḥar ʾal-⫯Aẖanūẖī.
ʾAhūrā Mazdā (Ancient Avestan, , or modern Persian,

اهُورَا مَزْدَا

), literally, "Light

of

Wisdom," was, originally, an Ancient Avestan and Zoroastrian Name of God. ⫯Ahūrāmazdā (

أَهُورَامَزْدَا

) is an Arabization. See also the glossary entries, ʾAhrīman, Pārasī Maḏhab, ʾal-Zzarāduštiyyaẗ, and Zartušt.
ʾal-ʿĀ⫯ilaẗ ʾal-rrūḥiyyaẗ (

العَائِلَة الرُّوحِيّة

), with ʾal-ʿā⫯ilāt ʾal-rrūḥiyyaẗ (

العائلات الرُّوحِيّة

) as the plural form, is the spiritual family (literally, family spiritual). ʿĀ⫯ilatī ʾal-rrūḥiyyaẗ (

عائلتي الرُّوحِيّة

) is my spiritual family (literally,

my

family spiritual). In my opinion, each one of us can, even while still in this world, discover one's own spiritual family in the world to come, establish a state of prayerful communion with each one of them, and long to be united, or reunited, with them after our mortal deaths. In reality, no separation exists between this world and the next. Departed souls are, figuratively, all around us.
ʾÂ⫯īn-i Bahā⫯iy or 'A⫯ín-i-Bahá'í (Persianized Arabic,

دِينِ بَهائِی

) is the Bahá'í Faith. It is the divine Judgment which belongs to Bahāˁ (Bahá'u'lláh's Authority). The Arabic spelling is ʾad-Diyānaẗ ʾal-Bahā⫯iyyaẗ (

الدِيَانَة البهائيّة

). See also the glossary entries, ʾal-Bahā⫯iyyaẗ and ʾad-Dīn.
Aíresis (Koinḗ, or Common, Greek, αἵρεσις) is the New Testament word for heresy. The term originally referred to a self-willed opinion or, literally, a choice, not to the inevitable differences in human viewpoints. Compare with the glossary entry, ʾal-Naqḍ ʾal-Mīṯāq. See also the glossary entries, ʾal-Harṭaqaẗ and ʾal-Ilhād.
ʿĀ⫯išaẗ (عائِشَة), ʿĀ⫯išah (ʾUrdū, عائِشَہ), or ʿĀyišah (Persian, عایِشَه), living one (Arabic), was the Prophet Muḥammad's youngest wife. It might be noted that child marriages were widely practiced in the ancient world, including in Biblical days. The lives and times of the holy Prophets should not be judged by fallible human standards.
ʾĀḵāʾāyāh hā-Mạləʾāḵə (Hebrew, אָכָאָיָה הָמַלְאָךְ), the Forbearing (or Patient) Yāhəwẹh (see the glossary entry, YHWH) the Angel, is Achaia (or Achaiah) the Angel, possibly among the Guardian Angels (see the glossary entries, ʾal-Ḥafaẓaẗ and ʾal-Malāk ʾal-Ḥāris) residing in the World of Dreams (see the glossary entry, ʾal-ʿĀlam ʾal-⫯Ahlām). ʾAkā⫯ayāh ʾal-Malāk (

َاكَاأَيَاه الْمَلَاك

) is my Arabization. Ángelos Akaḯa (Greek, Ἄγγελος Ακαΐα) is a Greek (or Hellenized) spelling.
ʾal-⫯Akādīmiyyaẗ (الأَكَادِيمِيَّة), with ʾal-⫯akādīmiyy (الأَكَادِيمِيّ) as the possessive or an appurtenance ("academic"), is an Indo-European loanword for academia (or the academy). ʾal-⫯Akādīmiyyāt (الأَكَادِيمِيَّات) are academies.
ʾĀḵēlōs hā-Mạləʾāḵə (Hebrew, אָכֵלוֹס הָמַלְאָךְ), ⫯Akaylūs ʾal-Malāk (أَكَيْلُوس الْمَلَاك), ʾÂkilūs Farištah (Persian, آکِلُوس فَرِشْتَه), or Ángelos Achelō̂ios (Ancient Greek, Ἄγγελος Ἀχελῷος) is Achelous the Angel, possibly among the Guardian Angels (see the glossary entries, ʾal-Ḥafaẓaẗ and ʾal-Malāk ʾal-Ḥāris) residing in the World of Dreams (see the glossary entry, ʾal-ʿĀlam ʾal-⫯Ahlām). My added Hebrew vowel-points are only approximations. The etymology of Achelous is pre-Greek and unknown.
ʾẠḵəzāriyʾēl hā-Mạləʾāḵə (Hebrew, אַכְזָרִיאֵל הָמַלְאָךְ), Fierce in ʾĔlōhiym (see glossary entry) the Angel, is Akzariel the Angel, possibly among the Guardian Angels (see the glossary entries, ʾal-Ḥafaẓaẗ and ʾal-Malāk ʾal-Ḥāris) residing in the World of Dreams (see the glossary entry, ʾal-ʿĀlam ʾal-⫯Ahlām). ʾẠḵəzār (Hebrew,

אַכְזָר

) is cruel or fierce. Qās fī ʾAllꞌah ʾal-Malāk (

قَاس فِي الله الْمَلَاك

), Fierce (or Harsh) in God the Angel, is my Arabic-language translation.
Akhenaten (Ancient Egyptian hieroglyphs, ), born Amunhotep IV (Ancient Egyptian hieroglyphs, ), was an Egyptian pharaoh (see glossary entry) who established the monotheistic worship of Aten (or Aton) as the official religion of the kingdom (commonly called "Atenism" in English). ʾIẖnātūn (

اِخْنَاتُون

) is an Arabized spelling. ʾIḥənạtūn (Hebrew,

אִחְנַתּוּן

) is a Hebraized spelling (with my own approximated vowel-points).

The pharaoh lived approximately in the fourteenth century B.C. The name Akhenaten is "Servant of Aten." Amunhotep is "Amun is satisfied." Aten (Ancient Egyptian hieroglyphs, , jtn) is the solar Disk (the object of worship). Amun (Ancient Egyptian hieroglyphs, ; in Arabic,

آمُون

, ʾÂmūn; or in Hebrew, ʾĀmūn

אָמוּן

), the hidden one (Ancient Egyptian), was the dominant God in Ancient Egypt both before and after the reign of the Blessed Akhenaten.
Some works, such as this one, have

speculated

that Akhenaten was actually the Prophet Moses (see the glossary entry, Mōšẹh).

See also the glossary entry, ʾĀtūn hā-Mạləʾāḵə.

ʿAkkā (عَكَّا) is the Arabic-language name for Acre (in Israel). The Hebrew version is ʿẠkkō (עַכּוֹ). The ʾUrdū term, presumably based upon the English-language pronunciation, is ʾAykaṛ (ایکَڑ). The Persian convention, spelled slightly different from the Arabic form in the original, is ʿAkkā (عَکَّا). The Hiṃdī and Guramukhī Punjabi style is Ēkaṛa (Dēvanāgarī Hiṃdī/Sanskrit script, एकड़, or Guramukhī Pajābī script, ਏਕੜ). The Bengali version is Ēkara (একর). See also the glossary entry, ʾal-Qublaẗ.
Āku-Enjeru (Japanese, アークエンジェル) is Archangel.
ʾal-⫯Akūrdiyūn (الأَكُورْدِيُون) is the Indo-European loanword for accordion (the musical instrument). See also the glossary entry, ʾal-⫯Akūrdiyūn ʾal-ṣaġīr.
ʾal-⫯Akūrdiyūn ʾal-ṣaġīr (

الأَكُورْدِيُون الصَغِير

), the accordion small, is the concertina. See also the glossary entry, ʾal-⫯Akūrdiyūn.
ʾal-⫯Akwān ʾal-mutaʿddidaẗ (

الأَكْوان المُتَعَدِّدَة

), universes (or events) multiple, are multiple universes (or the multiverse). "Universe," in the singular form, is ʾal-kawan (الكَوْن). See also the glossary entry, ʾal-Naẓariyyaẗ ʾal-ʿawālim ʾal-mutaʿaddidaẗ.
ʾal-, which I have not capitalized in this glossary, is the Arabic definite article (used as a prefix). It is comparable with "the" in the English language. Although Persian (see the glossary entry, Fārsī) itself has no definite article per se, the Arabic definite article is frequently found in the vast body of Persianized Arabic loanwords. Compare with the Anglicized forms of ʾal-ʾIksīr and ʾal-Kīmiyāˁ (see both glossary entries).
ʾal-⫯Alʿābu ʾal-ǧumbāziyyaẗ (

الألعَابُ الجُمْبَازِيَّة

), the games calisthenic (or gymnastic), are calisthenics. ʾal-Ǧumbāziyy (الجُمْبَازِيّ) is calisthenic or gymnastic.
ʾĀlāḏạyāh hā-Mạləʾāḵə (Hebrew,

אָלָדַיָה

הָמַלְאָךְ), the Favorable Yāhəwẹh (see the glossary entry, YHWH) the Angel, is Aladiah the Angel. He might be a Resident of the World of Dreams (see the glossary entry, ʾal-ʿĀlam ʾal-Bāṭin) and its Archangels (see the glossary entry, ʾal-Malā⫯ikaẗ ʿAllaỳ). ʾAlāḏāyāh ʾal-Malāk (

الَاذَايَاه الْمَلَاك

) is my Arabization. Ángelos Aladia (Ἄγγελος Ἀλαδια) is a Greek (or Hellenized) spelling.
ʾal-ʿAlāˁ ʾal-ddīn (

العَلاء الدِّين

), the loftiness of judgment (or religion), is commonly Romanized as Aladdin, i.e., (without the definite articles) ʿAlāˁ ddīn (

عَلاء دِّين

). It is a West Asian folktale.
ʾal-⫯Alahiyyāt (الإِلهِيّات), "divinities," is theology. ʾal-⫯Alahiyyaẗ (الإِلهِيّة), the singular form, is divine, Godly, or theological.
ʾal-ʿAlam (العَلَم), with ʾal-⫯aʿlām (الأَعْلَام) in the plural form, is the flag or the banner. Compare with the similarly spelled glossary entry, ʾal-ʿIlm. See also the glossary entry, ʾal-⫯Aʿlām ʾal-nubalāˁ.
ʾal-ʿĀlam (العَالَم) is the world (or universe). ʾal-ʿĀlamūna (العَالَمُونَ) and ʾal-ʿawālimuṇ (العَوَالِمٌ) are plural forms. ʾal-ʿĀlim (changing a short vowel) is the singular form of ʾal-ʿulamāˁ (see glossary entry).
ʾal-ʿAlāmāt ʾal-ḥaḏf (

العَلَامات الحَذْف

), the marks of deletion, is the elipsis. Compare with the glossary entry, ʾal-Qaṭʿ.
ʾal-ʿĀlam ʾal-⫯Ahlām (

العَالَم الأَحْلَام

) is the world of dreams. ʾal-ʿĀlam ʾal-Manāmāt (

العَالَم المَنَامَات

) is another term for the world of dreams. When we go to sleep, we have our nightly reunions with our best friends, the Archangels. All dreams are real and valid; but all perceptions of those dreams are, to some extent, clouded. As Roy Bhaskar has said, the limitations of epistemology (knowledge) should not be confused with ontology (reality). See also the glossary entry, ʾal-Manām.
ʿAlāˁ ʾal-Malāk (عَلَاء الْمَلَاك), Loftiness (or Height) the Angel, is Eleleth the Angel, possibly among the Guardian Angels (see the glossary entries, ʾal-Ḥafaẓaẗ and ʾal-Malāk ʾal-Ḥāris) residing in the World of Dreams (see the glossary entry, ʾal-ʿĀlam ʾal-⫯Ahlām). With two cognates, ʿIllāh hā-Mạləʾāḵə (Hebrew, עִלָּה הָמַלְאָךְ), Raise (or Praise) the Angel, is my first Hebrew-language translation. Also with two cognates, ʿĀlāh hā-Mạləʾāḵə (Hebrew, עָלָה הָמַלְאָךְ), Ascend (alternatively, Rise, Increase, or Surmount) the Angel, is my second Hebrew-language translation. Ángelos Elelḗth (Ἄγγελος Ελελήθ) is a Greek (or Hellenized) spelling.
ʾal-ʿĀlam ʾal-⫯arwāḥ (

العَالَم الأَرْوَاح

) is the world of spirits. See the glossary entry, ʾal-⫯Uwaysiyyaẗ.
ʾal-ʿAlam ʾal-ḥalīf (

العَلَم الحَلِيف

), the flag confederate, is the confederate flag. However desipicable the flag may be, the sources of United States racism are not symbolic or cultural. The sources, instead, are structural. Until the capitalist world system, led by the imperialist U.S. (which was driven by the plantation system), collapses from its own contradictions, institutional racism will persist.
ʾal-ʿAlāmaẗ ʾal-su⫯āl (

العَلَامَة السُؤَال

), the mark of the question (or the inquiry), or ʾal-ʿalāmaẗ ʾal-ʾistifhām (

العَلَامَة الاِسْتِفْهَام

), the mark of the question (or the inquiry), is the question mark. The ; (semicolon character), which can be alternately represented by a separate Unicode glyph

(;),

is the Greek question mark. The Arabic, Persian, ʾUrdū, and Šāh Mukhī Punjabi question mark is represented by the Unicode glyph

(؟).

On the other hand, the ordinary English-language question mark will automatically reverse itself when included with right-to-left (rtl) Unicode Arabic or related scripts. For information on the Hebrew question mark, see the first endnote.
ʾal-ʿAlāmāt ʾal-taʿib (

العَالَمَات التَعِب

) are signs of fatigue (German, Müdigkeitsanzeichen).
ʾal-ʿAlāmaẗ ʾal-tanṣīṣ (

العَلَامَة التَنْصِيص

), the mark of the quotation, is the quotation mark.
ʾal-ʿĀlam ʾal-ṭabīʿaẗ (

العَالَم الطَبِيعَة

) is the world of nature. ʿĀlam-i ṭabīʿat (

عالَمِ طَبِیعَت

) is the Persianized Arabic form.
ʾal-ʿĀlam ʾal-Bāṭin (

العَالَم الباطِن

), the world inside, is the Inner World (alternatively, the inside world, the secret world, the hidden world, or the world of conscience), i.e., the World of Dreams.

In Unities of All Things™ and The Unicentric Paradigm™, the World of Dreams is the great and glorified realm of the inner-dimensional (see the glossary entry, ʾal-⫯Abaʿād ʾal-ddāẖiliyyaẗ) Archangels (see the glossary entry, ʾal-Malā⫯ikaẗ ʿAllaỳ). These exalted Beings have sometimes been misunderstood as "gods."
I sense that they connect this world and the world to come while serving as step-down transformers (see the glossary entry, ʾal-Muḥawwil ʾal-tanāquṣ) for God's Will in this world. They have, I feel, always existed, and will continue to exist, in that world. They are neither born nor do they die.

See also the glossary entry, ʾal-Ẓāhir w-ʾal-bāṭin.

ʿĀlāmēyāh hā-Mạləʾāḵə (Hebrew, עָלָמֵיָה הָמַלְאָךְ), perhaps the World of Yāhəwẹh (see the glossary entry, YHWH) the Angel or (alternatively) the Hidden (or Concealed) YHWH the Angel, is Elemiah the Angel, possibly among the Guardian Angels (see the glossary entries, ʾal-Ḥafaẓaẗ and ʾal-Malāk ʾal-Ḥāris) residing in the World of Dreams (see the glossary entry, ʾal-ʿĀlam ʾal-⫯Ahlām). ʿĀlāmiyāh ʾal-Malāk (

عَالَامِيَاه الْمَلَاك

) is my Arabization. Ángelos Elemia (Ἄγγελος Ἐλεμια) is a Greek (or Hellenized) spelling.
ʿĀlamgīr Taṣawwuf (ʾUrdū,

عالَمگِیر تَصَوُّف‎

) is Universal Ṣūfism. See also the glossary entries, Ḥaḍrat ʿInāyat H̱‎an, ʾal-Taṣawwuf, ʾal-Taṣawwuf ʾal-ʿĀlamiyy, and Taṣawwuf-i Ǧahānī.
ʾal-⫯Aʿlām ʾal-nubalāˁ (

الأَعْلَام النُبَلَاء

), the flags (or banners) of the noble, is heraldry. Compare with the glossary entry, ʾal-ʿIlmu ʾal-šiʿārāt ʾal-nabālaẗ. See also the glossary entry, ʾal-ʿAlam.
ʾal-ʿĀlam ʾal-wāqiʿ ʾal-marīr (

العالَم الوَاقِع المَرِير

), the world of reality bitter (or scathing), is a term used for dystopia. ʾal-ʿAwālim min ʾal-wāqiʿ ʾal-mārīr (

العَوَالِم مِنْ الوَاقِع المَرِير

), worlds of reality bitter (or scathing), are dystopias. Contrast with the glossary entries, ʾal-Yūṭūbiyā and ʾal-Yūṭūbiyyaẗ.
ʾal-ʿAlāqāt ʾal-ʿāmmaẗ (

الْعَلَاقَات العامَّة

), relations public, are public relations.
ʾal-ʾÂlaẗ (الآلَة), with ʾal-ʾâlāt (الآلَات) as the plural form ("machines," "machinery," or "instruments"), is the machine or the instrument.
ʾal-ʾÂlaẗu ʾal-mandūlīn ʾal-mūsīqiyyaẗ (

الآلَةُ المَنْدُولِين المُوسِيقِيَّة

), the instrument (or machine) mandolin musical, is the mandolin.
ʾal-ʾÂlaẗu ʾal-mūsīqiyyaẗ (

الآلَةُ المُوسِيقِيَّة

), the instrument (or machine) musical, is the musical instrument.
ʾal-ʾÂlaẗu ʾal-mutaraddidaẗi ʾal-mūsīqiyyaẗ (

الآلَةُ المُتَرَدِّدَةِ المُوسِيقِيَّة

), instrument (or machine) hesitating musical, is the trombone.
ʾal-ʾÂlaẗuṇ ʾal-mūsīqiyyaẗuṇ ʾal-watariyyaẗ (

الآلَةٌ المُوسِيقِيَّةٌ الوَتَرِيَّة

), the instrument (or machine) musical stringed, is the stringed instrument. For instance, the term can be used to refer to the guitar (see the glossary entry, ʾal-Qīṯāraẗ), the tambour, (see the glossary entry, ʾal-Ṭunbūr), or the lute (see the glossary entry, ʾal-ʿŪd).
ʾal-ʾÂlaẗu ʾal-nnafẖ ʾal-mūsīqiyyaẗ (

الآلَةُ النَّفْخ المُوسِيقِيَّة

), instrument (or machine) blowing musical, is the wind instrument. For instance, the term can be used to refer to the sousaphone (see the glossary entry, ʾal-Sūsāfūniyy) or the harmonica (see the glossary entry, ʾal-Hārmūnīkā).
Āḻavarakaḷ (Tamiḻ, ஆழ்வார்கள்), my own Romanization using the system of the Library of Congress and the American Library Association, or Āḻvārkaḷ, an alternate Romanization of the Tamiḻ, is Āḻavarakaḷ (ആഴ്വാര്കള്) in Malayaḷaṃ, Alavara (Dēvanāgarī Hiṃdī/Sanskrit script, अलवर, and Guramukhī Pajābī script, ਅਲਵਰ) in both Hiṃdī and Guramukhī Pajābī script, and Alvār (అల్వార్) in Telugu. The term translates as

individuals

immersed

in love and devotion

. It refers to a movement of medieval poets and spiritual leaders in the Tamiḻ-speaking region of India. The Āḻavarakaḷ were an important dimension of the Bhakti-Ṣūfiyy movement (see glossary entry) in South Asia (see glossary entry). See also the glossary entry, Tamiḻ.
ʾal-ʿAlawiyyaẗ (العَلَوِيَّة), as the movement, or ʾal-ʿAlawiyy (العَلَوِيّ), as a possessive or an appurtenance, are a branch of ʾal-ʾIṯnā ʾal-ʿUšriyyaẗ (see glossary entry). In the English language, ʾal-ʿAlawiyyaẗ are commonly known as the Alawites.

The word, ʾal-ʿAlawiyyaẗ, comes from ʿAliyy ʾibn ⫯Abī Ṭālib (see glossary entry), the first Šīʾiyy (see the glossary entry, ʾal-Šīʿaẗ) ⫯Imām (see the glossary entry, ʾal-⫯Imām) and the fourth Sunniyy H̱alīfaẗ (see the glossary entry, ʾal-H̱alīfaẗ). ʾal-ʿAlawiyyaẗ are are also known as ʾal-Nuṣayriyaẗ (النصيرية‎) or ʾal-Nuṣayrī (النصيري), as the possessive or an appurtenance. The etymology of ʾal-Nuṣayriyaẗ is uncertain. One explanation is that the word is derived from Muḥammad ʾibn Nuṣayr (مُحَمَّد اِبْن نصير), a follower of the tenth ⫯Imām ʿAliyy ʾal-Hādī (علي هادي نقي), who reportedly founded the movement around the year 883 A.D.
There are significant ʾal-ʿAlawī populations in Syria (Sūriyyā, سُورِيَّا;), Turkey (in Turkish, Türkiye), and Lebanon (Libnān, لبنان, or ʾal-Libnān, اللبنان, for "the Lebanon").

ʿAlayhi ʾal-ssalām (

عَلَيْهِ السَّلَام

), frequently abbreviated in the Roman alphabet as "AS" (or

عس

, ʿs) is "peace be upon him" (abbreviated, PBOH). In ⫰Islām, this salutation is reserved for Prophets (except for Muḥammad). However, it appears to be used for

anyone who is male

in Bahá'í sources. The ⫰Islāmic equivalent for women, particularly Fāṭimaẗ (see glossary entry), is ssalāmu ʾAllꞌah ʿalayhā (

سَّلَامُ الله عَلَيهَا

), "peace of God be upon her" (abbreviated, SAA or

ساع

, sāʿ). The following English-language expressions are, in my opinion, comparable to peace be upon her/him or peace and blessings be upon her/him: "God bless her/his soul (with peace)," "God rest her/his soul (in peace)," and, especially with Prophets and Their chosen ones, "thank God for her/him (or for her/his exalted soul)."
ʾal-⫯Albān (الأَلْبَان) are dairy

products

or "dairy." See also the glossary entry, ʾal-Ḥalīb.
ʾal-⫯Alaỳ ʾal-mustawaỳ fī ʾal-niṭāq (

الأَعْلَى المُسْتَوَى فِي النِطَاق

), the highest of the level in the domain, is top-level domain or TLD (on the web).
⫯Albāniyā (أَلْبَانِيَا) is Albania.
ʾẠlēkəsānədẹr hā-Mạləʾāḵə (Hebrew, אַלֵכְּסָנְדֶּר הָמַלְאָךְ), ⫯Iskandar ʾal-Malāk (إِسْكَنْدَر الْمَلَاك), ʾIskandar Farištah (Persian, اِسْکَنْدَر فَرِشْتَه), ʾAlīgzaynḍir Farištah (ʾUrdū, الِیگزَینڈِر فَرِشْتَہ), Ángelos Aléxandros (Ancient Greek, Ἄγγελος Ἀλέξανδρος), and Arekusandā-Tenshi (Japanese, アレクサンダー天使), Defender of Man (Greek) the Angel, refer to Alexander the Angel, possibly among the Guardian Angels (see the glossary entries, ʾal-Ḥafaẓaẗ and ʾal-Malāk ʾal-Ḥāris) residing in the World of Dreams (see the glossary entry, ʾal-ʿĀlam ʾal-⫯Ahlām). My added Hebrew vowel-points are only approximations. In the late afternoon of September 11, 2014, he came to me in a dream along with the beloved Emily the Angel (see the glossary entry, ʾẸmiyliy hā-Mạləʾāḵə).
ʾẠləp̄āh hā-Mạləʾāḵə (Hebrew, אַלְפָה הָמַלְאָךְ), ⫯Alfā ʾal-Malāk (أَلْفَا الْمَلَاك), ʾÂlfā Farištah (Persian, آلْفَا فَرِشْتَه), or Ángelos Álpha (Ancient Greek, Ἄγγελος Ἄλφα) is Alpha the Angel, possibly among the Guardian Angels (see the glossary entries, ʾal-Ḥafaẓaẗ and ʾal-Malāk ʾal-Ḥāris) residing in the World of Dreams (see the glossary entry, ʾal-ʿĀlam ʾal-⫯Ahlām). My added Hebrew vowel-points are only approximations. See also the glossary entries, Alpha kai Ōméga and ʾŌmēgāh hā-Mạləʾāḵə.
ʾẠləp̄ēʾūs hā-Mạləʾāḵə (Hebrew, אַלְפֵאוּס הָמַלְאָךְ), ⫯Alfayūs ʾal-Malāk (أَلْفَيُوس الْمَلَاك), ʾAlfi⫯ūs Farištah (Persian, الفِئُوس فَرِشْتَه), or Ángelos Alpheiós (Ancient Greek, Ἄγγελος Ἀλφειός), Whitish (Ancient Greek) the Angel, is Alpheus the Angel, possibly among the Guardian Angels (see the glossary entries, ʾal-Ḥafaẓaẗ and ʾal-Malāk ʾal-Ḥāris) residing in the World of Dreams (see the glossary entry, ʾal-ʿĀlam ʾal-⫯Ahlām). My added Hebrew vowel-points are only approximations.
ʾĀlẹp̄iyʾēl hā-Mạləʾāḵə (Hebrew, אָלֶפִיאֵל הָמַלְאָךְ), Aleph of ʾĔlōhiym (see glossary entry) the Angel, is Alphiel (or Alephiel) the Angel, possibly among the Guardian Angels (see the glossary entries, ʾal-Ḥafaẓaẗ and ʾal-Malāk ʾal-Ḥāris) residing in the World of Dreams (see the glossary entry, ʾal-ʿĀlam ʾal-⫯Ahlām). ʾĀlẹp̄ (Hebrew,

אָלֶף

) is the first letter of the Hebrew alphabet. With three cognates, ⫯Alif ʾAllꞌah ʾal-Malāk (

أَلِف الله الْمَلَاك

), Alif of God the Angel, is my Arabic-language translation. See also the glossary entry, ʾal-⫯Alif.
Alḗtheia (Koinḗ, or Common, Greek, ἀλήθεια) is truth.
Alevîlik (Turkish for Alevism), with Alevî as the Turkish possessive or an appurtenance, is the name of a distinctively Turkish brand of ʾal-ʾIṯnā ʾal-ʿUšriyyaẗ (see glossary entry) Šīʿiyy (see the glossary entry, ʾal-Šīʿaẗ) ⫰Islām (see the glossary entry, ʾal-⫯Islām). Alevîler is the Turkish plural form of Alevî.

Although the word Alevîlik is linguistically related to the Arabic, ʾal-ʿAlawī (العلوي) or "ʿAlī-ist," the Turkish movement has no formal connection with ʾal-ʿAlawiyyaẗ (see glossary entry). Both designations, however, refer to ʿAliyy ʾibn ⫯Abī Ṭālib (see glossary entry).
Alevîlik teaches a divine Triad of Hak, Muhammed, and Ali (see the glossary entry, Hak Muhammed Ali ve).
In Arabic, ʿAlawiyyaẗuṇ (عَلَوِيَّةٌ) is Alevîlik. ʿAlawiyyātuṇ (عَلَوِيَّاتٌ) are Alevîler (Alevis). ʿAlawiyy (عَلَوِيّ) is Alevî.

See also the glossary entry, ʾal-Mawdāliyyaẗ.

ʾAlhayāt (Persian, الهیات, or ʾUrdū, الہیات) is theology (or divinity). In Arabic, ʾal-⫯ilhiyyāt (الإِلهِيَّات) is the plural for divine, Godly, or theological.
ʾal-⫯Alif (الأَلِف) is the name of a letter of the Arabic alphabet. Variations are found in other Semitic alphabets. "Aleph" (Hebrew,

אָלֶף

) is, in Hebrew script, א, in Arabic script, ا, and in Syriac script, ܐ. The word is spelled ʾālẹp̄ or

aleph

(Hebrew,

אָלֶף

) using the Hebrew alphabet, the letter ⫯alif (ألف) using the Arabic alphabet, or the letter ʾalap̄ or

alaph

(ܐܵܠܲܦ) using the Syriac alphabet. ʾal-⫯Alif (ʾ) and other alephs are represented by a Unicode glyph

(ℵ)

, based upon the Hebrew character.
ʾal-⫯Alif ʾal-ẖanǧariyyaẗ (

الأَلِف الخَنْجَرِيَّة

), the ⫯alif of the dagger, is

the dagger ⫯alif (◌ٰ◌).

For my Romanizing convention, see the second paragraph of this endnote.
ʾal-ʿAlīl bayna ʾal-ǧinsayni (العَلِيل بَيْنَ الجِنْسَيْنِ), queer between the two sexes or the two genders (in the dual tense), is genderqueer. In my opinion, old forms of gender are disintegrating. Gender needs to be spiritually reimagined and redeveloped. ʾal-Ǧins (الجِنْس) is sex or gender. See also the glossary entry, ʾal-Mutaḥawul ʾal-ǧinsiyāṇ.
hā-ʿǍliyāh (Hebrew,

הָעֲלִיָּה

), the ascent, is the return of Jews to the Holy Land.
ʿĀliymiyʾēl hā-Mạləʾāḵə (Hebrew, עָלִימִיאֵל הָמַלְאָךְ), Foliage in ʾĔlōhiym (see glossary entry) the Angel, is Alimiel the Angel, possibly among the Guardian Angels (see the glossary entries, ʾal-Ḥafaẓaẗ and ʾal-Malāk ʾal-Ḥāris) residing in the World of Dreams (see the glossary entry, ʾal-ʿĀlam ʾal-⫯Ahlām). hā-ʿĀliym (Hebrew,

הָעָלִימ

) is foliage, leaves, or fronds. ʿĀlīmī⫯īl ʾal-Malāk (

عَالِيمِيئِيل الْمَلَاك

) is my Arabization. Ángelos Alimiēl (Άγγελος Αλιμιήλ) is a Greek (or Hellenized) spelling.
ʿAliyy ʾibn ⫯Abī Ṭālib (

عَلِيّ اِبْن أَبِي طَالِب

) was the first ⫯Imām (see the glossary entry, ʾal-⫯Imām) in ʾal-ʾIṯnā ʾal-ʿUšriyyaẗ (see glossary entry). He was born in approximately 601 A.D. and died in 661 A.D. The ⫯Imām ʿAliyy (

إِمَام عَلِيّ

), as he is often known, was both the cousin and, through his wife Fāṭimaẗ (see glossary entry), the son-in-law of the Prophet Muḥammad (see the glossary entry, Muḥammad). Most historical Ṣūfiyy (see glossary entry) orders (see the glossary entry, ʾal-Ṭarīqaẗ) trace their descent (see the glossary entry, ʾal-Silsilaẗ) back to Muḥammad through ʿAliyy.
ʾAllꞌah (as a Unicode glyph,

ﷲ

, or spelled out, الله‎) is the conventional Arabic Bahá'í and ⫰Islāmic title for "the God," "the Mighty One," or "the Chief," i.e., Deity. The word is also used by various Christian groups, including the Coptics.

⫰Ilha (إِلٰهَ), "God," is a modified spelling of ʾAllꞌah without the definite article (ʾal). Both of these words are related to (that is to say, are cognates of): the Aramaic, ʾĔlāhāʾ (in Syriac script, ܐܠܗܐ), the Hebrew, ʾĔlāhāʾ (אֱלָהָא, "Mighty One"), and the more common Hebrew plural form of ʾĔlāhāʾ, ʾĔlōhiym (see glossary entry).
The word, ʾAllꞌah, is seen in, for instance, Bahá'u'lláh (see the glossary entry, Bahāˁ ʾUllꞌah) and ʾal-Rūḥ ʾAllꞌah (

الرُوح الله‎

), the Spirit of God, a term for Jesus. Many Bahá'ís regularly greet each other in the (Greatest) Name of the Most Glorious ʾAllꞌah (see the glossary entry, ʾAllꞌahu ⫯Abhā). On the ʾIyrānian flag, ʾAllꞌah is represented calligraphically, or using fancy lettering, in a style indicated by the Unicode glyph,

☫

.
The Amharic form, with my own Romanization using a slight modification of the system adopted by the Library of Congress and the American Library Association (replacing ' with ʾ), is ʾAlāhé (አላህ).

See also the glossary entry, ʾAllāt.

ʾAllꞌah min ʾal-tadaẖẖul (

الله‎ مِنْ التَدَخُّل

), the God of intervention (alternatively, involvement or intermediation), is my Arabic-language translation of Theity. The English-language term is a portmanteau of Deity and deism (from the Latin, Deus, God) with theism (from the Ancient Greek, Θεός, Theós, "God"). Here, the implication is that God is theistic (intervening), not deistic (nonintervening).
ʾAllꞌahu ⫯Abhāỳ (

اللهُ أَبْهَى

) is "God is Most Glorious" (or "God is All-Glorious"). The phrase, a common Bahá'í greeting, is, to suggest my own term, an

Obligatory Remembrance

(see the glossary entry, ʾal-Ḏikr), repeated ninety-five times per day following ablutions (see the glossary entry, ʾal-Wuḍūˁ). See also the glossary entry, ʾal-ʾIsm ʾal-⫯Aʿẓam.
ʾAllꞌahu ⫯Aǧmal (

اللهُ أَجْمَل

) is "God is More (or Most) Beauteous" or "God is More (or Most) Beautiful."
ʾAllꞌahu ⫯Akbar (

اللهُ أَكْبَر

) is "God is Greater (or Most Great)."
ʾAllꞌahu ⫯Aṭhar (

اللهُ أَطْهَر

) or ʾAllꞌahu ⫯Aṭharu (

اللهُ أَطْهَرُ

) is "God is Purer," "God is the Purest," "God is the Rose" (figuratively), or, using ⫯aṭhar (أَطْهَر) as a verb, "God

doth

purify."
ʾAllꞌahu ⫯Aʿẓam (

اللهُ أَعْظَم

) is "God is Greater (or Most Great)."
ʾAllāt or ʾal-Lāt (اللات‎) was a pre-⫯Islāmic Goddess of Arabian Mecca (مَكَّة, Makkaẗ). Etymologically, "ʾAllꞌah" (see glossary entry) may have been derived from, or be related to, ʾAllāt. Similarly, ʾĔlōhiym (see glossary entry), within the Hebrew Bible, originally referred to the Levantine (Eastern Mediterranean) Pantheon of Gods and Goddesses worshipped by the Canaanites (see the glossary entry, hā-Kənạʿạniym). They were each called Bạʿạl (see glossary entry). The Prophets address humanity within particular historical and linguistic contexts, but words are merely conventions,

not

realities. See also the glossary entry, ʾal-ʾAyāt ʾal-Šayṭān.
Allosociology is the term I adopted for sociology of the other or sociology of the different, a reference to beings on other planets and dimensions. The Latin alius is derived from the Greek állos (άλλος). Both words translate as "different" or "other." The two designations are also cognates with the English-language word "else." In Unities of All Things™, I discuss various allosociological worlds with allosociological Archangels and other allosociological beings. For the corresponding Arabic-language neologisms, see the glossary entry, ʾal-ʿIlmu ʾal-ǧamāʿa ʾal-⫯uẖraỳ. See also the glossary entries, ʾal-Maẖlūqāt ʾal-ẖāriq lil-ṭṭabīʿaẗ, Preternaturals, and Sociologie.
hā-ʿẠlmāh (הָעַלמָה), or hā-ʿălāmōṯ (הָעֲלָמוֹת) as the plural form, is Hebrew for the young woman or maiden. This servant has listened to feverish online debates over whether "maiden" could be legitimately

translated

as "virgin." As I see it, those disputes were based upon an erroneous assumption. Jesus or His chosen ones were divinely guided to accurately

interpret

, not to translate, the Hebrew term. ʿẠlmāh (עַלמָה), used in Isaiah 7:14, was, in my opinion,

interpreted

in Matthew 1:23 as virgin (Greek, παρθένος, parthénos), which is to say, as a reference to the Virgin Mary, the mother of Jesus. An Arabic term for maiden or virgin is ʾal-bikr (البِكْر). See also the glossary entry, ʾal-Ḥūriyyaẗ.
ʾal-ʿĀlmanaẗ (العَلْمَنَة) is secularization or secularism (more literally, worldliness). ʾal-ʿĀlimiyy (العِالَمِيّ) and ʾal-ʿālmāniyy (العَلْمَانِيّ) are secular or secularized. Compare with the glossary entry, ʾal-Lādīniyyaẗ. Contrast with the glossary entry, ʾal-ʾUṣūliyaẗ.
⫯Almāniyā (أَلْمَانِيَا) is Germany.
Alpha kai Ōméga (Koinḗ, or Common, Greek, Άλφα και Ωμέγα) is Alpha and Ōméga. Alpha refers to the letter "a" (Koinḗ, or Common, Greek, α). Ōméga is the name for the Greek letter "ō" (Koinḗ, or Common, Greek, ω). The Greek alphabet begins with alpha (Koinḗ, or Common, Greek, αλφα) and ends with ōméga (Koinḗ, or Common, Greek, ωμέγα).

See also the glossary entries, ʾẠlp̄āh hā-Mạləʾāḵə, ʾal-H̱ātam ʾan-Nabiyyin, ʾal-Kuraẗu ʾal-ʿaqliyyaẗ, Noosphere, ʾŌmēgāh hā-Mạləʾāḵə, Rūḥī, and ʾal-Sidraẗ ʾal-Muntahā.

ʾẠlōhāh hā-Mạləʾāḵə (אַלוֹהָה הָמַלְאָךְ), ⫯Alūhā ʾal-Malāk (أَلُوهَا الْمَلَاك), ʾÂlūhā Farištah (Persian, آلُوهَا فَرِشْتَه), or Aloha ʻĀnela (Hawaiian), Peace (Hawaiian) the Angel, is Aloha the Angel, possibly among the Guardian Angels (see the glossary entries, ʾal-Ḥafaẓaẗ and ʾal-Malāk ʾal-Ḥāris) residing in the World of Dreams (see the glossary entry, ʾal-ʿĀlam ʾal-⫯Ahlām). My added Hebrew vowel-points are only approximations.
ʾal-ʿAmal ʾal-ʾiǧtimāʿiyy (

العَمَل الاجْتِمَاعِيّ

), work social (or action social), is social work. al-⫯Aẖiṣṣā⫯iyy ʾal-ʾiǧtimāʿiyy (

الأَخِصَّائِيّ الاجْتِمَاعِيّ

), specialist (or expert) social, is social worker.
ʿẠmāliyəḇakəyāh hā-Mạləʾāḵə (Hebrew, אַמָלִיְבַכְיָה הָמַלְאָךְ) or ʾAmālīfākā ʾal-Malāk (امَالِيفَاكَا الله الْمَلَاك), an important Figure among the Carab indigenous peoples of South America, is Amalivaca the Angel, possibly among the Guardian Angels (see the glossary entries, ʾal-Ḥafaẓaẗ and ʾal-Malāk ʾal-Ḥāris) residing in the World of Dreams (see the glossary entry, ʾal-ʿĀlam ʾal-⫯Ahlām). My Hebrew-language spelling is modified from the original.
ʿĀmāliyʾēl hā-Mạləʾāḵə (Hebrew, עָמָלִיאֵל הָמַלְאָךְ), Labor of ʾĔlōhiym (see glossary entry) the Angel, is Amaliel the Angel, possibly among the Guardian Angels (see the glossary entries, ʾal-Ḥafaẓaẗ and ʾal-Malāk ʾal-Ḥāris) residing in the World of Dreams (see the glossary entry, ʾal-ʿĀlam ʾal-⫯Ahlām). hā-ʿĀmāl (Hebrew,

הָעָמָל

) is the labor, the toil, or the trouble. With three cognates, ʿAmal ʾAllꞌah ʾal-Malāk (

عَمَل الله الْمَلَاك

), Labor of God the Angel, is my Arabic-language translation.
ʾal-ʿAmaliyyaẗ (الْعَمَلِيَّة), with ʾal-ʿamaliyyāt (الْعَمَلِيَّات) as the plural form, is the process or the operation.
ʾal-ʿAmaliyyaẗ ʾal-ladġaẗ (

العَمَلِيَّة اللَدْغَة

), the operation sting, is the sting operation. ʾal-ʿAmaliyyāt ʾal-ladġaẗ (

الْعَمَلِيَّات اللَدْغَة

), the operations sting, are the sting operations. For instance, it is

conceivable

that, given the danger posed by far-right movements in the United States, some of the "pundits" (if one could call them by that term) of the far-right media are agents provocateurs (see the glossary entry, ʾal-ʿĀmil ʾal-muḥarriḍ) in a long-term sting operation or psychop (see the glossary entry, ʾal-ʿAmaliyyāt ʾal-nnafsiyyaẗ). However, using Ockham's razor (see the glossary entry, ʾal-Ḥilāqaẗ fī ⫯Akhām), I do not possess sufficient evidence to definitively make such a claim.
ʾal-ʿAmaliyyaẗ ʾal-⫯iymān bi-ʾAllꞌah (

الْعَمَلِيَّة الإِيْمَان بِالله

), the process of the faith in God, is process theism. See also the glossary entries, ʾal-ʾĀyamān bi-ʾAllꞌah, ʾal-Falsafaẗ ʾal-ʿamaliyyaẗ, and ʾal-⫯Alahiyyāt ʾal-ʿamaliyyaẗ.
ʾal-ʿAmaliyyāt ʾal-nnafsiyyaẗ (

الْعَمَلِيَّات النَّفْسِيَّة

), operations psychological, are psychological operations (psyops). ʾal-ʿAmaliyyaẗ ʾal-nnafsiyyaẗ (

الْعَمَلِيَّة النَّفْسِيَّة

), operation psychological, is the singular form (psyop). For example, one of my conclusions from the Edward Snowden revelations is that the spread of the Illuminati conspiracy (see the glossary entry, ʾal-Mu⫯āmaraẗ ʾal-mustanīr) is, at least partially, psychops. The best way to control potentially dangerous people on the far right is to disempower them in relation to an imaginary omniscient elite. Similarly, infilitrating only a few terrorist cells will, through suspicion, turn conspiracy-minded terrorists against one another.
ʾal-ʿAmal ʾal-munḥarif (

العَمَل المُنْحَرِف

), action deviant (or action aberrant), is my Arabic-language translation of heteropraxy. See also the glossary entry, Orthopraxy and heteropraxy.
ʾal-ʿAmal ʾal-ṣaḥīḥ (

العَمَل الصَحِيح

), action right, is my Arabic-language translation of orthopraxy. See also the glossary entry, Orthopraxy and heteropraxy.
ʾǍmạriyʾēl hā-Mạləʾāḵə (Hebrew, אֲמַרִיאֵל הָמַלְאָךְ), Command of ʾĔlōhiym (see glossary entry) the Angel, is Amriel (alternatively, Ambriel, Ambiel, or Amrel) the Angel, possibly among the Guardian Angels (see the glossary entries, ʾal-Ḥafaẓaẗ and ʾal-Malāk ʾal-Ḥāris) residing in the World of Dreams (see the glossary entry, ʾal-ʿĀlam ʾal-⫯Ahlām). ʾǍmạr (Hebrew,

אֲמַר

), a verb, is to say, to tell, or to command. With three cognates, ⫯Amr ʾAllꞌah ʾal-Malāk (

أَمْر الله الْمَلَاك

), Command (or Cause) of God the Angel, is my Arabic-language translation. Ángelos Amriḗl (Greek, Ἄγγελος Αμριήλ) is a Greek (or Hellenized) spelling.
ʾal-⫯Amāzūnāt (الأَمَازُونَات), with ʾal-⫯Amāzūn (الأَمَازُون) as the singular form, are the mythical Amazons. The original Ancient Greek term, with an disputed etymology, is Amazṓn (Ancient Greek, Ἀμαζών) with Amazónes (Ancient Greek, Ἀμαζόνες) as the plural form. See also the glossary entry, ʾẠmāzōniyāh hā-Mạləʾāḵə.
ʾẠmāzōniyāh hā-Mạləʾāḵə (Hebrew, אַמָזוֹנִיָה הָמַלְאָךְ), ⫯Amāzūniyā ʾal-Malāk (أَمَازُونِيَا الْمَلَاك), ʾAmāzūniyā Farištah (Persian, امَازُونِیَا فَرِشْتَه), or Ángelos Amazónia (Ancient Greek, Ἄγγελος Ἀμαζόνια), Belonging to the Amazon (Ancient Greek) the Angel, is Amazonia the Angel, possibly among the Guardian Angels (see the glossary entries, ʾal-Ḥafaẓaẗ and ʾal-Malāk ʾal-Ḥāris) residing in the World of Dreams (see the glossary entry, ʾal-ʿĀlam ʾal-⫯Ahlām). My added Hebrew vowel-points are only approximations. The term Amazonia (Portugese, Amazônia) is used for the Amazon Rain Forest. See also the glossary entry, ʾal-⫯Amāzūnāt.
ʾĀməʾārū-Mūrū hā-Mạləʾāḵə (Hebrew, אָמְאָרוּ־מוּרוּ הָמַלְאָךְ) or ⫯Amārū-Mūrū ʾal-Malāk (أَمَارُو ـ مُورُو الْمَلَاك), Multicolored Serpent (Incan language) the Angel, is Amaru Muru (or Amaru Meru) the Angel, possibly among the Guardian Angels (see the glossary entries, ʾal-Ḥafaẓaẗ and ʾal-Malāk ʾal-Ḥāris) residing in the World of Dreams (see the glossary entry, ʾal-ʿĀlam ʾal-⫯Ahlām). My added Hebrew vowel-points are only approximations.
ʾẠməʾāṭērāsū hā-Mạləʾāḵə (Hebrew, אַמְאָטֵרָסוּ הָמַלְאָךְ), ⫯Amātayrāsū ʾal-Malāk (أَمَاتَيْرَاسُو الْمَلَاك), ʾÂmātirāsū Farištah (Persian, آمَاتِرَاسُو فَرِشْتَه), Ángelos Amaterásou (Greek, Ἄγγελος Αματεράσου), or Amaterasu-Tenshi (Japanese, アマテラス天使), Shining in Heaven (Japanese) the Angel, is Amaterasu the Angel, possibly among the Guardian Angels (see the glossary entries, ʾal-Ḥafaẓaẗ and ʾal-Malāk ʾal-Ḥāris) residing in the World of Dreams (see the glossary entry, ʾal-ʿĀlam ʾal-⫯Ahlām). My added Hebrew vowel-points are only approximations.
ʾĀməʾạṭəsū-Miyqəʾābōšiyy hā-Mạləʾāḵə (Hebrew, אָמְאַטְסוּ־מִיקְאָבּוֹשִׁיּ הָמַלְאָךְ), ⫯Amātsū-Mīkābūšiyy ʾal-Malāk (

أَمَاتْسُو ـ مِيكَابُوسهِيّ الْمَلَاك

), or ʾÂmātsū Mīkābūšī Farištah (Persian, آمَاتْسُو مِیکَابُوشِی فَرِشْتَه), or Ama-Terasu Tenshi (Japanese, 天津甕星 天使), August Star of Heaven (Japanese) the Angel, is Amatsu Mikaboshi the Angel, possibly among the Guardian Angels (see the glossary entries, ʾal-Ḥafaẓaẗ and ʾal-Malāk ʾal-Ḥāris) residing in the World of Dreams (see the glossary entry, ʾal-ʿĀlam ʾal-⫯Ahlām). My added Hebrew vowel-points are only approximations. The Arabic-language spelling is my own.
ʾẠməbiyqāh hā-Mạləʾāḵə (Hebrew, אַמְבִּיקָה הָמַלְאָךְ), ⫯Ambīkā ʾal-Malāk (أَمْبِيكَا الْمَلَاك), ʾAmbīkā Farištah (Persian, امْبِیکَا فَرِشْتَه, or ʾUrdū, امبِیکَا فَرِشْتَہ), ʾAmbīkā Farišatah (Šāh Mukhī Punǧ°ābī script, امبِکَا فَرِشَتَہ), Ambikā Fariśtā (Dēvanāgarī Hiṃdī/Sanskrit script, अम्बिका फ़रिश्ता), or Abikā Fariśatā (Guramukhī Pajābī script, ਅੰਬਿਕਾ ਫ਼ਰਿਸ਼ਤਾ), Mother (Sanskrit) the Angel, is Ambika (Dēvanāgarī Sanskrit script, अम्बिका, Ambikā) the Angel, possibly among the Guardian Angels (see the glossary entries, ʾal-Ḥafaẓaẗ and ʾal-Malāk ʾal-Ḥāris) residing in the World of Dreams (see the glossary entry, ʾal-ʿĀlam ʾal-⫯Ahlām). My added Hebrew vowel-points are only approximations. The Arabic-language spelling is my own.
ʿĀmēmēyāh hā-Mạləʾāḵə (Hebrew, עָמֵמֵיָה הָמַלְאָךְ), YHWH (see glossary entry) Hidden (or Dimmed) in Darkness the Angel, is Imamiah the Angel, possibly among the Guardian Angels (see the glossary entries, ʾal-Ḥafaẓaẗ and ʾal-Malāk ʾal-Ḥāris) residing in the World of Dreams (see the glossary entry, ʾal-ʿĀlam ʾal-⫯Ahlām). ʿImmēm (Hebrew,

עִמֵּם

) is the Hebrew verb for "to dim." ʿĀmaymayāh ʾal-Malāk (

عَامَيمَيَاه الْمَلَاك

) is my Arabization. Ángelos Imamia (Greek, Ἄγγελος Ιμαμια) is a Greek (or Hellenized) spelling.
ʾĀmēn hā-Mạləʾāḵə (Hebrew,

אָמֵן הָמַלְאָךְ

), ʾÂmīn ʾal-Malāk (

آمِين الْمَلَاك

), Ángelos Amḗn (Ancient Greek, Ἄγγελος ἀμήν), ʾÂmīn Farištah (Persian,

آمین فَرِشْتَه

, or ʾUrdū,

آمین فَرِشْتَہ

), and Enjeru-Āmen (Japanese, エンジェルアーメン), Yea Verily the Angel, refer to Amen the Angel, possibly among the Guardian Angels (see the glossary entries, ʾal-Ḥafaẓaẗ and ʾal-Malāk ʾal-Ḥāris) residing in the World of Dreams (see the glossary entry, ʾal-ʿĀlam ʾal-⫯Ahlām). See also the glossary entry, ʾÂmīn.
ʾẠmēnōmiynəʾāqəʾānūšiyy hā-Mạləʾāḵə (Hebrew,

אַמֵנוֹמִינְאָקְאָנוּשִׁיּ הָמַלְאָךְ

), ⫯Amaynūmīnākānūšiyy ʾal-Malāk (

َأَمَيْنُومِينَاكَانُوشِيّ الْمَلَاك

), or ʾÂminūmīnākānūšī Farištah (Persian,

آمِنُومِینَاکَانُوشِی فَرِشْتَه

), Heavenly Ancestral God of the Originating Heart of the Universe (Chinese), is Amenominakanushi (Chinese, 天御中主大神, Tiānyùzhōngzhǔdàshén; Japanese, あめのみなかぬしおおがみ, Amenominakanushioogami; or Korean, 아메노미나카누시노가미, Amenominak'anusinogami) the Angel, possibly among the Guardian Angels (see the glossary entries, ʾal-Ḥafaẓaẗ and ʾal-Malāk ʾal-Ḥāris) residing in the World of Dreams (see the glossary entry, ʾal-ʿĀlam ʾal-⫯Ahlām). The Hebrew-, Arabic-, and Persian-language spellings are my own.
ʾẠmənōn hā-Mạləʾāḵə (Hebrew, אַמְנוֹן הָמַלְאָךְ), Faithful the Angel, is Emenun (or Amnon) the Angel, possibly among the Guardian Angels (see the glossary entries, ʾal-Ḥafaẓaẗ and ʾal-Malāk ʾal-Ḥāris) residing in the World of Dreams (see the glossary entry, ʾal-ʿĀlam ʾal-⫯Ahlām). With two cognates, ⫯Amīn ʾal-Malāk (أَمِين الْمَلَاك), Faithful the Angel, is my Arabic-language translation. Ángelos Eménoun (Greek, Ἄγγελος Εμένουν) is a Greek (or Hellenized) spelling.
ʾẠmārəʾạḇāṭiyy hā-Mạləʾāḵə (Hebrew, אַמָרְאַבָטִיּ הָמַלְאָךְ), ʾAmarāfātiyy ʾal-Malāk (امَرَافَاتِيّ الْمَلَاك), ʾAmarāvātī Farištah (Persian, امَرَاوَاتِی فَرِشْتَه), ʾAmarāvatī Farištah (ʾUrdū, امَرَاوَتِی فَرِشْتَہ), ʾAmarāvatī Farišatah (Šāh Mukhī Punǧ°ābī script, امَرَاوَتِی فَرِشَتَہ), Amarāvatī Fariśtā (Dēvanāgarī Hiṃdī/Sanskrit script, अमरावती फ़रिश्ता), or Amarāvatī Fariśatā (Guramukhī Pajābī script, ਅਮਰਾਵਤੀ ਫ਼ਰਿਸ਼ਤਾ), Abode of the Deathless (Pāli) the Angel, is Amaravati or Amravati (Dēvanāgarī Pāli/Sanskrit script, अमरावती, Amarāvatī) the Angel, possibly among the Guardian Angels (see the glossary entries, ʾal-Ḥafaẓaẗ and ʾal-Malāk ʾal-Ḥāris) residing in the World of Dreams (see the glossary entry, ʾal-ʿĀlam ʾal-⫯Ahlām). My added Hebrew vowel-points are only approximations.
ʾĀməp̄iyṭəriyṭạh hā-Mạləʾāḵə (Hebrew, אָמְפִיטְרִיטַה הָמַלְאָךְ), Âmfītrītat ʾal-Malāk (آمْفِيتْرِيَت الْمَلَاك), Âmfītrītat Farištah (آمْفِیتْرِیَت فَرِشْتَه), or Ángelos Amphitrítē (Greek, Ἄγγελος Ἀμφιτρίτη), Mother of Poseidon the Angel, is Amphitrite the Angel, possibly among the Guardian Angels (see the glossary entries, ʾal-Ḥafaẓaẗ and ʾal-Malāk ʾal-Ḥāris) residing in the World of Dreams (see the glossary entry, ʾal-ʿĀlam ʾal-⫯Ahlām). My added Hebrew vowel-points are only approximations. See also the glossary entries, Poseidō̂n and Pōsēyḏōn hā-Mạləʾāḵə.
ʾĀmērēṭāṭ hā-Mạləʾāḵə (אָמֵרֵטָט הָמַלְאָךְ) or ʾAmayraytāt ʾal-Malāk (امَيْرَيْتَات الْمَلَاك), Immortality (Ancient Avestan) the Angel, is Ameretat (or Amərətāt) the Angel, possibly among the Guardian Angels (see the glossary entries, ʾal-Ḥafaẓaẗ and ʾal-Malāk ʾal-Ḥāris) residing in the World of Dreams (see the glossary entry, ʾal-ʿĀlam ʾal-⫯Ahlām). My added Hebrew vowel-points are only approximations. Compare with the glossary entry, Hāʾūrūwāṭāṭ hā-Mạləʾāḵə.
ʾal-⫯Amībā (الأَمِيبَا), with ʾal-⫯amībāt (الأَمِيبَات) as the plural form ("amebas" or "amoebae"), is the ameba (or amoeba).
ʾal-ʿĀmil ʾal-muḥarriḍ (

العَامِل المُحَرِّض

), agent instigator (alternatively, instigator or inductor), is the agent provocateur (originally French). By extension, ʾal-ʿAwāmil ʾal-muḥarriḍaẗ (

العَوَامِل المُحَرِّضَة

), agents instigator (alternatively, instigator or inductor), is my Arabic-language translation of agents provocateurs (originally French).
ʾÂmīn (آمِين or in the slightly different Persian, ʾUrdū, and Šāh Mukhī Punjabi transcription, آمِین) is amen. The Hebrew spelling is ʾāmēn (אָמֵן). The Syriac spelling is ʾāmeyn (ܐܡܝܢ). The Ancient Greek spelling is amḗn (ἀμήν). The word can be translated as verily (yea verily), truly, so be it, or, as is the common Freemasonic, Rosicrucian (Rosey Cross), and Wiccan expression, so mote it be. The roughly corresponding term in Sanskrit is tathāstu (Dēvanāgarī Sanskrit script, तथास्तु), so be it. See also the glossary entry, ʾĀmēn hā-Mạləʾāḵə.
ʾal-⫯Amīrkiyyaẗ ʾal-⫯Afrīqiyyaẗ (

الأميركيَّة الأميركيَّة

), American African, is African American. ʾal-⫯Amīrkiyyīn ʾal-⫯Afrīqiyyaẗ (

الأَمِيركِيِّين الأفارقة

), Americans African, are African Americans. An African American is ⫯Amrīkiyy min ʾal-⫯aṣliṇ ʾal-⫯Afrīqiyy (

أمريكيّ مِنْ الأَصْلٍ الأميركيّ

), an American of the origin African. My Arabic-language translation of African Americans (as individuals) are ⫯Amīrkiyyīn min ʾal-⫯aṣliṇ ʾal-⫯Afrīqiyy (

أَمِيركِيِّين مِنْ الأَصْلٍ الإفريقيّ

), Americans of the origin African.
ʾal-⫯Amīš (

الأَمِيش

) is an Arabization of the Amish. They are related to the Mennonites (see the glossary entry, ʾal-Kanā⫯is ʾal-Minūniyyaẗ). Both the Amish and the Mennonites are branches of the Anabaptist movement (see the glossary entry, ʾal-Ḥarakaẗ ʾal-ʾIʿādaẗ ʾal-Maʿmūdiyyaẗ).
ʾǍmitiyʾēl hā-Mạləʾāḵə (Hebrew, אֲמִתִּיאֵל הָמַלְאָךְ), ʾĔlōhiym (see glossary entry) is True the Angel, is Amitiel the Angel, possibly among the Guardian Angels (see the glossary entries, ʾal-Ḥafaẓaẗ and ʾal-Malāk ʾal-Ḥāris) residing in the World of Dreams (see the glossary entry, ʾal-ʿĀlam ʾal-⫯Ahlām). ʾǍmitiy (Hebrew,

אֲמִתִּי

) is true, correct, real, original, or genuine. Ḥaqq ʾAllꞌah ʾal-Malāk (

حَقّ الله الْمَلَاك

), Truth of God the Angel, is my Arabic-language translation. Ángelos Amitiḗl (Greek, Ἄγγελος Αμιτιήλ) is a Greek (or Hellenized) spelling. Compare with the glossary entry, ʾal-Ǧamāʿāniyyaẗ ʾal-mutaǧāwibaẗ.
ʾĂmiyṭəʾābəhəʾạ hā-Mạləʾāḵə (Hebrew, אֲמִיטְאָבְּהְאַ הָמַלְאָךְ), ⫯Amītābhā ʾal-Malāk (أَمِيتَابْهَا الْمَلَاك), Ángelos Amitámpa (Greek, Ἄγγελος Αμιτάμπα), Amida-Tenshi (Japanese, 阿弥陀天使), or Āmítuó-Tiānshǐ (Chinese, 阿彌陀天使), Infinite Light (Sanskrit) the Angel, is Amitabha the Angel, possibly among the Guardian Angels (see the glossary entries, ʾal-Ḥafaẓaẗ and ʾal-Malāk ʾal-Ḥāris) residing in the World of Dreams (see the glossary entry, ʾal-ʿĀlam ʾal-⫯Ahlām). My added Hebrew vowel-points are only approximations. Amitābha (Dēvanāgarī Sanskrit script, अमिताभ), ⫯Od-Dpag-Med (Tibetan, འོད་དཔག་མེད་), Āmítuó (Chinese, 阿彌陀), or Amida (Japanese, 阿弥陀) is infinite light. See also the glossary entries, Jōdobukkyō and Namo Amitābha Buddha.
ʾĀmiyṭəʾāyūs hā-Mạləʾāḵə (Hebrew, אָמִיטְאָיוּס הָמַלְאָךְ), ⫯Amītāyūs ʾal-Malāk (أَمِيتَايُوس الْمَلَاك), or ʾAmītāyūs Farištah (Persian, امِیتَایِوس فَرِشْتَه), Infinite Life (Sanskrit) the Angel, is Amitayus (Dēvanāgarī Sanskrit script, अमितायुस्, Amitāyus) the Angel, possibly among the Guardian Angels (see the glossary entries, ʾal-Ḥafaẓaẗ and ʾal-Malāk ʾal-Ḥāris) residing in the World of Dreams (see the glossary entry, ʾal-ʿĀlam ʾal-⫯Ahlām). My added Hebrew vowel-points are only approximations.
ʾẠmmāh hā-Mạləʾāḵə (Hebrew, אַמָּה הָמַלְאָךְ), ⫯Ammā ʾal-Malāk (أَمَّا الْمَلَاك), ʾAmmā Farištah (Persian, امَّا فَرِشْتَه), ʿAmmā Farištah (ʾUrdū, عَمَّا فَرِشْتَہ), Māṉ Farišatah (Šāh Mukhī Punǧ°ābī script, مَاں فَرِشَتَہ), Ammā Fariśtā (Dēvanāgarī Hiṃdī/Sanskrit script, अम्मा फ़रिश्ता), Māṁ Fariśatā (Guramukhī Pajābī script, ਮਾਂ ਫ਼ਰਿਸ਼ਤਾ), or Ángelos Ámma (Greek, Ἄγγελος Άμμα), Mother (Sanskrit) the Angel, is Amma (Dēvanāgarī Sanskrit script, अम्मा, Ammā) the Angel, possibly among the Guardian Angels (see the glossary entries, ʾal-Ḥafaẓaẗ and ʾal-Malāk ʾal-Ḥāris) residing in the World of Dreams (see the glossary entry, ʾal-ʿĀlam ʾal-⫯Ahlām). My added Hebrew vowel-points are only approximations.
ʾal-⫯Ammima ʾal-Muttaḥidaẗ (

الأمِّمَ المُتَّحِدة

), the Nations United, is the United Nations. See also the glossary entry, ʾal-ʿAṣabaẗ ʾal-⫯Ammima.
ʿẠmmiyʾēl hā-Mạləʾāḵə (Hebrew, עַמִּיאֵל הָמַלְאָךְ), People of God the Angel, is Ammiel (or Amiel) the Angel, possibly among the Guardian Angels (see the glossary entries, ʾal-Ḥafaẓaẗ and ʾal-Malāk ʾal-Ḥāris) residing in the World of Dreams (see the glossary entry, ʾal-ʿĀlam ʾal-⫯Ahlām). hā-ʿẠmm (Hebrew,

הָעַמּ

) is the people. With three cognates, ⫯Ummaẗ ʾAllꞌah ʾal-Malāk (

أُمَّة الله الْمَلَاك

), People of God the Angel, is my Arabic-language translation. Ángelos Ammiḗl (Greek, Ἄγγελος Αμμιήλ) is a Greek (or Hellenized) spelling.
ʿAmmān (عَمَّان) or ʿẠmmōn (Hebrew,

עַמּוֹן

) is Amman, the capital city of Jordan. See the glossary entries, ʿẠmmōn hā-Mạləʾāḵə and ʾal-⫯Urdunn.
ʿẠmmōn hā-Mạləʾāḵə (Hebrew, עַמּוֹן הָמַלְאָךְ), ʿAmmūn ʾal-Malāk (عَمُّون الْمَلَاك), ʾÂmmūn Farištah (Persian, آمُّون فَرِشْتَه), or Ángelos Ammonioi (Greek, Ἄγγελος Αμμονιοι), Tribal or People (Hebrew and Arabic) the Angel, is Ammon (or Amun) the Angel, possibly among the Guardian Angels (see the glossary entries, ʾal-Ḥafaẓaẗ and ʾal-Malāk ʾal-Ḥāris) residing in the World of Dreams (see the glossary entry, ʾal-ʿĀlam ʾal-⫯Ahlām). Ammon was also an ancient nation in present-day Jordan. See also the glossary entry, ʿAmmān.
ʿẠmmūḏ-ʾĒš-wə-ʿĒnān hā-Mạləʾāḵə (Hebrew, עַמּ֥וּד־אֵ֖שׁ־וְעָנָ֑ן הָמַלְאָךְ) is Pillar of Fire and Cloud (from the original Hebrew in Exodus 14:24) the Angel, possibly among the Guardian Angels (see the glossary entries, ʾal-Ḥafaẓaẗ and ʾal-Malāk ʾal-Ḥāris) residing in the World of Dreams (see the glossary entry, ʾal-ʿĀlam ʾal-⫯Ahlām). ʿAmūd-Nār-wa-Ġaymaẗ ʾal-Malāk (

عَمُود ـ نَار ـ وَغَيْمَة الْمَلَاك

), Pillar of Fire and Cloud the Angel, is my Arabic-language translation. This Angel (or, perhaps, Angelophany or Angelic "craft") guided the journeys of the Ancient Israelites both by day, as a cloud, and by night, as a pillar of fire.
ʾal-⫯Amn ʾal-⫯abadiyy (

الأَمْن الأَبَدِيّ

), security eternal, is eternal security. This evangelical Christian doctrine is sometimes referred to as once saved, always saved (OSAS) or, in Arabic, ʾal-maḥfūẓaẗ wāḥidaẗ, ʾal-maḥfūẓaẗ dā⫯imāṇ (

المَحْفُوظَة واحِدَة، المَحْفُوظَة دائِماً

), saved one (or once), saved always. The perspective is also associated with the related doctrine, ʾal-muṯābaraẗ min ʾal-qiddīsīna (

المُثَابَرَة مِنْ الْقِدِّيسِينَ

), the perseverance (or persistence) of (or from) the saints (i.e., the perseverance of the saints). For the contrasting doctrine, see the glossary entry, al-Ḥifāẓ ʾal-šarṭiyy min ʾal-qiddīsīna.
ʾal-⫯Amn ʾal-ǧamāʿiyy (

الأَمْن الجَمَاعِيّ

), security (or safety) collective (or mass), is collective security.
ʾĀmōgạsiyddih hā-Mạləʾāḵə (Hebrew, אָמוֹגַּסִידִּה הָמַלְאָךְ), ⫯Amūġāsiddhiyy ʾal-Malāk (أَمُوغَاسِدّْهِيّ الْمَلَاك), and Ángelos Amonkasíntchi (Greek, Ἄγγελος Αμογκασίντχι), Accomplishment not in Vain (Sanskrit) the Angel, refer to Amoghasiddhi the Angel, possibly among the Guardian Angels (see the glossary entries, ʾal-Ḥafaẓaẗ and ʾal-Malāk ʾal-Ḥāris) residing in the World of Dreams (see the glossary entry, ʾal-ʿĀlam ʾal-⫯Ahlām). My added Hebrew vowel-points are only approximations. Amōghasiddhi (Dēvanāgarī Sanskrit script, अमोघसिद्धि), accomplishment not in vain, has been rendered in Chinese as Bùkōngchéngjiùrúlái (Chinese, 不空成就如来).
ʾĀmōn hā-Mạləʾāḵə (Hebrew, אָמוֹן הָמַלְאָךְ), Architect (alternatively, Artificer or Master Workman) the Angel, is Amon the Angel, possibly among the Guardian Angels (see the glossary entries, ʾal-Ḥafaẓaẗ and ʾal-Malāk ʾal-Ḥāris) residing in the World of Dreams (see the glossary entry, ʾal-ʿĀlam ʾal-⫯Ahlām). Miʿmār ʾal-Malāk (

مِعْمَار الْمَلَاك

), Architect (or Stonemason) the Angel, is my Arabic-language translation.
ʾal-⫯Amr (الأَمْر), or ʾal-⫯awāmir (الأوامر) in the plural form, is the Cause or the Command. See also the glossary entry, ʾal-⫯Amr ʾAllꞌah.
hā-ʾĀmōrāʾ (Hebrew,

הָאָמוֹרָא

), with hā-ʾāmōrāʾiym (Hebrew,

הָאָמוֹרָאִים

) as the plural form, is a Talmudic sage (see the glossary entry, hā-Talmūd).
ʾal-⫯Amrakaẗ (الأَمْرَكَة) is Americanization.
ʾal-⫯Amr ʾAllꞌah (

الأَمْر الله‎

) is the Cause of God. See also the glossary entries, ʾal-⫯Amr and ʾal-Waliyy ʾal-⫯Amr ʾAllꞌah.
ʾal-⫯Amrīkā ʾal-Lātīniyyaẗ (

الأمْريكا اللاتينيَّة

), America Latin, is Latin America. ʾal-⫯Amrīkiyyaẗ ʾal-Lātīniyyaẗ (

الأَمْرِيكِيّة اللاتينيَّة

), American Latin, is Latin American. The United States is not only an Anglo-American (see the glossary entry, ʾal-⫯Amrīkiyyaẗ ʾal-⫯Anǧlū) country. It is also a Latin American country. Likewise, Canada is both Anglo-Canadian (

الأَمْرِيكَا الأَنْجْلُو

, ʾal-Kanadiyyaẗ ʾal-⫯Anǧlū) and French Canadian (

الكنديَّة الفْرنسيَّة

, ʾal-Kanadiyyaẗ ʾal-Fransiyyaẗ).
ʾal-⫯Amrīkā ʾal-Wustaỳ (

الأَمْرِيكَا الوُسْطَى

), America middle (or America central), is Central America or Mesoamerica.
ʾal-⫯Amrīkiyyaẗ ʾal-⫯Anǧlū (

الأَمْرِيكِيّة الأَنْجْلُو

), American Anglo, is Anglo-American. ʾal-⫯Amīrkiyyūna ʾal-⫯Anǧlū (

الأَمِيرْكِيُّونَ الأَنْجْلُو

), Americans Anglo, are Anglo-Americans.
ʾal-⫯Amrīkiyyaẗ ʾal-ʾÂsiyawiyyaẗ (

الأَمْرِيكِيَّة الآسِيَوِيَّة

), American Asian, is Asian American. ʾal-⫯Amīrkiyyūna ʾal-ʾÂsiyawiyyaẗ (

الأَمِيرْكِيُّونَ الآسِيَوِيَّة

), Americans Asian, are Asian Americans.
ʾẠmūnēṭ hā-Mạləʾāḵə (Hebrew, אַמוּנֵט הָמַלְאָךְ), ⫯Amūnit ʾal-Malāk (أَمُونِت الْمَلَاك), or Ángelos Amounét (Greek, Ἄγγελος Αμουνέτ), Hidden Female (Ancient Egyptian) the Angel, is Amunet the Angel, possibly among the Guardian Angels (see the glossary entries, ʾal-Ḥafaẓaẗ and ʾal-Malāk ʾal-Ḥāris) residing in the World of Dreams (see the glossary entry, ʾal-ʿĀlam ʾal-Bāṭin).
ʾĀmūn-Rāʿ hā-Mạləʾāḵə (Hebrew, אָמֻן־רָע הָמַלְאָךְ) or ʾÂmūn-Raʿ ʾal-Malāk (آمُون ـ رَع الْمَلَاك), Hidden Solar Disk (Ancient Egyptian) the Angel, is Amun-Ra (alternatively, Amon-Ra or Amen-Ra) the Angel, possibly among the Guardian Angels (see the glossary entries, ʾal-Ḥafaẓaẗ and ʾal-Malāk ʾal-Ḥāris) residing in the World of Dreams (see the glossary entry, ʾal-ʿĀlam ʾal-⫯Ahlām). My added Hebrew vowel-points are only approximations.
ʾal-⫯Amuwāt (الأموات), with ʾal-mayyit (المَيِّت) as the singular form, are the dead or the deceased

ones

.
ʾal-⫯Anārkiyyaẗ ʾal-niqābiyyaẗ (

الأنَارْكِيَّة النِقَابِيّة

), the anarchy of the union (or trade union), is anarcho-syndicalism. See also the glossary entries, ʾal-Fawḍawiyyaẗ and ʾal-Niqābiyyaẗ maḏhab yusayṭir ʾal-ʿummāl fīhi.
ʾal-⫯Anārkiyyaẗ ʾal-r⫯asmāliyyaẗ (

الأنَارْكِيَّة الرَأْسْمَالِيَّة

), the anarchy of capitalism, is anarcho-capitalism.
ʾal-⫯Anā (الأَنَا) is the ego or, as ⫯anā (أَنَا), the personal pronoun "I." Sometimes, ʾal-⫯anā is conceptualized as the highest laṭīfaẗ (see the glossary entry, ʾal-Laṭa⫯if ʾas-sittaẗ).

See also the glossary entries, ʾal-⫯Anāniyyaẗ, ʾal-Nafs, and ʾal-Ṭafḥuṇ w-ʾal-⫯anā w-ʾal-ḍammīr.

ʿǍnāḇiyʾēl hā-Mạləʾāḵə (Hebrew, עֲנָבִיאֵל הָמַלְאָךְ), Grape (or Fruit) of ʾĔlōhiym (see glossary entry) the Angel, is Anabiel (or Anaviel) the Angel, possibly among the Guardian Angels (see the glossary entries, ʾal-Ḥafaẓaẗ and ʾal-Malāk ʾal-Ḥāris) residing in the World of Dreams (see the glossary entry, ʾal-ʿĀlam ʾal-⫯Ahlām). hā-ʿǍnāḇ (Hebrew,

הָעֲנָב

) is the grape or the fruit. With three cognates, ʿInab ʾAllꞌah ʾal-Malāk (

عِنَب الله الْمَلَاك

), Grape (or Grapes) of God the Angel, is my Arabic-language translation. Ángelos Anabiḗl (Greek, Ἄγγελος Αναβιήλ) is a Greek (or Hellenized) spelling.
ʿĀnāhʾēl hā-Mạləʾāḵə (Hebrew, עָנָהאֵל הָמַלְאָךְ), Testify in ʾĔlōhiym (see glossary entry) the Angel, is Anahel the Angel, possibly among the Guardian Angels (see the glossary entries, ʾal-Ḥafaẓaẗ and ʾal-Malāk ʾal-Ḥāris) residing in the World of Dreams (see the glossary entry, ʾal-ʿĀlam ʾal-⫯Ahlām). ʿĀnāh (Hebrew,

עָנָה

), a verb, is to testify, to answer, or to respond. Šahādaẗ ʾal-⫯Ilhiyyaẗ ʾal-Malāk (

شَهَادَة الإِلهِيَّة الْمَلَاك

), Divine Testimony the Angel, is my Arabic-language translation.
ʾĀnạẖiyʾēl hā-Mạləʾāḵə (Hebrew, אָנַחִיאֵל הָמַלְאָךְ), Sigh in ʾĔlōhiym (see glossary entry) the Angel, is Anachiel the Angel, possibly among the Guardian Angels (see the glossary entries, ʾal-Ḥafaẓaẗ and ʾal-Malāk ʾal-Ḥāris) residing in the World of Dreams (see the glossary entry, ʾal-ʿĀlam ʾal-⫯Ahlām). ʾĀnạẖ (Hebrew,

אָנַח

) is to sigh or to groan. Tanahhudaẗ fī ʾAllꞌah ʾal-Malāk (

تَنَهُّدَة فِي الله الْمَلَاك

), Sigh in God the Angel, is my Arabic-language translation. Ángelos Anachiēl (Greek, Ἄγγελος Αναχιηλ) is a Greek (or Hellenized) spelling.
ʾĀnạhiyṭāh hā-Mạləʾāḵə (Hebrew, אָנַהִיטָה הָמַלְאָךְ), ʾÂnāhītā ʾal-Malāk (آنَاهِيتَا الْمَلَاك), ʾÂnāhītā Farištah (آنَاهِیتَا فَرِشْتَه), or Ángelos Anachíta (Greek, Ἄγγελος Αναχίτα), Immaculate (Ancient Avestan) the Angel, is Anahita the Angel, possibly among the Guardian Angels (see the glossary entries, ʾal-Ḥafaẓaẗ and ʾal-Malāk ʾal-Ḥāris) residing in the World of Dreams (see the glossary entry, ʾal-ʿĀlam ʾal-⫯Ahlām). My added Hebrew vowel-points are only approximations.
⫯Anā mawǧūd (

أَنَا مَوْجُود

) is "I exist."
ʾal-⫯Anā wa-li-ya (

الأَنَا وَلِيَ

) are the I (the subjective self or role) and the me (the objective self or performance). With the I, the self acts, linguistically, as the subject (المَوْضُوع, ʾal-mawḍūʿ). With the me, the self acts, linguistically, as the predicate (الإِسْنادِيّ, ʾal-⫯isnādiyy). The I and the me are important concepts in George Herbert Mead's social behaviorism (see the glossary entry, ʾal-Sulūkiyyaẗ ʾal-ʾiǧtimāʿiyyaẗ) and, subsequently, in Herbert Blumer's symbolic interactionism (see the glossary entry, ʾal-Tafāʿuliyyaẗ ʾal-ramziyyaẗ). See also the glossary entries, ʾal-Dawr and ʾal-Fiʿl.
ʿĀnạnədāh hā-Mạləʾāḵə (Hebrew, אָנַנְדָּה הָמַלְאָךְ), ⫯Anāndā ʾal-Malāk (أَنَانْدَا الْمَلَاك), ʾÂnāndā Farištah (Persian, آنَانْدَا فَرِشْتَه), ʾÂnanda Farištah (ʾUrdū, آنَندَ فَرِشْتَہ), ʾÂnanda Farišatah (Šāh Mukhī Punǧ°ābī script, آنَندَ فَرِشَتَہ), Ānanda Fariśtā (Dēvanāgarī Hiṃdī/Sanskrit script, आनन्द फ़रिश्ता), or Ānanda Fariśatā (Guramukhī Pajābī script, ਆਨਨ੍ਦ ਫ਼ਰਿਸ਼ਤਾ), Bliss (Sanskrit) the Angel, is Ananda (Dēvanāgarī Sanskrit script, आनन्द, Ānanda) the Angel, possibly among the Guardian Angels (see the glossary entries, ʾal-Ḥafaẓaẗ and ʾal-Malāk ʾal-Ḥāris) residing in the World of Dreams (see the glossary entry, ʾal-ʿĀlam ʾal-⫯Ahlām). My added Hebrew vowel-points are only approximations.
ʾal-⫯Anāniyyaẗ (الأَنَانِيَّة), with ʾal-⫯anāniyy (الأَنَانِيّ) as the possessive or an appurtenance, is egoism (or egotism). The French spelling is égoïsme. Compare with the glossary entry, ʾal-⫯Anā.
ʿĀnāp̄iyʾēl hā-Mạləʾāḵə (Hebrew, עָנָפִיאֵל הָמַלְאָךְ), Branch in ʾĔlōhiym (see glossary entry) the Angel, is Anafiel (alternatively, Anpiel, Anaphiel, Anapiel, Anfial, Anfiel, or Anafiel) the Angel, possibly among the Guardian Angels (see the glossary entries, ʾal-Ḥafaẓaẗ and ʾal-Malāk ʾal-Ḥāris) residing in the World of Dreams (see the glossary entry, ʾal-ʿĀlam ʾal-⫯Ahlām). hā-ʿĀnāp̄ (

הָעָנָף

) is the branch, bough, stick, sprig, frond, or sprout. ʿĀnāfī⫯īl ʾal-Malāk (

عَانَافِيئِيل الْمَلَاك

) is my Arabization. Farʿ fī ʾAllꞌah ʾal-Malāk (

فَرْع فِي الله الْمَلَاك

), branch (or bough) in God the Angel, is my Arabic-language translation. Ángelos Anaphiḗl (Greek, Ἄγγελος Αναφιήλ) is a Greek (or Hellenized) spelling.
ʾal-⫯Anārkiyyaẗ ʾal-ʾistaqlāliyyaẗ ʾal-ḏātiyyaẗ (

الأنَارْكّيَّة الاِسْتِقْلالِيَّة الذاتِيَّة

), the anarchism of the autonomism (or autonomy) of self (i.e., self-autonomy), is autonomism.
ʿẠnāṯiyʾēl hā-Mạləʾāḵə (Hebrew, עַנָתִיאֵל הָמַלְאָךְ), Water Spring of ʾĔlōhiym (see glossary entry) the Angel, is Anathiel the Angel, possibly among the Guardian Angels (see the glossary entries, ʾal-Ḥafaẓaẗ and ʾal-Malāk ʾal-Ḥāris) residing in the World of Dreams (see the glossary entry, ʾal-ʿĀlam ʾal-⫯Ahlām). ʿĀnāṯī⫯īl ʾal-Malāk (

عَانَاثِيئِيل الْمَلَاك

) is my Arabization. Yanbūʿ ʾAllꞌah ʾal-Malāk (

يَنْبُوع الله الْمَلَاك

), Wellspring (alternatively, Spring or Source) of God the Angel, is my Arabic-language translation.
ʿĂnāṯ hā-Mạləʾāḵə (Hebrew, עֲנָ֖ת הָמַלְאָךְ), ⫯Anāṯ ʾal-Malāk (إَنَاث الْمَلَاك), or Ángelos Anath (Greek, Ἄγγελος Αναθ), House (Hebrew) the Angel, is Anat the Angel, possibly among the Guardian Angels (see the glossary entries, ʾal-Ḥafaẓaẗ and ʾal-Malāk ʾal-Ḥāris) residing in the World of Dreams (see the glossary entry, ʾal-ʿĀlam ʾal-Bāṭin).
⫯Anā ⫯ufakkir, ⫯iḏāṇ ⫯anā (

أَنَا أُفَكِّر، إِذَاً أَنَا

) is I think, therefore I

am

or, in Latin, cōgitō ergō sum. This statement is related to the philosophy of René Descartes (see the glossary entry, ʾal-Daykārtiyyaẗ).
ʾal-ʿAnāyyaẗ ʾal-⫯Ilhiyyaẗ (

العَنَاِيَّة الإِلهِيَّة

), providence (or care) divine, is divine Providence.
ʾal-⫯Anbiyāˁ ʾal-Madīnaẗ Kānsās (الأَنْبِيَاء المَدِينَة كَانْسَاس), the prophets of the city of Kansas, is my Arabic-language translation of the Kansas City prophets, a highly unusual branch of the Charismatic movement (see the glossary entry, ʾal-Ḥarakaẗ ʾal-Kārīzmiyyaẗ). Compare with the glossary entry, ʾal-Niʿmaẗ Tūrūntū.
ʾal-ʿAndalīb (العَنْدَلِيب), with ʾal-ʿanādil (

العَنَادِل

) as the plural form, is the nightingale. See also the glossary entry, ʾal-Warqāˁ ʾal-Firdaws.
ʾal-⫯Andalus (الأنْدَلُس), a word with a disputed etymology, was a medieval Muslim state (roughly, 711-1492 A.D.) on the Iberian Peninsula. The peninsula includes the modern Spanish state of Andalusia.

The state incorporated contemporary Portugal, Andorra, Spain (including modern Andalusia), and a portion of southern France. The Muslim inhabitants of ʾal-⫯Andalus have been popularly called the "Moors" (from the Latin, Maurus, for Mauritanian, derived, in turn, from the Greek, μαύρος or Maúros, for black or dark). ʾal-⫯Andalus was operated as a province of ʾal-H̱alīfaẗ ʾal-⫯Umawiyyaẗ (

الخلافة الأُمَوِيَّة

) or the "Umayyad Caliphate." (See the glossary entry, ʾal-H̱alīfaẗ.)
According to Shoghi Effendi, "... in some of whose [Europe's] outlying territories have been won some of the most resplendent victories which ushered in the Golden Age of Islám ..." (Citadel of Faith, page 27). Significantly, from a Baháʾ&iacute perspective, ʾal-⫯Islām (see glossary entry) in ʾal-⫯Andalus was ʾal-Sunniyy (see the glossary entry, ʾal-⫯Ahl ʾal-Ssunnaẗ w-ʾal-Ǧamāʾaẗ), not ʾal-Šīʿaẗ (see glossary entry). The Golden Age was not restricted to ʾal-Šīʿiyy Muslims. The Moors largely supported the Mālakiyy school of ʾal-fiqh (see the glossary entry, ʾal-Fiqh). For my views on the devotional center, or heart, of that Golden Age, see the glossary entry, The Bhakti-Ṣūfiyy movement.

See also the glossary entry, ʾal-ʿAṣru ʾal-Ḏahabiyy ʾal-⫯Islāmiyy.

Andha gaja nyāy (Dēvanāgarī Sanskrit script, अन्ध गज न्याय), blind elephant judgment (i.e., the blind judging the elephant), is a formal designation given to the well-known Jain parable, the blind men and the elephant. See also the glossary entries, Anekāntavāda and Jainā Dharma.
⫯Andrū ʾal-Malāk (أَنْدرُو الْمَلَاك), ʾĀnədərū hā-Mạləʾāḵə (Hebrew,

אָנְדְּרוּ הָמַלְאָךְ

), ʾAndrū Farištah (Persian, اندرُو فَرِشْتَه), ʾAynḍrīw Farištah (ʾUrdū, ایْنْڈْرِیو فَرِشْتَہ), or Ángelos Andréas (Ancient Greek, Ἄγγελος Ἀνδρέας), is Manly (Ancient Greek) the Angel, possibly among the Guardian Angels (see the glossary entries, ʾal-Ḥafaẓaẗ and ʾal-Malāk ʾal-Ḥāris) residing in the World of Dreams (see the glossary entry, ʾal-ʿĀlam ʾal-⫯Ahlām). My added Hebrew vowel-points are only approximations. On the morning of January 19ᵗʰ, 2017, Andrew reminded me of the verse, "Taste ye what your hands have wrought!" [Bahá'u'lláh in Shoghi Effendi. The Promised Day is Come.] Yes, voting for a racially prejudiced despot has consequences.
ʾẠnədərōmēdāh hā-Mạləʾāḵə (Hebrew, אַנְדְּרוֹמֵדָּה הָמַלְאָךְ), ⫯Andrūmaydā ʾal-Malāk (أَنْدْرُومَيْدَا الْمَلَاك), ʾÂndrūmidā Farištah (Persian, آنْدْرُومِدَا فَرِشْتَه), ʾAnḍrūmayḍā Farištah (ʾUrdū, اینْڈْرُومَیْڈَا فَرِشْتَہ), or Ángelos Androméda (Ancient Greek, Ἄγγελος Ἀνδρομέδα), Ruler of Humanity (Ancient Greek) the Angel, is Andromeda the Angel, possibly among the Guardian Angels (see the glossary entries, ʾal-Ḥafaẓaẗ and ʾal-Malāk ʾal-Ḥāris) residing in the World of Dreams (see the glossary entry, ʾal-ʿĀlam ʾal-⫯Ahlām). My added Hebrew vowel-points are only approximations.
Anekāntavāda (Dēvanāgarī Sanskrit script, अनेकान्तवाद) is Sanskrit for manifold thought (that is to say, skepticism or epistemic relativity about the conclusions of oneself and others). The plural form is anekāntavādāḥ. The term refers to the Jain doctrine of perspectivism, as illustrated by the common parable of "the blind men and the elephant" (see the glossary entry, Andha gaja nyāy). Anekāntavāda is quite similar to another Jain concept,

syādvāda

(Dēvanāgarī Sanskrit script, स्याद्वाद), assertion of possibilities. See also the glossary entry, Jainā Dharma.
ʾĀnəpūṭəʾēl hā-Mạləʾāḵə (Hebraized Ancient Egyptian and Hebrew, אָנְפּוּטְאֵל הָמַלְאָךְ), Royal Daughter (Ancient Egyptian) of ʾĔlōhiym (see glossary entry) the Angel, is Anputel the Angel, possibly among the Guardian Angels (see the glossary entries, ʾal-Ḥafaẓaẗ and ʾal-Malāk ʾal-Ḥāris) residing in the World of Dreams (see the glossary entry, ʾal-ʿĀlam ʾal-⫯Ahlām). ʾĀnəpūṭ (Hebraized Ancient Egyptian,

אָנְפּוּט

), Royal Daughter, is the name of an Ancient Egyptian Goddess. My added Hebrew vowel-points are only approximations. Anput, in Ancient Egyptian hieroglyphs, is . ⫯Anbūt⫯īl ʾal-Malāk (

أَنْبُوتئِيل الْمَلَاك

) is my Arabization of the Angel's name.
Aṅga (Dēvanāgarī Pāli/Sanskrit script, अङ्ग) is a Pāli and Sanskrit term for a "limb" or

division of the Buddha's teachings or of Jain texts

. Aṅgāni (Dēvanāgarī Sanskrit script, अङ्गानि) is a Sanskrit plural form (limbs). Zhītǐ (Chinese, 肢體) is the Chinese spelling. Sìzhī (四肢) is the Chinese plural form (limbs). The ancient country of Aṅga ("limb") was located in the eastern part of modern India. The Angikā (see glossary entry) language is still widely used in the former imperial territory of Aṅga. See also the glossary entries, Buddha, Buddha Dharma, and Jainā Dharma.
ʾAngah (ʾUrdū, انگہ‎, ʾAngah; Dēvanāgarī Sanskrit script, अनगाह, Anagāha; or Guramukhī Pajābī script, ਅਨਗਾਹ, Anagāha), "thresher" (referring to an Indian caste), is a village in the Sūn Valley (ʾUrdū,

وادئِ سُون

, Wād⫯i-i Sūn) of the modern-day H̱ūšāb District (ʾUrdū,

ضِلعِ خُوشاب

, Ḍilaʿ-i H̱ūšāb) in the Pākistānī Punjab (see the glossary entries, Pākistāna and Panǧāba). That village was the sanctified birthplace of Ḥaḍrat Sulṭān Bāhū (see glossary entry), God bless his great soul. See also the glossary entry, Ḍilaʿ.
Angikā (Dēvanāgarī Angikā/Sanskrit script, अंगिका) is an East Indian language. Currently, the script most commonly used to transcribe Angikā is Dēvanāgarī (see glossary entry). See also the glossary entry, Aṅga.
ʾal-ʾAnġlīkāniyy (

الأَنْغلِيكَانِيّ

),

belonging to

the Anglican, is the Anglican Communion. In the U.S., and in some other countries, the Anglican Communion is referred to as the Episcopal Church (see the glossary entry, ʾal-Kanīsaẗ ʾal-⫯Isqufiyaẗ).
ʾal-⫯Anǧlūsaksūniyy (

الأَنْجْلُوسَكْسُونِيُّ

), with ʾal-⫯Anǧlūsaksūniyyūna (

الأَنْجْلُوسَكْسُونِيُّونَ

) as the plural form, is the Indo-European loanword for Anglo-Saxon.
⫯Anġūlā (أَنْغُولَا) is Angola.
ʾal-⫯Anīsaẗ (الأَنِيسَة), with ʾal-⫯anīsāt (

الأَنِيسَات

) as a plural form, is

intimate

friend or companion, companionship, or, as an adjective, friendly or affable.

In a Bahá'í context, ⫯Anīsaẗ (أنيسة) symbolizes the tree of life: "The Tree of Life, of which mention is made in the Bible, is Bahá'u'lláh, and the daughters of the Kingdom are the leaves upon that blessed Tree. Then thank thou God that thou hast become related to that Tree, and that thou art flourishing, tender and fresh." (ʽAbdu'l-Bahá, Selections from the Writings of ʽAbdu'l-Bahá. Page 57.) "… in the supreme Paradise the tree of life is the expression for the center of absolutely pure sanctity—that is to say, of the divine supreme Manifestation." (ʽAbdu'l-Bahá, Some Answered Questions. Page 124.)
⫯Anīsaẗ (أَنِيسَة) as ANISA, an acronym for American National Institutes for Social Advancement, was an educational philosophy developed by various Bahá'í professors and graduate students at the University of Massachusetts' School of Education (Amherst, MA). In this context, the term was also interpreted as the tree of life. ANISA was influenced by process philosophy (see the glossary entry, ʾal-Falsafaẗ ʾal-ʿamaliyyaẗ) and by the seminal Bahá'í deepening (study) project of Marian Crist Lippitt (see the glossary entry, ʾal-ʿIlmu ʾal-Wāqiʿ).

See also the glossary entries, ʾal-ʿAhd ⫯Alašt, ʾal-Maʿād, ʾal-Sidraẗ ʾal-Muntahaỳ, and ʾal-Taʿmīq ʾal-Bahā⫯iyyaẗ.

ʿĀniyēl hā-Mạləʾāḵə (Hebrew, עָנִיאֵל הָמַלְאָךְ), Poor in ʾĔlōhiym (see glossary entry) the Angel, is Aniel (alternatively, Aliyel or Anael) the Angel, possibly among the Guardian Angels (see the glossary entries, ʾal-Ḥafaẓaẗ and ʾal-Malāk ʾal-Ḥāris) residing in the World of Dreams (see the glossary entry, ʾal-ʿĀlam ʾal-⫯Ahlām). ʿĀniy (

עָנִי

) is poor, afflicted, or humble. Fuqarāˁ fī ʾAllꞌah ʾal-Malāk (

فُقَرَاء فِي الله الْمَلَاك

), Poor in God the Angel, is my Arabic-language translation. Ángelos Aniḗl (Greek, Ἄγγελος Ανιήλ) is a Greek (or Hellenized) spelling.
ʾǍniy kāʾn! (Hebrew,

אֲנִי כָּאן!

) is I

am

here! (or here

am

I!) in Hebrew. Correspondingly, ⫯anā hunā! (

أَنَا هُنَا!

) is I

am

here! (or here

am

I!) in Arabic. In my opinion, "here am I!" is the appropriate response to the Messenger of God for the Age.
ʾẠniylāh hā-Mạləʾāḵə (Hebrew, אַנִילָה הָמַלְאָךְ), ⫯Anīlā ʾal-Malāk (أَنِيلَا الْمَلَاك), ʾÂnīlā Farištah (Persian, آنِیلَا فَرِشْتَه), ʾAnila Farištah (ʾUrdū, انِلَ فَرِشْتَہ), ʾAnila Farišatah (Šāh Mukhī Punǧ°ābī script, انِلَ فَرِشَتَہ), Anila Fariśtā (Dēvanāgarī Hiṃdī/Sanskrit script, अनिल फ़रिश्ता), or Anila Fariśatā (Guramukhī Pajābī script, ਅਨਿਲ ਫ਼ਰਿਸ਼ਤਾ), Wind (Sanskrit) the Angel, is Anila (Dēvanāgarī Sanskrit script, अनिल, Anila) the Angel, possibly among the Guardian Angels (see the glossary entries, ʾal-Ḥafaẓaẗ and ʾal-Malāk ʾal-Ḥāris) residing in the World of Dreams (see the glossary entry, ʾal-ʿĀlam ʾal-⫯Ahlām). My added Hebrew vowel-points are only approximations.
ʾẠniyrūddəhāʾ-ʾĀwəwāṭʾạr (or ʾẠniyrūdəhāʾ-ʾĀvəvāṭʾạr) hā-Mạləʾāḵə (Hebrew, אַנִירוּדְּהָא־אָוְוָטְאַר הָמַלְאָךְ), ⫯Anīrūddhā-⫯Afātār ʾal-Malāk (أَنِيرُودّْهَا ـ أَفَاتَارَ الْمَلَاك), ʾAnīrūddhā ʾÂvātār Farištah (Persian, انِیرُودّْهَا آوَاتَار فَرِشْتَه), ʾAniruddha ʾAvatāra Farišatah (ʾUrdū, انِرُودّھَ اوَتَارَ فَرِشْتَہ), ʾAniruddha ʾAvatāra Farišatah (Šāh Mukhī Punǧ°ābī script, انِرُدّھَ اوَتَارَ فَرِشَتَہ), Aniruddha Avatāra Fariśtā (Dēvanāgarī Hiṃdī/Sanskrit script, अनिरुद्ध अवतार फ़रिश्ता), or Aniruddha Avatāra Fariśatā (Guramukhī Pajābī script, ਅਨਿਰੁੱਧ ਅਵਤਾਰ ਫ਼ਰਿਸ਼ਤਾ), Descent of the Unrestrained One (Sanskrit) the Angel, is Aniruddha Avatar (Dēvanāgarī Sanskrit script, अनिरुद्ध अवतार, Aniruddha Avatāra) the Angel, possibly among the Guardian Angels (see the glossary entries, ʾal-Ḥafaẓaẗ and ʾal-Malāk ʾal-Ḥāris) residing in the World of Dreams (see the glossary entry, ʾal-ʿĀlam ʾal-⫯Ahlām). My added Hebrew vowel-points are only approximations.
ʾal-⫯Anmāṭi ʾal-ʾiǧtimāʿiyyaẗ ʾal-ṯṯaqāfiyyaẗ (

الأَنْماطِ الاجْتِمَاعِيَّة الثَّقَافِيَّة

), patterns (or styles) social cultural, are sociocultural patterns. ʾal-Namaṭ ʾal-ʾiǧtimāʿiyy ʾal-ṯaqāfiyy (

النَمَط الاجْتِمَاعِيّ الثَّقَافِيّ

), pattern (or style) social cultural, is my translated singular form ("sociocultural pattern").
ʾẠnnəʾāpūrənāh hā-Mạləʾāḵə (Hebrew, אַנְּאָפּוּרְנָה הָמַלְאָךְ), ⫯Annābūrnā ʾal-Malāk (أَنَّابُورْنَا الْمَلَاك), ʾÂnnāpūrnā Farištah (Persian, آنَّاپُورْنَا فَرِشْتَه), ʾAnnapūrnā Farištah (ʾUrdū, انَّپُورنَا فَرِشْتَہ), ʾAnnapūranā Farišatah (Šāh Mukhī Punǧ°ābī script, انَّپُورَنَا فَرِشَتَہ), Annapūrṇā Fariśtā (Dēvanāgarī Hiṃdī/Sanskrit script, अन्नपूर्णा फ़रिश्ता), Anapūraṇā Fariśatā (Guramukhī Pajābī script, ਅੰਨਪੂਰਣਾ ਫ਼ਰਿਸ਼ਤਾ), Annapūrṇa Dēvadūta (Telugu, అన్నపూర్ణ దేవదూత), Annapūrṇā Dēbadūta (Bengali, অন্নপূর্ণা দেবদূত), Annapūrṇā Dūtē (Gujarātī અન્નપૂર્ણા દૂતે), Aṉṉapūrṇā Tēvatai (Tamiḻ, அன்னபூர்ணா தேவதை), Ángelos Annapoúrna (Greek, Ἄγγελος Ανναπούρνα), or Tenshi Annapuruna (Japanese, 天使 アンナプルナ), Complete Food (Sanskrit) the Angel, is Annapurna or Annapoorna (Dēvanāgarī Sanskrit script, अन्नपूर्णा, Annapūrṇā) the Angel, possibly among the Guardian Angels (see the glossary entries, ʾal-Ḥafaẓaẗ and ʾal-Malāk ʾal-Ḥāris) residing in the World of Dreams (see the glossary entry, ʾal-ʿĀlam ʾal-⫯Ahlām). My added Hebrew vowel-points are only approximations.
ʾẠnniyy hā-Mạləʾāḵə (Hebrew, אַנִּיּ הָמַלְאָךְ), ʾÂnniyy ʾal-Malāk (آنِّيّ الْمَلَاك), ʾÂnnī Farištah (Persian, آنِّی فَرِشْتَه), or Ángelos Ánni (Greek, Ἄγγελος Άννι), Grace (or "Gracie") the Angel, is Annie the Angel, possibly among the Guardian Angels (see the glossary entries, ʾal-Ḥafaẓaẗ and ʾal-Malāk ʾal-Ḥāris) residing in the World of Dreams (see the glossary entry, ʾal-ʿĀlam ʾal-⫯Ahlām). My added Hebrew vowel-points are only approximations. Anna and Hánna (Koinḗ, or Common, Greek, Ἅννα) are from the Hebrew, Ḥạnnāh (Hebrew,

חַנָּה

), favor or grace. On the morning of November 20ᵗʰ, 2014, Elizabeth Thomas, my spiritual mother, came to me in a dream through Annie.
ʾal-ʾAntiḥār (الانْتِحار) is suicide. Sociologist Émile Durkheim discussed four types of suicide: altruistic (see the glossary entry, ʾal-Ġayriyyaẗ), egoistic (see the glossary entry, ʾal-⫯Anāniyyaẗ), anomic (see the glossary entries, Ġayr ʾal-⫯aẖlāqiyy ʾal-ʾiǧtimāʿiyyāṇ and ʾal-Šuḏū), and fatalistic (see the glossary entry, ʾal-Qadariyyaẗ). They were illustrations of his social idealist theory of «la conscience collective» (see the glossary entry, al-⫯Idrāk ʾal-ǧamāʿiyy). See also the glossary entries, ʾImīl Dūrkhāym and ʾal-Miṯāliyyaẗ ʾal-ʾiǧtimāʿiyyaẗ.
ʾal-⫯Anṯrūbūsīn (

الأَنْثرُوبُوسِين

) is the Anthropocene, a proposed geological epoch involving human intervention. The term is taken from the Greek word, ánthrōpos (Greek, ἄνθρωπος), "man."
⫯Anṭūniyū Ġrāmšiyy (

أَنْطونِيو غْرَامْشِيّ

) is Antonio Gramsci (1891 A.D.-1937 A.D.). He was a leading figure in cultural Marxism (see the glossary entry, ʾal-Mārksiyyaẗu ʾal-ṯṯaqāfiyyaẗ), and he developed the theory of cultural hegemony (see the glossary entry, ʾal-Haymanaẗ ʾal-ṯṯaqāfiyyaẗ). See also the glossary entry, ʾal-Ṯānaw.
ʾĀnūbiyəs hā-Mạləʾāḵə (Hebrew, אָנוּבִּיְס הָמַלְאָךְ), ⫯Anūbīs ʾal-Malāk (أَنُوبِيس الْمَلَاك), and Ángelos Ánoubis (Ancient Greek, Ἄγγελος Ἄνουβις), Jackal (Ancient Egyptian) the Angel, is Anubis the Angel, possibly among the Guardian Angels (see the glossary entries, ʾal-Ḥafaẓaẗ and ʾal-Malāk ʾal-Ḥāris) residing in the World of Dreams (see the glossary entry, ʾal-ʿĀlam ʾal-⫯Ahlām). He is, according to John Randolph Price, the Angel of Loving Relationships. My added Hebrew vowel-points are only approximations. Anubis is represented in Ancient Egyptian hieroglyphs as .
ʾẠnū hā-Mạləʾāḵə (Hebrew, אַנוּ הָמַלְאָךְ), ʾÂnū ʾal-Malāk (آنُو الْمَلَاك), Ángelos Ánou (Greek, Ἄγγελος Άνου), or Tenshi-Anu (Japanese, 天使アヌ), Sky (Ancient Sumerian) the Angel, is Anu (or An) the Angel, possibly among the Guardian Angels (see the glossary entries, ʾal-Ḥafaẓaẗ and ʾal-Malāk ʾal-Ḥāris) residing in the World of Dreams (see the glossary entry, ʾal-ʿĀlam ʾal-⫯Ahlām). My added Hebrew vowel-points are only approximations. Compare with the glossary entries, ʾẸnəliyl hā-Mạləʾāḵə, ʾẸnəqiy hā-Mạləʾāḵə, and Niynūrəsāg hā-Mạləʾāḵə.
ʾĀnūš hā-Mạləʾāḵə (Biblical Hebrew, אָנ֖וּשׁ הָמַלְאָךְ), Melancholy the Angel, is Anush the Angel, possibly among the Guardian Angels (see the glossary entries, ʾal-Ḥafaẓaẗ and ʾal-Malāk ʾal-Ḥāris) residing in the World of Dreams (see the glossary entry, ʾal-ʿĀlam ʾal-⫯Ahlām). My added Hebrew vowel-points are only approximations. ⫯Anūš ʾal-Malāk (

أَنُوش الْمَلَاك

) is my Arabization. Kʾâbaẗ ʾal-Malāk (

كَآبَة الْمَلَاك

), Melancholy (or Blues) the Angel, is my Arabic-language translation. Anush may have been a Preceptor Angel (see the glossary entry, ʾal-Muʿallim) to the Prophet ʾĀḏām (see glossary entry).
ʿĀnūwāʾēl hā-Mạləʾāḵə (Hebrew, עָנֻוָאֵל הָמַלְאָךְ), Humble or Gentle ʾĔlōhiym (see glossary entry) the Angel (compare with the glossary entry, Lāhēḥēyāh hā-Mạləʾāḵə), is Anauel the Angel, possibly among the Guardian Angels (see the glossary entries, ʾal-Ḥafaẓaẗ and ʾal-Malāk ʾal-Ḥāris) residing in the World of Dreams (see the glossary entry, ʾal-ʿĀlam ʾal-⫯Ahlām). ʿĀnāw (Hebrew,

עָנָו

) is humble. ʿĀnuwā⫯īl ʾal-Malāk (

عَانُوَْائِيل الْمَلَاك

) is my Arabization.
ʾĀnūyōʾēl hā-Mạləʾāḵə (Hebrew,

אָנֻיֹאֵל הָמַלְאָךְ

), the Self of ʾĔlōhiym (see glossary entry) or the divine Self the Angel, is Aniel the Angel. hā-ʾĀnūyō (Hebrew,

האָנֻיֹ

), the self or the ego, is a cognate and synonym with the Arabic-language ʾal-⫯anā (see glossary entry). Therefore, my Arabization of this Angelic name is ⫯Anā⫯īl ʾal-Malāk (

أنَائِيل الْمَلَاك

). The Greek spelling is Ángelos Aniḗl (Greek, Ἄγγελος Ανιήλ). He might be a Resident of the World of Dreams (see the glossary entry, ʾal-ʿĀlam ʾal-Bāṭin) and its Archangels (see the glossary entry, ʾal-Malā⫯ikaẗ ʿAllaỳ).
ʾal-⫯Anẓimaẗ min ʾal-tarqīm (

الأَنْظِمَة مِنْ التَرْقِيم

), systems of numbering, is my Arabic-language translation of numbering systems. ʾal-Nniẓām min ʾal-tarqīm (

النِّظَام مِنْ التَرْقِيم

), system of numbering, is my translated singular form.
ʾẠpām-Nạpāṭ hā-Mạləʾāḵə (Hebrew, אַפָּם־נַפָּט הָמַלְאָךְ), ⫯Abām-Nābāt ʾal-Malāk (أَبَام ـ نَابَات الْمَلَاك), ʾApam Napāt Farištah (Persian, اپَم نَپَات فَرِشْتَه), ʾApām Napāt Farištah (ʾUrdū, اپَام نَپَات فَرِشْتَہ), Apām Napāt Fariśtā (Dēvanāgarī Hiṃdī/Sanskrit script, अपाम् नपात् फ़रिश्ता), Apā Napāta Fariśatā (Guramukhī Pajābī script, ਅਪਾੰ ਨਪਾਤ ਫ਼ਰਿਸ਼ਤਾ), or Ángelos Apam Napat (Greek, Ἄγγελος Απαμ Ναπατ), Son of the Waters (Sanskrit and Avestan) the Angel, is Apam Napat (Dēvanāgarī Sanskrit script, अपाम् नपात्, Apām Napāt) the Angel, possibly among the Guardian Angels (see the glossary entries, ʾal-Ḥafaẓaẗ and ʾal-Malāk ʾal-Ḥāris) residing in the World of Dreams (see the glossary entry, ʾal-ʿĀlam ʾal-⫯Ahlām). My added Hebrew vowel-points are only approximations. Apāmu·Napāto (Japanese, アパーム·ナパート) is given as a Japanese spelling.
ʾẠpārəʾạḡiyṭāh hā-Mạləʾāḵə (Hebrew,

אַפְּאָרְאַגִיטָה הָמַלְאָךְ

), ⫯Abārāǧītā ʾal-Malāk (أَبَارَاجِيتَا الْمَلَاك), ʾApārāǧītā Farištah (Persian, اپَارَاجِیتَا فَرِشْتَه, or ʾUrdū, اپَارَاجِیتَا فَرِشْتَہ), ʾAparāǧītā Farišatah (Šāh Mukhī Punǧ°ābī script, اپَرَاجِتَا فَرِشَتَہ), Aparājitā Fariśtā (Dēvanāgarī Hiṃdī/Sanskrit script, अपराजिता फ़रिश्ता), or Aparājitā Fariśatā (Guramukhī Pajābī script, ਅਪਰਾਜਿਤਾ ਫ਼ਰਿਸ਼ਤਾ), Undefeated (Sanskrit) the Angel, is Aparajita (Dēvanāgarī Sanskrit script, अपराजिता, Aparājitā) the Angel, possibly among the Guardian Angels (see the glossary entries, ʾal-Ḥafaẓaẗ and ʾal-Malāk ʾal-Ḥāris) residing in the World of Dreams (see the glossary entry, ʾal-ʿĀlam ʾal-⫯Ahlām). The Hebrew-language spelling, including the vowel-points, is my own. I used the ʾUrdū-language spelling for the Persian form.
ʿĀp̄āriyʾēl hā-Mạləʾāḵə (Biblical Hebrew, עָפָרִיאֵל הָמַלְאָךְ), Dust in ʾĔlōhiym (see glossary entry) the Angel, is Aphariel (alternatively, Aparsiel or Apar) the Angel, possibly among the Guardian Angels (see the glossary entries, ʾal-Ḥafaẓaẗ and ʾal-Malāk ʾal-Ḥāris) residing in the World of Dreams (see the glossary entry, ʾal-ʿĀlam ʾal-⫯Ahlām). hā-ʿĀp̄ār (Hebrew,

הָעָפָר

) is the dust. Ġubār bi-ʾAllꞌah ʾal-Malāk (

غُبَار بِالله الْمَلَاك

), Dust with (or by) God the Angel, is my Arabic-language translation. Ángelos Apar (Greek, Ἄγγελος Απαρ) is a Greek (or Hellenized) spelling.
ʾẠp̄! hā-Mạləʾāḵə (Hebrew, אַף! הָמַלְאָךְ), Yea! (or Yes!) the Angel, is Af (or Aph) the Angel, possibly among the Guardian Angels (see the glossary entries, ʾal-Ḥafaẓaẗ and ʾal-Malāk ʾal-Ḥāris) residing in the World of Dreams (see the glossary entry, ʾal-ʿĀlam ʾal-⫯Ahlām). Naʿam! ʾal-Malāk (

نَعَمْ! الْمَلَاك

), Yea! (or Yes!) the Angel, is my Arabic-language translation. Ángelos Aph (Greek, Ἄγγελος Αφ) is a Greek (or Hellenized) spelling.
ʾẠp̄ərōḏiyṭẹh hā-Mạləʾāḵə (Hebrew, אַפְרוֹדִיטֶה הָמַלְאָךְ), ⫯Afrūdayti ʾal-Malāk (أَفْرُودَايْتِ الْمَلَاك), ʾÂfrūdaytih Farištah (Persian, آفْرُودَیتِه فَرِشْتَه), Afurodīte-Tenshi (Japanese, アフロディーテ天使), and Ángelos Aphrodítē (Greek, Ἄγγελος Ἀφροδίτη),

One Who

Shines from the Foam

of the Ocean

(Ancient Greek) the Angel, refer to Aphrodite the Angel, possibly among the Guardian Angels (see the glossary entries, ʾal-Ḥafaẓaẗ and ʾal-Malāk ʾal-Ḥāris) residing in the World of Dreams (see the glossary entry, ʾal-ʿĀlam ʾal-⫯Ahlām). She is, according to John Randolph Price, the Angel of Abundance. Compare with the glossary entry, Ḥāṯūr hā-Mạləʾāḵə.
ʾĀpōlō hā-Mạləʾāḵə (Hebrew, אָפּוֹלוֹ הָמַלְאָךְ), ⫯Abūlū ʾal-Malāk (أَبُولُو الْمَلَاك), ʾÂpūlū Farištah (Persian, آپُولُو فَرِشْتَه), ʾApālū Farištah (ʾUrdū, اپَالُو فَرِشْتَہ), and Ángelos Apóllōn (Ancient Greek, Ἄγγελος Ἀπόλλων) refer to Apollo the Angel, possibly among the Guardian Angels (see the glossary entries, ʾal-Ḥafaẓaẗ and ʾal-Malāk ʾal-Ḥāris) residing in the World of Dreams (see the glossary entry, ʾal-ʿĀlam ʾal-⫯Ahlām). He is, according to John Randolph Price, the Angel of Truth and Enlightenment. The etymology of Apóllōn (Ancient Greek, Ἀπόλλων) is uncertain.
Apóstolos (Koinḗ, or Common, Greek, ἀπόστολος) is the nominative singular for Apostle (or Messenger). Apóstoloi (Koinḗ, or Common, Greek, ἀπόστολοι) is the nominative plural form. See also the glossary entries, ʾal-Rasūl and Saint Paul.
Apothéōsis (Ancient Greek, Ἀποθέωσις) is deification. ʾẠpōṯēʾōsāh (Hebrew,

אַפּוֹתֵאוֹסָה

) is a Hebraization. ⫯Abūṯiyūsīs (

أَبُوثِيُوسِيس

) is an Arabization.
ʾAqā (Persian, اقَا) is sir, mister, gentleman, or esquire. Translated as "the Master," ʾAqā is a title given to ʽAbdu'l-Bahá by His Father, Bahá'u'lláh. See the glossary entries, ʿAbd ʾul-Bahāˁ and Bahāˁ ʾUllꞌah.
ʾal-⫯Aqārib (الأَقَارِب), with ʾal-qarāb (الْقَرِيب) as the singular form ("the relative"), are kindred, kin, kinsfolk, or relatives.
ʾal-ʿAqīdaẗ (العَقِيدَة), or ʾal-ʿaqā⫯id (العَقَائِد) in the plural form, is doctrine or dogma. The term can refer to the deeply cherished beliefs which connect (literally, "knot" or "tie") people to a particular dīn (see the glossary entry, ʾad-Dīn).
ʾal-ʿAqīdaẗu Mūnrū (

العَقِيدَةُ مونْرو

), the doctrine (or dogma) of Monroe, is the Monroe doctrine. It is associated with James Monroe (

جَيمْز مُونْرُو

, Ǧaymz Mūnrū), 1758-1831. See also the glossary entries, ʾal-ʿAqīdaẗ and ʾas-Salām ʾal-⫯Amīrkiyy.
ʿĀqāriyʾēl hā-Mạləʾāḵə (Hebrew, עָקָרִיאֵל הָמַלְאָךְ), Barren (or Infertile) of ʾĔlōhiym (see glossary entry) the Angel, is Akriel the Angel, possibly among the Guardian Angels (see the glossary entries, ʾal-Ḥafaẓaẗ and ʾal-Malāk ʾal-Ḥāris) residing in the World of Dreams (see the glossary entry, ʾal-ʿĀlam ʾal-⫯Ahlām). ʿĀqār (Hebrew,

עָקָר

), an adjective, is barren or infertile. ʿAqīm ʾAllꞌah ʾal-Malāk (

عَقِيم الله الْمَلَاك

), Barren (or Infertile) of God the Angel, is my Arabic-language translation. Ángelos Akriḗl (Greek, Ἄγγελος Ακριήλ) is a Greek (or Hellenized) spelling. He is alleged to be an Angel assisting with infertility issues.
ʾĀqāš-Bəhāʾyəyrəʾāḇ hā-Mạləʾāḵə (Hebrew, אָקָשׁ־בְּהָאיְירְאָב הָמַלְאָךְ), ⫯Akāš-Bhāyrāf ʾal-Malāk (أَكَاش ـ بْهَايْرَاف الْمَلَاك), ʾÂkāša Bhayrava Farištah (ʾUrdū, آکَاشَ بھَیرَوَ فَرِشْتَہ), Ākāśa Bhairava Fariśtā (Dēvanāgarī Hiṃdī/Sanskrit script, आकाश भैरव फ़रिश्ता), or Akāśa Bhairava Fariśatā (Guramukhī Pajābī script, ਅਕਾਸ਼ ਭੈਰਵ ਫ਼ਰਿਸ਼ਤਾ), Frightful Ether (Sanskrit) the Angel, is Akash Bhairav or Akasha Bhairava (Dēvanāgarī Sanskrit script, आकाश भैरव, Ākāśa Bhairava) the Angel, possibly among the Guardian Angels (see the glossary entries, ʾal-Ḥafaẓaẗ and ʾal-Malāk ʾal-Ḥāris) residing in the World of Dreams (see the glossary entry, ʾal-ʿĀlam ʾal-⫯Ahlām). The Hebrew vowel-points are slightly modified from the original.
ʾẠqəʾāšāh-hā-ʾImāʾ hā-Mạləʾāḵə (Hebrew, אַקְאָשָׁה־הָאִמָּא הָמַלְאָךְ), ⫯Akāšā-ʾal-⫯Umm ʾal-Malāk (أَكَاشَا ـ الأُمّ الْمَلَاك‌), ʾÂkāšā-i Mādar Farištah (Persian, آکَاشَاِ مَادَر فَرِشْتَه), Ángelos Mētéra Akása (Greek, Ἄγγελος Μητέρα Ακάσα), Mātā ʾAkāša Farišatah (Šāh Mukhī Punǧ°ābī script, مَاتَا اکَاشَ فَرِشَتَہ), Mātā Akāśa Fariśatā (Guramukhī Pajābī script, ਮਾਤਾ ਅਕਾਸ਼ ਫ਼ਰਿਸ਼ਤਾ), or Mātā Akāśa Fariśtā (Dēvanāgarī Hiṃdī/Sanskrit script, माता अकाश फ़रिश्ता) is Mother Akasha the Angel, possibly among the Guardian Angels (see the glossary entries, ʾal-Ḥafaẓaẗ and ʾal-Malāk ʾal-Ḥāris) residing in the World of Dreams (see the glossary entry, ʾal-ʿĀlam ʾal-⫯Ahlām). My added Hebrew vowel-points are only approximations. Akāśa (Dēvanāgarī Sanskrit script, अकाश) is æther (or ether).
ʾẠqəʾāsəʾāgạrəbəʾāh hā-Mạləʾāḵə (Hebrew,

אַקְאָסְאָגַּרְבְּאָה הָמַלְאָךְ

), ʾÂkāsakarbā ʾal-Malāk (آكَاسَكَرْبَا الْمَلَاك), ʾAkāsāgārbā Farištah (Persian,

اکَاسَاگَارْبَا فَرِشْتَه

), ʾAkāsahgarbha Farištah (ʾUrdū, آکَاسَه̱گَربھَ فَرِشْتَہ), Ākāśagarbha Fariśtā (Dēvanāgarī Hiṃdī/Sanskrit script, आकाशगर्भ फ़रिश्ता), or Ākāśagarabha Fariśatā (Guramukhī Pajābī script, ਆਕਾਸ਼ਗਰਭ ਫ਼ਰਿਸ਼ਤਾ), Treasury of Boundless Space (Sanskrit) the Angel, is Akasagarbha (Dēvanāgarī Sanskrit script, आकाशगर्भ, Ākāśagarbha) the Angel, possibly among the Guardian Angels (see the glossary entries, ʾal-Ḥafaẓaẗ and ʾal-Malāk ʾal-Ḥāris) residing in the World of Dreams (see the glossary entry, ʾal-ʿĀlam ʾal-⫯Ahlām). The Hebrew-language and Persian-language spellings are my own. He is the Bodhisattva (see glossary entry) of infinite happiness.
ʾẠqəšəʾạyəʾāmiyṭāh hā-Mạləʾāḵə (Hebrew,

אַקְשְׁאַיְאָמִיטָה הָמַלְאָךְ

), ⫯Akšāyāmītā ʾal-Malāk (

أَكْشَايَامِـتَا الْمَلَاك‌

), ʾAkšāyāmītā Farištah (Persian,

اکْشَایَامِیتَا فَرِشْتَه‌

), ʾAkšayamita Farištah (ʾUrdū, اکشَیَمِتَ فَرِشْتَہ‎), ʾAkaša⫯imita Farišatah (Šāh Mukhī Punǧ°ābī script, اکَشَئِمِتَ فَرِشَتَہ), Akṣayamita Fariśtā (Dēvanāgarī Hiṃdī/Sanskrit script, अक्षयमित फ़रिश्ता), Akaśa⫯imita Fariśatā (Guramukhī Pajābī script, ਅਕਸ਼ਇਮਿਤ ਫ਼ਰਿਸ਼ਤਾ), or Mujin⫯i-Tenshi (Japanese, 無盡意天使), Inexhaustible Intention (Sanskrit) the Angel, is Aksayamita or Akshayamita (Dēvanāgarī Sanskrit script, अक्षयमित, Akṣayamita) the Angel, possibly among the Guardian Angels (see the glossary entries, ʾal-Ḥafaẓaẗ and ʾal-Malāk ʾal-Ḥāris) residing in the World of Dreams (see the glossary entry, ʾal-ʿĀlam ʾal-⫯Ahlām). The Hebrew-language, Arabic-language, and Persian-language spellings are my own.
ʾĀqəšōbiyāh hā-Mạləʾāḵə (Hebrew, אָקְשׁוֹבִּיָה הָמַלְאָךְ), ⫯Akšūbiyā ʾal-Malāk (أَكْشُوبِيَا الْمَلَاك), ʾAkšūbiyah Farištah (Persian, اَكشُوبِيَه فَرِشْتَه), Dōjinai-Tenshi (Japanese, 動じない天使), and Ángelos Axompchía (Greek, Ἄγγελος Αξομπχία), Immovable One (Sanskrit) the Angel, are renderings of Akshobhya the Angel, possibly among the Guardian Angels (see the glossary entries, ʾal-Ḥafaẓaẗ and ʾal-Malāk ʾal-Ḥāris) residing in the World of Dreams (see the glossary entry, ʾal-ʿĀlam ʾal-⫯Ahlām). My added Hebrew vowel-points are only approximations. Akṣōbhya (Dēvanāgarī Sanskrit script, अक्षोभ्य) is the immovable one. Compare with the glossary entry, ʾĀṣạlāh hā-Mạləʾāḵə.
ʾal-ʿAql (العَقْل) is reason, the intellect, the mind, or, originally, to restrain

oneself from immoderate conduct

. See also the glossary entry, ʾal-ʿAql ʾal-bāṭin, ʾal-ʿAql ʾal-lāwāʿī, ʾal-ʿAql ʾal-wāʿī, ʾal-Ḥiss ʾal-muštarik, ʾal-Nafs ʾal-nāṭiqaẗ, and Órganon.
ʾal-ʿAqlāniyyaẗ ʾal-wāqiʿiyyaẗ (

العَقْلَانِيَّة الوَاقِعِيَّة

), rationalism realistic, is reconstructivism.
ʾal-ʿAql ʾal-bāṭin (

العَقْل البَاطِن

), the mind subconscious (literally, the mind sub, latent, or hidden), is the subconscious mind. See also the glossary entries, ʾal-ʿAql, ʾal-ʿAql ʾal-lāwāʿī, ʾal-ʿAql ʾal-wāʿī, and ʾal-Lāšuʿūr.
ʾal-ʿAqliyyāt ʾal-ṯṯaqāfiyyaẗ (

العَقْلِيّات الثَّقَافِيَّة

), mentalities (or mindsets) cultural, are cultural mentalities. ʾal-ʿAqliyyaẗ ʾal-ṯṯaqāfiyyaẗ (

العَقْلِيّة الثَّقَافِيَّة

), mentality (or mindset) cultural, is the singular form. Cultural mentalities were an important aspect of the integral sociology (see the glossary entry, ʾal-ʿIlmu ʾal-Takāmuliyyaẗ) of Pitirim A. Sorokin (see the glossary entry, Bītirim ʾAliksandrūfītš Sūrūkīn). He proposed three mentalities:

ʾal-Fikriyy (الفِكْرِيّ) is the ideational.
ʾal-Ḥissiyy (

الحِسِّيّ

) is the sensate (or the sensory).
ʾal-Miṯāliyy (المِثَالِيّ) is the idealistic (or the ideal). He also called this type "mixed" or, in Arabic, ʾal-madmūǧ (المَدْمُوج), the mixed or merged.

ʾal-ʿAql ʾal-lāwāʿī (

العَقْل اللَاوَاعِي

), the mind unconscious, is the unconscious mind. See also the glossary entry, ʾal-ʿAql, ʾal-ʿAql ʾal-bāṭin, ʾal-ʿAql ʾal-wāʿī, ʾal-Lāšuʿūr, and ʾal-Llāwāʿī ʾal-ǧamāʿiyy.
ʾal-ʿAql radd ʾal-fiʿl (

العَقْل رَدّ الفِعْل

), the mind responding

to

action (i.e., the mind of reaction), is an Arabic-language translation of the reactive mind, a concept in Scientology and Dianetics. Contrast with the glossary entry, ʾal-ʿAql ʾal-taḥlīliyy. See also the glossary entry, ʾal-Siyāntūlūǧiyyaẗ w-ʾal-Diyāniyyaẗ.
ʾal-ʿAql ʾal-taḥlīliyy (

الْعَقْل الْتَحْلِيلِيّ

), the mind analytical, is an Arabic-language translation of the analytical mind, a concept of Scientology and Dianetics. Contrast with the glossary entry, ʾal-ʿAql radd ʾal-fiʿl. See also the glossary entry, ʾal-Siyāntūlūǧiyyaẗ w-ʾal-Diyāniyyaẗ.
ʾal-ʿAql ʾal-wāʿī (

العَقْل الوَاعِي

), the mind conscious, is the conscious mind. See also the glossary entries, ʾal-ʿAql, ʾal-ʿAql ʾal-bāṭin, and ʾal-ʿAql ʾal-lāwāʿī.
ʾal-ʿAqrab ʾal-Malāk (العَقْرَب الْمَلَاك), the Scorpion the Angel, is al-Aqrab the Angel, possibly among the Guardian Angels (see the glossary entries, ʾal-Ḥafaẓaẗ and ʾal-Malāk ʾal-Ḥāris) residing in the World of Dreams (see the glossary entry, ʾal-ʿĀlam ʾal-⫯Ahlām). ʾal-ʿAqārib (العَقَارِب) are the scorpions. A Hebrew translation, with two cognates, is hā-ʿẠqərāḇ hā-Mạləʾāḵə (Hebrew, הָעַקְרָב הָמַלְאָךְ), the Scorpion the Angel.
ʾal-⫯Aqsām al-⫯idāriyyaẗ al-ẖamsaẗu min ʾal-Madīnaẗ Nīwyūrk (

الأَقسَام الإِدَارِيّة الخَمْسَةُ مِنْ المَدِينَة نِيويُورْك

), the divisions administrative five of the city of New York, are the five boroughs (or "boros") of the City of New York. They include: Manhattan (مَانْهَاتَّن, Mānhāttan), the Bronx (البْرُونْكْس, ʾal-Brūnks), Queens (كْوِينْز, Kwīnz, or المَلِكَات, ʾal-Malikāt), Brooklyn (بْرُوكْلِين, Brūklīn), and Staten Island (

الجَزِيرَة سْتَاتِن

, ʾal-Ǧazīraẗ Stātin). See also the glossary entry, ʾal-Madīnaẗ Nīwyūrk.
ʾal-⫯Aqsām al-⫯idāriyyaẗ 32 min Landan (

الأَقسَام الإِدَارِيّة ٣٢ مِنْ لَنْدَن

), the divisions administrative 32 of London, is my Arabic-language translation of the 32 boroughs of London. ʾal-Madīnaẗ Landan w-ʾal-⫯Aqsām al-⫯idāriyyaẗ 32 min Landan (

المَدِينَة لَنْدَن والأَقسَام الإِدَارِيّة ٣٢ مِنْ لَنْدَن

), the city of London and the divisions administrative 32 of London, is my translation of the City of London and the 32 London boroughs.
ʾal-⫯Aqṣaỳ ʾal-Ǧanūb (

الأَقْصَى الجَنُوب

), the furthermost

to

the south, is the Deep South (in the U.S.) or, alternately translated, southernmost.
ʾal-⫯Aqṣaỳ ʾal-yasār (

الأَقْصَى اليَسار

), the furthermost

to

the left, is the far left. Many people on the middle and the far left have never had a problem with spirituality, e.g., Roy Bhaskar's critical realism and metaReality, Paulo Freire's critical pedagogy, the Sojourners movement, the Tikkun Olam movement, liberal Quakerism, and the various forms of liberation theology. Contrast with the glossary entry, ʾal-Yasār ʾal-wasaṭ. See also the glossary entry, ʾal-Mārksiyyaẗu.
ʾal-ʿArab (العرب) are the Arabs. See also the glossary entry, ʾal-ʿArabī.
ʾal-ʿArabī (العربي) or ʾal-ʿArabiyy (العَرَبِيّ) is Arabic (as a possessive, an appurtenance, or an adjective) or the term for "the Arab" in the singular form. See also the glossary entry, ʾal-ʿArab.
ʾal-ʿArabaẗ (العَرَبَة), with ʾal-ʿarabāt (العَرَبَات) as the plural form, is the vehicle, the cart, or the wagon.
ʾal-ʿArabaẗu ʾal-mūsīqaỳ (

العَرَبَةُ المُوسِيقَى

), wagon (alternatively, cart or vehicle) musical, is the bandwagon. ʾal-ʿArabātu ʾal-mūsīqaỳaẗ (

العَرَبَاتُ المُوسِيقَىَة

), wagons (alternatively, carts or vehicles) musical, are bandwagons.
ʾĀrạḇiyʾēl hā-Mạləʾāḵə (Hebrew, אָרַבִיאֵל הָמַלְאָךְ), ʾĔlōhiym (see glossary entry) in Wait the Angel, is Arbiel the Angel, possibly among the Guardian Angels (see the glossary entries, ʾal-Ḥafaẓaẗ and ʾal-Malāk ʾal-Ḥāris) residing in the World of Dreams (see the glossary entry, ʾal-ʿĀlam ʾal-⫯Ahlām). ʾĀrạḇ (Hebrew,

אָרַב

) is to ambush, to lie in wait, or to lurk. ʾAllꞌah-fī-ʾIntiẓār ʾal-Malāk (

الله ـ فِي ـ اِنْتِظَار الْمَلَاك

), God in Waiting (or Anticipation) the Angel, is my Arabic-language translation.
ʾal-ʿArabiyyaẗ (العَرَبِيَّة or, without the diacritics, العربية) is Arabic (as a noun).
ʾĀrạdiyāh hā-Mạləʾāḵə (Hebrew, אָרַדִּיָה הָמַלְאָךְ), ⫯Arādiyā ʾal-Malāk (أَرَادِيَا الْمَلَاك), ʾÂrādiyā Farištah (Persian, آرَادِيَا فَرِشْتَه), or Ángelos Ērōdiás (Greek, Άγγελος Ηρωδιάς), Song of the Hero the Angel, is Aradia (or Herodias) the Angel, possibly among the Guardian Angels (see the glossary entries, ʾal-Ḥafaẓaẗ and ʾal-Malāk ʾal-Ḥāris) residing in the World of Dreams (see the glossary entry, ʾal-ʿĀlam ʾal-⫯Ahlām). My added Hebrew vowel-points are only approximations.
ʿǍrād hā-Mạləʾāḵə (Hebrew, עֲרָד הָמַלְאָךְ), Longing for

God

the Angel, is Arad the Angel, possibly among the Guardian Angels (see the glossary entries, ʾal-Ḥafaẓaẗ and ʾal-Malāk ʾal-Ḥāris) residing in the World of Dreams (see the glossary entry, ʾal-ʿĀlam ʾal-⫯Ahlām). ʾIštāta ʾAllꞌah ʾal-Malāk (

اِشْتَاقَ الله الْمَلَاك

), Longing for God the Angel, is my Arabic-language translation. Ángelos Arad (Koinḗ, or Common, Greek, Ἄγγελος Αραδ) is a Koinḗ, or Common, Greek spelling.
Arahant (Dēvanāgarī Pāli/Sanskrit script, अरहन्त्) or Arhat (Dēvanāgarī Sanskrit script, अर्हत्) is a noble or worthy one

who has attained Nirvāṇa

(see glossary entry).
ʾal-ʿArā⫯is (الْعَرَائِس), with ʾal-ʿarūs (العَرُوس) in the singular form, are puppets (or, alternatively, brides). ʾal-Muḥarik ʾal-ʿarā⫯is (

مُحَرِّك الْعَرَائِس

) is the motor, engine, or manipulator of the puppets, i.e., the puppeteer. See also the glossary entry, ʾal-Dumyaẗ.
ʾĂrāmiyṯ (in Hebrew script,

אֲרָמִית

, or in Syriac script, ܐܪܡܝܐ) is Aramaic. ʾal-Ârāmiyyaẗ (الآرَامِيَّة) is the Arabic form.
Archángelos (Ἀρχάγγελος), "chief angel," is the original Koinḗ, or Common, Greek term for the English-language word, Archangel. Archángeloi (Ἀρχάγγελοι) is the Koinḗ, or Common, Greek plural form. However, only the singular form of the word is found in the New Testament. These are the two verses:

"For the Lord himself shall descend from heaven, with a shout, with the voice of the Archangel [Archángelos], and with the trump of God: and the dead in Christ shall rise first ...." (I Thessalonians 4:16. American Standard Version. 1901.)
"But Michael the Archangel [Archángelos], when contending with the devil he disputed about the body of Moses, durst not bring against him a railing judgment, but said, The Lord rebuke thee." (Jude 1:9. American Standard Version. 1901.)

Perhaps the exalted Angelic Host (the Archangels) of the Prophets, like the White Buffalo Calf Woman (see the glossary entry, ʾIššāh šẹl hā-ʿĒḡẹl šẹl hā-Ṯəʾō hā-Lẹḇẹn hā-Mạləʾāḵə) and Quetzalcōātl (see the glossary entry, Qēṣəʾạləqōʾāṭʾēl hā-Mạləʾāḵə), have been sent to regions beyond the physical reach of the Prophets Themselves.

Compare with the glossary entry, hā-Mạləʾāḵə hā-pəniym. See also the glossary entry, ʾal-Malā⫯ikaẗ ʿAllaỳ.

ʾal-⫯Araqa (الأَرَق), "restlessness," is insomnia. ʾal-Mu⫯raq (المؤرق), "the watchful

one

," is the insomniac.
Árchōn (Greek, Ἄρχων), with árchontes (Greek, ἄρχοντες) as the plural form, is ruler or lord. The term refers, approximately, to an angel.
ʾĂrārāṭ (Hebrew, אֲרָרָט), ⫯Arārāt (أَرَارَات), Ararát (Greek, Αραράτ), ʾÂrārāt (Persian, آرَارَات), or ʾArārāt (ʾUrdū, ارارات) is Ararat, a Biblical term referring either to Armenia or to a district in eastern Armenia.
ʾal-⫯Arawāḥiyyaẗ (الأرواحيَّة), with ʾal-⫯arawāḥiyy (الأرواحيّ) as the possesssive or an appurtenance, is animism or spiritism. See also the glossary entry, ʾal-Rūḥ fī ʾal-ʿanāṣir.
ʾal-⫯Ard ʾal-Muqaddas (

الأَرْض المُقَدَّس

), the land (or earth) holy (alternatively, sanctified or hallowed), is the Holy Land. hā-ʾẸrẹṣ hā-Qūdạš (Hebrew,

הָאֶרֶץ הָקֻדַּשׁ

), the country (or the land) sanctified, is the Hebrew form. See also the glossary entry, ʾal-Qudus.
ʾal-⫯Ard w-ʾal-hawāˁ w-ʾal-nār w-ʾal-māˁ (

الأَرْض والهَوَاء والنَار والمَاء

), Earth and air and fire and water, are Earth, air, fire, and water. They are proposed as the fundamental elements of the universe in modern (Western) astrology (see the glossary entry, ʾal-ʿIlmu ʾal-ttanǧīm).
ʾẠrəʾāməʾāzəd hā-Mạləʾāḵə (Hebrew, אַרְאָמְאָזְדּ הָמַלְאָךְ), ⫯Aramazd ʾal-Malāk (أَرَمَزْد الْمَلَاك), or ʾAramazd Farištah (Persian, ارَمَزْد فَرِشْتَه), Light of Wisdom (Armenian) the Angel, is Aramazd (Armenian, Արամազդ) the Angel, possibly among the Guardian Angels (see the glossary entries, ʾal-Ḥafaẓaẗ and ʾal-Malāk ʾal-Ḥāris) residing in the World of Dreams (see the glossary entry, ʾal-ʿĀlam ʾal-⫯Ahlām). My added Hebrew vowel-points are only approximations. Compare with the glossary entry (and cognate), ʾAhūrā Mazdā.
ʿẠrəʾāriyʾēl hā-Mạləʾāḵə (Hebrew, עַרְעָרִיאֵל הָמַלְאָךְ), Destitute in ʾĔlōhiym (see glossary entry) the Angel, is Arariel the Angel, possibly among the Guardian Angels (see the glossary entries, ʾal-Ḥafaẓaẗ and ʾal-Malāk ʾal-Ḥāris) residing in the World of Dreams (see the glossary entry, ʾal-ʿĀlam ʾal-⫯Ahlām). ʾẠrəʾār (Hebrew,

עַרְעָר

) is desititute or stripped. Faqīr ʾAllꞌah ʾal-Malāk (

فَقِير الله الْمَلَاك

), Destitute (or Poor)

in

God the Angel, is my Arabic-language translation.
ʾẠrədəhəʾānəʾạriyšəḇəʾạrāh hā-Mạləʾāḵə (Hebrew,

אַרְדְּהְאָנְאַרִישְׁבְאַרָה הָמַלְאָךְ

), ʾArdhānārīšfārā ʾal-Malāk (ارْدْهَانَارِيشْفَارَا الْمَلَاك), ʾArdanārīšvarah Farištah (Persian, اَرْدَنَارِيشْوَرَه فَرِشْتَه), ʾArdh Nārīšvara Farištah (ʾUrdū, اردھ نَارِیشوَرَ فَرِشْتَہ), ʾAdhī Tīvīṉ Farišatah (Šāh Mukhī Punǧ°ābī script, ادھِی تِیوِیں فَرِشَتَہ), Ardhanārīśvara Fariśtā (Dēvanāgarī Hiṃdī/Sanskrit script, अर्धनारीश्वर फ़रिश्ता), or Adhī Tīvīṁ Fariśatā (Guramukhī Pajābī script, ਅੱਧੀ ਤੀਵੀਂ ਫ਼ਰਿਸ਼ਤਾ), Lord Who is Half Woman (Sanskrit) the Angel, is Ardhanarishvara (Dēvanāgarī Sanskrit script, अर्धनारीश्वर, Ardhanārīśvara) the Angel, possibly among the Guardian Angels (see the glossary entries, ʾal-Ḥafaẓaẗ and ʾal-Malāk ʾal-Ḥāris) residing in the World of Dreams (see the glossary entry, ʾal-ʿĀlam ʾal-⫯Ahlām). The Hebrew-language spelling, including the vowel-points, is my own.
ʾĀrəlāʾnəḡ-Šẹn hā-Mạləʾāḵə (Hebrew, אָרְלָאנְג־שֶׁן הָמַלְאָךְ) and ⫯Arlānǧ-Šīn ʾal-Malāk (إَرْلَانْج ـ شِين الْمَلَاك) are forms of Second

-Oldest

God-Son (Chinese) the Angel, Èrláng-Shén or

Erlang Shen

(Chinese, 二郎神) the Angel, possibly among the Guardian Angels (see the glossary entries, ʾal-Ḥafaẓaẗ and ʾal-Malāk ʾal-Ḥāris) residing in the World of Dreams (see the glossary entry, ʾal-ʿĀlam ʾal-⫯Ahlām). The Hebrew vowel-points are only slightly modified from the original.
ʾẠrəmōn hā-Mạləʾāḵə (Hebrew, אַרְמוֹן הָמַלְאָךְ), Citadel the Angel, is Armon the Angel, possibly among the Guardian Angels (see the glossary entries, ʾal-Ḥafaẓaẗ and ʾal-Malāk ʾal-Ḥāris) residing in the World of Dreams (see the glossary entry, ʾal-ʿĀlam ʾal-⫯Ahlām). Qalʿaẗ ʾal-Malāk (

قَلْعَة الْمَلَاك

), Citadel (or Stronghold) the Angel, is my Arabic-language translation.
ʿẠrəʿōr hā-Mạləʾāḵə (Hebrew, עַרְעוֹר הָמַלְאָךְ), Razed the Angel, is Aroer (or Areor) the Angel, possibly among the Guardian Angels (see the glossary entries, ʾal-Ḥafaẓaẗ and ʾal-Malāk ʾal-Ḥāris) residing in the World of Dreams (see the glossary entry, ʾal-ʿĀlam ʾal-⫯Ahlām). ʿẠrəʿōr (Hebrew,

עַרְעוֹר

) is from ʿĀrạr (

עָרַר

), razed. Kasīr ʾal-Malāk (

كَسِير الْمَلَاك

), Razed the Angel, is my Arabic-language translation. Ángelos Aroēr (Koinḗ, or Common, Greek, Άγγελος Αροηρn) is a Koinḗ, or Common, Greek spelling.
ʾẠrəqāhiyʾēl hā-Mạləʾāḵə (Hebrew, אַרְקָהִיאֵל הָמַלְאָךְ), Earth of ʾĔlōhiym (see glossary entry) the Angel, is Araqiel the Angel. hā-ʾẠrəqāh (Hebrew,

הָאַרְקָה

) and hā-ʾẠrəqāʾ (Hebrew,

הָאַרְקָא

) are the Earth. ⫯Ard ʾAllꞌah ʾal-Malāk (

أَرْض الله الْمَلَاك

), Earth of God the Angel, is my Arabic-language translation. Ángelos Araqiḗl (Ancient Greek, Άγγελος Ἀρακιήλ) is an Ancient Greek spelling.
ʾĀrēs hā-Mạləʾāḵə (Hebrew, אָרֵס הָמַלְאָךְ), ʾÂrays ʾal-Malāk (آرَيس الْمَلَاك), or Ángelos Árēs (Ancient Greek, Άγγελος Ἄρης), Battle (Ancient Greek) the Angel, is Ares the Angel, possibly among the Guardian Angels (see the glossary entries, ʾal-Ḥafaẓaẗ and ʾal-Malāk ʾal-Ḥāris) residing in the World of Dreams (see the glossary entry, ʾal-ʿĀlam ʾal-⫯Ahlām). My added Hebrew vowel-points are only approximations.
ʾĀrəṭēmiys hā-Mạləʾāḵə (Hebrew, אָרְטֵמִיס הָמַלְאָךְ), ʾArtimīs ʾal-Malāk (ارْتِمِيس الْمَلَاك), ʾÂrtimīs Farištah (Persian, آرْتِمِیس فَرِشْتَه), Ángelos Ártemis (Ancient and Koinḗ, or Common, Greek, Ἄγγελος Ἄρτεμις), and Dianæ Angelus (Latin) refer to Artemis (alternatively, Artemidos or Diana) the Angel, possibly among the Guardian Angels (see the glossary entries, ʾal-Ḥafaẓaẗ and ʾal-Malāk ʾal-Ḥāris) residing in the World of Dreams (see the glossary entry, ʾal-ʿĀlam ʾal-⫯Ahlām). The etymology of Ártemis (Ancient and Koinḗ, or Common, Greek, Ἄρτεμις) is uncertain. In addition, my added Hebrew vowel-points are only approximations. This Being is, according to John Randolph Price, the Angel of Imagination and Liberation.
ʾĀrẹz hā-Mạləʾāḵə (Hebrew, אָ֫רֶז הָמַלְאָךְ), ⫯Arz ʾal-Malāk (أَرْز الْمَلَاك), Ángelos Kédrou (Koinḗ, or Common, Greek, Άγγελος Κέδρου), Dīvadār Farištah (ʾUrdū,

دیودار فَرِشْتَہ

), and Sarv Farištah (Persian, سَرْو فَرِشْتَه) are my translations of Cedar the Angel, possibly among the Guardian Angels (see the glossary entries, ʾal-Ḥafaẓaẗ and ʾal-Malāk ʾal-Ḥāris) residing in the World of Dreams (see the glossary entry, ʾal-ʿĀlam ʾal-Bāṭin).
ʾẠrəḡəʾūnāh hā-Mạləʾāḵə (Hebrew, אַרְגְ׳וּנָה הָמַלְאָךְ), ⫯Arǧūnā ʾal-Malāk (أَرْجُونَا الْمَلَاك), ʾÂrǧūnā Farištah (Persian, آرْجُونَا فَرِشْتَه), ʾArǧuna Farištah (ʾUrdū, ارجُنَ فَرِشْتَہ), Arjuna Fariśtā (Dēvanāgarī Hiṃdī/Sanskrit script, अर्जुन फ़रिश्ता), Ángelos Artzoúna (Greek, Άγγελος Αρτζούνα), or Arujuna-Tenshi (Japanese, アルジュナ天使), Shining One (Sanskrit) the Angel, is Arjuna (Dēvanāgarī Sanskrit script, अर्जुन) the Angel, possibly among the Guardian Angels (see the glossary entries, ʾal-Ḥafaẓaẗ and ʾal-Malāk ʾal-Ḥāris) residing in the World of Dreams (see the glossary entry, ʾal-ʿĀlam ʾal-⫯Ahlām). My added Hebrew vowel-points are only approximations.
ʾĀrəyʾạməʾān hā-Mạləʾāḵə (Hebrew, אָרְיאַמְאָן הָמַלְאָךְ), ⫯Aryāmān ʾal-Malāk (أَرْيَامَان الْمَلَاك), ʾÂryāmān Farištah (Persian, آریَامَان فَرِشْتَه), ʾAryaman Farištah (ʾUrdū, اریَمَن فَرِشْتَہ), ʾAryāmanna Farišatah (Šāh Mukhī Punǧ°ābī script, اریَامَنَّ فَرِشَتَہ), Aryaman Fariśtā (Dēvanāgarī Hiṃdī/Sanskrit script, अर्यमन् फ़रिश्ता), or Ari⫯āmana Fariśatā (Guramukhī Pajābī script, ਅਰਿਆਮੰਨ ਫ਼ਰਿਸ਼ਤਾ), Companion the Angel, is Aryaman (Dēvanāgarī Sanskrit script, अर्यमन्, Aryaman) the Angel, possibly among the Guardian Angels (see the glossary entries, ʾal-Ḥafaẓaẗ and ʾal-Malāk ʾal-Ḥāris) residing in the World of Dreams (see the glossary entry, ʾal-ʿĀlam ʾal-⫯Ahlām). My added Hebrew vowel-points are only approximations.
⫯Arǧantīn (

أَرْجَنْتِين

) is Argentina.
ʾal-⫯Arhāb ʾal-dawlaẗ (

الإرْهَاب الدَوْلَة

), terrorism of the state, is state terrorism or state-sponsored terrorism.
ʾal-⫯Arhāb ʾal-duwaliyy (

الإرْهَاب الدُوَليّ

), terrorism international, is international terrorism.
ʾal-⫯Arhāb ʾal-maḥalliyy (

الإرْهَاب المَحَلِّيّ

), terrorism domestic, is domestic terrorism.
ʾal-ʿArī (

العَارِي

), with ʾal-ʿarāẗ (

العَرَاة

) as the plural form, is the nudist (or the naked one). ʿArī (عَارِي) is naked. See also the glossary entry, ʾal-Ṯaqāfaẗ ʾal-muḍāddaẗ min ʾal-maḏhab ʾal-ʿurī.
ʾal-⫯Arisṭiyyaẗ (الأَرِسْطِيَّة) is Aristotelianism.
Aristotélēs (Ancient Greek, Ἀριστοτέλης) is Aristotle. The Arabic cognates are ⫯Arisṭū (أَرِسْطُو) and ⫯Arisṭūṭālīs (أَرِسْطُوطَالِيس). The Persian cognates are ʾArisṭū (ارِسْطُو) and ʾArisṭāṭālīs (ارِسْطَاطَالِیس). ʾArisṭū (ارسطُو) is the ʾUrdū cognate. See also the glossary entry, ʾal-Wāqiʿiyyaẗ ʾal-⫯Arisṭiyyaẗ.
ʾĂriyʾēl hā-Mạləʾāḵə (Hebrew, אֲרִיאֵל הָמַלְאָךְ), ʾArī⫯īl ʾal-Malāk (ارِيئِيل الْمَلَاك), or Ángelos Ariḗl (Greek, Ἄγγελος Αριήλ) is Ariel (alternatively, Arael or Nariel) the Angel. hā-ʾĂriyʾēl (Hebrew,

הָאֲרִיאֵל

) is the Lion (or Light) of ʾĔlōhiym (see glossary entry). This Angel might be a Resident of the World of Dreams (see the glossary entry, ʾal-ʿĀlam ʾal-Bāṭin) and its Archangels (see the glossary entry, ʾal-Malā⫯ikaẗ ʿAllaỳ).
ʾal-ʿAriyān (

العَريَان

), with ʾal-ʿAriyānāt (

العَريَانَات

) as the plural form, is the Aryan. These terms should

not

be confused with Arianism (see the glossary entry, ʾal-ʾÂriyūsiyyaẗ).
ʾal-ʾÂriyūsiyyaẗ (

الآريوسيّة

), with ʾal-ʾÂriyūsiyy (الآريوسيّ) as the possessive or an appurtenance, is Arianism. It was a movement associated with Arius (

آريوس

, ʾÂriyūs), circa 256–336 A.D. Arianism should

not

be confused with the ethnic concept of the Aryan (see the glossary entry, ʾal-ʿAriyān).
ʾal-⫯Arkān ʾal-⫯Islām (

الأَرْكَان الإِسْلَام

) are the

five

pillars (alternatively, foundations, supports, or corners) of ʾal-⫯Islām (see glossary entry). ʾal-Rukn ʾal-⫯Islām (

الرُكْن الإِسْلَام

) is the pillar (alternatively, foundation, support, or corner) of ⫰Islām. They include, ʾal-Ššahādaẗ (see glossary entry), ʾal-Ḥaǧǧ (see the glossary entry, ʾal-Ḥiǧraẗ), ʾal-Zakāẗ (see glossary entry), ʾal-Ṣalāt (see glossary entry), and ʾal-Ṣawm (see glossary entry). ʾal-⫯Arkān ʾal-⫯Islām are also called ʾal-⫯Arkān ʾal-Ddīn (

الأَرْكَان الدِّين

), the

five

pillars of ʾad-Dīn (see glossary entry). ʾal-Rukn ʾal-Ddīn (

الرُكْن الدِّين

) is the pillar of ʾad-Dīn. For two Bahá'í pillars, see the glossary entries, ʾal-Ṣafāˁ and ʾal-Wafāˁ.
ʾal-⫯Armīniyyaẗ (

الأَرْمِينِيَّة

) is Arminianism, a theological doctrine associated with Jacobus Arminius (the original Dutch, Jakob Hermanszoon; or Arabic,

جَاكُوبُوس أَرْمِينِيُوس

, Ǧākūbūs ⫯Armīniyūs), 1560-1609 A.D. See also the glossary entry, al-Ḥifāẓ ʾal-šarṭiyy min ʾal-qiddīsīna.
ʿĀrmiysạʾēl hā-Mạləʾāḵə (Hebrew, עָרמִיסַאֵל הָמַלְאָךְ), Mountain of the Judgment of ʾĔlōhiym (see glossary entry) the Angel, is Armisael the Angel, possibly among the Guardian Angels (see the glossary entries, ʾal-Ḥafaẓaẗ and ʾal-Malāk ʾal-Ḥāris) residing in the World of Dreams (see the glossary entry, ʾal-ʿĀlam ʾal-⫯Ahlām). ʿĀrmīsā⫯īl ʾal-Malāk (

عَارْمِيسَائِيل الْمَلَاك

) is my Arabization. Ángelos Armisaḗl (Greek, Ἄγγελος Αρμισαήλ) is a Greek (or Hellenized) spelling. Arumisaeru (Japanese, アルミサエル) is given as the Japanese version of the Angel's name.
ʾẠrūnạh hā-Mạləʾāḵə (Hebrew, אַרוּנַה הָמַלְאָךְ), ⫯Arūna ʾal-Malāk (أَرُونَ الْمَلَاك), ʾArunā Farištah (ʾUrdū, اَرُنَا فَرِشْتَہ), or ʾÂrūna Farištah (Persian, آرُونَ فَرِشْتَه), Tawny (Sanskrit) the Angel, is Aruna the Angel, possibly among the Guardian Angels (see the glossary entries, ʾal-Ḥafaẓaẗ and ʾal-Malāk ʾal-Ḥāris) residing in the World of Dreams (see the glossary entry, ʾal-ʿĀlam ʾal-⫯Ahlām). My Hebrew-language spelling, including the vowel-points, is unmodified from the original. Aruna (Dēvanāgarī Sanskrit script, अरुण, Aruṇa) is tawny or ruddy.
ʾẠrūnədəhəʾāṭiyy hā-Mạləʾāḵə (Hebrew, אַרוּנְדְּהְאָטִיּ הָמַלְאָךְ), ⫯Arūndhātiyy ʾal-Malāk (أَرُونْدْهَاتِيّ الْمَلَاك), ʾÂrūndhātī Farištah (Persian, آرُونْدْهَاتِی فَرِشْتَه), ʾArundhatī Farištah (ʾUrdū, ارُندھَتِی فَرِشْتَہ), Arundhatī Fariśtā (Dēvanāgarī Hiṃdī/Sanskrit script, अरुन्धती फ़रिश्ता), Arundhatī Fariśatā (Guramukhī Pajābī script, ਅਰੁਂਧਤੀ ਫ਼ਰਿਸ਼ਤਾ), Arundhati Dēbadūta (Bengali, অরুন্ধতি দেবদূত), or Ángelos Arountáti (Greek, Ἄγγελος Αρουντάτι), Unrestrained (Sanskrit) the Angel, is Arundhati (Dēvanāgarī Sanskrit script, अरुन्धती, Arundhatī) the Angel, possibly among the Guardian Angels (see the glossary entries, ʾal-Ḥafaẓaẗ and ʾal-Malāk ʾal-Ḥāris) residing in the World of Dreams (see the glossary entry, ʾal-ʿĀlam ʾal-⫯Ahlām). My added Hebrew vowel-points are only approximations. Arundati (Japanese, アルンダティ) is given as a Japanese spelling. Compare with the glossary entry, Wəʾạšiysəṭāh hā-Mạləʾāḵə.
hā-ʾĀrōn hā-Hāḇəriyṯ (Hebrew,

הָאָרוֹן הָהַבְּרִית‎

) or ʾal-Tabūt ʾal-ʿAhd (

التَابُوت العَهْد

) is the Ark of the Covenant. See also the glossary entry, hā-ʾĀrōn hā-Qōdẹš.
hā-ʾArōn hā-Qōdẹš (Hebrew,

הָאָרוֹן הָקוֹדֶשׁ

) or ʾal-Tābūt ʾal-Qadāsaẗ (

التَابُوت القَدَاسَة

), the ark of holiness, is the Holy Ark. See also the glossary entry, hā-ʾĀrōn hā-Hāḇəriyṯ.
ʾal-ʿArrāf (العَرَّاف), with ʾal-ʿArrāfūna (العَرَّافُونَ) as the plural form, is the seer, the fortuneteller, the soothsayer, the wizard, or the augur. Compare with the glossary entry, ʾal-ʿArrāfaẗ.
ʾal-ʿArrāfaẗ (العَرَّافَة) is necromancy, divination, or witchcraft. Compare with the glossary entry, ʾal-ʿArrāf.
ʾal-ʿArrāt (العَرَّات), with ʿarraẗ (

العَرَّة

) as the singular form ("the tic"), are tics. See also the glossary entry, ʾal-Tašannaǧāt ʾal-lā⫯irādiyyaẗ.
ʾal-ʿAšāˁa ʾal-⫯Aẖīr (

العَشاءَ الأخِير

), the supper (or the dinner) last, is the Last Supper.
ʾal-ʿAṣabaẗ (العَصَبَة), with ʾal-ʿaṣabāt (

العَصَبَات

) as the plural form, is the league, cohort, faction, covey, clique, company, cabal, association, or union.
ʾal-ʿAṣabaẗ ʾal-⫯Ammima (

العَصَبَة الأمِّمَ

) is the League of Nations. See also the glossary entry, ʾal-⫯Ammima ʾal-Muttaḥidaẗ.
ʾal-ʿAṣabaẗ Spārtākūs (

العَصَبَة سْبَاْرتَاكُوس

), the league of Spartacus, is the Spartacus League. It was established by Rosa Luxemburg. See also the glossary entry, ʾal-Luksimbūrġiyyaẗ.
ʾal-⫯Asad ʾal-baḥr (

الْأَسَد البَحْر

), the lion of the sea, is the sealion. ʾal-⫯Aswad ʾal-baḥraẗ (

الأَسْوَد البَحْرَة

), lions of the sea, are sealions.
ʾĀṣạlāh hā-Mạləʾāḵə (Hebrew, אָצַלָה הָמַלְאָךְ), ʾÂtšālā ʾal-Malāk (آتْشَالَا الْمَلَاك), ʾAčālā Farištah (Persian, اچَالَا فَرِشْتَه), ʾAčala Farištah (ʾUrdū, اچَلَ فَرِشْتَہ), Acala Fariśtā (Dēvanāgarī Hiṃdī/Sanskrit script, अचल फ़रिश्ता), Acala Fariśatā (Guramukhī Pajābī script, ਅਚਲ ਫ਼ਰਿਸ਼ਤਾ), or Fudō-Myōō-Tenshi (Japanese, 不動明王天使), Immovable One (Sanskrit) the Angel, is Acala (Dēvanāgarī Sanskrit script, अचल, Acala) the Angel, possibly among the Guardian Angels (see the glossary entries, ʾal-Ḥafaẓaẗ and ʾal-Malāk ʾal-Ḥāris) residing in the World of Dreams (see the glossary entry, ʾal-ʿĀlam ʾal-⫯Ahlām). My added Hebrew vowel-points are only approximations. Compare with the glossary entry, ʾĀqəšōbiyāh hā-Mạləʾāḵə.
Asamẏa (my own ISO transliteration) or, alternately transliterated, Ôxômiya or Asamīẏā (Assamese, অসমীয়া), is commonly called Assamese in the English language. It is a language used in western India and in portions of Bangladesh (see the glossary entry, Bānlādēśa). The script is nearly identical to the one used for writing Bengali (see the glossary entry, Bānlā). You may download A Dictionary in Assamese and English and an Assamese Romanization Table. See also the glossary entry, Xôkikiya and śikīẏa.
Āsana (Dēvanāgarī Sanskrit script, आसन), or āsanāḥ (Dēvanāgarī Sanskrit script, आसनाः) in the plural form, is Sanskrit for "sitting down." It is the term, used in yōga, for posture. Today, in the Western world, many people understand the āsanāḥ as stretching exercises. Traditionally, however, the āsanāḥ were practiced, in India, as focuses for meditation. An example is the sūrya namaskār (Dēvanāgarī Sanskrit script, सूर्य नमस्कार), Sanskrit for sun salutation or, literally, sun salute. See also the glossary entry, Prāṇāyām.
ʾĀsāp̄ hā-Mạləʾāḵə (Hebrew, אָסָף הָמַלְאָךְ), Gatherer the Angel, is Asaph (or Assaf) the Angel, possibly among the Guardian Angels (see the glossary entries, ʾal-Ḥafaẓaẗ and ʾal-Malāk ʾal-Ḥāris) residing in the World of Dreams (see the glossary entry, ʾal-ʿĀlam ʾal-⫯Ahlām). Ḥaṣṣād ʾal-Malāk (

حَصَّاد الله الْمَلَاك

), Gatherer (alternatively, Reaper or Harvester) the Angel, is my Arabic-language translation. Ángelos Asáph (Greek, Ἄγγελος Ἀσάφ) is a Greek (or Hellenized) spelling.
ʿĀsạsəyāh hā-Mạləʾāḵə (Hebrew, עָסַסְיָה הָמַלְאָךְ), Pressed by Yāhəwẹh (see the glossary entry, YHWH) the Angel, is Asasiah (alternatively, Asiyah or Assiah) the Angel, possibly among the Guardian Angels (see the glossary entries, ʾal-Ḥafaẓaẗ and ʾal-Malāk ʾal-Ḥāris) residing in the World of Dreams (see the glossary entry, ʾal-ʿĀlam ʾal-⫯Ahlām). ʿĀsạs (Hebrew,

עָסַס

) is to press, to crush, or to tread down. Ḍaġṭ-bi-Yāhwih ʾal-Malāk (

ضَغْط ـ بِيَاهْوِه الْمَلَاك

), Pressed (or Pressured) by Yāhəwẹh the Angel, is my Arabic-language translation. Ángelos Asasia (Greek, Ἄγγελος Ασασια) is a Greek (or Hellenized) spelling.
ʿĀsạsiyʾēl hā-Mạləʾāḵə (Hebrew, עָסַסִיאֵל הָמַלְאָךְ), Pressed by Ĕlōhiym (see glossary entry) the Angel, is Asasiel the Angel, possibly among the Guardian Angels (see the glossary entries, ʾal-Ḥafaẓaẗ and ʾal-Malāk ʾal-Ḥāris) residing in the World of Dreams (see the glossary entry, ʾal-ʿĀlam ʾal-⫯Ahlām). ʿĀsạs (Hebrew,

עָסַס

) is to press, to crush, or to tread down. Ḍaġṭ-bi-ʾAllꞌah ʾal-Malāk (

ضَغْط ـ بِالله الْمَلَاك

), Pressed (or Pressured) by God the Angel, is my Arabic-language translation.
ʾal-ʾAsātrū (

الاساتّرو

) is Ásatrú (Icelandic for "faith in God"), a new religious movement (see the glossary entry, ʾal-Ḥarakaẗ ʾal-ddīiniyyaẗ ʾal-ǧadīdaẗ). Asatru is also referred to as ʾal-Ddīn ʾal-Fāykinġ (

الدِّين‎ الفايْكِنْغْ

), the religion (or the judgment) of the Viking (with an obvious Indo-European loanword).
ʾal-ʿAšạˁu ʾal-⫯Ilhiyyu (

العَشاءُ الإِلَهِيُّ

), the dinner (or supper) divine, is the Eucharist. Compare with the glossary entry, ʾal-Qurbānu ʾal-Muqadas.
ʾal-ʾAsbirǧiyā (الاسْبِرْجِيَا) is my Arabization of Aspergia. It is a part of the history of Autism on the Internet (see the glossary entry, ʾal-⫯Intirnit). See also the glossary entry, ʾal-ʾIḍṭirāb ʾal-ʾAsbirǧir.
ʾal-⫯Asbirīn (

الأَسْبِرِين

) is the Indo-European loanword for aspirin.
ʾal-⫯Aṣdāˁ (الأَصْدَاء), with ʾal-ṣadaỳ (الصَدَى) as the singular form, are echoes, reactions, resonances, or reverbations.
ʾal-⫯Aṣdāˁ ʾal-Tawḥīd (

الأَصْدَاء التَوْحِيْد

), the Echoes of Unification, is my Arabic-language translation of Echoes of Unity™. See also the glossary entry, ʾal-Tawḥīd.
hā-ʾẠšəkənạzziym (האַשְׁכְּנַזִּים), the plural form, and hā-ʾẠšəkənạzziy (האַשְׁכְּנַזִּי), the possessive or an appurtenance, are Hebrew words for German, or more broadly Middle (Central) European, Jews. The word is derived from the individual, ʾẠšəkənạz (Hebrew, אַשְׁכְּנַז), who is referenced in Genesis 10:3 and 1 Chronicles 1:6. He was reportedly the eldest son of Gōmẹr (Hebrew, גֹּמֶר). According to tradition, these Jews, after leaving West Asia (see glossary entry), settled in Central Europe.
ʾẠšəmədʾēl hā-Mạləʾāḵə (Hebrew, אַשְׁמְדּאֵל הָמַלְאָךְ), Hebraized Avestan for Wrath of Ĕlōhiym (see glossary entry) the Angel, is Asmodel the Angel, possibly among the Guardian Angels (see the glossary entries, ʾal-Ḥafaẓaẗ and ʾal-Malāk ʾal-Ḥāris) residing in the World of Dreams (see the glossary entry, ʾal-ʿĀlam ʾal-⫯Ahlām). Ġaḍab ʾAllꞌah ʾal-Malāk (

غَضَب الله الْمَلَاك

), Wrath of God the Angel, is my Arabic-language translation. Ángelos Asmodḗl (Greek, Ἄγγελος Ασμοδήλ) is a Greek (or Hellenized) spelling.
ʾĀsəqəlēpiyūs hā-Mạləʾāḵə (Hebrew, אָסְקְלֵפִּיוּס הָמַלְאָךְ), ⫯Asklaybiyūs ʾal-Malāk (أَسْكْلَيْبِيُوس الْمَلَاك), ʾÂsklipiyūs Farištah (آسْکْلِپِیُوس فَرِشْتَه), or Ángelos Asklēpiós (Ancient Greek, Ἄγγελος Ἀσκληπιός) is Asclepius (unknown Ancient Greek etymology) the Angel, possibly among the Guardian Angels (see the glossary entries, ʾal-Ḥafaẓaẗ and ʾal-Malāk ʾal-Ḥāris) residing in the World of Dreams (see the glossary entry, ʾal-ʿĀlam ʾal-⫯Ahlām). My added Hebrew vowel-points are only approximations. Asclepius is associated with the healing arts.
ʾǍšērāh hā-Mạləʾāḵə (Hebrew, אֲשֵׁרָה הָמַלְאָךְ), Stride the Angel, is Asherah the Angel, possibly among the Guardian Angels (see the glossary entries, ʾal-Ḥafaẓaẗ and ʾal-Malāk ʾal-Ḥāris) residing in the World of Dreams (see the glossary entry, ʾal-ʿĀlam ʾal-⫯Ahlām). ʿAšīrah ʾal-Malāk (عَشِيره الْمَلَاك), Asherah the Angel, is an Arabic-language version. Ángelos Astártē (Ancient Greek, Ἄγγελος Ἀστάρτη) is an Ancient Greek (or Hellenized) spelling. Compare with another name for this possibly identical Being, ʿẠšətārōṯ hā-Mạləʾāḵə.
ʿẠšətārōṯ hā-Mạləʾāḵə (Hebrew, עַשְׁתָּרוֹת הָמַלְאָךְ) is Asteraoth (alternatively, Ashtarowth, Ashtaroth, or Astaroth) the Angel, possibly among the Guardian Angels (see the glossary entries, ʾal-Ḥafaẓaẗ and ʾal-Malāk ʾal-Ḥāris) residing in the World of Dreams (see the glossary entry, ʾal-ʿĀlam ʾal-⫯Ahlām). ʿẠšətārōṯ (Hebrew,

עַשְׁתָּרוֹת

) is an ancient Name of God. ʿAštārūṯa ʾal-Malāk (عَشْتَارُوثَ الْمَلَاك) is an Arabic spelling of the Angel's name. Ángelos Astarṓth (Greek, Ἄγγελος Ασταρώθ) is a Greek (or Hellenized) spelling. Compare with another name for this possibly identical Being, ʾǍšērāh hā-Mạləʾāḵə. Compare with the glossary entry, ʾIynānā hā-Mạləʾāḵə. See also the glossary entry, ʾal-Qiyādaẗ ʾal-ʿIštār.
ʾAsəṭəgiyq hā-Mạləʾāḵə (Hebrew, אָסְטְגִּיק הָמַלְאָךְ), ⫯Astġīk ʾal-Malāk (أَسْتْغِيك الْمَلَاك), or ʾÂstqīk Farištah (Persian, آسْتْقِیک فَرِشْتَه), Little Star (Armenian) the Angel, is Astik or Astig (Armenian, Աստղիկ, Astġik) the Angel, possibly among the Guardian Angels (see the glossary entries, ʾal-Ḥafaẓaẗ and ʾal-Malāk ʾal-Ḥāris) residing in the World of Dreams (see the glossary entry, ʾal-ʿĀlam ʾal-⫯Ahlām). My added Hebrew vowel-points are only approximations.
ʾĀsəṭərēʾāh hā-Mạləʾāḵə (Hebrew, אָסְטְרֵאַה הָמַלְאָךְ), ⫯Astriyā ʾal-Malāk (أَسْتْرِيَا الْمَلَاك), Asutoraia-Tenshi (Japanese, アストライア天使), or Ángelos Astraîa (Ancient Greek, Ἄγγελος Ἀστραῖα), Star Maiden (Ancient Greek) the Angel, is Astraea (or Astrea) the Angel, possibly among the Guardian Angels (see the glossary entries, ʾal-Ḥafaẓaẗ and ʾal-Malāk ʾal-Ḥāris) residing in the World of Dreams (see the glossary entry, ʾal-ʿĀlam ʾal-⫯Ahlām). My added Hebrew vowel-points are only approximations.
ʾal-⫯Aṣḥāb ʾal-ẓilālaẗ (

الأَصْحاب الظِلَالَة

), possessors of the shadows, are the shadow people. They are a speculated type of extradimensional being (see the glossary entry, ʾal-⫯Abaʿād ʾal-ḍāfiyyaẗ). ʾal-Ṣāḥib ʾal-ẓilāl (

الصَاحِب الظلال

), possessor of the shadows, is the singular form. ʾal-Ẓilāl (الظلال) and ʾal-ẓilālaẗ (

الظِلَالَة

) are the shadows. ʾal-Ẓill (الظِلّ) is the shadow.
ʾal-Aṣīdaẗ (العَصِيدَة), with ʾal-Aṣīdāt (العَصِيدَات) as the plural form, is porridge or pudding.
ʿĀšilāyāh hā-Mạləʾāḵə (Hebrew, עָשִׁלָיָה הָמַלְאָךְ), YHWH (see glossary entry) Just Judge the Angel, is Asaliah (or Asalia) the Angel, possibly among the Guardian Angels (see the glossary entries, ʾal-Ḥafaẓaẗ and ʾal-Malāk ʾal-Ḥāris) residing in the World of Dreams (see the glossary entry, ʾal-ʿĀlam ʾal-⫯Ahlām). ʿĀšilāyāh ʾal-Malāk (

عَاشِلَايَاه الْمَلَاك

) is my Arabization. Ángelos Asalia (Greek, Ἄγγελος Ἀσαλια) is a Greek (or Hellenized) spelling.
ʾal-ʿĀṣimaẗ (

الْعَاصِمَة

) is, in German, Das Kapital (the Capital), a multi-volume work written, in German, by Karl Marx and Friedrich Engels (see the glossary entry, Kārl Mārks wa-Frīdriš ⫯Inġilz). ʾal-ʿĀṣimāt (الْعَاصِمَات) is the plural form ("the capitals").
ʾal-ʿAṣīr (العَصِير), with ʾal-ʿaṣā⫯ir (العَصَائِر) as the plural form, is juice or the smoothie.
ʾĂšiymāʾ hā-Mạləʾāḵə (Biblical Hebrew, אֲשִׁימָא הָמַלְאָךְ) or ⫯Ašīmā ʾal-Malāk (أَشِيمَا الْمَلَاك) is Ashima the Angel, possibly among the Guardian Angels (see the glossary entries, ʾal-Ḥafaẓaẗ and ʾal-Malāk ʾal-Ḥāris) residing in the World of Dreams (see the glossary entry, ʾal-ʿĀlam ʾal-⫯Ahlām). The etymology of the Hebrew word is undetermined.
ʾal-ʿAskariyyaẗ (العَسْكَرِيَّة) is the military and militarism. ʾal-Mašrab bi-ʾal-rrūḥ ʾal-ʿaskariyyaẗ (

المَشْرَب بِالرُّوح الْعَسْكَرِيَّة

), the impregnated (alternatively, intoxicated or saturated) with the spirit of the military, is militaristic. See also the glossary entry, ʾal-Ǧayš.
ʾal-⫯Aslamaẗ (الأَسْلَمَة) is ⫰Islāmization.
ʾal-⫯Asmāˁ (الأَسْمَاء), with ʾal-ʾism (الاِسْم) as the singular form, are "names."
Āśrama (Dēvanāgarī Sanskrit script, आश्रम; Bengali, আশ্রম; Gujarātī, આશ્રમ; and Ōṛi⫯ā, ଆଶ୍ରମ), or, conventionally,

ashram

, is an originally Sanskrit term for toiling, austerity, or penance.

In practice, an ashram is similar to a monastery or hermitage.
Āśramāḥ (Dēvanāgarī Sanskrit script, आश्रमाः) is one of the Sanskrit plural forms. The ʾUrdū version of ashram is ʾâšrama (آشرَمَ). The Guramukhī Punjabi convention is āśarama (ਆਸ਼ਰਮ). The Telugu and Malayaḷaṃ style is āśramaṁ (Telugu, ఆశ్రమం, or Malayaḷaṃ, ആശ്രമം). Āciramattai (ஆசிரமத்தை) is a Tamiḻ spelling. An Arabization is ʾal-⫯ašrama (

الأشْرَمَ

).

ʾal-ʿAṣru (العَصْرُ), with ʾal-ʿuṣūr (العُصُور) as the plural form, is the era, age, time, epoch, or period

of time

. As illustrations, see the glossary entries below.
ʾal-ʿAṣru ʾal-burǧ ʾal-dalw (

العَصْرُ البُرْج الدَلْو

), the age of the constellation of the pail

of water

, or ʾal-ʿaṣru ʾal-dalw (

العَصْر الدَلْو

), the age of the pail

of water

, is the age of aquarius (the water-bearer). See also the glossary entry, ʾal-⫯Inǧīl ʾal-Dalw Yasūʿa ʾal-Masīḥ.
ʾal-ʿAṣru ʾal-ḏahabiyy (

العَصْرُ الذَهَبِيّ

), the age golden (given in order), is the golden age (or the gilded age). ʾal-ʿUṣūr ʾal-ḏahabiyyaẗ (

العُصُور الذَهَبِيَّة

), the ages golden, are the golden (or gilded) ages.
ʾal-ʿAṣru ʾal-Ḏahabiyy ʾal-⫯Islāmiyy (

العَصْرُ الذَهَبِيّ الأِسلَامِيّ

), the Age Golden ⫰Islāmic (given in order), is the ⫰Islāmic Golden Age.
ʾal-ʿAṣru ʾal-burǧ ʾal-ḥūt (

العَصْرُ البُرْج الْحُوت

) is the age of the constellation of pisces. ʾal-ʿAṣru ʾal-ḥūt (

العَصْرُ الْحُوت

) is the age of pisces. See also the glossary entry, ʾal-Ḥūt.
ʾal-ʿAṣru mā qabl ʾal-⫯Islām (

العَصْرُ ما قَبْل الإِسْلام

), the era that (or what)

is

before ⫰Islām, is the pre-⫯Islāmic era. See also the glossary entry, ʾal-ʿAṣru.
ʾal-ʿAṣru ʾal-Tanwīr (

العَصْرُ التَنْوِير

) is the Age of the Enlightenment. ʾal-Tanwīr (التَنْوِير) is the Enlightenment. See also the glossary entries, ʾal-Maḏhabu ʾal-ʿaqalāniyy and ʾal-Maḏhabu ʾal-waḍʿiyy.
ʾal-⫯Aswad (الأَسْوَد), with ʾal-Sūd (السُود) as the plural form ("Blacks"), is the Black.
Assoziation und Dissoziation (German for association and dissociation) are a pair of ideal types, developed by the German neo-Kantian sociologist Georg Simmel, which focus on sociation (German, Soziation; or Arabic, الرَابِطَة, ʾal-rābiṭaẗ) and its forms.

Sociation is the study of the patterns of social behavior, including the dyad (German, Dyade; or Arabic, الزَوْج, ʾal-zawǧ), a group of two, and the triad (German, Triade; or Arabic, الثَالُوث, ʾal-ṯālūṯ), a group of three. Association (German, Assoziation; or Arabic, الجَمْعِيَّة, ʾal-ǧamʿiyyah) is, in effect, amity. Dissociation (German, Dissoziation; or Arabic, التَفَكُّك, ʾal-tafakkuk) is, for all intents and purposes, enmity. Simmel's typology was a part of his formal sociology (see the glossary entry, ʾal-ʿIlmu ʾal-⫯iǧtimāʿa ʾal-rasmiyy).
I compare the concept of "association" with the late Indian-English philosopher Roy Bhaskar's view of copresence, while "dissociation" can be compared with his examination of demireality. See the glossary entries, ʾal-Dayāliktīk, ʾal-Ġilāf ʾal-dunyawiyy, Kyrarchy, Rāma Rôya Bhāskara, ʾal-Šiqāq, and ʾal-Waḥidaẗ ʾal-wuǧūd.

See also the glossary entries, Idealtypus and ʾal-Kānṭiyyaẗ ʾal-ḥadīṯaẗ.

ʾẠššūr hā-Mạləʾāḵə (Biblical Hebrew, אַשּׁוּר הָמַלְאָךְ), Guide (alternatively, Going Straight or Advancing) the Angel, is Ashur (alternatively, Assur, Asshur, or Ashshuwr) the Angel, possibly among the Guardian Angels (see the glossary entries, ʾal-Ḥafaẓaẗ and ʾal-Malāk ʾal-Ḥāris) residing in the World of Dreams (see the glossary entry, ʾal-ʿĀlam ʾal-⫯Ahlām). ʾššūr ʾal-Malāk (آشُّور الْمَلَاك) is an Arabic version. Ángelos Assour (Koinḗ, or Common, Greek, Ἄγγελος Ασσουρ) is a Koinḗ, or Common, Greek (or Hellenized) spelling. Ashur, a Name of God related to "Assyria," was the principal Deity in an Ancient Assyrian pantheon.
⫯Astaġfir ʾAllꞌah (

أَسْتَغْفِر الله

), I beg forgiveness (or I apologize)

to

God, is astaghfirullah.
ʾal-⫯Aswad w-ʾal-⫯abyaḍ ⫯aw ʾal-ramādiyy (

الأَسْوَد وَالأَبْيَض أَو الرَمَادِيّ

) are black and white or gray (British Commonwealth English, grey). Political officials and diplomats generally treat the demireality of modern human affairs as gray. At the same time, average people frequently see the world in black-and-white terms. Consequently, many of those same officials and diplomats need to convert a gray narrative into a black-and-white one.
ʾẠtāhʾēl hā-Mạləʾāḵə (Hebrew, אַתָּהאֵל הָמַלְאָךְ), Thou art ʾĔlōhiym (see glossary entry) the Angel, is Itael the Angel, possibly among the Guardian Angels (see the glossary entries, ʾal-Ḥafaẓaẗ and ʾal-Malāk ʾal-Ḥāris) residing in the World of Dreams (see the glossary entry, ʾal-ʿĀlam ʾal-⫯Ahlām). ʾẠtāh (Hebrew,

אַתָּה

) is thou (or you). ⫯Anta ʾAllꞌah ʾal-Malāk (

أَنْتَ الله الْمَلَاك

), Thou (or You)

art

God the Angel, is my Arabic-language translation. Ángelos Itaḗl (Greek, Ἄγγελος Ιταήλ) is a Greek (or Hellenized) spelling.
ʾal-⫯Aʿtām ʾal-ʿadasaẗ ʾal-ʿayn (

الإعتَام العَدَسَة العَيْن

), the darkening of the lens of the eye, is the cataract or the cataracts.
ʿĀṭạp̄iyʾēl hā-Mạləʾāḵə (Hebraized Aramaic and Hebrew, עָטַפִיאֵל הָמַלְאָךְ), Enveloped in ʾĔlōhiym (see glossary entry) the Angel, is Ataphiel (or Barattiel) the Angel, possibly among the Guardian Angels (see the glossary entries, ʾal-Ḥafaẓaẗ and ʾal-Malāk ʾal-Ḥāris) residing in the World of Dreams (see the glossary entry, ʾal-ʿĀlam ʾal-⫯Ahlām). ʿĀṭạp̄ (Hebraized Aramaic,

עָטַף

) is to envelop oneself. Taġaššaỳ fī ʾAllꞌah ʾal-Malāk (

تَغَشَّى فِي الله الْمَلَاك

), Enveloped in God the Angel, is my Arabic-language translation. See also the glossary entry, ʾal-Ġilāf ʾal-dunyawiyy.
ʾẠṭārəgəʾāṭiys hā-Mạləʾāḵə (Hebrew, אַטָרְגְּאָטִיס הָמַלְאָךְ), ⫯Atārǧātīs ʾal-Malāk (أَتَارْجَاتِيس الْمَلَاك), ʾÂtārgātīs Farištah (Persian, آتَارْگَاتِیس فَرِشْتَه), or Ángelos Atargatîs (Ancient Greek, Ἄγγελος Ἀταργατῖς), House of the Ornament or House of the Morning Star (Semitic languages) the Angel, is Atargatis the Angel, possibly among the Guardian Angels (see the glossary entries, ʾal-Ḥafaẓaẗ and ʾal-Malāk ʾal-Ḥāris) residing in the World of Dreams (see the glossary entry, ʾal-ʿĀlam ʾal-⫯Ahlām). My added Hebrew vowel-points are only approximations. Ātǎjiātísī (Chinese, 阿塔伽提斯) is given as a Chinese spelling. Atarugatisu (Japanese, アタルガティス) is given as a Japanese spelling. At'arŭgach'isŭ (Korean, 아타르가티스) is given as a Korean spelling.
ʾal-⫯Aṭarūḥaẗ (الأَطَرُوحَة) with ʾal-⫯aṭarūhāt (الأَطَرُوحَات) as the plural form, is the thesis or the dissertation.
ʾal-⫯Aṭarūḥaẗ ʾal-dduktūrāh (

الأَطَرُوحَة الدُّكْتُورَاه

), dissertation (or thesis) doctoral, is the doctoral dissertation. Compare with the glossary entry, ʾal-⫯Aṭarūḥaẗ ʾal-māǧistīr.
ʾal-⫯Aṭarūḥaẗ ʾal-māǧistīr (

الأَطَرُوحَة المَاجِسْتِير

), the thesis (or dissertation) of the master, is the Master's thesis. Compare with the glossary entry, ʾal-⫯Aṭarūḥaẗ ʾal-dduktūrāh.
ʾal-⫯Aṭarūḥaẗ w-ʾal-naqīḍ w-ʾal-tawlīf (

الأَطَرُوحَة والنَقِيض والتَوْليف

) are thesis, antithesis (or "the against"), and synthesis. See also the glossary entries, ʾal-Dayāliktīk and ʾal-Ǧadaliyyaẗ.
ʾẠṭəlās hā-Mạləʾāḵə (Hebrew, אַטְלָס הָמַלְאָךְ), ⫯Aṭlas ʾal-Malāk (أَطْلَس الْمَلَاك), ʾAṭlas Farištah (Persian (اطْلَس فَرِشْتَه), and Ángelos Átlas (Ancient Greek, Ἄγγελος Ἄτλας) are Atlas the Angel, possibly among the Guardian Angels (see the glossary entries, ʾal-Ḥafaẓaẗ and ʾal-Malāk ʾal-Ḥāris) residing in the World of Dreams (see the glossary entry, ʾal-ʿĀlam ʾal-⫯Ahlām). The mythical island of Atlantis (see the glossary entry, ⫯Atlāntīs) refers to Atlas (with an uncertain etymology). Perhaps He was the Deity of that speculative continent.
ʾẠṭʾēl hā-Mạləʾāḵə (Hebrew, אַטאֵל הָמַלְאָךְ), Gentleness of ʾĔlōhiym (see glossary entry) the Angel, is Atel the Angel, possibly among the Guardian Angels (see the glossary entries, ʾal-Ḥafaẓaẗ and ʾal-Malāk ʾal-Ḥāris) residing in the World of Dreams (see the glossary entry, ʾal-ʿĀlam ʾal-⫯Ahlām). ʾẠṭ (Biblical Hebrew,

אַט

) is gentleness. Damāṯaẗ ʾAllꞌah ʾal-Malāk (

دَمَاثَة الله الْمَلَاك

), Gentleness (or Politeness) of God the Angel, is my Arabic-language translation. Ángelos Atḗl (Greek, Ἄγγελος Ατήλ) is a Greek (or Hellenized) spelling.
ʾĀṯẹnāh hā-Mạləʾāḵə (Hebrew, אָתֶנָה הָמַלְאָךְ), ʾÂṯīnā ʾal-Malāk (آثِينَا الْمَلَاك), ʾÂtinah Farištah (Persian, آتِنَه فَرِشْتَه), Ángelos Athēnâ (Ancient Greek, Ἄγγελος Ἀθηνᾶ), and Tenshi-Atena (Japanese, 天使アテナ) are Athena the Angel, possibly among the Guardian Angels (see the glossary entries, ʾal-Ḥafaẓaẗ and ʾal-Malāk ʾal-Ḥāris) residing in the World of Dreams (see the glossary entry, ʾal-ʿĀlam ʾal-⫯Ahlām). Etymologically, Athena is associated with the city of Athens (Ancient and Koinḗ, or Common, Greek, Ἀθῆναι, Athē̂nai) in Ancient Greece. Compare with the glossary entry, ʾĀṯūnāhiyʾēl hā-Mạləʾāḵə.
ʾal-⫯Aṭfāl ʾal-nīliyyaẗ (

الأَطْفَال النِيلِيَّة

), children indigo, are the indigo children (tense modified from the original), a pseudoscientific concept. ʾal-Ṭifl ʾal-nīliyy (

الطِفْل النِيلِيّ

), child indigo, is the indigo child.
ʾal-⫯Aṭfāl ʾal-nnuǧūm (

الأطفال النُّجُوم

), the children of the stars, are the star children (or star kids). ʾal-Ṭifl ʾal-nnuǧūm (

الطِفْل النُّجُوم

), child of the stars, is the star child (or star kid). For an explanation, see the glossary entry, Homō noētikós.
ʾal-ʾAʿtiḏāriyyāt (الاعْتِذاريّات) is a term for apologetics. ʾal-ʾAʿtiḏāriyyaẗ (الاعْتِذاريَّة), the singular form, is the apologetic or apology (defense). See also the glossary entries, ʾal-ʾAʿtiḏāriyyāt ʾal-ʾiftirāḍāt and ʾal-ʿIlmu ʾal-ddifāʿi ʿani ʾal-Masīḥiyyaẗ.
ʾal-ʾAʿtiḏāriyyāt ʾal-ʾiftirāḍāt (

الاعْتِذاريّات الاِفْتِرَاضَات

), the apologetics of presuppositions (or assumptions), is my Arabic-language translation of presuppositional apologetics. One of its leading figures was Kornelis (a.k.a. Cornelius) van Til (

كُوْرْنِيلْيُوس فَان تِيل

, Kūrnīlyūs fān Tīl), 1885-1987. See also the glossary entries, ʾal-ʾAʿtiḏāriyyāt, ʾal-ʾIftirāḍ, and ʾal-ʿIlmu ʾal-ddifāʿi ʿani ʾal-Masīḥiyyaẗ.
ʿẠtiyq Yōmiyn (Hebrew script,

עַתִּיק יוֹמִין

), an Aramaic term found in the Biblical Book of Daniel (see the glossary entry, Dāniyyēʾl), is the Ancient of Days (in a Bahá'í context, Bahá'u'lláh). ʿẠtiyq (Hebrew script, עַתִּיק) is ancient. Yōmiyn (Hebrew script, יוֹמִין) are days. The Hebrew spelling of "days" is yōmạyim (Hebrew, יוֹמַיִם). Yōm (Hebrew script, יוֹמ) is both Hebrew and Aramaic for day. Yawm (يوم) or ʾal-yawm (اليوم) is the Arabic spelling. The Arabic plural is ʾal-ʾayyām (الأيَّام), as in the Persianized Arabic, ⫯Ayyām-i Hā (

أيَّامِ ﻩَ

, days of h). The Ancient of Days in Arabic, and a cognate of the Aramaic form, would be ʾal-ʿAtīq al-ʾAyyām (

العَتِيق الأيَّام

). See also the glossary entry, ʾal-Ǧamāl ʾal-Qidam.
⫯Atlāntīs (

أتْلانْتيس

) is Atlantis (Ancient Greek, Ἀτλαντὶς). See also the glossary entry, ʾẠṭəlās hā-Mạləʾāḵə. Compare with the glossary entries, ʾal-Qārraẗ ʾal-Mafqūdaẗ min Mū and Līmūriyā.
Ātmā (Dēvanāgarī Sanskrit script, आत्मा) is soul or self.
ʾẠṭṭāliyʾēl hā-Mạləʾāḵə (Hebraized Arabic and Hebrew, אַטָּלִיאֵל הָמַלְאָךְ), Porter (Hebraized Arabic) of ʾĔlōhiym (see glossary entry) the Angel, is Ataliel (or Atliel) the Angel, possibly among the Guardian Angels (see the glossary entries, ʾal-Ḥafaẓaẗ and ʾal-Malāk ʾal-Ḥāris) residing in the World of Dreams (see the glossary entry, ʾal-ʿĀlam ʾal-⫯Ahlām). ʾẠṭṭāliy (Hebraized Arabic,

אַטָּלִי

) is Hebraized Arabic for porter. My added Hebrew vowel-points are only approximations. With three cognates, ʾAttāl ʾAllꞌah ʾal-Malāk (

عَتَّال الله الْمَلَاك

), Porter of God the Angel, is my Arabic-language rendering. ʾal-ʿAttālayni (العَتَّالَيْنِ) are the two porters (or the two carriers).
ʾAṯtar-Samayn ʾal-Malāk (عَثتَر ـ سَمَيْن الْمَلَاك), Morning Star or Ornament of Heaven (Arabic) the Angel, is Atarsamain, Attar-shamayin, or Attarshamayin the Angel, possibly among the Guardian Angels (see the glossary entries, ʾal-Ḥafaẓaẗ and ʾal-Malāk ʾal-Ḥāris) residing in the World of Dreams (see the glossary entry, ʾal-ʿĀlam ʾal-⫯Ahlām). ʾIṭṭēr Šāmạyim hā-Mạləʾāḵə (Hebrew, עִטֵּר־שָׁמַיִם הָמַלְאָךְ) is a Hebrew-language translation. Compare with the glossary entry, ʿIṭṭēr hā-Mạləʾāḵə.
ʾal-ʿAttaqa (العَتَّقَ), with ʾal-ʾanʿitāq (الْانْعِتَاق) as the plural form, is emancipation, liberation, or freedom. Compare with the glossary entry, ʾal-Nniẓām ʾal-taḥrīr ʾal-lāhūtiyy.
ʾĀṭṭiys hā-Mạləʾāḵə (Hebrew, אָטִּיס הָמַלְאָךְ), ⫯Attīs ʾal-Malāk (أَتِّيس الْمَلَاك), ʾÂttīs Farištah (Persian, آتِّیس فَرِشْتَه), or Ángelos Áttis (Ancient Greek, Ἄγγελος Ἄττις) is Attis the Angel, possibly among the Guardian Angels (see the glossary entries, ʾal-Ḥafaẓaẗ and ʾal-Malāk ʾal-Ḥāris) residing in the World of Dreams (see the glossary entry, ʾal-ʿĀlam ʾal-⫯Ahlām). My added Hebrew vowel-points are only approximations. The Ancient Greek etymology is undetermined.
ʾĀtūn hā-Mạləʾāḵə (Hebrew, אָתּוּן הָמַלְאָךְ), ʾÂtūn ʾal-Malāk (آتُون الْمَلَاك), and Ángelos Atṓn (Greek, Ἄγγελος Ατών) are Aten the Angel, possibly among the Guardian Angels (see the glossary entries, ʾal-Ḥafaẓaẗ and ʾal-Malāk ʾal-Ḥāris) residing in the World of Dreams (see the glossary entry, ʾal-ʿĀlam ʾal-⫯Ahlām). My added Hebrew vowel-points are only approximations. Compare with the glossary entry, Šẹmẹšiyʾēl hā-Mạləʾāḵə. See also the glossary entry, Akhenaten.
ʾĀṯūnāhiyʾēl hā-Mạləʾāḵə (Hebraized Greek and Hebrew, אָתוּנָהִיאֵל הָמַלְאָךְ), Athens the Angel, is Atheniel the Angel, possibly among the Guardian Angels (see the glossary entries, ʾal-Ḥafaẓaẗ and ʾal-Malāk ʾal-Ḥāris) residing in the World of Dreams (see the glossary entry, ʾal-ʿĀlam ʾal-⫯Ahlām). ʾĀṯūnāh (Hebraized Greek,

אָתוּנָה

) is Athens. With three cognates, ⫯Aṯīnā ʾAllꞌah ʾal-Malāk (

أَثِينَا الله الْمَلَاك

), Athens of God the Angel, is my Arabic-language translation. The etymology of Athens (Ancient Greek, Ἀθῆναι, Athē̂nai), which is related to Athena (see the glossary entry, ʾĀṯẹnāh hā-Mạləʾāḵə), is uncertain.
Auṃ (Dēvanāgarī Sanskrit script, औं) or Oṃ (Dēvanāgarī Sanskrit script, ओं, the only spelling found in Buddhism but also used in other traditions), which is symbolized by a Unicode glyph (

ॐ

), is a sacred sound in various Dharmic Faiths (see the glossary entry, Dhārmika Āsthāoṃ). Auṃ is sometimes repeated as a mantra (see glossary entry) or incorporated into other mantras. The Chinese version is Ān (唵). The Tibetan form (Wylie Romanization) is oM (ༀ). The Japanese rendering is Omu (オム). The Guramukhī Punjabi convention is Ōṃ (ਓਂ).

Although Auṃ has no clear definition, it might be regarded as an omnipresent force or vibration.

ॐ

could, in my opinion, be compared with the divine Lógos (Ancient Greek, λόγος), the Word of God, the Holy Spirit, and the divine Attributes manifested to creation (as a sacred ether). Therefore, in this glossary, I have

interpreted

(not translated)

ॐ

as "the Word!" See also the glossary entry, ʾal-Hawāˁ.
Praṇava (Dēvanāgarī Sanskrit script, प्रणव), the name given to

ॐ

in Sanskrit, is the mantra of prāṇa (see the glossary entry, Prāṇa), but praṇava has also been interpreted as shouting, sounding, humming, or buzzing (trumpeting?). That is to say, praṇava, or the Word, is revealed by ēk Ōaṅkār (see the glossary entry, ʾẸq-ʾŌnəqār hā-Mạləʾāḵə).

See also the glossary entries, Auṃ śāntiḥ śāntiḥ śāntiḥ Auṃ, Oṃ maṇipadme hūṃ, and Om swastiastu ratu bagus.

Auṃ śāntiḥ śāntiḥ śāntiḥ Auṃ (Dēvanāgarī Sanskrit script, औं शान्तिः शान्तिः शान्तिः औं), a common Hindu greeting, is "the Word! peace, peace, peace, the Word!"
Avatāra (Dēvanāgarī Sanskrit script, अवतार), commonly transliterated as Avatar, is a descent or

divine incarnation

of Viṣṇu (see glossary entry). Avatārāḥ (Dēvanāgarī Sanskrit script, अवताराः) is a plural form. ʾAvātara (ʾUrdū, اوَتَارَ), or ʾAvātarūṉ (ʾUrdū,

اوَتَارُوں

) in the plural form, is the ʾUrdū convention. Speculatively, these divine Messengers might include both Prophets and Archangels. See also the glossary entry, Daśa Avatārāḥ.
⫯Aw (أَو) is "or."
ʾal-⫯Awā⫯il ʾal-ḥurūf ʾal-kalimāt (

الأَوَائِل الحُرُوف الكَلِمَات

), the beginning (or early) letters of the words, is the acronym. See also the glossary entries, ʾal-ʾIḥtiṣār and ʾal-Lafẓaẗ ʾal-⫯awā⫯il.
ʾĀwāmēʾēl hā-Mạləʾāḵə (Hebrew, אָוָמֵאֵל הָמַלְאָךְ), Patient ʾĔlōhiym (see glossary entry) or Divine Patience the Angel, is Omael the Angel. He might be a Resident of the World of Dreams (see the glossary entry, ʾal-ʿĀlam ʾal-Bāṭin) and its Archangels (see the glossary entry, ʾal-Malā⫯ikaẗ ʿAllaỳ). ʾAwāmī⫯īl ʾal-Malāk (

َاوَامِيئِيل الْمَلَاك

) is my Arabization. Ángelos Omaēl (Greek, Ἄγγελος Ὀμαηλ) is a Greek (or Hellenized) spelling.
ʾĀw hā-Mạləʾāḵə (Hebrew, אָו הָמַלְאָךְ), ⫯Aw ʾal-Malāk (أَو الْمَلَاك), or ʾAw Farštah (او فَرِشْتَه), Daylight (Māori) the Angel, is Ao the Angel, possibly among the Guardian Angels (see the glossary entries, ʾal-Ḥafaẓaẗ and ʾal-Malāk ʾal-Ḥāris) residing in the World of Dreams (see the glossary entry, ʾal-ʿĀlam ʾal-⫯Ahlām). My added Hebrew vowel-points are only approximations.
ʾal-ʿAwālim ʾal-mumakkanaẗ (

العَوَالِم المُمَكَّنة

), worlds of possibility, are possible worlds. ʾal-ʿĀlam ʾal-mumakkan (

العَالَم المُمَكَّن

), world possible, is possible world. The concept, in its modern form, has been attributed to Gottfried Wilhelm von Leibniz (

غُوتّْفْرِيد فِيلْهِلْم فُون لَايبْنِتْز

, Ġūttfrīd Fīlhilm fūn Lāybnitz), 1646-1716. See also the glossary entries, ʾal-Naẓariyyaẗ ʾal-ʿawālim ʾal-mutaʿaddidaẗ, ʾal-Naẓariyyaẗ m, and ʾal-Wāqiʿiyyaẗ ʾal-mašrūṭ.
⫯Awġust Kūnt (

أَوْغُسْت كُوْنْت

) is Auguste Comte (1798-1859 A.D.). In the sense that he first named the field of study as «sociologie» (see glossary entry), or "sociology" in the English language, he was the formal founder of the discipline. ʾal-Kūntiyyaẗ (الْكُوْنْتِيَة), with ʾal-kūntiyy (الْكُوْنْتِي) as the possessive or an appurtenance, is Comtism. See also the glossary entries, ʾad-Dīn ʾal-ʾInsāniyaẗ, ʾal-Ḥarakaẗ ʾal-Sānsīmūniyyaẗ, ʾal-⫯Iyǧābiyyaẗ, and ʾal-Maḏhabu ʾal-waḍʿiyy.
ʾal-ʿAwlamaẗ (العَوْلَمَة) is globalization or internationalization.
ʾal-⫯Awtād (الأَوْتَاد), with ʾal-watad (الـوتـد) as the singular form, are the pegs or pillars. They are, for some orders (see the glossary entry, ʾal-Ṭarīqaẗ) in ʾal-Taṣawwuf (see glossary entry), directly under ʾal-quṭb (see glossary entry).
ʾal-⫯Awwal (الأَوَّل) and ʾal-⫯uwal (الأُوَل) translate as "the first."
ʾal-⫯Ayādī ʾal-⫯Amr ʾAllꞌah (

الأَيَادِي الأَمْر الله

), with ʾal-Yad ʾal-⫯Amr ʾAllꞌah (

اليَد الأَمْر الله

) as the singular form, are the Hands of the Cause of God. See also the glossary entry, ʾal-ʿUlamāˁ.
ʾẠyʾāh hā-Mạləʾāḵə (Hebrew, אַיאָה הָמַלְאָךְ), ⫯Ayā ʾal-Malāk (أَيَا الْمَلَاك), or ʾÂyā Farištah (Persian, آیَا فَرِشْتَه), Dawn (Akkadian) the Angel, is Aya the Angel, possibly among the Guardian Angels (see the glossary entries, ʾal-Ḥafaẓaẗ and ʾal-Malāk ʾal-Ḥāris) residing in the World of Dreams (see the glossary entry, ʾal-ʿĀlam ʾal-⫯Ahlām). My added Hebrew vowel-points are only approximations.
ʾal-ʾÂyaẗ (الآية) is the sign or evidence (used for the verses of the Qurʾân). The plural form is ʾal-ʾâyāt (الآيات).
ʾal-ʾÂyāt ʾal-Nūr (

الآیات النور‎

) are the signs (or, in common usage, verses) of Light. The term designates the following passage from ʾal-Sūraẗ ʾal-Nūr (

السورة النور‎

), the Column of Light (my translation), in ʾal-Qurʾân (see glossary entry). The parable might be a prophecy of the coming of Bahá'u'lláh, the Light of God:

"ʾAllꞌah is the Light of the heavens and the earth. The Parable of His Light is as if there were a Niche and within it a Lamp: the Lamp enclosed in Glass: the glass as it were a brilliant star: Lit from a blessed Tree, an Olive, neither of the east nor of the west, whose oil is well-nigh luminous, though fire scarce touched it: Light upon Light! ʾAllꞌah doth guide whom He will to His Light: ʾAllꞌah doth set forth Parables for men: and ʾAllꞌah doth know all things." (Qurʾân 24:35, A. Yusuf Ali translation.)
An ostensibly similar concept, the inner Light, is found within the Religious Society of Friends (Quakers). See the glossary entries, ʾal-Kwaykirz and ʾal-Nūr ʾal-dāẖil.

See also the glossary entries,ʾal-Nūr, ʾal-Nūr ʾAllꞌah, and ʾal-Sūraẗ.

ʾal-ʾÂyāt ʾal-Šayṭān (

الآیات الشيطان

) are the Satanic verses (literally, the signs of the Adversary or Accuser).

These verses have long been a thorny issue within the global ⫰Islāmic community. A common interpretation is that Muḥammad was baited, through persecution, to adopt polytheism, but He later recanted it. However, I would suggest that Muḥammad was simply making a sarcastic or sardonic comment about these three commonly worshipped Arabian Goddesses.
According to the Prophet, "Have ye thought upon ʾAllāt [see glossary entry] and ʾal-ʿUzzaỳ [العزى] and Manāẗ [مناة‎], the third, the other? These are the exalted ġarānīq, whose intercession is hoped for. Are yours the males and His the females? That indeed were an unfair division! They are but names which ye have named, ye and your fathers, for which ʾAllꞌah hath revealed no warrant. They follow but a guess and that which (they) themselves desire. And now the guidance from their Lord hath come unto them." (Qurʾân 53:19-23, The Meaning of the Glorious Qurʾân. Muhammad Marmaduke Pickthall, translator.)

See the glossary entry, ʾal-Ġarānīq, for my suggested interpretation. See also the glossary entries, ʾal-ʾAyah and ʾal-Šayṭān.

ʾal-⫯Aybād (

الأَيْبَاد

) is an English-language loanword for the iPad.
ʾal-⫯Aydiyūlūǧiyyaẗ (الأَيْدِيُولُوجِيَّة), an Indo-European cognate, is ideology, a collective (not individual) and oppressive belief system. From my own critical realist standpoint, ideologies are emergent properties (see the glossary entry, ʾal-Našūˁ) of reality (see the glossary entry, ʾal-Wāqiʿ). As such, ideologies are distractions or misdirections from the demireality of oppression. Ideologies are lies. ʾal-⫯Aydiyūlūǧiyaẗ (الأيديولوجية) is "ideology" without the vowel-points and diacritical markings. ʾal-⫯Aydiyūlūǧiyyāt (الأَيْدِيُولُوجِيَّات) is the plural form. ʾal-⫯Aydiyūlūǧiyy (الأَيْدِيُولُوجِيّ), the possessive or appurtenace, is ideological or ideologue. ʾal-⫯Aydiyūlūǧiyyūn (الأَيْدِيُولُوجِيُّون) are ideologues. See also the glossary entries, ʾal-Mārksiyyaẗu, ʾal-Mārksiyyaẗu ʾal-ṯṯaqāfiyyaẗ, and ʾal-Naẓariyyaẗ ʾal-naqdiyyaẗ.
ʾal-⫯Aydiyūlūǧiyyaẗ ʾal-⫯Almāniyyaẗ (

الأَيْدِيُولُوجِيَّة الأَلْمانِيَّة

), the ideology German, is the German Ideology. This apology (see the glossary entry, ʾal-ʾAʿtiḏāriyyāt) for Marxism was coauthored by Karl Marx and his collaborator Friedrich Engels (see the glossary entry, Kārl Mārks wa-Frīdriš ⫯Inġilz).

The work's full title, in the original German, is

Die deutsche Ideologie: Kritik der neuesten deutschen Philosophie in ihren Repräsentanten Feuerbach, B. Bauer und Stirner und des deutschen Sozialismus in seinen verschiedenen Propheten

(The German Ideology: A Critique of Recent German Philosophy with Its Representatives [Ludwig] Feuerbach, B. [Bruno] Bauer, and [Max] Stirner and of German Socialism through Its Various Prophets). It is sometimes abbreviated as

A Critique of the German Ideology

or, in German, Ein Kritik der deutschen Ideologie (my own Arabic-language translation:

نَقَدَة الأَيْدِيُولُوجِيَّة الأَلْمانِيَّة

, Naqadaẗ ʾal-⫯Aydiyūlūǧiyyaẗ ʾal-⫯Almāniyyaẗ).
This brilliant essay, my personal favorite of Marx's works, presents a direct challenge to German idealism. The approach taken by Marx and Engels was dominated by social realism (see the glossary entry, ʾal-Wāqiʿiyyaẗ ʾal-ʾiǧtimāʿiyyaẗ), not by the paradigm of social idealism (see the glossary entry, ʾal-Miṯāliyyaẗ ʾal-ʾiǧtimāʿiyyaẗ). Both men ultimately rejected the neo-Kantian or idealistic assumptions of Hegelianism (see the glossary entry, ʾal-Hīġiliyyaẗ). The numerous revisionary (see the glossary entry, ʾal-Taḥarīfiyaẗ ʾal-Mārksiyyaẗ) forms of cultural Marxism (see the glossary entries, ʾal-Mārksiyyaẗu and ʾal-Mārksiyyaẗu ʾal-ṯṯaqāfiyyaẗ) would come later.
The following statement, affirmed within contemporary critical realism (see the glossary entry, ʾal-Wāqiʿiyyaẗ ʾal-naqdiyyaẗ ʾal-muʿāṣiraẗ), distinguishes idealism from Marx's own critical realism: "Life is not determined by consciousness, but consciousness [is determined] by life." (A Critique of the German Ideology. Page 6.) "Nicht das Bewußtsein bestimmt das Leben, sondern das Leben bestimmt das Bewußtsein". (Die deutsche Ideologie: Kritik der neuesten deutschen Philosophie in ihren Repräsentanten Feuerbach, B. Bauer und Stirner und des deutschen Sozialismus in seinen verschiedenen Propheten. Original German-language version. Written 1845-1846. Page 7.)

ʿẠyʾēl hā-Mạləʾāḵə (Hebrew, עַיאֵל הָמַלְאָךְ), Ay (alternatively, Ayya or Ayyath) of ʾĔlōhiym (see glossary entry) the Angel, is Ayil (or Aiel) the Angel, possibly among the Guardian Angels (see the glossary entries, ʾal-Ḥafaẓaẗ and ʾal-Malāk ʾal-Ḥāris) residing in the World of Dreams (see the glossary entry, ʾal-ʿĀlam ʾal-⫯Ahlām). ʿẠy (Hebrew,

עַי

) was an Ancient Canaanite city. The etymology is uncertain. ʿAy⫯īl ʾal-Malāk (

عَيئِيل الْمَلَاك

) is my Arabization.
ʾẠyəqəʾāḡəʾạṭāh hā-Mạləʾāḵə (Hebrew,

אַיְקְאָגְאַטָה הָמַלְאָךְ

), ⫯Aykāǧātā ʾal-Malāk (

أَيْكَاجَاتَا الْمَلَاك

), ʾAykāǧātā Farištah (Persian,

ایْكَاجَاتَا فَرِشْتَه

), ʾAykaǧaṭā Farištah (ʾUrdū, ایکَجَٹَا فَرِشْتَہ), ʾAykaǧaṭā Farišatah (Šāh Mukhī Punǧ°ābī script, ایکَجَٹَا فَرِشَتَہ), Ēkajaṭā Fariśtā (Dēvanāgarī Hiṃdī/Sanskrit script, एकजटा फ़रिश्ता), or Ēkajaṭā Fariśatā (Guramukhī Pajābī script, ਏਕਜਟਾ ਫ਼ਰਿਸ਼ਤਾ), Single Braid of Hair (Sanskrit) the Angel, is Ekajata (Dēvanāgarī Sanskrit script, एकजटा, Ēkajaṭā) the Angel, possibly among the Guardian Angels (see the glossary entries, ʾal-Ḥafaẓaẗ and ʾal-Malāk ʾal-Ḥāris) residing in the World of Dreams (see the glossary entry, ʾal-ʿĀlam ʾal-⫯Ahlām). The Hebrew-language, Arabic-language, and Persian-language spellings are my own.
ʾal-ʾAyǧābiyyaẗ ʾal-nafs ʾal-ḥadīṯ (

الإِيجَابِيَّة النَفْس الحَدِيث

) is, in order, positive self (or soul) talk. The concept of positive self-talk resembles the older notion of spiritual affirmation (see the glossary entry, ʾal-Tākīd ʾal-rūḥāniyy). The practice of positive self-talk has been promoted by Wayne Dyer (

وايْن داير

, Wāyn Dāyir), born in 1940, among others. See also the glossary entry, ʾal-Fikr ʾal-Ǧadīd.
ʾal-⫯Aykīdū (الأَيْكِيدُو) is Aikido (the martial art). Aikidō (Japanese, 合気道, あいきどう, or アイキドー) is the Japanese version.
ʾal-ʿAyn (العَيْن), with ʾal-ʿuyūn (الْعُيُون or, without the diacritics, العيون) as the plural form, can be translated as either the eye or the spring (perhaps dayspring). The dual tense is ʾal-ʿaynayn (العَيْنَيْن) for two eyes. ʿAyniṇī (عَيْنٍي) are "my two eyes." In Hebrew, hā-ʿạyin (

העַיִן

), with hā-ʿạyiniyym (

העַיִנִיים

) as the plural form, is also "the eye" or "the spring" (the Hebrew letter, ע).

This letter (the Arabic, ع, and the Hebrew, ע), represented by the left-half-ring glyph

(ʿ),

is, because of its curved shape, named for the eye (عَيْن, ʿayn). Using the word for the "eye" to refer to "spring" is analogous to the English-language expression, "The eyes are windows to the soul," or to comparing eyes, poetically, to "pools of water." As a verb, ʿayn (عَيْن) or ʿayyana (عَيَّنَ) can be translated as "to designate," "to assign," or "to appoint."
With ASCII (American Standard Code for Information Interchange) code, including in email messages, ʾal-ʿayn is sometimes represented by the Arabic number 3 (as the mirrored reflection of Ɛ or, approximately, ع).

See also the glossary entry, ʾal-ʿAyn ʾal-ǧamʿ.

ʾal-ʿAyn ʾal-ǧamʿ (

العَيْن الجَمْع

), is, literally, "eye togetherness," "the eye gathering," or, poetically perhaps, "the confluence of springs." Historically, in ʾal-Taṣawwuf (see glossary entry), ʾal-ʿayn ʾal-ǧamʿ has been a designation given to the ecstatic Ṣūfiyy practice of eye-gazing. It was reportedly followed by Mawlānā Ǧalāl ʾad-Dīn Muḥammad Rūmī (see glossary entry) and his teacher, Dīvān-i Šams-i Tabrīzī (see the glossary entry, Diyəwəʾān-Šʾāməs-mi-Ṭābəriyz hā-Mạləʾāḵə). See also the glossary entries, ʾal-ʿAyn, Mawlānā, ʾal-Mawlawiyyaẗ, and ʾal-Ṣūfiyy.
ʾal-ʿAyn Ḥūrus (

العَيْن حُورُس

) is the eye of Horus.
ʾĀyōʿāʾēl hā-Mạləʾāḵə (Hebrew, יֹרֵתָאֵל הָמַלְאָךְ), ʾĔlōhiym (see glossary entry) the Pleasure of the children of men the Angel, is Eyael (or Iaial) the Angel, possibly among the Guardian Angels (see the glossary entries, ʾal-Ḥafaẓaẗ and ʾal-Malāk ʾal-Ḥāris) residing in the World of Dreams (see the glossary entry, ʾal-ʿĀlam ʾal-⫯Ahlām). ʾAyuwā⫯īl ʾal-Malāk (

َايُوَائِيل الْمَلَاك

) is my Arabization. Ángelos Iaiēl (Greek, Ἄγγελος Ιαιηλ) is a Greek (or Hellenized) spelling.
ʾẠyōlōs hā-Mạləʾāḵə (Hebrew, אַיוֹלוֹס הָמַלְאָךְ), ⫯Ayūlūs ʾal-Malāk (أَيُولُوس الْمَلَاك), ʾÂyūlūs Farištah (Persian, آیُولُوس فَرِشْتَه), ʾI⫯ulus Farištah (ʾUrdū, اِؤُلُس فَرِشْتَہ), ʾI⫯ulasa Farišatah (Šāh Mukhī Punǧ°ābī script,

اِؤُلَسَ فَرِشَتَہ

), Iōlas Fariśtā (Dēvanāgarī Hiṃdī/Sanskrit script, इओलस् फ़रिश्ता), I⫯ōlasa Fariśatā (Guramukhī Pajābī script, ਇਓਲਸ ਫ਼ਰਿਸ਼ਤਾ), or Ángelos Aíolos (Ancient Greek, Ἄγγελος Αἴολος), Moving or Swift (Ancient Greek) the Angel, is Aeolus the Angel, possibly among the Guardian Angels (see the glossary entries, ʾal-Ḥafaẓaẗ and ʾal-Malāk ʾal-Ḥāris) residing in the World of Dreams (see the glossary entry, ʾal-ʿĀlam ʾal-⫯Ahlām). The Hebrew-language spelling, including the vowel-points, is unaltered from the original.
⫯Ayy (أَيّ) is which? (interrogative particle), which (relative pronoun), what (relative pronoun), or any (relative pronoun).
Ayyavaḻa (my own Tamiḻ Romanization, using the system of the Library of Congress and the American Library Association, அய்யாவழி), Ayyāvaḻi (another Romanization scheme), or

Ayyavazhi

translates as the route, path, or road (Tamiḻ, வழி, vaḻ) to the father (Tamiḻ, அய்யா, ayya). Ayyāvaḻi (അയ്യാവഴി) is the Malayaḷaṃ form. Ayyāvaḷi (అయ్యావళి) is the Telugu spelling. Ayyāvaḷi (ಅಯ್ಯಾವಳಿ) is the Kannaḍa convention.

Ayyavaḻa is a Dharmic Faith (see the glossary entry, Dhārmika Āsthāoṃ) practiced in South Asia (see glossary entry).
"According to sources [?], [the] majority of Ayyavazhi followers were from [the] poorer section of the society and most of them belonged to the Chanar [Tamiḻ, கேனர, kēṉara; Malayaḷaṃ, കേനര, Kēnara; or Dēvanāgarī Hiṃdī/Sanskrit script, चनार्, Canār] caste. By the middle of [the] nineteenth century, Ayyavazhi was recognised [by whom?] as an independent religion, [which] flourished in the region of South Travancore [Tamiḻ, தெற்கு திருவிதாங்கூர், Teṟku Tiruvitāṅkūr; Malayaḷaṃ, തെക്ക് തിരുവിതാംകൂർ, Tekk Tiruvitāṅkūr; or Dēvanāgarī Hiṃdī/Sanskrit script, दक्षिण त्रावणकोर, Dakṣiṇa Trāvaṇakōra]." ("Ayyavazhi followers visit Swamithoppu [Tamiḻ, சுவாமிதோப்பு, Cuvāmitōppu; Malayaḷaṃ, സ്വമിതോപ്പു, Svamitēāppu; or Dēvanāgarī Hiṃdī/Sanskrit script, स्वमितॉप्पु, Svamitôppu]."

The Hindu

. Newspaper. London, UK: Financial Times Ltd. March 5, 2010. Academic OneFile. Web. Retrieved on October 27, 2013.)

ʾal-ʾÂyfūn (

الآيفون

) is an English-language loanword for iPhone.
ʾĀyrinạh hā-Mạləʾāḵə (Hebrew, אָירִנַה הָמַלְאָךְ), ⫯Ayrīna ʾal-Malāk (إَيْرِينَ الْمَلَاك), ʾAyrinah Farištah (Persian, ایرِنَه فَرِشْتَه), ʾÂ⫯irīna Farištah (ʾUrdū, آئرینَ فَرِشْتَہ), Āirīna Fariśtā (Dēvanāgarī Hiṃdī/Sanskrit script, आइरीन फ़रिश्ता), Ā⫯irīna Phariśatā (Guramukhī Pajābī script, ਆਇਰੀਨ ਫਰਿਸ਼ਤਾ), Tenshi-Irēne (Japanese, 天使イレーネ), or Ángelos Eirḗnē (Ancient Greek, Ἄγγελος Εἰρήνη), Peace (Ancient Greek) the Angel, is Eirene (or Irene) the Angel, possibly a resident of the World of Dreams (see the glossary entry, ʾal-ʿĀlam ʾal-Bāṭin) and its Archangels (see the glossary entry, ʾal-Malā⫯ikaẗ ʿAllaỳ). My added Hebrew vowel-points are only approximations.
ʾẠyyāl hā-Mạləʾāḵə (Hebrew, אַיָּל הָמַלְאָךְ) or Rannaẗ ʾal-Malāk (رَنَّة الْمَلَاك) is Reindeer the Angel, possibly a resident of the World of Dreams (see the glossary entry, ʾal-ʿĀlam ʾal-Bāṭin) and its Archangels (see the glossary entry, ʾal-Malā⫯ikaẗ ʿAllaỳ).
ʿẠyziys hā-Mạləʾāḵə (Hebrew, אַיזִיס הָמַלְאָךְ), ⫯Iyzīs ʾal-Malāk (إِيزِيس الْمَلَاك), ʾAysīs Farištah (Persian, اَیسِیس فَرِشْتَه), ʾÂ⫯isiz Farištah (ʾUrdū, آئِسِز فَرِشْتَہ), Ángelos Îsis (Ancient Greek, Ἄγγελος Ἶσις), Ishisu-Enjeru (Japanese, イシスエンジェル), and Isisŭ Ch'ŏnsa (Korean, 이시스 천사), Throne the Angel, are forms of Isis the Angel, possibly a resident of the World of Dreams (see the glossary entry, ʾal-ʿĀlam ʾal-Bāṭin) and its Archangels (see the glossary entry, ʾal-Malā⫯ikaẗ ʿAllaỳ). My added Hebrew vowel-points are only approximations.

Isis, the Ancient Egyptian Goddess, is represented, using Ancient Egyptian hieroglypyhs, as either or . The word, Isis, itself translates from the Ancient Egyptian language as "Throne."
Isis the Angel is, according to John Randolph Price, the Angel of Creative Wisdom.

ʿĀzạrəyāh hā-Mạləʾāḵə (Hebrew, עָזַרְיָה הָמַלְאָךְ), Succor (or Help) of Yāhəwẹh (see the glossary entry, YHWH) the Angel, is Azariah (or Azarias) the Angel, possibly a resident of the World of Dreams (see the glossary entry, ʾal-ʿĀlam ʾal-Bāṭin) and its Archangels (see the glossary entry, ʾal-Malā⫯ikaẗ ʿAllaỳ). ʾÂzara Yāhwih ʾal-Malāk (

آزَرَ يَاهْوِه الْمَلَاك

), Help (or Support) of Yāhəwẹh the Angel, is my Arabic-language translation. Ángelos Azaría (Greek, Ἄγγελος Αζαρία) is a Greek (or Hellenized) spelling. Compare with the glossary entries, ʿĀzạr hā-Mạləʾāḵə and ʿẠzəriyʾēl hā-Mạləʾāḵə.
ʿĀzạr hā-Mạləʾāḵə (Hebrew, עָזַר הָמַלְאָךְ), Succor (or Help) the Angel, is Azer (or Azar) the Angel, possibly a resident of the World of Dreams (see the glossary entry, ʾal-ʿĀlam ʾal-Bāṭin) and its Archangels (see the glossary entry, ʾal-Malā⫯ikaẗ ʿAllaỳ). ʾÂzara ʾal-Malāk (

آزَرَ الْمَلَاك

), Help (or Support) the Angel, is my Arabic-language translation. Compare with the glossary entries, ʿĀzạrəyāh hā-Mạləʾāḵə and ʿẠzəriyʾēl hā-Mạləʾāḵə.
ʿẠzəriyʾēl hā-Mạləʾāḵə (Hebrew, עַזְרִיאֵל הָמַלְאָךְ), My Help is ʾĔlōhiym (see glossary entry) the Angel (alternatively, Divine Help the Angel or the Divinely Assisted

One

the Angel), is Azriel (alternatively, Azariel, Ahzariel, Azareel, Azeruel, Azrael, Azarel, or Mahniel) the Angel, possibly a resident (or the name given to multiple residents) of the World of Dreams (see the glossary entry, ʾal-ʿĀlam ʾal-Bāṭin) and its Archangels (see the glossary entry, ʾal-Malā⫯ikaẗ ʿAllaỳ). The Hebrew verb, ʿāzạr (Hebrew,

עָזַר

), is to succor or to help.

In Judaic lore, ʿẠzəriyʾēl hā-Mạləʾāḵə is considered to be a high-ranking Commander of God's other Angels, and He receives the prayers of the faithful at the moment of death.
Ángelos Azariḗl (Greek, Ἄγγελος Αζαριήλ) is a Greek (or Hellenized) spelling.
In ⫰Islām, He is ʿIzrā⫯īl ʾal-Malāk (

عزرائيل الْمَلَاك

) or ʿIzrāyil ʾal-Malāk (

عزرایل الْمَلَاك

). Although those names are never mentioned in ʾal-Qurʾân (see glossary entry), many Muslims have associated this Being with Qurʾânic references to ʾal-Malāk ʾal-Mawt (

الْمَلَاك المَوْت

), the Angel of Death. "Say: The Angel of Death put in charge of you, will (duly) take your souls, then you shall be brought back to your Lord." (Qurʾân 32:11. A. Yusuf Ali translation.) With two cognates, the corresponding Hebrew term is hā-Mạləʾāḵə hā-Māwẹṯ (Hebrew,

הָמַלְאָךְ הָמָוֶת

).

Compare with the glossary entries, ʿĀzạrəyāh hā-Mạləʾāḵə, ʿĀzạr hā-Mạləʾāḵə, Bəʾānəšiyy hā-Mạləʾāḵə, ʾal-Ššūm, and Yạʿəzēyriyʾēl hā-Mạləʾāḵə.

ʾal-ʿAzīzaẗ (

العَزِيزَة

) is the dear one.
ʾal-ʿAzl (العَزْل) or ʾal-ʿazlaẗ (العَزْلة), with ʾal-azlāt (العَزْلات) as a plural form, is excommunication, separation, segregation, isolation, or expatriatration.
ʿẠzziyziyʾēl hā-Mạləʾāḵə (Hebrew, עַזִּיזִיאֵל הָמַלְאָךְ), Might of ʾĔlōhiym (see glossary entry) the Angel, is Aziziel the Angel, possibly a resident of the World of Dreams (see the glossary entry, ʾal-ʿĀlam ʾal-Bāṭin) and its Archangels (see the glossary entry, ʾal-Malā⫯ikaẗ ʿAllaỳ). hā-ʿẠzziyz (Hebrew,

הָעַזִּיז

) is might, strength, or power. With three cognates, ʿAzīz ʾAllꞌah ʾal-Malāk (عَزِيز الله الْمَلَاك), Dear or Precious One of God the Angel, is my Arabic-language-rendering.
hā-Bạʿădạt-ʾĒl (Hebrew,

הָבַּעֲדַת־אֵל

) is the Divine Council (Revised Standard Version, New Revised Standard Version, and English Standard Version) of hā-ʾĔlōhiym (see the glossary entry, ʾĔlōhiym).

Compare hā-Bạʿădạt-ʾĒl with the glossary entries, ʾĔlōhiym, ʾal-Mal⫯a ʾal-⫯Aʿlaỳ, and hā-Sūllām Yạʿăqōḇ.

Bạʿạl (Hebrew,

בַּעַל

), Baal (or Ba'al) is owner, lord, possessor, or master. Baʿal (

بَعَل

), Baʿli (

بَعْلِ

), and, perhaps more common, Baʿl (

بَعْل

) or Baʿla (

بَعْلَ

) are three Arabic spellings. Báal (Koinḗ, or Common, Greek, Βάαλ) is the Koinḗ, or Common, Greek version. See also the glossary entries, Bạʿạl-Bəriyṯ, Bạʿạl-Hāmōn hā-Mạləʾāḵə, Bạʿạl hā-Mạləʾāḵə, Bạʿạl-Ṣəp̄ōn hā-Mạləʾāḵə, and Bạʿạl-Zəḇūḇ.
Bạʿạl-Bəriyṯ hā-Mạləʾāḵə (Hebrew, בַּ֫עַל־בְּרִ֑ית הָמַלְאָךְ) or Baʿl-Birīṯ ʾal-Malāk (بَعْل ـ بِرِيث الْمَلَاك), Lord of the Covenant (Hebrew) the Angel, is Baal Berith the Angel, possibly a resident of the World of Dreams (see the glossary entry, ʾal-ʿĀlam ʾal-Bāṭin) and its Archangels (see the glossary entry, ʾal-Malā⫯ikaẗ ʿAllaỳ). See also the glossary entries, Bạʿạl and ʾĔl-Bəriyṯ hā-Mạləʾāḵə.
Bạʿạl-Hāmōn hā-Mạləʾāḵə (Hebrew, בַּעַל־הָמוֹן הָמַלְאָךְ) or Baʿli-Hāmūna ʾal-Malāk (بَعْلِ ـ هَامُونَ الْمَلَاك), Master (alternatively, Lord, Owner, or Possessor) of the Multitude (Punic language) the Angel, is Baal Hamon (alternatively, Ba'al Hamon or Bebellahamon) the Angel, possibly a resident of the World of Dreams (see the glossary entry, ʾal-ʿĀlam ʾal-Bāṭin) and its Archangels (see the glossary entry, ʾal-Malā⫯ikaẗ ʿAllaỳ). Baal-Hamon was the major God of Ancient Carthage. Compare with the glossary entries, Bạʿạl, Bạʿạl hā-Mạləʾāḵə, and Bạʿạl-Zəḇūḇ.
Bạʿạl hā-Mạləʾāḵə (Hebrew, בַּעַל הָמַלְאָךְ), Master (alternatively, Lord, Owner, or Possessor) the Angel, is Baal the Angel, possibly a resident of the World of Dreams (see the glossary entry, ʾal-ʿĀlam ʾal-Bāṭin) and its Archangels (see the glossary entry, ʾal-Malā⫯ikaẗ ʿAllaỳ). Baʿl ʾal-Malāk (بَعْل الْمَلَاك), Baal (or Ba'al) the Angel, is an Arabic spelling. Ángelos Báal (Koinḗ, or Common, Greek, Ἄγγελος Βάαλ) is a Koinḗ, or Common, Greek spelling. Compare with the glossary entries, Bạʿạl, Bạʿạl-Hāmōn hā-Mạləʾāḵə, and Bạʿạl-Zəḇūḇ.
Bạʿạl-Ṣəp̄ōn hā-Mạləʾāḵə (Hebrew, בַּ֥עַל־צְפֹֽן הָמַלְאָךְ), Baʿla Ṣafūn ʾal-Malāk (بَعْلَ صَفُونَ الْمَلَاك), Baʿal Ṣafūn Farištah (Persian, بَعَل صَفُون فَرِشْتَه), or Ángelos Beelsepphṓn (Koinḗ, or Common, Greek, Ἄγγελος Βεελσεπφών), Baal of the North or Baal of Winter (Hebrew) the Angel, is Baal Zephon the Angel, possibly a resident of the World of Dreams (see the glossary entry, ʾal-ʿĀlam ʾal-Bāṭin) and its Archangels (see the glossary entry, ʾal-Malā⫯ikaẗ ʿAllaỳ). See also the glossary entry, Bạʿạl.
Bạʿạl-Zəḇūḇ (Hebrew,

בַּעַל־זְבוּב

or

בַ֤עַל־זְבוּב֙

), lord of flies, is Beelzebub (alternatively, Beelzeubub or Beelzebul). With two cognates, Baʿl ʾal-Ḏubāb (

بَعْل الذُبَاب

), lord of the flies, is also Beelzebub (alternatively, Beelzeubub or Beelzebul). Beelzeboúl (Koinḗ, or Common, Greek, Βεελζεβούλ) is the Koinḗ, or Common, Greek, version. ʾal-Ḏubābaẗ (الذُبَابَة) is the fly. Compare with the glossary entries, Bạʿạl, Bạʿạl-Hāmōn hā-Mạləʾāḵə, and Bạʿạl hā-Mạləʾāḵə.
ʾal-Baʿaṯ (البَعَث) or

Ba'athism

, renaissance or renewal, is the name of a former political party in ʿIrāq (العِرَاق, ʾal-ʿIrāq) and the name of a current political party in Syria (سُورِيَّا, Sūriyyā). Its focus is on pan-Arabism (see the glossary entry, ʾal-ʿUrūbaẗ).
ʾal-Bāb (البَاب) or, conventionally in the English language, "the Báb" was the Prophetic Forerunner of Bahá'u'lláh (see the glossary entry, Bahāˁ ʾUllꞌah). hā-Bəʾāb (Hebrew,

הָבְּאָבּ

) is a Hebraized spelling (with my own approximated vowel-points). The Báb's divine Name translates as the Gate. He was born Siyyid (see the glossary entry, ʾal-Sayyid) ʿAlī Muḥammad-i Šīrāzī (Persianized Arabic,

سِیِّد عَلِی ‌محمّدِ شیرازی‎

). A follower of the Báb is a Bābī or, conventionally spelled, a Bábí (بَابِي). The Báb, Who lived 1819-1850 A.D., is also known, by the honorary title, Ḥaḍraẗ ʾal-⫯Aʿlaỳ (

حضرة الأعلى

),

His divine

Presence the Exalted

One

, and as ʾal-Nuqṭaẗ ʾal-⫯Aʿlaỳ (

النُقْطَة الأعلى

) or ʾal-Nuqṭat ʾal-⫯Aʿlaỳ (Persianized Arabic,

النقطت الأعلى

), the Primal (literally, the Most Exalted, Highest, or Supreme) Point.
Bābā (Persian, Šāh Mukhī Punǧ°ābī script, ʾUrdū, Pashto, Kurdish, and Perso-Arabic Kashmiri script, بابا; Bengali and Assamese, বাবা; Dēvanāgarī script, बाबा; Guramukhī Pajābī script, ਬਾਬਾ; Malayaḷaṃ, ബാബാ; Kannaḍa, ಬಾಬಾ; Telugu, బాబా; Ōṛi⫯ā, ବାବା; Gujarātī, બાબા; and Tāna, ބާބާ) is a familiar, or affectionate, designation for one's own father (i.e., "daddy") which has been taken from the original Persian. Bābāyān (بابایان) is the Persian literary plural form. Bābāhā (باباها) is the Persian colloquial plural form.

The word, bābā, is an Indo-European cognate with the English-language, "papa" (including its abbreviated version, "pop"), "pope," and "papacy." The Tamiḻ Romanization, which resembles the English-language spelling, is pāpā (பாபா). The modern Turkish spelling is baba with babalar as the plural form. The Armenian spelling is also baba (Armenian, բաբա) with babaner (բաբաներ) as the plural form. In the Semitic (i.e., non-Indo-European) language of Arabic, bābā (بابا) is "daddy" with bābawāt (بَابوَات) and bābāwāt (بَابَاوَات) as plural forms. ʾal-Bābā (البابا), with ʾal-bābāwāt (البَابَاوَات) as the plural form, is the Pope (see the glossary entry, ʾal-Ḥabru).
However, in many of the popular cultures throughout both South Asia (see glossary entry) and West Asia (see glossary entry), the definition of the term, bābā, has been expanded to include: a father, a grandfather, a grandmother, a sage (a wise elder), a saint, a sādhu (see the glossary entry, Sādhu and sādhvī), a guru (see glossary entry), a walī (see the glossary entry, ʾal-Waliyy ʾAllꞌah), a šayẖ (see the glossary entry, ʾal-Šayẖ), and a pīr (see glossary entry).

As illustrations, see the glossary entries, ʿAbd-ʾul-Raḥmān Bābā, Bābā Bulhē Šāh-i Qādrī Šaṭṭārī, Bābā Faqīr Cand, Mihr Bābā, Sātya Sāi Bābā, and Śirḍī Sāi Bābā.

Bābā Bulhē Šāh-i Qādrī Šaṭṭārī (Šāh Mukhī Punjabi script and ʾUrdū,

بَابَا بُلہَے شَاہِ قادرِی شَطَّارِی

, Bābā Bulhē Šāh-i Qādriyah Šaṭṭārī; Persian,

بَابَا بُلْهَی شَاهِ قَادرِیَه شَطَّارِی

, Bābā Bulhay Šāh-i Qādriyah Šaṭṭārī; Guramukhī Pajābī script, ਬਾਬਾ ਬੁਲ੍ਹੇ ਸ਼ਾਹ ਕਾਦਰੀ ਕੀਤੀ ਸ਼ਤਾਰੀ, Bābā Bul⫯hē Śāha kītī Kādarī Śatārī; Dēvanāgarī/Hiṃdī Sanskrit script, बाबा बुल्ले शाह की कादरी शतार, Bābā Bulle Śāha kī Kādarī Śatāra; Bengali, বাবা বুল্লা শাহ এর কাদরী শতার, Bābā Bullā Śāha ēra Kādarī Śatāra; Tamiḻ, பாபா புல்லே ஷா உள்ள கத்ரியும் ஸ்டார், Pāpā Pullē Sā uḷḷa Katriyum Sṭār; or Telugu, బాబా బుల్ల షా యొక్క ఖాద్రి స్టార్, Bābā Bulla Sā yokka Khādri Sṭār) is, for short, Bulhē Šāh (Šāh Mukhī Punjabi script and ʾUrdū,

بُلہَے شَاہ

) or, as commonly transliterated,

Bulleh Shah

.

See also the glossary entries, Bulhī-ah!, Dargāh-i Bābā Bulhē Šāh, ʾUwč Šarīf, and ʾal-Waliyy ʾAllꞌah.

Bābā Faqīr Cand (Dēvanāgarī Hiṃdī/Sanskrit script, बाबा फ़क़ीर चन्द्), 1886-1981 A.D., was an Indian teacher of Sūrata Śabda Yōga (see glossary entry).

Cand (Dēvanāgarī Sanskrit script, चन्द्) is bright or shining. See the glossary entry, Bābā.
Bābā Faqīr Cand became notable in Sūrata Śabda Yōga for, first, challenging the view that a guru (see glossary entry) possesses supernatural intersubjectivity (or omniscience) and, second, asserting that visions and other inner spiritual phenomena were produced by the brain. In a sense, Bābā Faqīr Cand anticipated the field of neurotheology (see the glossary entry, ʾal-ʿIlmu ʾal-lāhūt ʾal-ʿaṣabiyy). He was in the spiritual lineage of another Sūrata Śabda Yōga teacher, Maharṣi Śīv Bhrātṛ Lal (Dēvanāgarī Sanskrit script, योगी सिव भ्रातृ लल), 1860-1939 A.D. Bhrātṛ (Dēvanāgarī Sanskrit script, भ्रातृ) is brother. Lal (Dēvanāgarī Sanskrit script, लल) is playful one. See the glossary entries, ʾal-Faqīr and Śīva.

See also the glossary entry, Mā bayna ʾal-ḏawāt.

ʾal-Bābā Frānsīs (

البَابَا فْرَانْسِيس

) is Pope Francis (born, 1936 A.D.) or, in Latin, Pontifex Franciscus. The Persian form is Pāpa Frānsīs (

پَاپَ فْرَانْسِیس

). The ʾUrdū convention is Pūpa Frānsisa (

پُوپَ فرَانسِسَ

). The Hiṃdī spelling is Popa Phrāṃsisa (Dēvanāgarī Hiṃdī/Sanskrit script, पोप फ्रांसिस). The Guramukhī Punjabi convention is Pōpa Phrainsisa (Guramukhī Pajābī script, ਪੋਪ ਫ੍ਰੈਨ੍ਸਿਸ). His Italian-Portugese birth name was Jorge Mario Bergoglio (

خُورْخَي مَاريِو بِيرْغُوغلِيُو

, H̱ūrẖay Māriyū Bīrġūġiyū). God bless his dear, humble, and self-sacrificing soul. See also the glossary entries, Bābā and ʾal-Kanīsaẗ ʾal-Kāṯūlīkiyyaẗ ʾal-Rūmāniyyaẗ.
ʾal-Babbaġāˁ (البَبَّغاء), with ʾal-babbaġāwāt (البَبَّغاوات‎) as the plural form, is the parrot or the parakeet.
Bāḇiyʾēl hā-Mạləʾāḵə (Hebrew, בָּבִיאֵל‎ הָמַלְאָךְ), Gate of ʾĔlōhiym (see glossary entry) the Angel, is Babiel the Angel, possibly a resident of the World of Dreams (see the glossary entry, ʾal-ʿĀlam ʾal-Bāṭin) and its Archangels (see the glossary entry, ʾal-Malā⫯ikaẗ ʿAllaỳ). hā-Bāḇāh (Hebrew,

הָבָּבָה

) is Hebrew for "the gate" (or the pupil of the eye). hā-Bāḇ (Hebrew,

הָבָּב

) and hā-Bāḇāʾ (Hebrew,

הָבָּבָא

) are Hebraized Aramaic for "the gate." With three cognates, Bāb ʾAllꞌah ʾal-Malāk (بَاب الله الْمَلَاك‎) is Gate of God the Angel. Ángelos Babiḗl (Greek, Ἄγγελος Βαβαήλ) is a Greek (or Hellenized) spelling.
ʾal-Bābiyaẗ (البابية) or ʾal-Bābiyyaẗ (البابيّة) is the Bābī Faith or "Bābism." See also the glossary entry, Dīn-i Bābī.
ʾal-Bābūr (البَابُور) is the steamship or the steamer. Compare with the glossary entry, ʾal-Bāẖiraẗ.
Bābuwā Ġīniyā ʾal-Ǧadīdaẗ (

بَابُوَا غِينِيَا الجَدِيدَة

), Papua Guinea new, is Papua New Guinea.
Badīʿ (ﺑﺪﻳﻊ‎ or, with another Unicode block, بَدِيع‎) was an early Bahá'í martyr (see the glossary entry, ʾal-Šahīd). His name translates as wonderful

one

. The Bahá'í calendar, a revision of the earlier Bábí calendar, was named after this blessed soul. He lived 1852-1869. Badīʿ sacrificed his earthly life while he was still a teenager.
Baʿdi (بَعْدِ) is "after," "yet," "post-," or "next"
Baʿdi bi-ʾal-ʿaṣru ʾal-⫯alfiyy (

بَعْدِ بِالعَصْرُ الأَلْفِيّ‎

), after with the age millennial, is postmillennialism. Contrast with the glossary entries, ʾal-Naẓariyyaẗ ʾal-mulk ʾal-lā ⫯alfiyy and Qabli bi-ʾal-ʿaṣru ʾal-⫯alfiyy. See also the glossary entry, ʾal-Maʿād.
ʾal-Bādi⫯aẗ (البادئة) with ʾal-bādi⫯āt (البادئات) as the plural form (German, Präfixen), is the prefix (German, Präfix).
Baʿdi ʾal-dduktūrāh (

بَعْدِ الدُّكْتُورَاه‎

), after the doctorate, is the post-doc. Compare with the glossary entry, ʾal-Ta⫯līl.
ʾal-Baġī w-ʾal-ṭaġā (

الْبَغِي والَطَغَا‎

), the whore and the excessive (or whorishness and impropriety), is a condemnation made by Bahá'u'lláh in the Kitāb-i Badīʿ (see glossary entry).
Bahā⫯iy or, conventionally, "Bahá'í" (بَهَائي) is my Bahāˁ (بَهَاء), Glory, Light, or Splendor. Bahā⫯iy ʾIymān (

بَہائِی اِیْمَان

) is the ʾUrdū form. Bahā⫯iyy (بََهَائيّ) is an Arabic variation. The Persian and ʾUrdū spellings, while slightly different in the originals, can also be Romanized as Bahā⫯iy or Bahá'í (Persian, بهائی, and ʾUrdū, بہائی). The term refers to a follower of Bahá'u'lláh (see the glossary entry, Bahāˁ ʾUllꞌah) and a member of the Bahá'í Faith. (See the glossary entry, Dīn-i Bahā⫯iy.) The Arabic plural is "ʾal-Bahā⫯iyūn" (البهائيون). The ʾUrdū plural is "Bahā⫯iyūṉ" (بہائیوں‎). The Persian literary plural is "Bahā⫯iyān" (بهائیان‎). The Persian colloquial plural is "Bahā⫯iyhā" (بهائیها‎). As a Bahá'í, Bahá'u'lláh

belongs to

me. He is my Beloved. See also the glossary entry, ʾal-Bahā⫯iyyaẗ.
Bāhāʾiy (Hebrew,

בָּהָאִי

) is Bahā⫯iy (see glossary entry). Bāhāʾiyyiym (Hebrew,

בָּהָאִיִּים

) is the male plural indefinite form. Bāhāʾiyyōṯ (Hebrew,

בָּהָאִיּוֹת

) is the female plural indefinite form. Bāhāʾiyṯ (Hebrew,

בָּהָאִית‎

) is the female singular indefinite form. hā-Ḏāṯ Bāhāʾiyṯ (Hebrew,

הָדָת בָּהָאִית

), the religion Bahā⫯iy, is the Bahā⫯iy Faith.
ʾal-Bahā⫯iyyaẗ (البهَائيَّة) or ʾal-Bahā⫯iyaẗ (البهَائية‎) is a designation for the Bahā⫯iy Faith (conventionally, the Bahá'í Faith). The term is sometimes translated as "Bahā⫯iyism." See also the glossary entries, Bahā⫯iy and Dīn-i Bahā⫯iy.
Bāhạliyʾēl hā-Mạləʾāḵə (Hebrew, בָּהַלִיאֵל הָמַלְאָךְ‎), Terrified in ʾĔlōhiym the Angel, is Bahaliel the Angel, possibly a resident of the World of Dreams (see the glossary entry, ʾal-ʿĀlam ʾal-Bāṭin) and its Archangels (see the glossary entry, ʾal-Malā⫯ikaẗ ʿAllaỳ). Bāhạl (Biblical Hebrew,

בָּהַל

) is to disturb, to terrify, or to dismay. H̱ā⫯if fī ʾAllꞌah ʾal-Malāk (

خَائِف فِي الله الْمَلَاك‎

), Terrified (or Afraid) in God the Angel, is my Arabic-language translation.
ʾal-Baḥaṯa (البَحَثَ‎) and and ʾal-buḥūṯ (البُحُوث‎) are search, discussion, consideration, study, or research. ʾal-Buḥūṯāt (

البُحُوثَات

) are researches. See also the glossary entry, ʾal-⫯abḥaṯ.
ʾal-Baḥaṯa ʾal-kammiyy (البَحَثَ الكَمِّيّ), research quantitative, is quantitative research. In sociology, this type of research generally involves statistics (see the glossary entry, ʾal-⫯Iḥṣāyiyāh). Contrast with the glossary entry, ʾal-Baḥaṯa ʾal-nawʿiyy. See also the glossary entries, ʾal-ʿIlmu ʾal-⫯iǧtimāʿa, ʾal-Baḥaṯa ʾal-masḥiyy, and Sociologie.
ʾal-Baḥaṯa ʾal-maydāniyyaẗ (

البَحَثَ المَيْدَانِيَّة

), research of the field, is field research. See also the glossary entries, ʾal-Baḥaṯa ʾal-nawʿiyy, ʾal-⫯Iṯnūġrāfiyā ʾal-waṣfiyyaẗ, and ʾal-Mulāḥaẓaẗ bi-ʾal-ʾamušārakaẗ.
ʾal-Baḥaṯa ʾal-masḥiyy (

البَحَثَ مَسْحِيّ

), research survey, is survey research. See also the glossary entry, ʾal-Baḥaṯa ʾal-kammiyy.
ʾal-Baḥaṯa ʾal-nawʿiyy (

البَحَثَ النَوْعِيّ

), research qualitative, is qualitative research. Contrast with the glossary entry, ʾal-Baḥaṯa ʾal-kammiyy. See also the glossary entries, ʾal-Baḥaṯa ʾal-masḥiyy, ʾal-⫯Iṯnūġrāfiyā ʾal-waṣfiyyaẗ, and ʾal-Mulāḥaẓaẗ bi-ʾal-ʾamušārakaẗ.
ʾal-Baḥaṯa ʾal-taǧrībiyy (

البَحَثَ الالتَجْرِيبِيّ

), research empirical (or experimental), is empirical (or experimental) research. ʾal-Buḥūṯāt ʾal-taǧrībiyyaẗ (

البُحُوثَات التَجْرِيبِيّة

), researches empirical (or experimental), are empirical (or experimental) researches.
ʾal-Baḥrayni (

البَحْرَيْنِ

) is Bahrain.
Balarāma (Dēvanāgarī Sanskrit script, बलराम) is the older brother of Kṛṣṇa (see glossary entry). He is sometimes regarded as the eighth Avatāra (see glossary entry) of Viṣṇu (see glossary entry). See also the glossary entry, Daśa Avatārāḥ.
Bahasa Indonesia is the Indonesian language. It is written in the Roman alphabet.
Bahāˁ ʾUllꞌah, Bahāˁ ʾAllꞌah or, conventionally, Bahá'u'lláh (

بَهَاء الله

) is the Light, Glory, or Splendor of God (1817-1892). Bahāˁ-ʾUllꞌah (Persian,

بَهَاءالله

, or ʾUrdū,

بَہَاءاللہ

) is a transliteration of the Persianized and ʾUrdūized Arabic versions. Bạhāʾ-ʾŪllāh (Hebrew,

בַּהָא־אֻלָּה

) is a Hebraized spelling (with my own approximated vowel-points). The short form of His beautiful divine Name is Bahāˁ or Bahá' (بَهَاء), Light, Glory, or Splendor. Bahāˁ, and its variations, is the Greatest Name of God (see the glossary entry, ʾal-ʾIsm ʾal-⫯Aʿẓam). He was born Mīrzā Ḥusayn-ʿAlī-i Nūrī (Persianized Arabic,

مِیْرْزَا حُسَیْنعَلِیِ نُوْرِی

).
ʾal-Bāẖiraẗ (البَاخِرَة), with ʾal-bāẖirāt (البَاخِرَات) and ʾal-bawāẖir (البَوَاخِر) as plural forms, is the ship or the steamship. Compare with the glossary entry, ʾal-Bābūr.
ʾal-Bāḥiṯ (الباحِث), with ʾal-bāḥiṯūna (الباحِثُونَ‎) as the plural form, is the researcher or the scholar. See also the glossary entry, ʾal-Bāḥiṯu wa-mumārisu.
ʾal-Bāḥiṯu wa-mumārisu (

الباحِثُ ومُمَارِسُ‎

), the scholar (or researcher) and practitioner, is my Arabic-language translation of the scholar-practitioner. See also the glossary entries, ʾal-Bāḥiṯ and ʾal-Mumāris.
ʾal-Baḥṯ ʾal-ʿamal ʾal-tašārukiyy (

البَحْث العَمَل التَشَارُكِيّ

), the research action participatory, is participatory action research. See also the glossary entry, ʾal-Tadaẖẖul ʾal-taṭbīq ʾal-ʿamaliyy.
ʾal-Baḥṯ ʾal-⫯iǧrā⫯iyy (

البَحْث الإِجْرَائِيّ

), the research operational (alternatively, procedural, executive, or ministerial), is action research.
ʾal-Baḥṯ ʾal-muʿāriḍ (

البَحْث المُعَارِض

), the research opposition, is opposition research.
ʾal-Baẖula ʾal-ššadīd (

البَخُلَ الشَّدِيد‎

), thriftiness strong, is parsimony, economy (in the philosophical and theoretical senses), or Ockham's razor, named after William of Ockham (see the glossary entry, ʾal-Maḏhabu ʾal-falsafiyy min ʾal-⫯ismāniyyaẗ). See also the glossary entry, ʾal-Ḥilāqaẗ fī ⫯Akhām.
ʾal-Baladiyyaẗ (البَلَدِيَّة), with ʾal-baladiyyāt (البَلَدِيَّات) as the plural form, is the commune, the municipality, or the township.
Baladiyy ʾal-malāk ʾal-waṣiyy (

بَلَدِيّ الْمَلَاك الوَصِيّ‎

), my angel guardian, is my guardian angel. Baladiyy ʾal-malā⫯ikaẗ ʾal-waṣiyyaẗ (

بَلَدِيّ المَلَائِكَة الوَصِيّة

), my angels guardian, are my guardian angels (tense corrected from the original). See also the glossary entries, Ḥaḍrat Sulṭān Bāhū and ʾal-Malāk ʾal-Ḥāris.
Bạlārạmāh-ʾĀwəwāṭʾạr (or Bạlārạmāh-ʾĀvəvāṭʾạr) hā-Mạləʾāḵə (Hebrew, בַּלָרַמָה־אָוְוָטְאַר הָמַלְאָךְ) or Bālārāmā-⫯Afātāra ʾal-Malāk (بَالَارَامَا ـ أَفَاتَارَ الْمَلَاك), Descent of Strong Rama the Angel, is Balarama (alternatively, Balram, Baladeva, Balabhadra, or Halayudha) Avatar the Angel, possibly among the Guardian Angels (see the glossary entries, ʾal-Ḥafaẓaẗ and ʾal-Malāk ʾal-Ḥāris) residing in the World of Dreams (see the glossary entry, ʾal-ʿĀlam ʾal-⫯Ahlām). My added Hebrew vowel-points are only approximations. Balarāma (Dēvanāgarī Sanskrit script, बलराम) is strong Rama. Compare with the glossary entry, Rəʾāmā-ʾĀwəwāṭʾạr hā-Mạləʾāḵə.
Balīnūs (

بَلِيْنُوْس

) is Apollonius of Tyana (Ancient Greek, Ἀπολλώνιος ὁ Τυανεύς, Apollṓnius ó Tyaneús). See also the glossary entry, Hĕrmĕs hā-Mạləʾāḵə.
Bālhi (Persian, بَالْهِ‎), a loanword from the French, is ballet. This word is one of many examples of French borrowing within the Persian language.
Ban°ǧābiyyaẗ ʾal–Šāh°mukiyyaẗ (

بَنْجَابِيَّة الشَاهمُْكِيَّة

) is Shahmukhi Punjabi.
Ban°ǧābiyyaẗ ʾal–Ġuramuk°hiyyaẗ (

بَنْجَابِيَّة الغُرَمُكْهِيَّة

) is Guramukhi Punjabi.
Bānlā (Bengali, বাংলা) or (alternately) Bāṅāli (Bengali, বাঙালি), Baṃgālī (Dēvanāgarī Hiṃdī/Sanskrit script, बंगाली), or ʾal-Banġāliyyaẗ (البَنْغَالِيَّة), is the Bengali language, which is widely spoken in Bangladesh and in parts of India. See also the glossary entry, Bānlādēśa.
Bānlādēśa (Bengali, বাংলাদেশ), Bāṃglādeśa (Dēvanāgarī Hiṃdī/Sanskrit script, बांग्लादेश), Banġlādiš (بَنْغلَادِيش), or Bangladesh is a country in South Asia. Until the middle of the twentieth century, Bangladesh was a part of India (see the glossary entry, Bhārata Gaṇarājya). Following Pākistāna's separation from India in 1947, the area now called Bangladesh became the eastern part of Pākistāna (see glossary entry). Geographically, however, Bangladesh was divided from the rest of Pākistāna by India. In 1971, Bangladesh, claiming second-class treatment by the western part of Pākistāna, staged a successful revolution for independence from Pākistāna. See also the glossary entry, Bānlā.
hā-Bạnōṯ hā-ʾĀḏām (

הָבַּנוֹת הָאָדָם‎

) is Hebrew for the daughters of the ruddy man, earthman, or earthling ("Adam"). hā-Bạt hā-ʾĀḏām (Hebrew,

הבַּת האָדָם‎

) is the singular form. Biblically, hā-bạnōṯ hā-ʾĀḏām is sometimes translated as the daughters of

men

. See also the glossary entry, ʾĀḏām.
Bāpa (باپ) is a common ʾUrdū term for father or "dad." See also the glossary entry, Bābā.
Bāp̄ōmẹṭ hā-Mạləʾāḵə (Hebrew, בָּפוֹמֶט הָמַלְאָךְ), Bāfūmit ʾal-Malāk (بَافُومِت الْمَلَاك), Bāfūmit Farištah (Persian, بَافُومِت فَرِشْتَه), or Ángelos Mpaphomét (Greek, Ἄγγελος Μπαφομέτ) is Baphomet (etymologically, an apparently Old French corruption of the Name, Muḥammad) the Angel, possibly among the Guardian Angels (see the glossary entries, ʾal-Ḥafaẓaẗ and ʾal-Malāk ʾal-Ḥāris) residing in the World of Dreams (see the glossary entry, ʾal-ʿĀlam ʾal-⫯Ahlām). My added Hebrew vowel-points are only approximations.
ʾal-Baqāˁ (البَقَاء‎ or, without the diacritics, البقاء‎) is subsistence or permanence. In Ṣūfism (see the glossary entry, ʾal-Taṣawwuf), ʾal-baqāˁ is a condition of steadfastness in the spiritual path (see the glossary entry, ʾal-Ṭarīqaẗ). One's spiritual life is, in baqāˁ (بقاء‎), entirely dependent upon God.
ʾal-Baqāˁ ʾal-⫯aṣlaḥa (

البَقَاء الأَصْلَحَ‎

) is survival of the fittest. Compare with the glossary entry, ʾal-ʾIẖtiyār ʾal-ṭabīʿiyy.
ʾal-Baqiyyaẗ (البَقِيَّة‎), with ʾal-baqāyā (البَقَايَا‎) as the plural form, is the remnant, the remainder, or the residue. See also the glossary entry, ʾal-Baqiyyaẗ ʾAllꞌah.
ʾal-Baqiyyaẗ ʾAllꞌah (البَقِيَّة الله‎), the Remnant of God, is, in some Bahá'í contexts, Bahá'u'lláh. (See God Passes By. Page 69). See also the glossary entry, ʾal-Baqiyyaẗ.
hā-Bạr (Hebrew,

הָבַּר

) is pure or clean. Compare with the glossary entry, ʾal-Naqiyy.
ʾal-Bārādāym (

البَارَادَايْم

), with ʾal-bārādāymāt (

البَارَادَايْمَات

) as the plural form, is paradigm, an obvious loanword from the Indo-European term. The original Ancient Greek word is parádeigma (παράδειγμα), to show or to compare side by side. Pará (Ancient Greek, παρά) is side by side. Deigma (Ancient Greek, δειγμα) is to show or to compare. See also the glossary entries, ʾal-Haykal w-ʾal-wakālaẗ, ʾal-Namūḏaǧ, and ʾal-Namūḏaǧ ʾal-Waḥīd ʾal-Markaz.
Bārāḏiyʾēl hā-Mạləʾāḵə (Hebrew, בָּרָדִיאֵל‎ הָמַלְאָךְ‎), Hail of ʾĔlōhiym (see glossary entry) the Angel, is Baradiel the Angel, possibly among the Guardian Angels (see the glossary entries, ʾal-Ḥafaẓaẗ and ʾal-Malāk ʾal-Ḥāris) residing in the World of Dreams (see the glossary entry, ʾal-ʿĀlam ʾal-⫯Ahlām). hā-Bārāḏ (Hebrew,

הָבָּרָד

) is hail. Barad ʾal-⫯Ilhiyy ʾal-Malāk (

بَرَد الإِلهِيّ الْمَلَاك‎

), Hail Divine the Angel, is my Arabic-language translation. Ángelos Baradiḗl (Greek, Ἄγγελος Βαραδιήλ) is a Greek (or Hellenized) spelling.
Bārāġuwāy (بَارَاغُوَاي) is Paraguay.
Bārāhʾēl hā-Mạləʾāḵə (Hebrew, בָּרָהאֵל הָמַלְאָךְ‎), Eating in ʾĔlōhiym (see glossary entry) the Angel, is Barahel the Angel, possibly among the Guardian Angels (see the glossary entries, ʾal-Ḥafaẓaẗ and ʾal-Malāk ʾal-Ḥāris) residing in the World of Dreams (see the glossary entry, ʾal-ʿĀlam ʾal-⫯Ahlām). Bārāh (Biblical Hebrew,

בָּרָה

) is to eat. ⫯Akl fī ʾAllꞌah ʾal-Malāk (

أَكْل فِي الله الْمَلَاك‎

), Eating (or Consumption) in God the Angel, is my Arabic-language translation. Ángelos Baraēl (Greek, Ἄγγελος Βαραηλ) is a Greek (or Hellenized) spelling.
ʾal-Barakaẗ (البَرَكَة‎), with ʾal-barakāt (البَرَكَات) as the plural form, is the blessing. The Hebrew spelling is hā-bərāḵāh (הָבְּרָכָה) or hā-bārạk (הָבָּרַך) or, in the plural form, hā-bərāḵōṯ (הָבְּרָכ֑וֹת‎). It should not be confused with the Arabic, ʾal-burāq (البُراق), and the Hebrew, hā-bārāq (הבָּרָק), lightning. Contrast with the glossary entries, Bārạḵiyʾēl hā-Mạləʾāḵə and ʾal-ʾIsrā⫯ w-ʾal-Miʿrāǧ.
Bārạḵiyʾēl hā-Mạləʾāḵə (Hebrew, בָּרַכִיאֵל‎ הָמַלְאָךְ), Blessing of ʾĔlōhiym (see glossary entry) the Angel, is Barakiel (alternatively, Barbiel, Barbuel, Baruel, Barbiela, Berekeel, or Baruchiel) the Angel, possibly among the Guardian Angels (see the glossary entries, ʾal-Ḥafaẓaẗ and ʾal-Malāk ʾal-Ḥāris) residing in the World of Dreams (see the glossary entry, ʾal-ʿĀlam ʾal-⫯Ahlām). ʾal-Barakaẗ ʾal-⫯Ilhiyyaẗ ʾal-Malāk (

البَرَكَة الإِلهِيَّة الْمَلَاك

), Divine Blessing the Angel, is my Arabic-language translation. Ángelos Barakiḗl (Greek, Ἄγγελος Βαρακιήλ) appears to be an accurate Greek spelling. See also the glossary entries, ʾal-Barakaẗ and Bārāqiyʾēl hā-Mạləʾāḵə.
Bārāqiyʾēl hā-Mạləʾāḵə (Hebrew, בָּרָקִיאֵל הָמַלְאָךְ), Lightning of ʾĔlōhiym (see glossary entry) the Angel, is Barqiel (alternatively, Barchiel or Barachiel) the Angel (allegedly, the Angel of Pisces), possibly among the Guardian Angels (see the glossary entries, ʾal-Ḥafaẓaẗ and ʾal-Malāk ʾal-Ḥāris) residing in the World of Dreams (see the glossary entry, ʾal-ʿĀlam ʾal-⫯Ahlām). hā-Bārāq (Hebrew,

הָבָּרָק

) is the lightning. Burāqī⫯īl ʾal-Malāk (

بُرَاقِيئِيل الْمَلَاك

) is my Arabization. Burāq ʾal-⫯Ilhiyy ʾal-Malāk (

بُراق الإِلهِيّ الْمَلَاك‎

), Lightning of God the Angel, is my Arabic-language translation. Ángelos Barachiēl (Greek, Ἄγγελος Βαραχιηλ) is a Greek (or Hellenized) spelling. He may have been associated with the Prophet Muḥammad (see glossary entry). See also the glossary entries, ʾal-Barakaẗ, Bārạḵiyʾēl hā-Mạləʾāḵə, and ʾal-ʾIsrā⫯ w-ʾal-Miʿrāǧ.
ʾal-Bārasakāliyūniyyaẗ (

البَارَسَكَالِيُونِيَّة‎

) is Priscillianism, an early Christian movement founded by Priscillian (Latin, Priscillianus). He lived in the fourth century A.D.
ʾal-Bārāsāykūlūǧiyy (البَارَاسَايْكُولُوجِيّ), an obvious Indo-European loanword, is parapsychology. See also the glossary entry, ʾal-ʿIlmu ʾal-nafs ʾal-ġaybiyy.
ʾal-Barīd ʾal-⫯iliktrūniyy (

البَرِيد الإلكْتْروني

), mail electronic, is email. ʾal-Rasā⫯il ʾal-⫯iliktrūniyyaẗ (

الرَسَائِيل الإلكْتْرونية

), messages electronic, are emails. ʾal-Risālaẗ ʾal-⫯iliktrūniyyaẗ (

الرِسَالَة الإلكْتْرونية‎

), the message electronic, is the email message (i.e., the particular email). ʾal-Risālaẗ (الرِسَالَة‎) is the message.
ʾal-Barīd sarīʿ (

البَرِيد سَرِيع‎

), mail quick (or mail fast), is my Arabic-language translation of QWK mail, an email format used on BBS systems (see the glossary entry, ʾal-Nniẓām ʾal-lawḥaẗ ʾal-našarāt). "QWK" is Internet slang for "quick" (not an abbreviation). Sarīʿ (سَرِيع‎) is an adjective for quick (or fast).
Bạriyʾēl hā-Mạləʾāḵə (Hebrew, בַּרִיאֵל הָמַלְאָךְ‎), Son of God the Angel, is Bariel (or Briel) the Angel, possibly among the Guardian Angels (see the glossary entries, ʾal-Ḥafaẓaẗ and ʾal-Malāk ʾal-Ḥāris) residing in the World of Dreams (see the glossary entry, ʾal-ʿĀlam ʾal-⫯Ahlām). hā-Bạr (Hebrew,

הָבַּר

) is the son. Bin ʾAllꞌah ʾal-Malāk

بِن الله الْمَلَاك‎

), Son of God the Angel, is my Arabic-language translation. Ángelos Bariḗl (Greek, Ἄγγελος Βαριήλ) is a Greek (or Hellenized) spelling. See also the glossary entry, ʾIbn.
ʾal-Barmaǧiyyāt ʾal-ẖabīṯaẗ (

البَرْمَجِيَّات الخَبِيثَة

) programming (or software) malicious (or malignant), is malware.
hā-Bạr miṣəwāh (

הָבַּר מִצְוָה

) or

bar mitzvah

is Aramaicized Hebrew for son of commandment. The Hebrew plural is hā-bēniy miṣwāh (הָבֵּנִי מִצוָה). hā-Bạṯ miṣəwāh (

הָבַּת מִצְוָה

),

bat mitzvah

, or

bas mitzvah

is Hebrew for daughter of commandment. The Hebrew plural is hā-bạnōṯ miṣwāh (

הָבַּנוֹת מִצוָה‎

). Becoming a bạr or bạt miṣwāh is associated with a coming-of-age ceremony. God bless Rabbi (see the glossary entry, Rạbbiy) Joel Bernstein, in New York City, for teaching me, in preparation for my own bạr miṣəwāh (

בַּר מִצְוָה

), how to read Hebrew. He ran an unaffiliated Hebrew school, with no formal connection to any Jewish temple (and perhaps to no particular Jewish movement or "denomination"), out of his basement in Bayside, Queens.
ʾal-Bārnaqīl (

البَرْنَقِيل

) is the barnacle or the barnacles.
Bārōnəg hā-Mạləʾāḵə (Hebrew, בָּרוֹנְגּ הָמַלְאָךְ), Bārūnġ ʾal-Malāk (بَارُونْغ الْمَلَاك), or Bārūng Farištah (Persian, بَارُونْگ فَرِشْتَه), Bear (Indonesian) the Angel, is Barong the Angel, possibly among the Guardian Angels (see the glossary entries, ʾal-Ḥafaẓaẗ and ʾal-Malāk ʾal-Ḥāris) residing in the World of Dreams (see the glossary entry, ʾal-ʿĀlam ʾal-⫯Ahlām). My added Hebrew vowel-points are only approximations.
Barriyyāṇ (بَرِّيَّاً), an adjective, is rural or land.
Bạr-Tạləmạy-hā-Zəḵạrəyāh hā-Mạləʾāḵə (Hebrew, בַּרתַּלְמַי־הָזְכַרְיָה הָמַלְאָךְ), Son of the Furrowed - Yah (see the glossary entry, YHWH) has remembered the Angel, is, as the name has been commonly abbreviated, Bartzachiah (alternatively, Bartzachia or Bartzachariah) the Angel, possibly among the Guardian Angels (see the glossary entries, ʾal-Ḥafaẓaẗ and ʾal-Malāk ʾal-Ḥāris) residing in the World of Dreams (see the glossary entry, ʾal-ʿĀlam ʾal-Bāṭin).

Bạr-Tạləmạy or

Bartholomew

(

בַּרתַּלְמַי

) is based upon the Hebraized Aramaic, bạr (Hebrew,

בַּר

), for son, and the Hebrew, tạləmạy (Hebrew,

תַּלְמַי

), for "furrowed."
Bārṯawlūmyū-Zakariyya ʾal-Malāk (بَارْثَوْلُومْيُو ـ زَكَرِيَّ الْمَلَاك) is my Arabic-language rendering. Bārṯawlūmyū Zakariyā Farištah (Persian, بَارْثَوْلُومْیُو زَکَرِیَا فَرِشْتَه) and Bartalamā⫯ī Zakariyāh Farištah (ʾUrdū, برتلمائی زکریاہ فَرِشْتَہ‎) are, respectively, the Persian and ʾUrdū versions. Ángelos Bartzákia (Greek, Ἄγγελος Βαρτζάκια) is a Greek (or Hellenized) spelling. Tenshi-Zekariya-Barutoromei (Japanese, 天使ゼカリヤバルトロメイ) is my constructed Japanese form of the Archangel's name.

Compare with the glossary entry, Zəḵạriyʾēl hā-Mạləʾāḵə.

ʾal-Barzaẖ (البَرْزَخ‎) is the isthmus (or the partition).
ʾal-Barzawiyyāt (البَرْزَوِيَّات‎) are protozoa.
Bā Šāhrāh va bī Šāhrāh (Persianized Arabic,

با شَاهْرَاه وَ بِی شَاهْرَاه‎

) refer, among ʾal-Ṣūfiyyaẗ (see the glossary entry, ʾal-Ṣūfiyy) and ʾal-fuqarā (see the glossary entry, ʾal-Faqīr), to a pair of ideal types (see the glossary entry, Idealtypus) which are utilized within South Asia and elsewhere. These types focus upon relative degrees of doctrinal orthopraxy (conformity to ʾal-Šarīʿaẗ or, roughly, religious law or, in practice, pronomianism) and heteropraxy (nonconformity to ʾal-Šarīʿaẗ or, in effect, antinomianism):

Bā Šāhrāh (Persianized Arabic, با شاهراه) is "with Šarīʿaẗ" (orthopraxic or pronomian). Bā (Persian, با) is "with." Šāhrāh (Persianized Arabic, شاهراه) is ʾal-Šarīʿaẗ (see glossary entry). The Arabic term would be maʿa ʾal-Šarīʿaẗ (

مَعَ الشريعة

). Maʿa (مَعَ‎) is "with." Throughout the course of ⫰Islāmic history, the overwhelming majority of Ṣūfiyy orders have been, formally, bā Šāhrāh. Consequently, ʾal-Taṣawwuf (see glossary entry) has been tolerated, even actively promoted, in many predominantly Muslim societies. The Persian, va, and the Arabic, wa (both, و), are "and."
Bī Šāhrāh (Persianized Arabic, بی شاهراه) is "without Šarīʿaẗ" (heteropraxic or antinomian). Bī (Persian, بی) is "without." The Arabic term would be bilā ʾal-Šarīʿaẗ (

بِلَا الشريعة

). Bilā (بِلَا) is "without."

Contemporary

or

recent

examples of bī Šāhrāh include the Čištī (see glossary entry) Universal Ṣūfism of Ḥaḍrat ʿInāyat H̱‎an (see glossary entry), the Naqšbandī (see glossary entry) orders of Rāma Candra (see glossary entry) with his son Mahātmā Jagamohana Nārāyaṇa (see glossary entry) and nephews Rāḍhā Mohana Lal (see glossary entry) and Šayẖ Dàoshòubuddha (see glossary entry), the Naqšbandī orders of H̱āndān-i Šāh (see glossary entry), the Rapid Method of ʿAdnān Sarhān (see the glossary entry, ʾal-Šaṭṭāriyyaẗ),

some

branches of ʾal-Qādiriyyaẗ ʾal-Muntahiyyaẗ (see glossary entry) of Ḥaḍrat Siyyidnā Riyāḍ ʾAḥmad Sarkār Guhar Šāhī (see glossary entry), and ʾal-Qādiriyyaẗ of Śrī Viśva Vijñāna Vidyā Ādhyātmika Pīṭham (see glossary entry).
"... the orders that adhered more closedly to the Shariat (known as

ba-shara

) attracted Hindus only to a limited extent, whereas the

be-shara

pirs (those who went against the Shariat) had Hindu disciples. On the whole, everyone in Sindh (Hindus and Muslims alike) would have affiliation with some Sufi

pir

, and to be without such affiliation was a matter of some embarrassment." (Rita Kothari, "Being-in-translation: Sufism in Sindh."

Decentering Translation Studies: India and Beyond

. Judy Wakabayashi and Rita Kothari, editors. Philadelphia, PA: John Benjamins North America. 2009. Page 124.) In my opinion, "against" is too strong a word in most cases. "Nondemanding" would usually be more accurate.
"The extent of flow of non-Islamic ideas into

Sufism

had so much impact that in the long run it was considered as roughly divided into orthodox (

ba-shara'

) and heterodox (

be-shara'

)—conforming to orthodox Islam and not conforming to orthodox Islam—respectively. Incidentally, this division was seen applicable particularly to non-Semitic countries [sic] like India and Africa, especially the former, where a new heterodox mystic movement facilitated through the interaction of Hindu-Muslim ideas was born, well-known as the Bhakti movement, promoted by Kabir (1440-1518), the Bhakta, influenced the entire sub-continent of the present-day Bangladesh, India and Pakistan, generating a large group of suborders named Kabir-

Panthis

." (Dr. Muhammad Hedayetullah,

A Compact Survey of Islamic Civilization

. Bloomington, IN: AuthorHouse. 2012. Kindle edition.)
"The realised individual, according to many Sufi authorities, is relieved of the constricting performance of various kinds of social behavior which were intended to help lead to realisation.... This has led to the Sufis being called heretics and apostates, and to the appearance of some large but atypical communities called

Bi-Shara'

(Lawless), and even to the distinction between the

Bi-Shara'

and the

Ba-Shara'

— those who observe the Law. Many Sufis in Islamic countries, including some of the greatest ones, like Hallaj 1,000 years ago, and Rumi, who died in 1273, have said and written things which, in Islamic Law, brand them as apostates." (Inayat Khan,

"Beginning to Begin": Neglected Aspects of Sufi Study

. London: Octagon Press. 2002. Page 59.)
His blessed Presence Bahá'u'lláh (see the glossary entry, Bahāˁ ʾUllꞌah) expressed a clear preference for Bā Šāhrāh: "In all these journeys [through the Seven Valleys] the traveler must stray not the breadth of a hair from the 'Law' [ʾal-Šarīʿaẗ], for this is indeed the secret of the 'Path' [ʾal-Ṭarīqaẗ] and the fruit of the Tree of 'Truth' [ʾal-Ḥaqīqaẗ]; and in all these stages he must cling to the robe of obedience to the commandments, and hold fast to the cord of shunning all forbidden things, that he may be nourished from the cup of the Law and informed of the mysteries of Truth." ("The Seven Valleys,"

The Seven Valleys and the Four Valleys

. Pages 39-40.)

See also the glossary entries, Avatāra, Ḥaḍraẗ Manṣūr ʾal-Ḥallāǧ, Ḥaḍrat Sulṭān Bāhū, ʾal-Ḥaqīqaẗ, Islamicate, ʾal-⫯Ismāʿīliyyaẗ, ʾal-Lānāmawasiyyaẗ, Orthopraxy and heteropraxy, Pīr, Pronomianism and antinomianism, ʾal-Qādiriyyaẗ, ʾal-Qalandar, Sānəṭ-Kạbiyr hā-Mạləʾāḵə, Šāhrāh, South Asia, Śrī Viśva Vijñāna Vidyā Ādhyātmika Pīṭham, ʾal-Ttanāquḍiyyaẗ ʾal-qawānīn, ʾal-Ṭarīqaẗ, and Theonomy.

ʾal-Baṣariyyāt (البَصَرِيَّات) is optics or opticianry. ʾal-Baṣariyyaẗ (البَصَرِيَّة‎), the singular form, is optical or visual. ʾal-Naẓārātiyy (النَظَّارَاتِيّ), with ʾal-naẓārātiyyāt (النَظَّارَاتِيَّات‎) as the plural form, is the optician or the optometrist.
Basava (Kannaḍa script, ಬಸವ), 1134–1196 A.D., was the founder of Lingāyat (see glossary entry). One of its sacred texts, Basava-Purāṇa (Kannaḍa script, ಬಸವ ಪುರಾಣ), tells the life story of Basava. Purāṇa (Dēvanāgarī Sanskrit script, पुराण) translates as

tales

of ancient times. See also the Bhakti-Ṣūfiyy movement.
ʾal-Baṣīr (البَصِير‎) and ʾal-baṣīraẗ (البَصِيرَة), with ʾal-baṣīrāt (

البَصِيرَات‎

) as a plural form, is the visionary, the seer, the clear-sighted one (or clairvoyant), the astute one, the insightful one, or the knowing one.
ʾal-Bašīr (البَشِير‎) and ʾal-bašār (البَشَار) can be translated as: the precursor, harbinger, forerunner, omen, herald, augry, presage, portent, dawn, or (deliverer of) glad-tidings. Tabāšīr (تَبَاشِير‎), ʾal-bašā⫯ir (البَشَائِر‎), and ʾal-bušarāˁ (البُشَراء) are plural forms. However, Bašār (بَشِير‎), Romanized as Bashar, refers, additionally, to an alleged extraterrestrial entity who is being channeled by Darryl Anka (

دَارِّيل أَنْكَاء

, Dārrīl ⫯Ankāˁ), born in 1951. See also the glossary entry, ʾal-Tawǧīh.
ʾal-Basmalaẗ (البَسْمَلَة) is an Arabic acronym of bismi ʾAllꞌah ʾal-Rraḥmān ʾal-Rraḥīm (

بِسْمِ الله الرَّحْمَن الرَّحِيم

). The phrase translates as "in the name of God, the Most Gracious, the Most Compassionate (or the Most Merciful)." It prefaces each sūraẗ (see the glossary entry, ʾal-Sūraẗ) of ʾal-Qurʾân (see glossary entry), except for the ninth sūraẗ.
Bāṣūʾē hā-Mạləʾāḵə (Hebrew, בָּצוּאֵ הָמַלְאָךְ), Bātšuway ʾal-Malāk (بَاتْشُوَي الْمَلَاك), or Ángelos Bachoue (Greek, Ἄγγελος Βαχουε), Bare-Breasted One (Chibcha language of the Muisca First-Nations people of Colombia) the Angel, is Bachué (or Bachue) the Angel, possibly among the Guardian Angels (see the glossary entries, ʾal-Ḥafaẓaẗ and ʾal-Malāk ʾal-Ḥāris) residing in the World of Dreams (see the glossary entry, ʾal-ʿĀlam ʾal-⫯Ahlām). My added Hebrew vowel-points are only approximations.
hā-Bāṯ (Hebrew,

הָבָּת

) is the bath (a measurement in Biblical times).
ʾal-Baṭal ʾal-ṯaqāfiyy (

البَطَل الثَقَافِيّ

), the hero cultural, is my Arabic-language translation of culture hero. ʾal-Baṭalaẗ ʾal-ṯṯaqāfiyyaẗ (

البَطَلَة الثَقَافِيَّة‎

), the heroine cultural, is my Arabic-language translation of culture heroine. ʾal-⫯Abṭāl ʾal-ṯṯaqāfiyyaẗ (

الأَبْطَال الثَقَافِيَّة

), heroes cultural, is my Arabic-language translation of culture heroes (or culture heroines). ʾal-Baṭalāt ʾal-ṯṯaqāfiyyaẗ (

البَطَلَات الثَقَافِيَّة‎

), the heroines cultural, is my Arabic-language translation of culture heroines.
Bāṭēliyʾēl hā-Mạləʾāḵə (Hebrew, בָּטֵלִיאֵל הָמַלְאָךְ), Cease in ʾĔlōhiym (see glossary entry) the Angel, is Bataliel the Angel, possibly among the Guardian Angels (see the glossary entries, ʾal-Ḥafaẓaẗ and ʾal-Malāk ʾal-Ḥāris) residing in the World of Dreams (see the glossary entry, ʾal-ʿĀlam ʾal-⫯Ahlām). Bāṭēl (Hebrew,

בָּטֵל

) is to cease. Waqafa fī ʾAllꞌah ʾal-Malāk (

وَقَفَ يِي الله الْمَلَاك

), Cease in God the Angel, is my Arabic-language translation.
ʾal-Bāṭin w-ʾal-ẓāhir (

البَاطِن والظَاهِر

), the hidden and the manifest, are a common Islamicate (see glossary entry) dialectic. This pair of concepts is illustrated quite well by the following verse from hā-TạNạ″Ḵə (see glossary entry): "The secret things [Hebrew,

הָנִּסְתָּרֹת‎

, hā-nisətārōṯ, the hidden] belong unto Jehovah our God; but the things that are revealed [Hebrew,

הָנִּגְלֹת

, hā-nigəlōṯ, the manifest] belong unto us and to our children for ever, that we may do all the words of this law [Hebrew,

הָתּוֹרָה הָזֹּאת

, hā-Tōrāh hā-zōʾṯ, Instruction this]." (Deuteronomy 29:29, American Standard Version. 1901.) See also the glossary entry, ʾal-Ẓāhir.
Bạṯ-Qōl hā-Mạləʾāḵə (Hebrew, בַּת־קוֹל‎ הָמַלְאָךְ), Daughter of Sound (alternatively, Voice or Noise) the Angel, is Bat Qol (or Bath Kol) the Angel, possibly among the Guardian Angels (see the glossary entries, ʾal-Ḥafaẓaẗ and ʾal-Malāk ʾal-Ḥāris) residing in the World of Dreams (see the glossary entry, ʾal-ʿĀlam ʾal-⫯Ahlām). ʾIbnaẗ-ʿAqīraẗ ʾal-Malāk (

اِبْنَة ـ عَقِيرَة الْمَلَاك‎

), Daughter of Voice the Angel, is my Arabic-language translation. ʾal-Banāt (البَنَات) are the daughters.
Bātrīk ʾal-Malāk (

بَاتْرِيك الْمَلَاك‎

), Pāṭəriyq hā-Mạləʾāḵə (Hebrew,

פָּטְרִיק הָמַלְאָךְ

), or Ángelos Patríkios (Greek, Ἄγγελος Πατρίκιος) are Patrick the Angel, possibly among the Guardian Angels (see the glossary entries, ʾal-Ḥafaẓaẗ and ʾal-Malāk ʾal-Ḥāris) residing in the World of Dreams (see the glossary entry, ʾal-ʿĀlam ʾal-⫯Ahlām). The Latin Pātricius and the Greek Patríkios (Πατρίκιος) translate as "patrician." (The Latin Pātricia is a form of Pātricius.) On July 8, 2014, I had a contact experience with Patrick the Angel in my dreams. The Angel took the form of famed broadcaster, John Charles Daly (

يَحْيَى تْشَارْلْز دَالِيّ

, Yaḥyaỳ Tšārlz Dāliyy), 1914-1991, God bless his soul.
ʾal-Baṭṭāriyyaẗuṇ (البَطَّارِيَّةٌ), with ʾal-baṭṭāriyyāt (البَطَّارِيَّات) as the plural form, is the battery.
ʾal-Bawdkāst (البَوْدْكَاسْت) is the English-language loanword for podcast. Pādkast (Persian, پَادْکَسْت) is the Persian-language version.
ʾal-Bayʿaẗ (البَيْعَة), or ʾal-mabīʿāt (المَبِيعَات‎) as the plural form, is the sale, the transaction, the deal, or the bargain. The "seller" or "salesman" would be ʾal-bā⫯iʿ (البائِع‎) with ʾal-bāʿaẗ (البَاعَة‎) as the plural form. The "saleswoman" is ʾal-bā⫯iʿaẗ (البائِعَة) with ʾal-bā⫯iʿāt (البائِعَات) as the plural form. In ʾal-Taṣawwuf (see glossary entry), specifically, the term bayʿaẗ (بَيْعَة) refers, in the sense of chivalry, to the act of giving, pledging, or, strictly speaking, "selling" one's allegiance or homage to a Ṣūfiyy guide or leader.

The spiritual "selling" process involves a figurative, and frequently literal, handshake agreement ("shaking on it"), or, to be more precise, a handclasp. In effect, one then becomes a member of that Ṣūfiyy order. This event is sometimes called an "initiation," but receiving "permission" or a "license" (see the glossary entry, ʾal-⫯Iǧāzaẗ) to follow the practices of the order would, in most cases, be more accurate.
Initiation and mystagogy (see the glossary entry, ʾal-Talqīn fī ʾal-⫯asrār ʾad-dīn), as those terms are often defined, can be seen in the Hindu practice of dīkṣā (Dēvanāgarī Sanskrit script, दीक्षा), "consecration," when a secret mantra might be given or during which an occult energy is allegedly stimulated. (For a discussion of esoteric Hindu and Buddhist energy stimulation, see the glossary entry, Kuṇḍalinī.)

ʾal-Bayān (البَيَان‎) is the Exposition (alternatively, the statement, the declaration, or the manifesto). The Persian and ʾUrdū rendering is Bayān (بیان‎). ʾal-Bayānāt (البَيَانَات‎) is the Arabic plural form.

See the glossary entry, ʾal-Daʿwaẗ.

ʾal-Bayān ʾal-⫯iymān (

البَيَان الإِيمان

) or ʾal-bayān min ʾal-⫯iymān (

البَيَان مِنْ الإِيمان

) is the statement of faith (German, das Glaubenssatz). ʾal-Bayānāt min ʾal-⫯iymān (

البَيَانَات مِنْ الإِيمان

) are statements of faith.
ʾal-Bayān ʾal-Šuyūʿiyy (

البيان الشُيُوعِيّ

), the manifesto (alternatively, exposition or statement) communist, is the Communist Manifesto. The full name of the document is the Manifesto of the Communist Party (German, Manifest der Kommunistischen Partei) or, in Arabic, ʾal-Bayān min ʾal-Ḥizbi ʾal-Šuyūʿiyy (

البيان مِنْ الحِزبِ الشُيُوعِيّ

), the manifesto of (or from) the party communist. It was written by Karl Marx and Friedrich Engels (see the glossary entry, Kārl Mārks wa-Frīdriš ⫯Inġilz).
Ḇạyḇạsəḇạṭāh-Mānū hā-Mạləʾāḵə (Hebrew, בַיבַסְבַטָה־מָנוּ הָמַלְאָךְ), Fayfāsfātā-Mānū ʾal-Malāk (فَيفَاسْفَاتَا ـ مَانُو الْمَلَاك), Vāyvāsvātā Mānū Farištah (Persian, وَایوَاسْوَاتَا مَانُو فَرِشْتَه), or Vayvasvata Manū Farištah (ʾUrdū وَیوَسوَتَ مَنُو فَرِشْتَہ), Man of the Sun (literally, Sun Man) the Angel, is Vaivasvata Manu (Dēvanāgarī Sanskrit script, वैवस्वत मनु) the Angel, possibly among the Guardian Angels (see the glossary entries, ʾal-Ḥafaẓaẗ and ʾal-Malāk ʾal-Ḥāris) residing in the World of Dreams (see the glossary entry, ʾal-ʿĀlam ʾal-⫯Ahlām). The first part of the Hebrew-language spelling and all the Hebrew vowel-points are my own approximations.
Bạyəʾūwūləp̄ hā-Mạləʾāḵə (Hebrew, בַּיְאוּוֻלְף הָמַלְאָךְ), Bayūwulf ʾal-Malāk (بَيُووُلْف الْمَلَاك), Bi⫯ūvulf Farištah (Persian, بِئُووُلْف فَرِشْتَه), Biyūvulfa Farištah (ʾUrdū بِیُووُلْفَ فَرِشْتَہ), Bayūvulapha Farištah (Šāh Mukhī Punǧ°ābī script, بَیُووُلَپْھَ فَرِشَتَہ), Biyōvulfa Fariśtā (Dēvanāgarī Hiṃdī/Sanskrit script, बियोवुल्फ़ फ़रिश्ता), Bayōvulapha Fariśtā (Guramukhī Pajābī script, ਬਯੋਵੁਲਫ ਫ਼ਰਿਸ਼ਤਾ), Bē⫯ulapha Dēbadūta (Bengali, বেউলফ দেবদূত), Ángelos Mpéogoulph (Greek, Ἄγγελος Μπέογουλφ), or Beourufu-no-Tenshi (Japanese, ベオウルフの天使), Bee-Wolf or Bee-Hunter (Old English) the Angel, is Beowulf the Angel, possibly among the Guardian Angels (see the glossary entries, ʾal-Ḥafaẓaẗ and ʾal-Malāk ʾal-Ḥāris) residing in the World of Dreams (see the glossary entry, ʾal-ʿĀlam ʾal-⫯Ahlām). My added Hebrew vowel-points are only approximations.
ʾal-Bayḍaẗ (البَيْضَة), with ʾal-bayḍāt (البَيْضَات) as the plural form ("eggs" or "ova"), is the egg or ovum.
ʾal-Bayḍuṇ ʾal-brišt (

البَيْضٌ البرِشْت

), the eggs soft-boiled, are the soft-boiled eggs.
ʾal-Bayḍuṇ ʾal-maẖlūṭ (

البَيْضٌ المَخْلُوط

), the eggs mixed (or blended), are the scrambled eggs.
ʾal-Bayḍuṇ ʾal-maslūq (

البَيْضٌ المَسْلُوق

), the eggs boiled or cooked, are the hard-boiled eggs or the poached eggs.
Bayna (بَيْنَ) or bayni (بَيْنِ) is between (poetically or archaically, betwixt), among, amongst, amid, amidst, or inter- (the prefix).
Bayna-humā (بَيْنَهُمَا) or bayni-himā (بَيْنِهِمَا) is between them.
Bạyiṯʾēl hā-Mạləʾāḵə (Hebrew, בַּיִתאֵל הָמַלְאָךְ), House of ʾĔlōhiym (see glossary entry) the Angel, is Bethel (alternatively, Bethiel, Bethuael, Bethuael, Betuliel, or Bethuel) the Angel, possibly among the Guardian Angels (see the glossary entries, ʾal-Ḥafaẓaẗ and ʾal-Malāk ʾal-Ḥāris) residing in the World of Dreams (see the glossary entry, ʾal-ʿĀlam ʾal-⫯Ahlām). hā-Bạyiṯ (Hebrew,

הָבַּיִת

) is the house or the home. Bayt ʾAllꞌah ʾal-Malāk (

بَيْت الله الْمَلَاك

), House of God the Angel, is my Arabic-language translation. Ángelos Bethḗl (Greek, Ἄγγελος Βεθήλ) is a Greek (or Hellenized) spelling.
Bạyiṯ-ʾŌr hā-Mạləʾāḵə (Hebrew, בַּיִת־אוֹר הָמַלְאָךְ), House of Light the Angel, is Bethor the Angel, possibly among the Guardian Angels (see the glossary entries, ʾal-Ḥafaẓaẗ and ʾal-Malāk ʾal-Ḥāris) residing in the World of Dreams (see the glossary entry, ʾal-ʿĀlam ʾal-⫯Ahlām). Bayt-Nūr ʾal-Malāk (

بَيْت ـ نُور الْمَلَاك

), House of Light the Angel, is my Arabic-language translation. Ángelos Bethṓr (Greek, Ἄγγελος Βεθώρ) is a Greek (or Hellenized) spelling.
Bạyiṯ-Təʾēnāhʾēl hā-Mạləʾāḵə (Hebrew, בַּיִת־תְּאֵנָהאֵל הָמַלְאָךְ), House of a Fig (or a Fig Tree) of ʾĔlōhiym (see glossary entry) the Angel, is Bethnael the Angel, possibly among the Guardian Angels (see the glossary entries, ʾal-Ḥafaẓaẗ and ʾal-Malāk ʾal-Ḥāris) residing in the World of Dreams (see the glossary entry, ʾal-ʿĀlam ʾal-⫯Ahlām). Bạyiṯ-Təʾēnāh (Hebrew,

בַּיִת־תְּאֵנָהאֵל

) is house of fig. hā-Təʾēnāh (Hebrew,

הָתְּאֵנָה

) is the fig (or the fig tree). With three cognates, Bayt-Tīn ʾal-Malāk (

بَيْت ـ تِين الله الْمَلَاك

), House of the Fig of God the Angel, is my Arabic-language translation.
Bayna ʾal-⫯abʿād (

بَيْنَ الأَبْعَاد

), between dimensions, or muštarak bayna ʾal-⫯abʿād (

مُشْتَرَك بَيْنَ الأَبْعَاد

), united (or conjoined) between dimensions, is interdimensionality. See also the glossary entry, ʾal-Farrḍiyyaẗ muštarak bayna ʾal-⫯abʿād.
Bayna ʾal-⫯aqwās (

بَيْنَ الأَقْوَاس

), between the arches (or between brackets), is an Arabic-language translation of bracketing (German, Einklammerung). It is an important concept in phenomenology (see the glossary entries, ʾal-Fīnūmīnūlūǧiyā and ʾal-ʿIlmu ʾal-ẓẓawāhiru). See also the glossary entry, ʾal-ʾIbūtšiyy.
Bayna ǧinsayni (

بَيْنَ الجِنْسَيْنِ

), between two sexes (the dual tense), is intersex, intersexed, intersexual, intersexuality, and intersexualism. Those English-language terms have become more acceptable and appropriate terms for hermaphrodism and other sexual anomalies. See also the glossary entries, ʾal-H̱unūṯaẗ and ʾal-H̱unūṯaẗ ʾal-maẓhar ʾal-nafsiyy.
ʾal-Bayt (البَيْت), with ʾal-buyūt (البُيُوت) as the plural form, is the house.
ʾal-Bayt ʾal-ʿAdl ʾal-⫯Aʿẓam (البَيْت العدل الأعظم), the House of Justice Most Great, is the Universal House of Justice. It is the current and accurate term for the Universal House of Justice in the Arabic language. By itself, ʾal-Bayt ʾal-ʿAdl (البيت العدل) is the House of Justice. See also the glossary entry, Maḥfil-i rūḥānī.
ʾal-Bayt ʾal-māl (

البَيْت المَال

) is the house (بَيْت, bayt) of finance (مَال, māl). See also the glossary entry, ʾal-Zakāẗ.
ʾal-Bayūflāfūnūyd (البَيُوفْلَافُونُويْد), with ʾal-bayūflāfūnūydāt (

البَيُوفْلَافُونُويْدَات

) as the plural form, is the bioflavonoid.
Bāzāqiyʾēl hā-Mạləʾāḵə (Hebrew, בָּזָקִיאֵל הָמַלְאָךְ), Flash of Light of ʾĔlōhiym (see glossary entry) the Angel, is Bazkiel the Angel, possibly among the Guardian Angels (see the glossary entries, ʾal-Ḥafaẓaẗ and ʾal-Malāk ʾal-Ḥāris) residing in the World of Dreams (see the glossary entry, ʾal-ʿĀlam ʾal-⫯Ahlām). hā-Bāzāq (הָבָּזָק) is the flash of light. Wamīḍ ʾAllꞌah ʾal-Malāk (

وَمِيض الله الْمَلَاك

), Flash

of Light

of God the Angel, is my Arabic-language translation.
Bāzār (Persian and ʾUrdū, بازار), with bāzārhā (Persian, بازارها) as the colloquial Persian plural form and bāzārūṉ (ʾUrdū, بازاروں) as the ʾUrdū plural, is the Persian-language ancestor of the Anglicized cognate and synonym, bazaar. ʾal-Bāzār (البَازَار), with ʾal-bāzārāt (البَازَارَات) as the plural form, is the Arabization. hā-Bāzār (Hebrew,

הָבָּזָר

) is the Hebrew convention. The Hiṃdī version is Bāzāra (Dēvanāgarī Hiṃdī/Sanskrit script, बाज़ार). The Guramukhī Punjabi convention is bazāra (Guramukhī Pajābī script, ਬਜ਼ਾਰ). The Russian style is bazar (Russian Cyrillic, базар).
Bāz-Bāziyāh hā-Mạləʾāḵə (Hebrew, בָּז־בָּזִיָה הָמַלְאָךְ), Prey-Prey of Yāhəwẹh (see the glossary entry, YHWH) the Angel, is Baz Baziah the Angel, possibly among the Guardian Angels (see the glossary entries, ʾal-Ḥafaẓaẗ and ʾal-Malāk ʾal-Ḥāris) residing in the World of Dreams (see the glossary entry, ʾal-ʿĀlam ʾal-⫯Ahlām). hā-Bāz (Hebrew,

הָבָּז

) is the prey, the plunder, the spoil, or the booty. Farīsaẗ-Farīsaẗ-Yahwih ʾal-Malāk (

فَرِيسَة ـ فَرِيسَة ـ يَهْوِه الْمَلَاك

), Prey-Prey-of-Yahəwẹh the Angel, is my Arabic-language translation. Baz Baziah can allegedly cure cutaneous (skin) disorders.
ʾal-Bazillāˁ ʾal-aynayni ʾal-sawdāˁ (

البَازِلَاّء العَيْنَيْنِ السَوْدَاء

), the pea (or peas) of the (two) eyes of black, refer to the black-eyed pea or the black-eyed peas.
ʾal-Bazz (البَزّ) is theft.
Ḇəʾạḡərəʾạḅəʾārəʾāhiyy hā-Mạləʾāḵə (Hebrew,

בְאַגְאַבְאָרְאָהִיּ הָמַלְאָךְ

), Fājrāfārāhiyy ʾal-Malāk (فَاجْرَافَارَاهِي الْمَلَاك), Vājrāvārāhī Farištah (Persian,

وَاجْرَاوَارَاهِی الْمَلَاك

), Vaǧravarāhī Farištah (ʾUrdū, وَجرَوَرَاہِی فَرِشْتَہ‎), Vaǧaravarāhī Farišatah (Šāh Mukhī Punǧ°ābī script, وَجَرَوَرَاہِی فَرِشَتَہ), Vajravarāhī Fariśtā (Dēvanāgarī Hiṃdī/Sanskrit script, वज्रवराही फ़रिश्ता), Vajaravarāhī Fariśatā (Guramukhī Pajābī script, ਵਜਰਵਰਾਹੀ ਫ਼ਰਿਸ਼ਤਾ), Diamond Sow (Sanskrit) the Angel, is Vajravarahi (Dēvanāgarī Sanskrit script, वज्रवराही, Vajravarāhī) the Angel, possibly among the Guardian Angels (see the glossary entries, ʾal-Ḥafaẓaẗ and ʾal-Malāk ʾal-Ḥāris) residing in the World of Dreams (see the glossary entry, ʾal-ʿĀlam ʾal-⫯Ahlām). The Hebrew-language and Persian-language spellings are my own.
Ḇəʾāḡərəʾādəhəʾạrāh hā-Mạləʾāḵə (Hebrew,

בְאָגְרְאָדְּהְאַרָה הָמַלְאָךְ

), Fāǧrādhārā ʾal-Malāk (فَاجْرَادْهَارَا الْمَلَاك), Vāǧrādhārā Farištah (Persian, وَاجْرَادْهَارَا فَرِشْتَه), Vaǧradhāra Farištah (ʾUrdū, وَجرَدھَارَ فَرِشْتَہ‎), Vaǧaradhāra Farišatah (Šāh Mukhī Punǧ°ābī script, وَجَرَدھَارَ فَرِشَتَہ), Vajradhāra Fariśtā (Dēvanāgarī Hiṃdī/Sanskrit script, वज्रधार फ़रिश्ता), or Vajaradhāra Fariśatā (Guramukhī Pajābī script, ਵਜਰਧਾਰ ਫ਼ਰਿਸ਼ਤਾ), Bearer of the Thunderbolt (Sanskrit) the Angel, is Vajradhara (Dēvanāgarī Sanskrit script, वज्रधार, Vajradhāra) the Angel, possibly among the Guardian Angels (see the glossary entries, ʾal-Ḥafaẓaẗ and ʾal-Malāk ʾal-Ḥāris) residing in the World of Dreams (see the glossary entry, ʾal-ʿĀlam ʾal-⫯Ahlām). The Hebrew-language spelling, including the vowel-points, is my own.
Ḇəʾānəʾạsəpəʾāṭiyy hā-Mạləʾāḵə (Hebrew,

בְאָנְאַסְפְּאָטִיּ הָמַלְאָךְ

), Fānāsbātiyy ʾal-Malāk (فَانَاسْبَاتِيّ الْمَلَاك‎), Vānāspātī Farištah (Persian, وَانَاسْپَاتِی فَرِشْتَه‎), Vanaspatī Farištah (ʾUrdū, وَنَسْپَتِی فَرِشْتَہ‎), Banasapatī Farišatah (Šāh Mukhī Punǧ°ābī script, بَنَسَپَتِی فَرِشَتَہ), Vanaspati Fariśtā (Dēvanāgarī Hiṃdī/Sanskrit script, वनस्पति फ़रिश्ता), or Banasapatī Fariśatā (Guramukhī Pajābī script, ਬਨਸਪਤੀ ਫ਼ਰਿਸ਼ਤਾ), Protector of the Forest (Sanskrit) the Angel, is Vanaspati (Dēvanāgarī Sanskrit script, वनस्पति, Vanaspati) the Angel, possibly among the Guardian Angels (see the glossary entries, ʾal-Ḥafaẓaẗ and ʾal-Malāk ʾal-Ḥāris) residing in the World of Dreams (see the glossary entry, ʾal-ʿĀlam ʾal-⫯Ahlām). The Hebrew-language spelling, including the vowel-points, is my own.
Ḇəʾạyəšənəʾāḇiyy hā-Mạləʾāḵə (Hebrew,

בְאַיְשְׁנְאָבִיּ הָמַלְאָךְ

), Fāyšnāfiyy ʾal-Malāk (فَايْشْنَافِيّ الْمَلَاك), Vāyšnāvī Farištah (Persian, وَایْشْنَاوِی فَرِشْتَه), Vayšnavī Farištah (ʾUrdū, وَیْشْنَوِی فَرِشْتَہ‎), Vayšanavī Farištah (Šāh Mukhī Punǧ°ābī script, وَیْشَنَوِی فَرِشَتَہ), Vaiṣ‍ṇavī Fariśtā (Dēvanāgarī Hiṃdī/Sanskrit script, वैष्‍णवी फ़रिश्ता), or Vaiśa‍ṇavī Fariśatā (Guramukhī Pajābī script, ਵੈਸ਼‍ਣਵੀ ਫ਼ਰਿਸ਼ਤਾ), the Personified Energy of Viṣṇu (Sanskrit) the Angel, is Vaishnavi (Dēvanāgarī Sanskrit script, वैष्‍णवी, Vaiṣ‍ṇavī) the Angel, possibly among the Guardian Angels (see the glossary entries, ʾal-Ḥafaẓaẗ and ʾal-Malāk ʾal-Ḥāris) residing in the World of Dreams (see the glossary entry, ʾal-ʿĀlam ʾal-⫯Ahlām). The Hebrew-language spelling, including the vowel-points, is my own.
Bəʾānəšiyy hā-Mạləʾāḵə (Hebrew, בְּאָנְשִׁיּ הָמַלְאָךְ), Bānšiyy ʾal-Malāk (بَانْشِيّ الْمَلَاك), or Bānšī Farištah (Persian, بَانْشِی فَرِشْتَه), woman of the barrows (Irish) the Angel, is Banshee the Angel, possibly among the Guardian Angels (see the glossary entries, ʾal-Ḥafaẓaẗ and ʾal-Malāk ʾal-Ḥāris) residing in the World of Dreams (see the glossary entry, ʾal-ʿĀlam ʾal-⫯Ahlām). My added Hebrew vowel-points are only approximations. Compare with the glossary entries, ʿẠzəriyʾēl hā-Mạləʾāḵə and ʾal-Ššūm.
Bə-ʾẠrəbāʿāh-ʾĔlōhạʾ hā-Mạləʾāḵə (Hebrew, בְּאַרְבָּעָה־אֱלוֹהַ הָמַלְאָךְ), In Four

is the

Mighty One (God) the Angel, is Barbelo (or Barbello) the Angel, possibly among the Guardian Angels (see the glossary entries, ʾal-Ḥafaẓaẗ and ʾal-Malāk ʾal-Ḥāris) residing in the World of Dreams (see the glossary entry, ʾal-ʿĀlam ʾal-⫯Ahlām). Bārbīlū ʾal-Malāk (بَارْبِيلُو الْمَلَاك‌) is an Arabic rendering. Ángelos Barbēlṓ (Ancient Greek, Ἄγγελος Βαρβηλώ) is an Ancient Greek (or Hellenized) spelling. Barbelo is sometimes regarded as the first Gnostic emanation of God.
Ḇəʾāsūqiyy hā-Mạləʾāḵə (Hebrew,

בְאָסוּקִיּ הָמַלְאָךְ

), Fāsūkiyy ʾal-Malāk (فَاسُوكِيّ الْمَلَاك), Vāsūkī Farištah (Persian, وَاسُوکِی فَرِشْتَه‌), Vāsu Kī Farištah (ʾUrdū, وَاسُ کِی فَرِشْتَہ‎), Vāsukī Farišatah (Šāh Mukhī Punǧ°ābī script, وَاسُوکِی فَرِشَتَہ), Vāsukī Fariśtā (Dēvanāgarī Hiṃdī/Sanskrit script, वासुकी फ़रिश्ता), or Vāsūkī Fariśatā (Guramukhī Pajābī script, ਵਾਸੂਕੀ ਫ਼ਰਿਸ਼ਤਾ), "of Divine Being" (Sanskrit) the Angel, is Vasuki or Vasuka (Dēvanāgarī Sanskrit script, वासुकी, Vāsukī) the Angel, possibly among the Guardian Angels (see the glossary entries, ʾal-Ḥafaẓaẗ and ʾal-Malāk ʾal-Ḥāris) residing in the World of Dreams (see the glossary entry, ʾal-ʿĀlam ʾal-⫯Ahlām). The Hebrew-language spelling is my own.
Ḇəʾāsūdəhəʾārəʾāh hā-Mạləʾāḵə (Hebrew,

בְאָסוּדְּהְאָרְאָה הָמַלְאָךְ

), Fāsūdhārā ʾal-Malāk (فَاسُودْهَارَا الْمَلَاك), or Vāsūdhārā Farištah (Persian وَاسُودْهَارَا فَرِشْتَه‌), Stream of Gems (Sanskrit) the Angel, is Vasudhara (Dēvanāgarī Sanskrit script, वसुधारा, Vasudhārā) the Angel, possibly among the Guardian Angels (see the glossary entries, ʾal-Ḥafaẓaẗ and ʾal-Malāk ʾal-Ḥāris) residing in the World of Dreams (see the glossary entry, ʾal-ʿĀlam ʾal-⫯Ahlām). The Hebrew-language spelling is my own.
Bədāliyʾēl hā-Mạləʾāḵə (Hebrew, בְּדָלִיאֵל הָמַלְאָךְ), Piece or End (Omega?) of ʾĔlōhiym (see glossary entry) the Angel, is Bedaliel the Angel, possibly among the Guardian Angels (see the glossary entries, ʾal-Ḥafaẓaẗ and ʾal-Malāk ʾal-Ḥāris) residing in the World of Dreams (see the glossary entry, ʾal-ʿĀlam ʾal-⫯Ahlām). hā-Bədāl (Hebrew,

הָבְּדָל

) or hā-bādāl (Hebrew,

הָבָּדָל

) is the piece or the end. Bidālī⫯īl ʾal-Malāk (

بِدَالِيئِيل الْمَلَاك

) is my Arabization. See also the glossary entry, Alpha kai Ōméga.
Bəhạgāh hā-Mạləʾāḵə (Hebrew, בְּהַגָּה הָמַלְאָךְ), Bhāġā ʾal-Malāk (بْهَاجَا الْمَلَاك‌), Bhāgā Farištah (Persian, بهَاگَا فَرِشْتَه‌), Bhaga Farištah (ʾUrdū, بھَگَ فَرِشْتَہ‎), Bhaga Farišatah (Šāh Mukhī Punǧ°ābī script, بھَگَ فَرِشَتَہ), Bhaga Fariśtā (Dēvanāgarī Hiṃdī/Sanskrit script, भग फ़रिश्ता), or Bhaga Fariśatā (Guramukhī Pajābī script, ਭਗ ਫ਼ਰਿਸ਼ਤਾ), Lord or Patron (Sanskrit) the Angel, is Bhaga (Dēvanāgarī Sanskrit script, भग, Bhaga) the Angel, possibly among the Guardian Angels (see the glossary entries, ʾal-Ḥafaẓaẗ and ʾal-Malāk ʾal-Ḥāris) residing in the World of Dreams (see the glossary entry, ʾal-ʿĀlam ʾal-⫯Ahlām). My added Hebrew vowel-points are only approximations.
Bəhəʾạḇəʾāniyy hā-Mạləʾāḵə (Hebrew, בְּהְאַבְאָניּ הָמַלְאָךְ), Bhāfāniyy ʾal-Malāk (بْهَافَانِيّ الْمَلَاك‌), Bhāvānī Farištah (Persian, بْهَاوَانِی فَرِشْتَه‌), Bhavānī Farištah (ʾUrdū, بْھَوَانِی فَرِشْتَہ‎), Bhavānī Farišatah (Šāh Mukhī Punǧ°ābī script, بْھَوَانِی فَرِشَتَہ), Bhavānī Fariśtā (Dēvanāgarī Hiṃdī/Sanskrit script, भवानी फ़रिश्ता), or Bhavānī Fariśatā (Guramukhī Pajābī script, ਭਵਾਨੀ ਫ਼ਰਿਸ਼ਤਾ), Creator (Sanskrit) the Angel, is Bhavani (Dēvanāgarī Sanskrit script, भवानी, Bhavānī) the Angel, possibly among the Guardian Angels (see the glossary entries, ʾal-Ḥafaẓaẗ and ʾal-Malāk ʾal-Ḥāris) residing in the World of Dreams (see the glossary entry, ʾal-ʿĀlam ʾal-⫯Ahlām). My added Hebrew vowel-points are only approximations.
Bəhəʾạdərāh hā-Mạləʾāḵə (Hebrew, בְּהְאַדְּרָה הָמַלְאָךְ‎), Bhādrā ʾal-Malāk (بْهَادْرَا الْمَلَاك‎), Bhādrā Farištah (Persian, بْهَادْرَا فَرِشْتَه‎), Bhādra Farištah (ʾUrdū, بْھَادْرَ فَرِشْتَہ‎), Bhādara Farišatah (Šāh Mukhī Punǧ°ābī script,

بْھَادَرَ فَرِشَتَہ

), Bhādra Fariśtā (Dēvanāgarī Hiṃdī/Sanskrit script, भाद्र फ़रिश्ता), Bhādra Svargadūtalē (Dēvanāgarī Nepālī/Sanskrit script, भाद्र स्वर्गदूतले), or Bhādara Fariśatā (Guramukhī Pajābī script, ਭਾਦਰ ਫ਼ਰਿਸ਼ਤਾ), the name of a Hindu month, is Bhadra (Dēvanāgarī Sanskrit script, भाद्र, Bhādra) the Angel, possibly among the Guardian Angels (see the glossary entries, ʾal-Ḥafaẓaẗ and ʾal-Malāk ʾal-Ḥāris) residing in the World of Dreams (see the glossary entry, ʾal-ʿĀlam ʾal-⫯Ahlām). My added Hebrew vowel-points are only approximations.
Bəhəʾādərəʾāqəʾāliyy hā-Mạləʾāḵə (Hebrew, בְּהְאָדְּרְאָקְאָלִיּ הָמַלְאָךְ) or Bhādrākāliyy ʾal-Malāk (بْهَادْرَاكَالِيّ الْمَلَاك), Good Black One (Sanskrit) the Angel, is Bhadrakali the Angel, possibly among the Guardian Angels (see the glossary entries, ʾal-Ḥafaẓaẗ and ʾal-Malāk ʾal-Ḥāris) residing in the World of Dreams (see the glossary entry, ʾal-ʿĀlam ʾal-⫯Ahlām). My added Hebrew vowel-points are only approximations. Bhadrakālī (Dēvanāgarī Sanskrit script, भद्रकाली) is good black one.
Bəhəʾāgūwān (or Bəhəʾāgūvān) hā-Mạləʾāḵə (Hebrew, בְּהְאָגּוּוָן הָמַלְאָךְ), Bhāġāfān ʾal-Malāk (بهَاغَافَان الْمَلَاك‌), Bhāgāvān Farištah (Persian, بْهَاگَاوَان فَرِشْتَه‌), Bhagavān Farištah (ʾUrdū, بھَگَوَان فَرِشْتَہ‎), Bhagavānna Farišatah (Šāh Mukhī Punǧ°ābī script, بھَگَوَاننَ فَرِشَتَہ), Bhagavān Fariśtā (Dēvanāgarī Hiṃdī/Sanskrit script, भगवान् फ़रिश्ता), or Bhagavānna Fariśatā (Guramukhī Pajābī script, ਭਗਵਾਂਨ ਫ਼ਰਿਸ਼ਤਾ), Fortunate One (Sanskrit) the Angel, is Bhagavan or Bhagawan (Dēvanāgarī Sanskrit script, भगवान्) the Angel, possibly among the Guardian Angels (see the glossary entries, ʾal-Ḥafaẓaẗ and ʾal-Malāk ʾal-Ḥāris) residing in the World of Dreams (see the glossary entry, ʾal-ʿĀlam ʾal-⫯Ahlām). My added Hebrew vowel-points are only approximations.
Bəhəʾạrāniyy hā-Mạləʾāḵə (Hebrew, בְּהְאַרָנִיּ הָמַלְאָךְ), Bhārāniyy ʾal-Malāk (بْهَارَانِيّ الْمَلَاك‌), Bhārānī Farištah (Persian, بْهَارَانِی فَرِشْتَه‌), Bharanī Farištah (ʾUrdū, بْھَرَنِی فَرِشْتَہ‎), Bharanī Farišatah (Šāh Mukhī Punǧ°ābī script, بْھَرَنِی فَرِشَتَہ), Bharaṇī Fariśtā (Dēvanāgarī Hiṃdī/Sanskrit script, भरणी फ़रिश्ता), or Bharanī Fariśatā (Guramukhī Pajābī script, ਭਰਨੀ ਫ਼ਰਿਸ਼ਤਾ), One Who Fulfills (Sanskrit) the Angel, is Bharani (Dēvanāgarī Sanskrit script, भरणी, Bharaṇī) the Angel, possibly among the Guardian Angels (see the glossary entries, ʾal-Ḥafaẓaẗ and ʾal-Malāk ʾal-Ḥāris) residing in the World of Dreams (see the glossary entry, ʾal-ʿĀlam ʾal-⫯Ahlām). My added Hebrew vowel-points are only approximations.
Bəhəʾạrəʾāṭ-Məʾạṭāh hā-Mạləʾāḵə (Hebrew, בְּהְאַרְאָט־מְאַטָה הָמַלְאָךְ), Bhārāt-Mātā ʾal-Malāk (بهَارَات ـ مَاتَا الْمَلَاك‌), Bhārāt Mātā Farištah (Persian, بهَارَات مَاتَا فَرِشْتَه‌), Bhārata Mātā Farištah (ʾUrdū, بھَارَتَ مَاتَا فَرِشْتَہ‎), Bhārata Mātā Farišatah (Šāh Mukhī Punǧ°ābī script, بھَارَت مَاتَا فَرِشَتَہ), Bhārata Mātā Fariśtā (Dēvanāgarī Hiṃdī/Sanskrit script, भारत माता फ़रिश्ता), Bhārata Mātā Fariśatā (Guramukhī Pajābī script, ਭਾਰਤ ਮਾਤਾ ਫ਼ਰਿਸ਼ਤਾ), Bhārata Mātā Dēbadūta (Bengali, ভারত মাতা দেবদূত), Pārat Mātā Tēvatai (Tamiḻ, பாரத் மாதா தேவதை), Bhārat Mātā Dēvadūta (Telugu, భారత్ మాతా దేవదూత), Bhārata Mātā Dūtē (Gujarātī, ભારત માતા દૂતે), or Ángelos Baráte Mat (Greek, Ἄγγελος Βαράτε Ματ), Mother India (Sanskrit) the Angel, is Bharat Mat or Bharata Mata (Dēvanāgarī Sanskrit script, भारत माता, Bhārata Mātā) the Angel, possibly among the Guardian Angels (see the glossary entries, ʾal-Ḥafaẓaẗ and ʾal-Malāk ʾal-Ḥāris) residing in the World of Dreams (see the glossary entry, ʾal-ʿĀlam ʾal-⫯Ahlām). My added Hebrew vowel-points are only approximations.
Bəhəʾạyəšəʾạḡəyəʾārəʾạḡāh hā-Mạləʾāḵə (Hebrew,

בְּהְאַיְשְׁאַגְיְאָרְאַגָה הָמַלְאָךְ

), Bhāyšāǧyārāǧā ʾal-Malāk (

بْهَايْشَاجْيَارَاجَا الْمَلَاك‌

), Bhāyšāǧyārāǧā Farištah (Persian,

بْهَایْشَاجْيَارَاجَا فَرِشْتَه‌

), Bhāyšaǧyarāǧa Farištah (ʾUrdū, بھَیشَجیَرَاجَ فَرِشْتَہ‎), Bhay̰šajarāǧa Farišatah (Šāh Mukhī Punǧ°ābī script, بھَیشَجَرَاجَ فَرِشَتَہ‎), Bhaiṣajyarāja Fariśtā (Dēvanāgarī Hiṃdī/Sanskrit script, भैषज्यराज फ़रिश्ता), Bhaiśajarāja Fariśatā (Guramukhī Pajābī script, ਭੈਸ਼ਜਰਾਜ ਫ਼ਰਿਸ਼ਤਾ), or Kusuri-ō-Tenshi (Japanese, 薬王天使), Medicine King (Sanskrit) the Angel, is Bhaishajyaraja or Bhaisajyaraja (Dēvanāgarī Sanskrit script, भैषज्यराज, Bhaiṣajyarāja), possibly among the Guardian Angels (see the glossary entries, ʾal-Ḥafaẓaẗ and ʾal-Malāk ʾal-Ḥāris) residing in the World of Dreams (see the glossary entry, ʾal-ʿĀlam ʾal-⫯Ahlām). The Hebrew-language, Arabic-language, and Persian-language spellings are my own. Compare with the glossary entry, Bəhəʾạyəšəʾạḡiyəʾāsəʾāmūdəgəʾạṭāh hā-Mạləʾāḵə.
Bəhəʾạyəšəʾạḡiyəʾāsəʾāmūdəgəʾạṭāh hā-Mạləʾāḵə (Hebrew,

בְּהְאַיְשְׁאַגִיְאָסְאָמוּדְּגְּאַטָה הָמַלְאָךְ‌

), Bhāyšāǧyāsāmūdġātā ʾal-Malāk (

بْهَايْشَاجْيَاسَامُودْغَاتَا الْمَلَاك‌

), Bhāyšāǧyāsāmūdgātā Farištah (Persian,

بْهَایْشَاجْیَاسَامُودْگَاتَا فَرِشْتَه‌

), Bhāyšāǧyāsamudgata Farištah (ʾUrdū, بھَایشَاجیَاسَمُدگَتَ فَرِشْتَہ‎), Bhayšaǧasamudagata Farišatah (Šāh Mukhī Punǧ°ābī script, بھَیشَجَسَمُدَگَتَ فَرِشَتَہ), Bhaiṣajyasamudgata Fariśtā (Dēvanāgarī Hiṃdī/Sanskrit script, भैषज्यसमुद्गत फ़रिश्ता), or Bhaiśajasamudagata Fariśatā (Guramukhī Pajābī script, ਭੈਸ਼ਜਸਮੁਦਗਤ ਫ਼ਰਿਸ਼ਤਾ), Supreme Healer or Superior Physician (Sanskrit) the Angel, is Bhaisajyasamudgata (Dēvanāgarī Sanskrit script, भैषज्यसमुद्गत, Bhaiṣajyasamudgata) the Angel, possibly among the Guardian Angels (see the glossary entries, ʾal-Ḥafaẓaẗ and ʾal-Malāk ʾal-Ḥāris) residing in the World of Dreams (see the glossary entry, ʾal-ʿĀlam ʾal-⫯Ahlām). The Hebrew-language, Arabic-language, and Persian-language spellings are my own. Kusuri-Jō-Bosatsu (Japanese, 薬上菩薩) is the Japanese version of this Bodhisattva's Name. Compare with the glossary entry, Bəhəʾạyəšəʾạḡəyəʾārəʾạḡāh hā-Mạləʾāḵə.
Bəhēmāhiyʾēl hā-Mạləʾāḵə (Hebrew, בְּהֵמָהִיאֵל הָמַלְאָךְ), Animal of ʾĔlōhiym (see glossary entry) the Angel (or Divine Beast the Angel), is Behemiel the Angel, possibly among the Guardian Angels (see the glossary entries, ʾal-Ḥafaẓaẗ and ʾal-Malāk ʾal-Ḥāris) residing in the World of Dreams (see the glossary entry, ʾal-ʿĀlam ʾal-⫯Ahlām). hā-Bəhēmāh (Hebrew,

בְּהֵמָה

) is the animal or the beast. Bahīmaẗ ʾal-⫯Ilhiyyaẗ ʾal-Malāk (

بَهِيمَة الإِلهِيَّة الْمَلَاك

), Divine Animal the Angel (or Divine Beast the Angel), is my Arabic-language translation. ʾal-Bahā⫯im (البَهَائِم) are animals, beasts, cattle, or livestock.
Bəhərəṭəriyḡiyy hā-Mạləʾāḵə (Hebrew,

בְּהָרְטְרִיגִיּ הָמַלְאָךְ

), Bhārtrīǧiyy ʾal-Malāk (

بْهَارْتْرِيجِيّ الْمَلَاك

), Bhārtrīǧī Farištah (

بْهَارْتْرِیجِی فَرِشْتَه‌

), or Bhārata Rījhi Fariśtā (Dēvanāgarī Sanskrit script, भारत रीझि फ़रिश्ता), India

of

cheerfulness (Hiṃdī) the Angel, is Bhartriji the Angel, possibly among the Guardian Angels (see the glossary entries, ʾal-Ḥafaẓaẗ and ʾal-Malāk ʾal-Ḥāris) residing in the World of Dreams (see the glossary entry, ʾal-ʿĀlam ʾal-⫯Ahlām). My added Hebrew vowel-points are only approximations.
Bəhiymāh hā-Mạləʾāḵə (Hebrew, בְהִימָה הָמַלְאָךְ), Bhīmā ʾal-Malāk (بْهِیمَا الْمَلَاك‌), Bhīmā Farištah (بْهِيمَا فَرِشْتَه‌), Bhīma Farištah (بهِيمَ فَرِشْتَہ), or Bhīma Fariśtā (Dēvanāgarī Hiṃdī/Sanskrit script, भीम फ़रिश्ता), Terrible (Sanskrit and Tibetan) the Angel, is Bhima (Dēvanāgarī Sanskrit script, भीम, Bhīma; or Tibetan, མི་འཇིགས་སྟན, Mi⫯jigs Stan) the Angel, possibly among the Guardian Angels (see the glossary entries, ʾal-Ḥafaẓaẗ and ʾal-Malāk ʾal-Ḥāris) residing in the World of Dreams (see the glossary entry, ʾal-ʿĀlam ʾal-⫯Ahlām). My added Hebrew vowel-points are only approximations.
Bəhūwəʾānēšəwəwəʾāriyy (or Bəhūvəʾānēšəwəwəʾāriyy) hā-Mạləʾāḵə (Hebrew, בְּהוּוְאָנֵשְׁוְוְאָרִיּ הָמַלְאָךְ‎), Bhūfānayšwāriyy ʾal-Malāk (بْهُوفَانَيْشْوَارِيّ الْمَلَاك‌), Bhuvanayšvarī Farištah (ʾUrdū, بھُوَنَیشوَرِی فَرِشْتَہ‎), Bhuvanayšvarī Farišatah (Šāh Mukhī Punǧ°ābī script, بھُوَنَیشوَرِی فَرِشَتَہ‎), Bhuvaneśvarī Fariśtā (Dēvanāgarī Hiṃdī/Sanskrit script, भुवनेश्वरी फ़रिश्ता), Bhuvanēśavarī Fariśatā (Guramukhī Pajābī script, ਭੁਵਨੇਸ਼ਵਰੀ ਫ਼ਰਿਸ਼ਤਾ), Lord of the Worlds (Sanskrit) the Angel, is Bhuvaneshvari or Bhuvaneshwari (Dēvanāgarī Sanskrit script, भुवनेश्वरी, Bhuvaneśvarī) the Angel, possibly among the Guardian Angels (see the glossary entries, ʾal-Ḥafaẓaẗ and ʾal-Malāk ʾal-Ḥāris) residing in the World of Dreams (see the glossary entry, ʾal-ʿĀlam ʾal-⫯Ahlām). My added Hebrew vowel-points are only approximations.
Bẹn-ʿẠniy hā-Mạləʾāḵə (Hebrew, בֵּן־עָנִי הָמַלְאָךְ‎), Son of a Poor (alternatively, Afflicted or Humble)

One

the Angel, is Ben Ani the Angel, possibly among the Guardian Angels (see the glossary entries, ʾal-Ḥafaẓaẗ and ʾal-Malāk ʾal-Ḥāris) residing in the World of Dreams (see the glossary entry, ʾal-ʿĀlam ʾal-⫯Ahlām). Ibn Faqīr ʾal-Malāk (

اِبْن ـ فَقِير الْمَلَاك‎

), Son of a Poor

One

the Angel, is my Arabic-language translation.
hā-Bənēy ʾĔlōhiym (

הָבְּנֵי אֱלֹהִ֔ים

) or hā-Bənēy ʾĒl (

הָבְּנֵי אֵל

) is Hebrew for the sons of God. hā-bẹn ʾĔlōhiym (

הָבֶּן אֱלֹהִ֔ים

) or hā-bẹn ʾĒl (

הָבְּנֵי אֵל

) is Hebrew for the son of God (or the Son of God).
Bēniyʾēl hā-Mạləʾāḵə (Hebrew, בֵּנִיאֵל הָמַלְאָךְ‎), Son of ʾĔlōhiym (see glossary entry) the Angel, is Beniel the Angel, possibly among the Guardian Angels (see the glossary entries, ʾal-Ḥafaẓaẗ and ʾal-Malāk ʾal-Ḥāris) residing in the World of Dreams (see the glossary entry, ʾal-ʿĀlam ʾal-⫯Ahlām). hā-Bēn (Hebrew,

הָבֵּן

) or hā-bẹn (Hebrew,

הָבֶּן

) is the son. Bin ʾAllꞌah ʾal-Malāk (

بِن الله الْمَلَاك‎

), Son of God the Angel, is my Arabic-language translation.
Bẹn-Nēs hā-Mạləʾāḵə (Hebrew, בֶּן־נֵס הָמַלְאָךְ‎), Son of a Miracle the Angel, is Ben Nez the Angel, possibly among the Guardian Angels (see the glossary entries, ʾal-Ḥafaẓaẗ and ʾal-Malāk ʾal-Ḥāris) residing in the World of Dreams (see the glossary entry, ʾal-ʿĀlam ʾal-⫯Ahlām). Bin-Muʿğizaẗ ʾal-Malāk (

بِن ـ مُعْجِزَة الْمَلَاك

), Son of a Miracle the Angel, is my Arabic-language translation.
Bəʾōhẹl hā-Mạləʾāḵə (Hebrew, בְּאֹהֶל הָמַלְאָךְ), ʾĔlōhiym (see glossary entry) is in Him the Angel, is Bohel (alternatively, Boul, Boel, Booel, Bohel, or Dohel) the Angel, possibly among the Guardian Angels (see the glossary entries, ʾal-Ḥafaẓaẗ and ʾal-Malāk ʾal-Ḥāris) residing in the World of Dreams (see the glossary entry, ʾal-ʿĀlam ʾal-⫯Ahlām). Bōʾ (Hebrew,

בּוֹא

) is the verb for "to come in, come, go in, [or] go." Būhīl ʾal-Malāk (

بُوْهِيل الْمَلَاك

) is my Arabization. Ángelos Boḗl (Greek, Ἄγγελος Βοήλ) is a Greek (or Hellenized) spelling.
Bẹp-Kōrōṭāniyy hā-Mạləʾāḵə (Hebrew,

בֶּפּ־כּוֹרוֹטָנִיּ הָמַלְאָךְ

) and Bib-Kūrūṭāniyy ʾal-Malāk (

بِب ـ كُورُوطَانِيّ الْمَلَاك

), I Come from Space the Angel, are, respectively, my Hebraized and Arabized spellings of Bep-Kororoti the Angel, possibly among the Guardian Angels (see the glossary entries, ʾal-Ḥafaẓaẗ and ʾal-Malāk ʾal-Ḥāris) residing in the World of Dreams (see the glossary entry, ʾal-ʿĀlam ʾal-⫯Ahlām). This folk Hero to certain indigenous South Americans is sometimes regarded, perhaps incorrectly, as an "ancient astronaut" (see the glossary entry, ʾal-Ruwād ʾal-faḍāˁ ʾal-qadīmaẗ). Bep-Kororoti is, reportedly, in the language of the Kayapo tribe of Brazil. Compare with the glossary entries, Dōgū hā-Mạləʾāḵə and Pāqəʾēl hā-Mạləʾāḵə.
Bərāhəmāniyy hā-Mạləʾāḵə (Hebrew, בְּרָהְמָנִיּ הָמַלְאָךְ), Brāhmāniyy ʾal-Malāk (بْرَاهْمَانِيّ الْمَلَاك‌), Brahmanī Farištah (Persian, بْرَهْمَنِی فَرِشْتَه‌), Brāhmanī Farištah (ʾUrdū, برَاہمَنِی فَرِشْتَہ), Brāhmaṇī Fariśtā (Dēvanāgarī Hiṃdī/Sanskrit script, ब्राह्मणी फ़रिश्ता), or Barāhamaṇī Fariśatā (Guramukhī Pajābī script, ਬਰਾਹਮਣੀ ਫ਼ਰਿਸ਼ਤਾ), Enlarged One (Sanskrit) the Angel, is Brahmani (Dēvanāgarī Sanskrit script, ब्राह्मणी, Brāhmaṇī) the Angel, possibly among the Guardian Angels (see the glossary entries, ʾal-Ḥafaẓaẗ and ʾal-Malāk ʾal-Ḥāris) residing in the World of Dreams (see the glossary entry, ʾal-ʿĀlam ʾal-⫯Ahlām). My added Hebrew vowel-points are only approximations.
Bəriyḡiyd hā-Mạləʾāḵə (Hebrew, בְּרִיגִידּ הָמַלְאָךְ), Brīǧīd ʾal-Malāk (بْرِيجِيد الْمَلَاك), Brigiḍa Farištah (ʾUrdū, بْرِگِڈَ فَرِشْتَہ), Brigiḍa Fariśtā (Dēvanāgarī Hiṃdī/Sanskrit script, ब्रिगिड फ़रिश्ता), Tenshi-Burijiddo (Japanese, 天使ブリジッド), or Ángelos Mprinkíta or

Brinkíta

(Greek, Ἄγγελος Μπριγκίτα), Exalted One (Irish Celtic) the Angel, is Brigid (alternatively, Brigit or Brighid) the Angel, possibly among the Guardian Angels (see the glossary entries, ʾal-Ḥafaẓaẗ and ʾal-Malāk ʾal-Ḥāris) residing in the World of Dreams (see the glossary entry, ʾal-ʿĀlam ʾal-⫯Ahlām). My added Hebrew vowel-points are only approximations.
Bəriyhāsəpạṭiyy hā-Mạləʾāḵə (Hebrew, בְּרִיהָסְפַּטִיּ הָמַלְאָךְ), Brīhāsbātiyy ʾal-Malāk (بْرِيهَاسْبَاتِيّ الْمَلَاك), or Brīhāspātī Farištah (Persian, برِیهَاسْپَاتِی فَرِشْتَه‌), Lord of Prayer the Angel, is Bṛhaspati (alternatively, Brhaspati, Brihaspati, Bruhaspati, or Brahmanaspati) the Angel, possibly among the Guardian Angels (see the glossary entries, ʾal-Ḥafaẓaẗ and ʾal-Malāk ʾal-Ḥāris) residing in the World of Dreams (see the glossary entry, ʾal-ʿĀlam ʾal-⫯Ahlām). My added Hebrew vowel-points are only approximations. Bṛhaspati (Dēvanāgarī Sanskrit script, बृहस्पति) is the Lord of prayer (or the Lord of devotion). He is believed to be the Regent of the planet Jupiter.
Bəriyṭạnnəyāh hā-Mạləʾāḵə (Hebrew, בְּרִיטַנְּיָה הָמַלְאָךְ), Brītānnyā ʾal-Malāk (بْرِيتَانّْيَا الْمَلَاك), Brītānnyā Farištah (Persian, بْرِیتَانّْیَا فَرِشْتَه‌), Briṭānniyā Farištah (ʾUrdū, برِٹَانِّیَا فَرِشْتَہ), Brīṭānnīa Fariśtā (Dēvanāgarī Hiṃdī/Sanskrit script, ब्रीटान्नीअ फ़रिश्ता), Barīṭānī⫯a Fariśatā (Guramukhī Pajābī script, ਬਰੀਟਾੰਨੀਅ ਫ਼ਰਿਸ਼ਤਾ), or Ángelos Bretanía (Ancient Greek, Ἄγγελος Βρετανία), is Britannia the Angel, possibly among the Guardian Angels (see the glossary entries, ʾal-Ḥafaẓaẗ and ʾal-Malāk ʾal-Ḥāris) residing in the World of Dreams (see the glossary entry, ʾal-ʿĀlam ʾal-⫯Ahlām). My added Hebrew vowel-points are only approximations. The etymology of the Ancient Greek term, Bretanía, is uncertain.
Bērōniyqāh-hā-Qāḏōš hā-Mạləʾāḵə (Hebrew, בֵּרוֹנִיקָה־הָקָדוֹשׁ הָמַלְאָךְ), Fayrūnīkā-ʾal-Qiddīsi ʾal-Malāk (فَيْرُونِيكَا ـ الْقِدِّيسِينِ الْمَلَاك‌), Virūnīkā-i Sanat Farištah (Persian, وِرُونِیکَاِ سَنَت فَرِشْتَه‌), Saynṭa Vayrūnīkā Farištah (ʾUrdū, سَیْنْٹَ وَیْرُونِیکَا فَرِشْتَہ‌), or Ángelos Hágios Bereníkē (Ancient Greek, Ἄγγελος Ἅγιος Βερενίκη), Saint "She Who Brings Victory" (Ancient Greek) the Angel, is Saint Veronica the Angel, possibly among the Guardian Angels (see the glossary entries, ʾal-Ḥafaẓaẗ and ʾal-Malāk ʾal-Ḥāris) residing in the World of Dreams (see the glossary entry, ʾal-ʿĀlam ʾal-⫯Ahlām). The Hebrew-language spelling, including the vowel-points, is unaltered from the original.
Bəṣạlʾēl hā-Mạləʾāḵə (Hebrew, בְּצַלְאֵל הָמַלְאָךְ), in the Shadow of

the Protection of

ʾĔlōhiym (see glossary entry) the Angel, is Bezaliel (or Bezalel) the Angel, possibly among the Guardian Angels (see the glossary entries, ʾal-Ḥafaẓaẗ and ʾal-Malāk ʾal-Ḥāris) residing in the World of Dreams (see the glossary entry, ʾal-ʿĀlam ʾal-⫯Ahlām). Ẓill-ʾAllꞌah-fī-alʿ-Ālam ʾal-Malāk (ظِلّ ـ الله ـ فِي ـ العَالَم الْمَلَاك), Shadow (or Shelter) of God on Earth (or in the World) the Angel, is my Arabic-language translation.
Béta ʾÉsériʾélé (Amharic, ቤተ እስራኤል), my own Romanization from the Amharic using a slight modification of the system adopted by the Library of Congress and the American Library Association (replacing ' with ʾ), or Bēytẹʾ Yiśərāʾēl (Hebrew,

בֵּיתֶא יִשְׂרָאֵל

) is House of Israel, the name given to Ethiopian Jews.
Bhakti (Dēvanāgarī Sanskrit script, भक्ति, Bengali, ভক্তি, Malayaḷaṃ, ഭക്തി, Telugu, భక్తి, Kannaḍa, ಭಕ್ತಿ, Gujarātī, ભક્તિ, and Ōṛi⫯ā, ଭକ୍ତି) is Sanskrit for engagement, allocation, or apportionment. The Guramukhī Punjabi spelling is bhagatī (ਭਗਤੀ). The Tamiḻ spelling is pakti (Tamiḻ, பக்தி). The ʾUrdū spelling is baktī (بکتی). The Modern Turkish spelling is bağlılık. The term refers to Hindu devotion. A practitioner of bhakti is a bhakta (Dēvanāgarī Sanskrit script, भक्त). See also the glossary entries, The Bhakti-Ṣūfiyy movement, The Bhakti-Ṣūfiyy movement's saṃtāna and ʾal-⫯awliyāˁ, Bhakti yōga, Darśan, ʾal-Maʿrifaẗ ʾal-qalbī, and Qawwālī.
The Bhakti-Ṣūfiyy movement of South Asia (see the glossary entry) began, roughly, in 800 A.D. and ended in approximately 1700 A.D. The ʾUrdū spelling is Baktī Ṣūfī (

بکتی صوفی

). The Hiṃdī, Telugu, and Malayaḷaṃ form is Bhakti Sūphī (Dēvanāgarī Sanskrit script, भक्ति सूफी, Telugu, భక్తి సూఫీ, and Malayaḷaṃ, ഭക്തി സൂഫീ). The Guramukhī Punjabi spelling is Bhagatī Sūphī (ਭਗਤੀ ਸੂਫੀ). The Bengali, Kannaḍa, and Ōṛi⫯ā transcription is Bhakti Suphī (Bengali, ভক্তি সুফী, Kannaḍa, ಭಕ್ತಿ ಸೂಫಿ, and Ōṛi⫯ā, ଭକ୍ତି ସୁଫୀ). The Tamiḻ spelling is Pakti Cupi (பக்தி சுபி). The Modern Turkish convention is Bağlılık Sufı.

That revitalization (and occasionally interfaith) movement, which remains my personal ideal type (see the glossary entry, Idealtypus) for devotion, has had an enduring impact upon South Asia. The movement demonstrated the cross-fertilizations, though not always unified, of many primarily subaltern (see the glossary entry, ʾal-Ṯānaw) populations of Hindus and Muslims. The latter were both Šīʾiyy (see the glossary entries, ʾal-Šīʿaẗ and Čištī) and Sunniyy (see the glossary entry, ʾal-⫯Ahl ʾal-Ssunnaẗ w-ʾal-Ǧamāʾaẗ). This confluence of spiritual streams has even influenced the modern Western world.
As I see it, the devotional center, and flowering, of the Golden Age of ⫰Islām can be found in the Bhakti-Ṣūfiyy movement. It appeared through the grace and blessings of the dear Prophet Muḥammad. Historically, the movement is dated entirely within the ⫰Islāmic Dispensation. (See the glossary entries, ʾal-Taṣawwuf and ʾal-⫯Andalus.) See also the glossary entry, ʾal-ʿAṣru ʾal-Ḏahabiyy ʾal-⫯Islāmiyy.
In a sense, a modern comparison can be made with the Pentecostal movement. Based on my own doctoral research, American Pentecostalism, while not an interfaith movement, has been dominated by individuals who are significantly poorer than the general population. Segments of both spiritual "revival" movements have also emphasized ecstatic experience. (See the glossary entry, Pentecostalism.)

See also the glossary entries, Bhakti, The Bhakti-Ṣūfiyy movement's saṃtāna and ʾal-⫯awliyāˁ, Bhakti yōga, and ʾal-Ṣūfiyy.

The Bhakti-Ṣūfiyy movement's saṃtāna (

self-

realized

ones

) and ʾal-⫯awliyāˁ (lords or seigniors) have, through the blessings of sanctified Muḥammad, included such spiritual luminaries as Ḥaḍrat Sulṭān Bāhū, Bābā Bulhē Šāh-i Qādrī Šaṭṭārī, ʿAbdʾul-Raḥmān Bābā, Gurū Nānaka, Brahmarṣi Śrī Madin Kabīra Śāha, Dādū Dayāl, Səʾạṣi′yāh-Məʾạṭāh hā-Mạləʾāḵə, Basava, Pīr Ṣadr ʾad-Dīn, Sadagurū Ravidāsa Jī, Svāmī Rāmānanda, Siyyid Šāh Muḥammad Ġawṯ-i Šaṭṭārī, ʿAbd ʾal-Karīm Quṭb ʾad-Dīn ʾibn ⫰Ibrāhīm ʾal-Ǧīliyy, Muʿīn ʾad-Dīn-i Čištī, Siyyid Muḥammad-i Ḥusaynī, Mahāpuruṣa Śrīmanta Śaṅkaradav, Nityānanda, Śrī Samarth Rāmdās, Sānəṭ-Kạbiyr hā-Mạləʾāḵə, and Ḥaḍraẗ Manṣūr ʾal-Ḥallāǧ. See the glossary entries for each of these dear souls. See also the glossary entries, Bhakti, The Bhakti-Ṣūfiyy movement, Bhakti yōga, Saṃta, ʾal-Ṣūfiyy, and ʾal-Waliyy ʾAllꞌah.
Bhakti yōga (Dēvanāgarī Sanskrit script, भक्ति योग) is Sanskrit for union through engagement (or, roughly, union through devotion). See the glossary entries, Bhakti, The Bhakti-Ṣūfiyy movement, and Yōga. Bhakti yōga was popularized in the West through, for instance, Kṛṣṇa Cetanā ke lie Iṃṭaraneśanala Sosāyaṭī (see glossary entry) and the Meher Baba movement (see the glossary entry, Mihr Bābā).
Bhārata Gaṇarājya (Dēvanāgarī Hiṃdī/Sanskrit script and Dēvanāgarī Koṃkaṇī/Sanskrit script, भारत गणराज्य) is the Hiṃdī name given to the Republic of India. Bharata (Dēvanāgarī Hiṃdī/Sanskrit script and Dēvanāgarī Koṃkaṇī/Sanskrit script, भारत), by itself, is the Hiṃdī term for India.

Bharaa ʾGaṇarajaṯ (Assamese, ভাৰত গণৰাজ্য) is my own Assamese Romanization using the system of the Library of Congress and the American Library Association. Bhārata Gaṇaraājya is an alternate Romanization.
Bharataya Pajata (Bengali, ভারতীয় প্রজাতন্ত্র) is my own Bengali Romanization using the system of the Library of Congress and the American Library Association. Another Romanization of the term is Bhāratīẏa Prajātantra.
The Guramukhī Punjabi version is Bhārata Gaṇatatara (ਭਾਰਤ ਗਣਤੰਤਰ).
The Marāṭhī form is Bhāratīya Prajāsattāka (Dēvanāgarī Marāṭhī/Sanskrit script, भारतीय प्रजासत्ताक).
The ʾUrdū spelling is Ǧumhūrīyat-i Bhārat (

جمہوریہِ بھارت

).
The Telugu transcription is Bhārata Gaṇatantra Rājyamu (భారత గణతంత్ర రాజ్యము).
The Malayaḷaṃ form is Bhārata Mahārājyaṁ (ഭാരത മഹാരാജ്യം).
The Ōṛi⫯ā version is Bhārata Gaṇarājya (ଭାରତ ଗଣରାଜ୍ଯ).
The Tamiḻ spelling is Intiyak Kuṭiyaracu (இந்தியக் குடியரசு), Indian Republic.
The Gujarātī convention is Bhāratīya Gaṇatantra (ભારતીય ગણતંત્ર).
The Sanskrit rendering is Bhāratamahārājyam (Dēvanāgarī Sanskrit script, भारतमहाराज्यम्), "unto whom or

dedicated to

(Dēvanāgarī Sanskrit script, यम्, yam) Bhārata, the great king (Dēvanāgarī Sanskrit script, महाराज्, mahārāja)." Bharata (Dēvanāgarī Hiṃdī/Sanskrit script and Dēvanāgarī Koṃkaṇī/Sanskrit script, भारत) is from Bhārata (Dēvanāgarī Sanskrit script, भरत), Sanskrit for the cherished

one

, a legendary Indian emperor.

Bhārata kī Kamyunisṭa Pārṭī (Mārksavādī) (Dēvanāgarī Hiṃdī/Sanskrit script, भारत की कम्युनिस्ट पार्टी (मार्क्सवादी)), India of Communist Party (Marxist), is the Communist Party of India (Marxist), a Marxist-Leninist organization.
Bhikku (Dēvanāgarī Pāli/Sanskrit script, भिक्खु) is a male monastic, monk, or frater in Buddhism.
Bībī (Persian, بِیبِی) is Persian for madam, ma'am, lady, wife, mistress, or dame (as a respectful title or a term of endearment). See also the glossary entry, Bībī Rastī.
Bībī Rastī (Persian,

بِیبِی رَاسْتِی

), Persian for Madam Truth, was Ḥaḍrat Sulṭān Bāhū's mother, God bless her dear soul. See the glossary entries, Bībī, Ḥaḍrat Sulṭān Bāhū, and Rastī.
ʾal-Bīdāġūǧiyā (

البِيدَاغُوجِيَا

) is pedagogy and an obvious Indo-European loanword. See also the glossary entries, ʾal-Bīdāġūǧiyā ʾal-Maẓlūmīna and ʾal-ʿIlmu ʾal-⫯uṣūl ʾal-taʿlīm ʾal-naqdiyy. Compare with the glossary entry, ʾal-Bīdāġūǧiyyaẗ.
ʾal-Bīdāġūǧiyā ʾal-Maẓlūmīna (

البِيدَاغُوجِيَا المَظْلُومِينَ

) is Pedagogy of the Oppressed (French, la Pédagogie des opprimés), a book by Paulo Freire (see the glossary entry, ʾal-ʿIlmu ʾal-⫯uṣūl ʾal-taʿlīm ʾal-naqdiyy). See also the glossary entry, ʾal-Bīdāġūǧiyā.
ʾal-Bīdāġūǧiyyaẗ (

البِيدَاغِوجِيَّة

) is pedagogy or pedagogical and an obvious Indo-European loanword. See also the glossary entries, ʾal-Bīdāġūǧiyā ʾal-Maẓlūmīna and ʾal-ʿIlmu ʾal-⫯uṣūl ʾal-taʿlīm ʾal-naqdiyy. Compare with the glossary entry, ʾal-Bīdāġūǧiyā.
ʾal-Bidʿaẗ (البِدْعَة), with (البِدَع) ʾal-bidaʿ as the plural form, is the fad or the heresy.
ʾal-Bīḍaẗ ʾal-Qāmaẗ ⫯aw ʾal-Šamāliyyaẗ ⫯aw ʾal-ʿAriyān (

البِيضَة القَامَة أَو الشَمَالِيَّة أَو العَريَان

), the white (alternatively, egg or ovum) tall or the Nordic (literally, northern) or the Aryan, is my Arabic-language translation of "Tall White, Nordic, or Aryan," as alternate names for a speculated category of extradimensional (see the glossary entry, ʾal-Nnās ʾal-⫯abaʿād ʾal-ḍāfiyyaẗ) or extraterrestrial (see the glossary entry, ʾal-H̱āriǧ ʾal-kawkab ʾal-⫯Araḍa) beings. ʾal-Bīḍāt ʾal-Qāmaẗ w-ʾal-Šamāliyyīn (

البِيضَات القَامَة والشَمَالِيّين

), whites (alternatively, eggs or ova) tall, is my Arabic-language translation of the Tall Whites or the Nordics (literally, the northerners). Perhaps their whitish color refers to a "chalice of pure light" (Baháʾuʾlláh, Gleanings from the Writings of Baháʾuʾlláh. Page 280.) emanating from Each of Them.

However, in my opinion, these pale-skinned Creatures, as Troops within the Hosts of the Supreme Concourse (see the glossary entry, ʾal-Mal⫯a ʾal-⫯Aʿlaỳ), are Archangels and not, as commonly defined, extraterrestrials. From Dispensation to Dispensation, the Archangels, divinely blessed and sanctified Beings, both accompany and support (see the glossary entries, ʾal-Malāk ʾal-Yusʿif and ʾal-Muʿallim) Each of the Prophets of God. According to God's Will, Archangels may have visited earthly regions outside the geographical scope of the Prophets and Their followers.
Possible examples of these Beings are: Amalivaca (see the glossary entry, ʿẠmāliyəḇakəyāh hā-Mạləʾāḵə), Amaru Muru (see the glossary entry, ʾĀməʾārū-Mūrū hā-Mạləʾāḵə), Bachué (see the glossary entry, Bāṣūʾē hā-Mạləʾāḵə), Bep-Kororoti (see the glossary entry, Bẹp-Kōrōṭāniy hā-Mạləʾāḵə), Bochica (see the glossary entry, Bōṣiyqəyāh hā-Mạləʾāḵə), Chee-Zoos (see the glossary entry, Ṣiy-Zūs hā-Mạləʾāḵə), the Great Peacemaker (see the glossary entry, Pạyəsān-hā-ʾẠḏiyr hā-Mạləʾāḵə), Hurukan (see the glossary entry, Hūrūqān hā-Mạləʾāḵə), Huyustus (see the glossary entry, Hūyūsəṭūs hā-Mạləʾāḵə), Lord Pacal (see the glossary entry, Pāqəʾēl hā-Mạləʾāḵə), Mánco Capac (see the glossary entry, Məʾānəqō-Qəʾạpəʾāqə hā-Mạləʾāḵə), Naapi (see the glossary entry, Nəʾāpiy hā-Mạləʾāḵə), Nanabozho (see the glossary entry, Nānābōzō hā-Mạləʾāḵə), Pahana (see the glossary entry, Pāhānāh hā-Mạləʾāḵə), the Pale One (see the glossary entry, Ḥiwēr hā-Mạləʾāḵə), Pamela (see the glossary entry, Pạmẹlāh hā-Mạləʾāḵə), Quetzalcōātl (see the glossary entry, Qēṣəʾạləqōʾāṭʾēl hā-Mạləʾāḵə), Q⫯uq⫯umatz (see the glossary entry, Qūqūməʾāṣ hā-Mạləʾāḵə), Black-Robe Chief (see the glossary entry, Rāʾšiy-ʿim-Gəliymāh-hā-Šāḥōrāh hā-Mạləʾāḵə), Sua (see the glossary entry, Sūyāh hā-Mạləʾāḵə), Tacoma (see the glossary entry, Ṭāqōmạh hā-Mạləʾāḵə), Tacopa (see the glossary entry, Ṭāqōpạh hā-Mạləʾāḵə), Tiahuanaco (see the glossary entry, Ṭiyʾəhūʾānəqō hā-Mạləʾāḵə), Tiki (see the glossary entry, Ṭiyqiy hā-Mạləʾāḵə), Viracocha (see the glossary entry, Ḇiyərəʾạqōṣəyāh hā-Mạləʾāḵə), Waicomah Tete (see the glossary entry, Wāyqōmạh-Ṭēṭē hā-Mạləʾāḵə), and the White Buffalo Calf Woman (see the glossary entry, ʾIššāh šẹl hā-ʿĒḡẹl šẹl hā-Ṯəʾō hā-Lẹḇẹn hā-Mạləʾāḵə).
ʾal-Bīḍ (البِيض) is also the white

person

(or caucasian).

Compare with the glossary entries, ʾal-Ḥašarāt, ʾal-Ḥukām, ʾal-Ramādiyyūn, ʾal-Tšūbākābrā, and ʾal-Zzāḥif. See also the glossary entries, ʾal-Faḍīlaẗ, ʾal-Haǧīn, and ʾal-Ṯurayyā.

ʾal-Bilād (الْبِلَاد), with ʾal-buldānu (الْبُلدَانُ) as the plural form, is the country (or the land).
ʾal-Bilād ʾal-Rāfidayni (

الْبِلَاد الرَافِدَيْنِ

), the land (الْبِلَاد, ʾal-bilād) of "two rivers" (الرَافِدَيْنِ, ʾal-rāfidayni), is Mesopotamia (Ancient Greek, Μεσοποτάμια, Mesopotámia). Meso (Ancient Greek, Μεσο) is

in the

midst. Potámia (Ancient Greek, Ποτάμια) is rivers. See also the glossary entry, South Asia.
ʾal-Bilād ʾal-Yūnān (

الْبِلَاد الْيُونَان

), the country or land of Greece, is Greece.
Biləʿām hā-Mạləʾāḵə (Hebrew, בִּלְעָם הָמַלְאָךְ), Bilʿām ʾal-Malāk (بِلْعَام الْمَلَاك), Bilʿām Farištah (Persian, بِلْعَام فَرِشْتَه, or ʾUrdū, بِلْعَام فَرِشْتَہ),), or Ángelos Balaàm (Koinḗ, or Common, Greek, Βαλαὰμ), Unstable (tentative translation from the Hebrew) the Angel, is Balaam the Angel, possibly among the Guardian Angels (see the glossary entries, ʾal-Ḥafaẓaẗ and ʾal-Malāk ʾal-Ḥāris) residing in the World of Dreams (see the glossary entry, ʾal-ʿĀlam ʾal-⫯Ahlām). The Hebrew-language version is unaltered from the original.
Biləbēl hā-Mạləʾāḵə (Hebrew, בִּלְבֵּל הָמַלְאָךְ), "Confound" (or Confuse) the Angel, is Balbel the Angel, possibly among the Guardian Angels (see the glossary entries, ʾal-Ḥafaẓaẗ and ʾal-Malāk ʾal-Ḥāris) residing in the World of Dreams (see the glossary entry, ʾal-ʿĀlam ʾal-⫯Ahlām). With two cognates, Balbala ʾal-Malāk (بَلْبَلَ الْمَلَاك), "Confound" (or Confuse) the Angel, is my Arabic-language translation. Ángelos Balbḗl (Greek, Ἄγγελος Βαλβήλ) is a Greek (or Hellenized) spelling.
ʾal-Billawr ʾal-ṣaẖriyy (

البِلَّوْر الصَخْرِيّ

), the crystal of the rock is quartz (rock crystal). It can also be referred to by the loanword, ʾal-kwārtz (

الكْوَارْتز

).
Bi-ʾal-Muqtaḍaỳ ʾal-sulṭaẗ (

بِالمُقْتَضَى السُلْطَة

), by (or with) the requirement (or the requisite) of the authority (alternatively, the power or the rule), is ex cathedrā (Latin, from the chair). See also the glossary entry, ʾal-Maʿṣūm.
ʾal-Binā ʾal-dawlaẗ (

البِنَاء الدَوْلَة

), the building of the nation, is nation-building. "Nation-building has come to an end." (Shoghi Effendi, The World Order of Bahá'u'lláh. Page 202.) Instead, we see nations falling and breaking apart.
ʾal-Binā⫯iyyaẗ ʾal-ʾiǧtimāʿiyyaẗ (

البِنائِيَّة الاجْتِمَاعِيَّة

) is social constructionism (literally, constructionism social). It is a common idealist perspective (see the glossary entries, ʾal-Miṯāliyyaẗ and ʾal-Miṯāliyyaẗ ʾal-ʾiǧtimāʿiyyaẗ) used in sociology. The Arabic term can also be translated as social constructivism. In sociology, the opposite of social constructionism is essentialism (see the glossary entry, ʾal-Māhiyāniyyaẗ). For instance, human religions are social constructions. Claiming that radical ⫰Islāmism is not an example of ⫰Islām presents an essentialist approach to religion. The most reasonable (and respectful) approach is to refer to people as they refer to themselves.

"I ... draw upon a dispute in social constructionism between whether it is to be interpreted as idealist or realist. Social constructionism seems more obviously to be a form of idealism and I shall pursue the suggestion that it is a form of linguistic idealism ...." (Julian C. Hughes,

Thinking through Dementia

. New York: Oxford University Press. 2011. Page 170.)
"Social constructivism has roots in [Immanuel] Kant's idealism, which claims that we cannot know things in themselves and that knowledge of the world is possible only by imposing pre-given categories of thought on otherwise inchoate experience. But where Kant believed that the categories with which we interpret and thus construct the world are given a priori, contemporary constructivists believe that the relevant concepts and associated practices vary from one group or historical period to another. Since there are no independent standards for evaluating conceptual schemes, social constructivism leads naturally to relativism." (Philip Gasper, "Social constructivism also called social constructionism."

The Cambridge Dictionary of Philosophy

. Second edition. Robert Audi, general editor. New York: Cambridge University Press. 1999. Kindle edition.)

See also the glossary entries, Buʿd ʾal-ḥadāṯaẗ, ʾal-Binā⫯iyyaẗ ʾal-naqdiyyaẗ, ʾal-Fīnūmīnūlūǧiyā, ʾal-Ǧamāʿāniyaẗ, ʾal-ʾIbūtšiyy, ʾal-ʿIlmu ʾal-⫯iǧtimāʿa, ʾal-ʿIlmu ʾal-ẓẓawāhiru, ʾal-ʿIlmu ʾal-ẓẓawāhiru ʾal-ʾiǧtimāʿiyyaẗ, ⫯Iymānuwīl Kānṭ, ʾal-Naẓariyyaẗ ʾal-naqdiyyaẗ, and ʾal-Naẓariyyaẗ ʾal-naqdiyyaẗ mā baʿdi ʾal-ḥadāṯaẗ.

ʾal-Binā⫯iyyaẗ ʾal-ʾiǧtimāʿiyyaẗ ʾal-wāqiʿiyyaẗ (

البِنائِيَّة الاجْتِمَاعِيَّة الْوَاقِعِيَّة

), constructionism social realist (or realism), is realist social constructionism. This critical-realist perspective was developed by Dave Elder-Vass (

دَاوُد الشَيْخ ـ فَاسّ

, Dāwud ʾal-Šayẖ-Fāss).
ʾal-Binā⫯iyyaẗ ʾal-naqdiyyaẗ (

البِنائِيَّة النَقْدِيَّة

), constructivism critical or constructionism critical, is critical constructivism or critical constructionism. In 1999, American philosopher Andrew Feenberg (

أَنْدرُو فِينْبِيرغ

, ⫯Andrū Fīnbīrġ), born in 1943, first used the term, critical constructivism. The designation was, in 2002, adopted by sociologist Maria Bakardjieva (

مَارِيَا بَاكَارْدْجِيَافَا

, Māriyā Bākārdǧiyāfā). Critical constructionism was developed by Robert Heiner (

رُوْبِرْت هَايْنِر

, Rūbirt Hāynir). See also the glossary entry, ʾal-Binā⫯iyyaẗ ʾal-ʾiǧtimāʿiyyaẗ.
ʾal-Binā⫯iyyaẗ ʾal-wāqiʿiyyaẗ (

البِنَائِيَّة الوَاقِعِيَّة

), constructivism (or constructionism) realistic, is realistic constructivism, an approach used in psychology. It was proposed by Khosrow Bagheri Noaparast (Persian,

خُسْرُو بَاقِرِی نُوَع پَرَسْت

, H̱usrū Bāqirī Nūaʿparast).
ʾal-Binayaẗ ʾal-ʾiǧtimāʿiyyaẗ (

البِنْيَة الاجْتِمَاعِيَّة

), structure social, is social structure. ʾal-Binayāt ʾal-ʾiǧtimāʿiyyaẗ (

البِنْيات الاجْتِمَاعِيَّة

) is the plural form.
Binəyāmiyn "Biybiy" Nəṯạnəyāhū or

Benjamin "Bibi" Netanyahu

(Hebrew,

בִּנְיָמִין "בִּיבִּי" נְתַנְיָהוּ

), Son of the South – Yāhəwẹh (see the glossary entry, YHWH) has given, was the prime minister of Israel 1996-1999 and, again, 2009-present. He was born in 1949.
Binīn (بِنِين) is Binin.
Bi-ʾal-nisbaẗ (بِالنِسْبَة), by (or with) the link (or the relation), is vis-à-vis.
ʾal-Bint (الْبِنْت), with ʾal-banāt (الْبَنَات) as the plural form, is the Arabic word for daughter (or for girl). The Hebrew term for daughter is hā-bạṯ (

הָבַּת

). hā-Bẹnōṯ (

הָבֶּנוֹת

) is Hebrew for "daughters."
ʾal-Birr (البِرّ) is charity or piety.
Bīrū (بِيرُو) is Peru.
ʾal-Bīrūqrāṣiyyaẗ (البِيرُوقْراطِيّة), with ʾal-bīrūqrāṣiyy (البِيرُوقْراطِيّ) as the possessive or an appurtenance ("bureaucrat" or "bureaucratic"), is the Indo-European loanword for bureaucracy. See also the glossary entry, ʾal-Dawāwīniyyaẗ.
ʾal-Bišārāt or al-Bi

sh

árát (ﺍﻟﺒﺸﺎﺭﺍﺕ‎ or, using a different Unicode block, البشارات) are Glad-Tidings, a blessed Tablet revealed by Bahá'u'lláh. Each section of the Tablet is designated as a Bišhāraẗ (بشارة), a Glad-Tiding. In my opinion, this Tablet announces the Gospel (see the glossary entry, ʾal-⫯Inǧīl), the Good News or Glad-Tidings, for the Bahá'í Cycle.
Bi-ʾal-taḥfīzi ʾal-ḏātiyy (

بِالتَحْفيزِ الذَاتِيّ

), stimulation self, is Autistic stimming (self-stimulation). Ba (ب) is "with," "through," or "of." In psychiatry, stimming is referred to as motor stereotypy. My own Arabic-language translation of motor stereotypy is ʾal-ratābaẗ ʾal-ḥarakaẗ (

الرَتَابَة الحَرَكَة

), stereotypy or monotony of movement. See also the glossary entry, ʾal-Ttawaḥḥud.
Bi-ʾal-taqāṭuʿ (بِالتَقَاطُع) is intersectionality (literally, through or with the intersection). ʾal-Taqāṭuʿ (التَقَاطُع) is the intersection (alternatively, the cross or the crossing).

See also the glossary entries, Kyrarchy, ʾal-Manbit min ʾal-sayṭaraẗ, ʾal-Naẓariyyaẗ ʾal-wuǧhaẗ ʾal-nuẓira, ʾal-Niswiyyaẗ ʾal-Sawdāˁ, and ʾal-Taġyīr ʾal-markaz.

Bi-taqwīmi ʾal-ʿamūd ʾal-fiqriyy (

بِتَقْوِيمِ العَمُود الْفِقْرِيّ

), evaluation (or "in calibration") of the column spinal, is chiropractic. ʾal-Muqawwam ʾal-ʿiẓām (

المُقَوَّم العِظَام

), mender (or fixer) of the bones, is chiropractor. Chiropractic can also be referred to as ʾal-muʿālaǧaẗ al-yadawiyyaẗ (

المُعَالَجَة اليَدَوِيَّة

), treatment manual. The English-language words, chiropractic and chiropractor, combine the Greek cheír (χείρ) and the Latin chīro, for "hand," with the Greek praktikós (πρακτικός), for "practical." See also the glossary entry, ʾal-H̱allaʿa ʾal-ǧuziyy.
Bi-ʾal-ṭarīq ʾal-faṣṣ ʾal-ṣudġiyy (

بِالطَرِيق الفَصّ الصُدْغِيّ

), in the way of the lobe transtemporal, is the path of the temporal lobe (in neuroscience). See also the glossary entry, ʾal-ʿIlmu ʾal-⫯aʿṣāb.
Bi-ʾal-tawāṣala ʾal-rūḥiyy (

بِالتَوَاصَلَ الرُوحِيّ

), in communion spiritual, is spiritual communion. "... the core of religious faith is that mystical feeling which unites man with God. This state of spiritual communion can be brought about and maintained by means of meditation and prayer." (From a letter, dated December 8, 1935, written on behalf of Shoghi Effendi to an individual Bahá'í, Lights of Guidance. Number 1704.)
Bītirim ʾAliksandrūfītš Sūrūkīn (

بِيتِرِم الِكْسَنْدْرُوفِيتْش سُورُوكِين

) or Pītirīm ʾÂliksāndrūvīč Sūrūkīn (Persian, ʾUrdū, Šāh Mukhī Punǧ°ābī script, and Kurdish,

پِیتِرِیم آلِکْسَانْدْرُووِیچ سُورُوكِين

) is Pitirim Alexandrovich Sorokin (Russian Cyrillic, Питири́м Алекса́ндрович Соро́кин, Pitirím Aleksándrovič Sorókin), 1889-1968 A.D. While I was a graduate student, and in the first part of my academic career, I considered myself to be a devotee of Sorokin's sociological theory, Integralism. See also the glossary entries, ʾal-ʿAqliyyāt ʾal-ṯṯaqāfiyyaẗ, ʾal-ʿIlmu ʾal-Takāmuliyyaẗ, and ʾal-ʿIlmu ʾal-ṣadāqaẗ.
ʾal-Bitrūkīmāwiyyāt (البِتْرُوكِيمَاوِيَّات), with ʾal-Bitrūkīmāwiyyaẗ (البِتْرُوكِيمَاوِيَّة) in the singular form, are petrochemicals (an obvious Indo-European loanword).
ʾal-Biy⫯aẗ (البِيئَة), with ʾal-biy⫯āt (البِيئَات) as the plural form, is the environment or ecology.
ʾal-Biy⫯aẗ ʾal-ġābāt (

البِيئَة الْغَابَات

), the ecology (or environment) of the forests, is forest ecology. Compare with the glossary entry, ʾal-ʿIlmu ʾal-ġābāt. See also the glossary entries, ʾal-Ġābaẗ ʾal-mutaḥaǧiraẗ.
ʾal-Biy⫯aẗ ʾal-ṯṯaqāfiyyaẗ (

البيئة الثَّقَافِيَّة

), the environment cultural, is cultural ecology. It is a methodological approach to social change, focused on particular societies, which was developed by anthropologist Julian Steward (

جُولِيَان ستِوَارْد

, Ǧūliyān Stiwārd, or, based upon the etymology of "Julian" from "Julius,"

يُولِيُوس ستِوَارْد

, Yūliyūs Stiwārd), 1902-1972 A.D. Compare with the glossary entry, ʾal-Taṭawwur mutaʿddid ʾal-ẖaṭṭiyaẗ. See also the glossary entries, ʾal-ʿIlmu ʾal-biy⫯aẗ ʾal-ʾinsāniyyaẗ, ʾal-Taṭawwur ʾal-ʿālamiyy, and ʾal-Taṭawwur ʾal-ṯaqāfiyy.
Biynāh hā-Mạləʾāḵə (Hebrew, בִּינָה הָמַלְאָךְ), Wisdom (alternatively, Sense or Wisdom) the Angel, is Binah the Angel, possibly among the Guardian Angels (see the glossary entries, ʾal-Ḥafaẓaẗ and ʾal-Malāk ʾal-Ḥāris) residing in the World of Dreams (see the glossary entry, ʾal-ʿĀlam ʾal-⫯Ahlām). Bīnāh ʾal-Malāk (بِينَاه الْمَلَاك), Binah the Angel, is an Arabization.
Ḇiyrəʾạqōṣəyāh hā-Mạləʾāḵə (Hebrew, בִירְאַ̣קוֹצְיָה הָמַלְאָךְ), Fīrākūtšā ʾal-Malāk (فِيرَاكُوتْشَا الْمَلَاك), Vīrākūčā Farištah (وِیرَاکُوچَا فَرِشْتَہ), or Ángelos Birakótsa (Greek, Ἄγγελος Βιρακότσα), Foam of the Sea (perhaps) the Angel, is Viracocha (alternatively, Wiracocha or Wiraqutra) the Angel, possibly among the Guardian Angels (see the glossary entries, ʾal-Ḥafaẓaẗ and ʾal-Malāk ʾal-Ḥāris) residing in the World of Dreams (see the glossary entry, ʾal-ʿĀlam ʾal-⫯Ahlām). My Hebrew-language rendering was modified from three other versions I found. The name, "Viracocha" is taken from the Quechuan language of the Incas, spoken in the South American Andes, which is written in the Roman alphabet.
Ḇiyrəḡə′yinəyāh hā-Mạləʾāḵə (Hebrew, בִירְגְ׳יִנְיָה הָמַלְאָךְ), Fīrǧīnyā ʾal-Malāk (فِرْجِينْيَا الْمَلَاك), Vīrǧīnyā Farištah (Persian, وِیرْجِینِْیَا فَرِشْتَه), Virgīnyā Farištah (ʾUrdū, وِرْجِینْیَا فَرِشْتَہ), or Ángelos Birginía (Greek, Ἄγγελος Βιργινία), Virgin or Maiden (Latin) the Angel, is Virginia (from the Latin, virgō) the Angel, possibly among the Guardian Angels (see the glossary entries, ʾal-Ḥafaẓaẗ and ʾal-Malāk ʾal-Ḥāris) residing in the World of Dreams (see the glossary entry, ʾal-ʿĀlam ʾal-⫯Ahlām). My added Hebrew vowel-points are only approximations.
Ḇiyṭōbāh hā-Mạləʾāḵə (Hebrew, בִיטוֹבָּה הָמַלְאָךְ), Fīṯūbā ʾal-Malāk (فِيثُوبَا الْمَلَاك), Viṭhūbā Farištah (ʾUrdū, وِٹھُوبَا فَرِشْتَہ), Viṭhūbā Farišatah (Šāh Mukhī Punǧ°ābī script, وِٹھُوبَا فَرِشَتَہ), Viṭhōbā Dēvadūta (Dēvanāgarī Marāṭhī/Sanskrit script, विठोबा विठोबा), Viṭhōbā Fariśtā (Dēvanāgarī Hiṃdī/Sanskrit script, विठोबा फ़रिश्ता), Viṭhōbā Fariśatā (Guramukhī Pajābī script, ਵਿਠੋਬਾ ਫ਼ਰਿਸ਼ਤਾ), Viṭhṭhala Dēvate (Kannaḍa, ವಿಠ್ಠಲ ದೇವತೆ), Vitōpā Tēvatai (Tamiḻ, விதோபா தேவதை), or Viṭhala Dēvadūta (Telugu, విఠల దేవదూత), Standing on a Brick (Sanskrit) the Angel, is Vithoba (Dēvanāgarī Sanskrit script, विठोबा, Viṭhōbā) the Angel, possibly among the Guardian Angels (see the glossary entries, ʾal-Ḥafaẓaẗ and ʾal-Malāk ʾal-Ḥāris) residing in the World of Dreams (see the glossary entry, ʾal-ʿĀlam ʾal-⫯Ahlām). My added Hebrew vowel-points are only approximations.
ʾal-Biyyrūwiyyaẗ (

البِيّْرُووِيَّة

) with ʾal-Biyyrūwiyy (البِيّْرُووِيّ) as the possessive or an appurtenance, is Pyrrhonism. It is named after Pýrrōn or

Pyrrho

(Ancient Greek, Πύρρων), 360-270 B.C. His name in Arabic is Bīrūs (بِيرُوس). See also the glossary entry, ʾal-Šukūkiyyaẗ.
ʾal-Blawq (البْلَوْق), with ʾal-blawqāt (

البْلَوْقَات

) as the plural form, is the English-language loanword for "blog." Blāg (بلاگ) is the Persian and ʾUrdū convention. Modern Turkish uses the precise loanword, blog. Bloglar is the Modern Turkish plural form. Compare with the glossary entries, ʾal-Maqālaẗ, ʾal-Mudawwanaẗ, and ʾal-Mudawwanaẗ ʾal-⫯iliktrūniyyaẗ.
Bodhisattva (Dēvanāgarī Sanskrit script, बोधिसत्त्व), or bodhisattvāḥ (बोधिसत्त्वाः) in the plural form, is Sanskrit for awakened (bodhi, बोधि) essence or being (sattva, सत्त्व). The Pāli form is bodhisatta (Dēvanāgarī Pāli/Sanskrit script, बोधिसत्त). Bodhisat (Dēvanāgarī Sanskrit script, बोधिसत्) is a shorter form of the word. The Chinese translation is púsà (菩薩). Compare with the glossary entry, Brahmarṣi.
Bōhẹnʾēl hā-Mạləʾāḵə (Hebrew, בֹּהֶןאֵל הָמַלְאָךְ), Big Toe (or Thumb) of God the Angel, is my rendering of Boabel the Angel, possibly among the Guardian Angels (see the glossary entries, ʾal-Ḥafaẓaẗ and ʾal-Malāk ʾal-Ḥāris) residing in the World of Dreams (see the glossary entry, ʾal-ʿĀlam ʾal-⫯Ahlām). hā-Bōhẹn (Hebrew,

הָבֹּהֶן

) is the big toe or the thumb. ⫯Ibhām ʾAllꞌah ʾal-Malāk (

إِبْهَام الله الْمَلَاك

), Thumb of God the Angel, is my Arabic-language translation. Ángelos Boabḗl (Greek, Ἄγγελος Βωαβήλ) is a Greek (or Hellenized) spelling.
Bōhū-Mạnā hā-Mạləʾāḵə (Hebrew, בּוֹהוּ־מַנָ הָמַלְאָךְ), Fawhū-Mānāh ʾal-Malāk (فَوْهُو ـ مَانَاه الْمَلَاك), and Bahman (sometimes Romanized as Barman) Farištah (Persian, بَهمَن فَرِشْتَه, or ʾUrdū, بهمن فَرِشْتَہ), Good Mind the Angel, are Hebrew, Arabic, Persian, and ʾUrdū renderings of Vohu Manah (or Vohumanah) the Angel, possibly among the Guardian Angels (see the glossary entries, ʾal-Ḥafaẓaẗ and ʾal-Malāk ʾal-Ḥāris) residing in the World of Dreams (see the glossary entry, ʾal-ʿĀlam ʾal-⫯Ahlām). My added Hebrew vowel-points are only approximations. (In modern Persian, بَهمَن bahman translates as "avalanche.") Vohu Mana is Ancient Avestan for Good Mind, Good Purpose, Good Thought, or Good Sense. This Archangel was allegedly the Preceptor (Initiator) of the Prophet Zoroaster (see the glossary entry, Zartušt).
Bōṣiyqəyāh hā-Mạləʾāḵə (Hebrew,

בּוֹצִיקְיָה הָמַלְאָךְ

) and Būtšīkā ʾal-Malāk (

بُوتشِيكَا الْمَلَاك

), White Mantle of Light (from the language of the Chibcha First-Nations South Americans) the Angel, are, respectively, my Hebraized and Arabized versions of Bochica the Angel, possibly among the Guardian Angels (see the glossary entries, ʾal-Ḥafaẓaẗ and ʾal-Malāk ʾal-Ḥāris) residing in the World of Dreams (see the glossary entry, ʾal-ʿĀlam ʾal-⫯Ahlām). Bo-chika (Japanese, ぼちか) is given as a Japanese spelling. He is also known as Sua (see the glossary entry, Sūyāh hā-Mạləʾāḵə). Compare with the glossary entries, Pạḥạdiyʾēl hā-Mạləʾāḵə, Qēṣəʾạləqōʾāṭʾēl hā-Mạləʾāḵə, Qūqūləqəʾān hā-Mạləʾāḵə, and Qūqūməʾāṣ hā-Mạləʾāḵə.
ʾal-Brāġmātiyyaẗ (البرَاغمَاتِيَّة), with ʾal-brāġmātiyy (البرَاغمَاتِيّ) as the possessive or an appurtenance ("pragmatic" or "pragmatist"), is pragmatism, an obvious cognate or loanword. The original Greek word is prâgma (πρᾶγμα) for "action" or "affair." In sociology, pragmatism, dominated by the social idealist paradigm (see the glossary entry, ʾal-Miṯāliyyaẗ ʾal-ʾiǧtimāʿiyyaẗ), has also been influenced (and sometimes divided) by the contrasting perspective of social realism (see the glossary entry, ʾal-Wāqiʿiyyaẗ ʾal-ʾiǧtimāʿiyyaẗ). See also the glossary entries, ʾal-Bārādāym, ʾal-Brāġmātiyyaẗ ʾal-ǧududaẗ, ʾal-Maḏhabu ʾal-ʿamaliyy, and ʾal-Tafāʿuliyyaẗ ʾal-ramziyyaẗ.
ʾal-Brāġmātiyyaẗ ʾal-ǧududaẗ (

البرَاغمَاتِيَّة الجُدُدَة

), pragmatism rejuvenated or reconstructed, is neopragmatism. It was developed by the American philosopher, Richard Rorty (

رِيتْشَارْد رَوْرْتِيّ

, Rītšārd Rawrtiyy), 1931-2007 A.D. Contrast with the glossay entry, ʾal-Brāġmātiyyaẗ ʾal-naqdiyyaẗ See also the glossary entry, ʾal-Brāġmātiyyaẗ.
ʾal-Brāġmātiyyaẗ ʾal-ḥariǧaẗ (

البرَاغمَاتِيَّة الحَرِجَة

), pragmatics (or pragmatism) critical, is critical pragmatics, an approach to the social use of language.
ʾal-Brāġmātiyyaẗ ʾal-naqdiyyaẗ (

البرَاغمَاتِيَّة النَقْدِيَّة

), pragmatism critical, is my own coined term for critical pragmatism. It is a neo-Marxian perspective (see the glossary entry, ʾal-Mārksiyyaẗu ʾal-ǧadīdaẗ). Canadian sociologist Dorothy Edith Smith (

دُورُوثِيّ إِيْدِيث سْمِث

, Dūrūṯiyy ⫯Idīṯ Smīṯ), born in 1926, is one of the leading figures in critical pragmatism. Contrast with the glossary entry, ʾal-Brāġmātiyyaẗ ʾal-ǧududaẗ.
Brahmā (Dēvanāgarī Sanskrit script, ब्रह्मा, Guramukhī Punjabi, ਬ੍ਰਹਮਾ, and Bengali, ব্রহ্মা), Piram⫯mā (Tamiḻ, பிரம்மா), Brahma (Telugu, బ్రహ్మ), or Brāhmā (Arabic, بْرَاهْمَا) is the Praised

One

, the

Answerer of

Prayers, the Absolute, or the Supreme and Self-Subsisting Spirit. He is, in many Hindu traditions, God the Creator. Brāhmaṇa or

brahmin

(Dēvanāgarī Sanskrit script, ब्राह्मण), absolute self or

priestly caste

(see the glossary entry, Varṇa), is related to the word Brahmā.
Brahmarṣi (Dēvanāgarī Sanskrit script, ब्रह्मर्षि, brahmarṣi; Gujarātī, બ્રહ્મર્ષિ, brahmarṣi; Telugu, బ్రహ్మరిషి, brahmarṣi; Tamiḻ, ப்ரஹ்மர்ஷி, prahmarṣi; ʾUrdū and Arabized ʾUrdū, برهمرش, brahmarši; Ōṛi⫯a, ବ୍ରହ୍ମର୍ଷି, brahmarṣi; Guramukhī Pajābī script, ਬਰਹਮਰਸ਼ਿ, barahamaraśi; Malayaḷaṃ, ബ്രഹ്മര്ഷി, brahmarṣi; or Bengali, ব্রহ্মর্ষি, brahmarṣi) is a Sanskrit term for a divine (or "Brahmic") sage (see the glossary entries, Brahmā and Ṛṣi). Compare with the glossary entry, Bodhisattva. See also the glossary entries, The Bhakti-Ṣūfiyy movement, Brahmarṣi Śrī Madin Kabīra Śāha, Priya Brahmarṣi!, and Śrī Viśva Vijñāna Vidyā Ādhyātmika Pīṭham.
Brahmarṣi Śrī Madin Kabīra Śāha or

Brahmarishi Sri Madeen Kabir Shah

(Dēvanāgarī Hiṃdī/Sanskrit script, ब्रह्मर्षि श्री मदिन् कबीर शाह; or translated into Telugu, బ్రహ్మరిషి శ్రీ మదిన్ కబీర్ షా, Brahmarṣi Śrī Madin Kabīr Ṣā; and into ʾUrdū,

برَهمَرشِ شرِی مَدِن کَبِير شَاہ

, Brahmarši Šrī Madin Kabīr Šāh), God bless his dear soul, was born during the final decades of the Bhakti-Ṣūfiyy movement (see glossary entry). This beloved one was, in my opinion, the return of the spiritual and rational attributes of Ḥaḍrat Sulṭān Bāhū (see glossary entry).

The ancestors of Brahmarṣi Śrī Madin Kabīra Śāha had migrated from Baghdad (Baġdād, بغداد) to the Indian metropolitan distict of Delhi (Dēvanāgarī Hiṃdī/Sanskrit script, दिल्ली, Dillī; Ḍhillī (Telugu, ఢిల్లీ), and Dihlī (ʾUrdū, دہلی) and, ultimately, to the Indian city of Hyderabad (Dēvanāgarī Hiṃdī/Sanskrit script, हैदराबाद, Haidarābāda; Telugu, హైదరాబాద్, Haidarābād; or ʾUrdū, حیدرآباد, Ḥaydarʾâbād) in the present-day Indian state of Andhra Pradesh (Dēvanāgarī Hiṃdī/Sanskrit script, आंध्र प्रदेश, Āṃdhra Pradēśa; Telugu, ఆంధ్ర ప్రదేశ్, Āndhra Pradēś; or ʾUrdū, آندھرا پردیش, ʾÂndhrā Pradīš).
Upon relocating, around 1700 A.D., from Hyderbad to Pithapuram (Telugu, పిఠాపురం, Piṭhāpuraṁ; Dēvanāgarī Hiṃdī/Sanskrit script, पितापुरम, Pitāpurama; or ʾUrdū, پتاپورم, Pitāpūram), in the East Godavari District (Telugu, తూర్పు గోదావరి జిల్లా, Tūrpu Gōdāvari Jillā; Dēvanāgarī Hiṃdī/Sanskrit script, पूर्वी गोदावरी जिल्ला, Pūrvī Gōdāvarī Jillā; or ʾUrdū, ضلعِ مشرقی گوداوری, Ḍilaʿ-i Mašriqī Gūdʾawarī) of Andhra Pradesh, Brahmarṣi Śrī Madin Kabīra Śāha founded Śrī Viśva Vijñāna Vidyā Ādhyātmika Pīṭham (see glossary entry). It is a branch of ʾal-Qādiriyyaẗ (see glossary entry).
" ... [Brahmarṣi Śrī Madin Kabīr Śāha] was a disciple of the Great Ṣūfiyy Master Pīr-i Pīrān [ʿAbd ʾal-Qādir ʾal-Ǧīlāniyy, the founder of ʾal-Qādiriyyaẗ], the descendant and spiritual successor of Prophet Muḥammad.... [Brahmarṣi Śrī Madin Kabīr Śāha] was a disciple of ʿAbd ʾal-Qādir ʾal-Ǧīlāniyy (Pīr-i Pīrān), [who is] claimed to be the descendant and spiritual successor of [the] ⫰Islāmic Prophet Muḥammad." (Different sources on Śrī Viśva Vijñāna Vidyā Ādhyātmika Pīṭham.)

See also the glossary entries, Brahmarṣi, ʾal-Maʿād, Priya Brahmarṣi!, and Pīr-i Pīrān.

ʾal-Brāhmū Sāmāǧ (

البْرَاهْمُو سَامَاج

) are the Brahmo Samaj (Bengali, ব্রাহ্ম সমাজ, Brāhma Samāja), the Brahma Society.
Brīnān ʾal-Malāk (

ْبْرِينَان الْمَلَاك

), Brennan the Angel, is the Angel Brennan, possibly among the Guardian Angels (see the glossary entries, ʾal-Ḥafaẓaẗ and ʾal-Malāk ʾal-Ḥāris) residing in the World of Dreams (see the glossary entry, ʾal-ʿĀlam ʾal-⫯Ahlām). A Hebrew spelling is Briynān hā-Mạləʾāḵə (

ברִינָן הָמַלְאָךְ

). This sanctified, loving Being came to me during two angelophanies (see the glossary entry, ʾal-Ẓuhūrāt ʾal-malā⫯ikiyyaẗ). For further information, see this online book. See also the glossary entry, Yā Brīnān ʾal-Malāk.
ʾal-Brūfīsūr (البْرُوفِيسُور) or, alternately, ʾal-brūfisūr (البْرُوفِسُور), obvious Indo-European loanwords, refer to professor.
ʾal-Brūlītāriyā (البْرُولِيتَارِيَا) is the proletariat, a Marxian term for the working class (see the glossary entry, ʾal-Mārksiyyaẗu). ʾal-Brūlītāriyy (البْرُولِيتَارِيّ), with ʾal-brūlītāriyyīna (البْرُولِيتَارِيِّينَ) in the plural form, is proletarian (or the proletarian). ʾal-Diktātūriyyaẗ ʾal-brūlītāriyā (

الدكتَاتُورِيَّة البْرُولِيتَارِيَا

) is the dictatorship of the proletariat. They are all obvious Indo-European loanwords. For a discussion of the Indo-European etymology, see the glossary entry, Lumpenproletariat.
Brūnāy (برُونَاي) is Brunei.
ʾal-Buʿbuʿ (البُعْبُع) is the monster, the specter, or the bogeyman.
ʾal-Buʿd (البُعْد), with ʾal-⫯abʿād (الأَبْعَاد) as the plural form, is the dimension or the distance.
Buddha (Dēvanāgarī Sanskrit script, बुद्ध) is both Sanskrit and Pāli for Awakened One. Alternate Thai versions are Phuthṭh Cêā (พุทธเจ้า) and Phuthˌṭho (พุทฺโธ), sometimes Romanized as

Buddho

. The Chinese form is Fú (佛). The spelling in Việtnamese is Đức Phật. The Korean form is pul (불). The Arabic spelling is Būḏā (بُوذَا). The Persian style is Būdā (بُودَا). The Guramukhī Punjabi spelling is Budha (ਬੁੱਧ). The ʾUrdū convention is Budah (بدھ). The Ōṛi⫯ā spelling is Bud⫯dha (ବୁଦ୍ଧ).

In Buddhism, many individuals are called buddhāḥ (Dēvanāgarī Sanskrit script, बुद्धाः), a Sanskrit plural for "buddhas". However, in the usual Bahá'í context, the Buddha is the name given to the traditional Founder of Buddhism.
The Buddha may have lived approximately 400 B.C. His given name was Gotama (Pāli) or Gautama (Sanskrit). His family name was Siddhatta (Pāli) or Siddhārtha (Sanskrit). Siddhārtha Gautama Buddha is written in the Dēvanāgarī Sanskrit script as सिद्धार्थ गौतम बुद्ध. He is also known as Sākyamuni (Dēvanāgarī Sanskrit script, क्यक्यमुनि), in Pāli, or Śakyamuni (Dēvanāgarī Sanskrit script, शाक्यमुनि), in Sanskrit, the Sage (or Holy Man) of the Sākya (Dēvanāgarī Sanskrit script, क्यक्य), in Pāli, or Śakya (Dēvanāgarī Sanskrit script, शाक्य), in Sanskrit,

kingdom of South Asia

.

Buddha Dharma (Dēvanāgarī Sanskrit script, बुद्ध धर्म) is Sanskrit for Buddhism. The name of the religion translates as "natural law of the Awakened One." The Pāli equivalent is Buddha Dhamma (Dēvanāgarī Sanskrit script, बुद्ध धम्म). Two Armenian forms are Buddayakanutʻyun (Բուդդայականություն) and the loanword, Buddizm (բուդդիզմ). See also the glossary entries, Buddha, Dharma, and Dhārmika Āsthāoṃ.
Buddhayāna (Dēvanāgarī Sanskrit script, बुद्धयान, Awakened One's Vehicle or Path) or Buddhayana in Indonesianized Sanskrit is an Indonesian form of theistic Buddhism.

Yāna (Dēvanāgarī Sanskrit script, यान) is vehicle. Adherents worship Sanghyang Adibuddha (Indonesianized Sanskrit for angelic, or holy, Primordial Awakened One). Sanghyang is Indonesian (which uses the Roman alphabet) for angelic or holy. In Sanskrit, Ādibuddha (Dēvanāgarī Sanskrit script, आदिबुद्ध) is Primordial Awakened One. Ādi (Dēvanāgarī Sanskrit script, आदि) is first, beginning, primal, primeval, or primordial. See the glossary entry, Buddha.
The religion was started by Bhikkhu Ashin Jinarakkhita (1923-2002 A.D.) as a means conforming Buddhism to the "Ketuhanan Yang Maha Esa" (my own translation from the Indonesianized Sanskrit, "that Great One Who has Divinity") requirement in Indonesia. Ketuhanan is Indonesian for "deity" or "divinity." Yam or

yang

(Dēvanāgarī Sanskrit script, यम्) is "one to whom," "who," or "which." Mahā (Dēvanāgarī Sanskrit script, मह) is "great." Eṣā (Dēvanāgarī Sanskrit script, एषा) is "this" or "that."
Buddhayāna is one of the only three major forms of theistic Buddhism. For the others, see the glossary entries, Risshō-Kōsei-kai and Wŏnbulgyo.

Būdəhāh hā-Mạləʾāḵə (Hebrew, בּוּדְּהָה הָמַלְאָךְ), Būdhā ʾal-Malāk (بُودْهَا الْمَلَاك‌), Būdhā Farištah (Persian, بُودْهَا فَرِشْتَه‌), Budha Farištah (ʾUrdū, بُدھَ فَرِشْتَہ), Budha Farištah (Šāh Mukhī Punǧ°ābī script, بُدھَ فَرِشَتَہ), Budha Fariśtā (Dēvanāgarī Hiṃdī/Sanskrit script, बुध फ़रिश्ता), or Budha Fariśatā (Guramukhī Pajābī script, ਬੁੱਧ ਫ਼ਰਿਸ਼ਤਾ), Mercury (Sanskrit) the Angel, is Budha (Dēvanāgarī Sanskrit script, बुध, Budha) the Angel, possibly among the Guardian Angels (see the glossary entries, ʾal-Ḥafaẓaẗ and ʾal-Malāk ʾal-Ḥāris) residing in the World of Dreams (see the glossary entry, ʾal-ʿĀlam ʾal-⫯Ahlām). My added Hebrew vowel-points are only approximations.
hā-Būḏəhāʾ hā-Ṣəḥōq (Hebrew,

הָבּוּדְהָא הָצְחוֹק

) and ʾal-Būḏā ʾal-ḍaḥk (

البُوذَا الضَحْك

), the Buddha of the Laugh (or Laughter), are my Hebrew and Arabic renderings of the Laughing Buddha (Chinese, 笑佛, Xiào-Fú). The term refers to Budai (Chinese, 布袋, Bù-dài), "cloth sack." He lived in the tenth century A.D.
Būḏəhāʾ-šẹl-hā-Rəp̄ūʾāh hā-Mạləʾāḵə (Hebrew, בּוּדְהָא־הָשֶׁל־רְפוּאָה הָמַלְאָךְ), Būḏā-min-ʾal-Ṭṭibbu ʾal-Malāk (بُوذَا ـ مِنْ ـ الطِبُّ الْمَلَاك), and Būdā-i Piziškī Farištah (Persian, بُودَاِ پِزِشْکِی فَرِشْتَه), Buddha of Medicine the Angel, are renderings of Medicine Buddha the Angel, possibly among the Guardian Angels (see the glossary entries, ʾal-Ḥafaẓaẗ and ʾal-Malāk ʾal-Ḥāris) residing in the World of Dreams (see the glossary entry, ʾal-ʿĀlam ʾal-⫯Ahlām). My added Hebrew vowel-points are only approximations. In Japanese, He is sometimes referred to as Yakushi-Tenshi (Japanese, 薬師天使), Healing Buddha the Angel. A Chinese desigination is Yàoshī-Fú-Tiānshǐ (Chinese, 药师佛天使), Medicine Buddha the Angel. In Sanskrit, He is referred to, formally, as Bhaiṣajyaguruvaiḍūryaprabhārāja (Dēvanāgarī Sanskrit script, भैषज्यगुरुवैडूर्यप्रभाराज), Medicine Master and King of Lapis Lazuli (a semi-precious blue stone) Light.
Buʿd ʾal-ḥadāṯaẗ (

بُعْد الحَدَاثَة

) is, in order, after modernism or after modernity. The term is used for both postmodernism and postmodernity. One of the leading figures in postmodernism is Jean-François Lyotard (

جَان فرَانْسْوَا لِيُوتَار

, Ǧān Frānswā Liyūtār), 1924-1998 A.D. He famously referred to "the incredulity toward metanarratives" (in the original French, «l'incrédulité à l'égard des métarécits»). See also the glossary entries, ʾal-Binā⫯iyyaẗ ʾal-ʾiǧtimāʿiyyaẗ, ʾal-Ḥadāṯaẗ, ʾal-Mukāfiḥaẗ ʾal-ḥadāṯaẗ, ʾal-Naẓariyyaẗ ʾal-naqdiyyaẗ mā baʿdi ʾal-ḥadāṯaẗ, and ʾal-Sard ʾal-kabbaraỳ.
ʾal-Buʿdu ġayir ʾal-mutaʿaddiṇ (

البُعْدُ غَيْر المُتَعَدٍّ

), dimension against the transitive, is my Arabic-language translation of the late Indian-English philosopher Roy Bhaskar's intransitive dimension. It approximates ontology (see the glossary entry, ʾal-ʿIlmu ʾal-wuǧūd). See also the glossary entry, ʾal-Buʿdu ʾal-mutaʿaddiṇ.
ʾal-Buʿdu ʾal-mutaʿaddiṇ (

البُعْدُ المُتَعَدٍّ

), dimension of the transitive, is my Arabic-language translation of the late Indian-English philosopher Roy Bhaskar's transitive dimension. It approximates epistemology (see the glossary entry, ʾal-Naẓariyyaẗ ʾal-maʿrifaẗ). See also the glossary entry, ʾal-Buʿdu ġayir ʾal-mutaʿaddiṇ.
ʾal-Buḏūr ʾal-fasād (

الْبُذُور الْفَسَاد

) are the seeds of corruption.
ʾal-Būfīh (البُوفِيه), with ʾal-būfīhāt (البُوفِيهَات) as the plural form, is the buffet.
ʾal-Buġḍu ʾal-ǧinsi ʾal-bašariyy (البُغْضُ الجِنْسِ البَشَرِيّ), the hatred of the kind (in other contexts, the sex or the gender) of humanity (i.e., the hatred of humankind), is misanthropy.
ʾal-Buḥūṯ ʾal-taqyīm (

البُحُوث التَقْيِيم

), the research evaluation (alternatively, assessment or rating), is evaluation research.
Būkāhūntās ʾal-Malāk (

بُوكَاهُونْتَاس الْمَلَاك

), Pōqāhōnəṭạs hā-Mạləʾāḵə (Hebrew,

פּוֹקָהוֹנְטַס הָצְחוֹק

), Pūkāhūntās Farištah (Persian,

پُوکَاهُونْتَاس فَرِشْتَه

), Pūkāhānṭas Farištah (ʾUrdū,

پُوكَاهَانْٹَس فَرِشْتَہ

), Pokāhāṃṭasa Fariśtā, or (Dēvanāgarī Hiṃdī/Sanskrit script, पोकाहांटस फ़रिश्ता), Pōkāhāṇṭasa Fariśatā (Guramukhī Pajābī script, ਪੋਕਾਹਾਂਟਸ ਫ਼ਰਿਸ਼ਤਾ), Pūkāhānṭas Farištah (Šāh Mukhī Punjabi,

پُوکَاہَانْٹَس فَرِشَتَہ

), or Ángelos Pokachóntas (Greek, Ἄγγελος Ποκαχόντας), is Pocahontas the Angel, possibly among the Guardian Angels (see the glossary entries, ʾal-Ḥafaẓaẗ and ʾal-Malāk ʾal-Ḥāris) residing in the World of Dreams (see the glossary entry, ʾal-ʿĀlam ʾal-⫯Ahlām). My added Hebrew vowel-points are only approximations.
Bulhī-ah! (ʾUrdū and Šāh Mukhī Punjabi,

بللیہ!

), a contraction of "Bulhē ah!" (or, in effect, "ah Bulhē!"), is an invocation for spiritual intercession made to the divine lover of the Punjab, Bābā Bulhē Šāh-i Qādrī Šaṭṭārī (see glossary entry). By itself, ʾâh! (ʾUrdū,

آہ!

) is ah! The corresponding Hiṃdī term is āha (Dēvanāgarī Hiṃdī/Sanskrit script, आह). Watch an MP4 video or listen to an MP3 audio file . Compare with the glossary entries, Priya Brahmarṣi! and Yā Bāhū!
Būlīfīā (بُولِيفِيَا) is Bolivia.
ʾal-Būlinǧ (

الْبُولِينْج

) and ʾal-Būlīnġ (

البُولِينْغ

) are English-language loanwords for bowling.
ʾal-Būlīsiyyaẗ (

البُولِيسِيَّة

) can be alternately translated as the police (an Indo-European loanword) and as Paulicianism (Armenian, Պաւղիկեաններ, Pawġikeanner), an early Christian movement. Paulicianism existed between the seventh and the ninth centuries A.D. in Armenia and some surrounding areas.
ʾal-Bulʿūm sākim (

البُلْعُوم سَاكِن

), pharynx residing (or resident), is pharyngeal or the making of pharyngeal consonants. ʿAyn (see the glossary entry, ʾal-ʿAyn) is an example in both Hebrew and Arabic.
ʾal-Buniyuwiyyaẗ ʾal-ttawlīdiyyaẗ (

البُنْيَوِيَّة التَّوليدِيَّة

), structuralism generative, is genetic (in the sense of generative) structuralism (French, «structuralisme génétique»). It was developed by Pierre Bourdieu (

بِيِئِير بورْديو

, Bī⫯īr Būrdū), 1930-2002.
ʾal-Būq (البُوق), with ʾal-ʾabwāq (الأَبْوَاق) as the plural form, is the bugle, trumpet, or horn.
ʾal-Burǧ ʾal-Bābil (

البُرْج البَابِل

) or hā-Miḡədāl hā-Bāḇẹl (Hebrew,

המִגְדָּל הבָּבֶל

) is the Tower of Babel (or the Tower of Babylon). ʾal-Bābil (البَابِل) and hā-Bābēl (Hebrew, הבָּבֶל) translate as the gate (بَاب, Bāb; or, in Hebrew, בָּב, bāḇ) of God (related to ال, ʾIl or, in Hebrew, אֵל, ʾĒl). See also the glossary entry, Šīnəʿọr.
Būmiyy hā-Mạləʾāḵə (Hebrew, בּוּמִיּ הָמַלְאָךְ), Būmiyy ʾal-Malāk (بُومِيّ الْمَلَاك), or Bhūmī Farištah (Persian, بْهُومِی فَرِشْتَه), Land or Ground (Sanskrit) the Angel, is Bhumi the Angel, possibly among the Guardian Angels (see the glossary entries, ʾal-Ḥafaẓaẗ and ʾal-Malāk ʾal-Ḥāris) residing in the World of Dreams (see the glossary entry, ʾal-ʿĀlam ʾal-⫯Ahlām). My added Hebrew vowel-points are only approximations. Bhūmi (Dēvanāgarī Hiṃdī/Sanskrit script, भूमि) is land, ground, or earth.
Būnḡə′yil hā-Mạləʾāḵə (Hebrew, בּוּנְגְ׳יִל הָמַלְאָךְ) or Būnǧīl ʾal-Malāk (بُونْجِيل الْمَلَاك) is Bunjil (Wurundjeri Aboriginal language of Australia, Eagle) the Angel, possibly among the Guardian Angels (see the glossary entries, ʾal-Ḥafaẓaẗ and ʾal-Malāk ʾal-Ḥāris) residing in the World of Dreams (see the glossary entry, ʾal-ʿĀlam ʾal-⫯Ahlām). My added Hebrew vowel-points are only approximations. Bunjiru (ブンジル) is given as a Japanese spelling.
ʾal-Bunyaẗ ʾal-dāẖiliyyaẗ lil-taqyīm ʾal-mumārasaẗ (

البُنْيَة الدَاخِلِيَّة لِلتَقْيِيم المُمَارَسَة

), the structure internal for (or to) evaluation of practice, is internal structure of practice evaluation. It was developed by Mustafa Emirbayer (

مُصْطَفَى أِمِيرْبَايِر‎

, Muṣṭafaỳ ⫯Imīrbāyir) and Ann Mische (

آن مِشَا

, ʾÂn Miūā).
ʾal-Burġul (البُرْغُل) is groats (cereal grain kernals), grit (loose particles of sand or stone), or bulgar wheat.
ʾal-Burġul ʾal-ḥubūb ʾal-ḏuraẗ ʾal-mujafffaẗ (البُرْغُل الحُبُوب الذُرَة المُجَفَّفَة), grit of grain maize (or sorghum) dried, is my Arabic-language translation of hominy grits.
ʾal-Burǧwāziyyaẗ (البرجوازيَّة) or ʾal-būrǧwāziyyaẗ (

البورجوازيَّة

), obviously borrowed from the French language, is the bourgeoisie. ʾal-Burǧwāziyy (البرجوازيّ) or ʾal-būrǧwāziyy (البورجوازيّ) is bourgeois. See also the glossary entry, ʾal-Burǧwāziyaẗ ʾal--ṣṣaġīraẗ.
ʾal-Burǧwāziyyaẗ ʾal-ṣṣaġīraẗ (

البرجوازيَّة الصَّغِيرَة

), the bourgeoisie petty (or small), is the petty bourgeoisie (French, petite-bourgeoisie). See also the glossary entry, ʾal-Burǧwāziyaẗ.
ʾal-Burhaniyyah (البرهنيَّه), with ʾal-Burhaniyy (البرهنيّ) as the possessive or an appurtenance, is a Ṣūfiyy (see the glossary entry, ʾal-Ṣūfiyy) order (see the glossary entry, ʾal-Ṭarīqaẗ). One of the founders of the movement was Sayyidiỳ ⫰Ibrāhīm ʾal-Disūqiỳ (

سيدى إبراهيم الدسوقى

), thirteenth century A.D.
Būriyʾēl hā-Mạləʾāḵə (Hebrew, בּוּרִיאֵל הָמַלְאָךְ), Clarity in ʾĔlōhiym (see glossary entry) the Angel, is Buriel the Angel, possibly among the Guardian Angels (see the glossary entries, ʾal-Ḥafaẓaẗ and ʾal-Malāk ʾal-Ḥāris) residing in the World of Dreams (see the glossary entry, ʾal-ʿĀlam ʾal-⫯Ahlām). Būr (Hebrew,

בּוּר

), a verb, is to make clear, to clear up, or to explain. Wuḍūḥ ʾal-⫯Ilhiyy ʾal-Malāk (

وُضُوح الإِلهِيّ الْمَلَاك

), Clarity Divine the Angel, is my Arabic-language translation.
Būrkīnā Fāsū (

بُورْكِينَا فَاسُو

) is Burkina Faso.
ʾal-Burmaǧaẗ ʾal-luġawiyyaẗ ʾal-ʿaṣabiyyaẗ (

البَرْمَجَة اللُغَوِيَّة العَصَبِيَّة

), the programming of language neural, is neuro-linguistic programming (NLP), sometimes regarded as a pseudoscience. It was developed by Richard Bandler (

ريتْشارد بانْدْلر

, Rītšārd Bāndlir), born in 1950, and John Grinder (

يَحْيَى غْرَاينْدِر

, Yaḥyaỳ Ġrāyndir), born in 1940 A.D. I received an introductory certification in NLP in 1990.
ʾal-Būsnaẗ w-ʾal-Hirsik (

البُوسْنَة وَالهِرْسِك

) is Bosnia and Herzegovina.
ʾal-Burš ʾal-ḥasāˁ ʾal-ẖuḍar ʾal-Rūsiyy (

البُرْش الحَسَاء الخُضَر الرُوسِيّ

), the borscht of the soup greenery (or vegetables) Russian, is borscht (Russian Cyrillic, борщ, borŝ).
Būrtū Rīkū (

بُورْتُو رِيكُو

) is Puerto Rico.
Būrūndī (بُورُونْدِي) is Burundi.
Būtswānā (بُوتْسْوَانَا) is Botswana.
Čalā (ʾUrdū and Persian, چَلَا‎) or calā (Dēvanāgarī Hiṃdī/Sanskrit script, चेला) is ʾUrdū, Persian (Fārsī), and Hiṃdī for disciple (derived from the Sanskrit, cetā or, in Dēvanāgarī Sanskrit script, चेट, "slave" or "servant") or, literally, slave/servant. Čalā/calā is frequently Anglicized as "chela." Čalāgān (چَلَاگَان‎) is the literary Persian plural form. Čalāhā (چَلَاهَا‎) is the colloquial Persian plural form. See also the glossary entry, Śiṣya.
Čahār Vādī (Persian,

چَهَار وَادِی‎

) is the Four Valleys, a mystical Tablet (see the glossary entry, ʾal-Lawḥ) written by Bahá'u'lláh. See also the glossary entry, Haft Vādī.
Cakra or chakra (Dēvanāgarī Sanskrit script, चक्र, or Bengali, চক্র), with cakrāṇi (Dēvanāgarī Sanskrit script, चक्राणि) as a Sanskrit plural form, are wheels, circles, or vortices. The ʾUrdū form is čakra (چَکرَ). The Persian version is čaraẖah (چَرَخَه). The Guramukhī Punjabi spelling is cakara (ਚੱਕਰ). Within some Hindu traditions, the term is used to refer to various energy centers (vortices) in the human body (from the base of the spine to the crown of the head). See also the glossary entries, ʾal-Laṭa⫯if ʾas-sittaẗ and Nāḍī.
Cào Đại or

Cao Dai

(Việtnamese), Gāo Tái Jiào (Chinese, 高台教), Kōdai Kyō (Japanese, 高台教), Kao-Dai (Japanese, カオダイ), and Tondae Kyo (Korean, 돈대 교) are Việtnamese, Chinese, Japanese, and Korean for High Support Master or, roughly, the Master of High-level Support. Kāw Dāy (

كَاو دَاي

) is an Arabization. My own Arabic-language translation of the term is ʾal-H̱abīraẗ ʾal-Musāʿadaẗ ʾal-⫯Aʿlaỳ (

الخَبِيرة المُسَاعَدَة الأعلى

), Master (or Expert) of Support

on

High. Cào Đai is a Việtnamese new religious movement (see the glossary entry, ʾal-Ḥarakaẗ ʾal-ddīiniyyaẗ ʾal-ǧadīdaẗ). Compare with the glossary entry, Qəʾạw-Dəʾāy hā-Mạləʾāḵə.
CAUSA, the Confederation of the Associations for the Unification of the Societies of the Americas, was an anti-communist organization (using the common American, not the Marxist, definition of "communism") founded by the late Reverend Sun Myung Moon. The "CAUSA worldview" was referred to as "Godism" (Korean, 신본주의, Sinbonjuŭi). See also the glossary entries, Mun Sŏnmyŏng and Segye P'yŏngwa T'ongil Gajŏng Yŏnhap.
Cirāga (Dēvanāgarī Hiṃdī/Sanskrit script, चिराग) or čirāġa (Persian and ʾUrdū, چِرَاغَ‎), with čirāġān (چِرَاغَان‎) in the literary Persian plural form and čirāġhā (چِرَاغهَا‎) as the colloquial plural form, is Hiṃdī, ʾUrdū, and Persian for guide, director, or, literally, lamp/light (as in the Ṣūfiyy Order International's Cherag Library).
Čištī or

Chishti

(چِشْتِی), in Persian and ʾUrdū, is the name of a historically open-minded and a tolerant path or order (see the glossary entry, ʾal-Ṭarīqaẗ) in Ṣūfism (see the glossary entry, ʾal-Taṣawwuf).

ʾal-Šištiỳ (

الششتى‎

) and ʾal-Tšīštī (

التشيشتي

) are alternate Arabic spellings. The Hiṃdī spelling is Ciśtī (Dēvanāgarī Hiṃdī/Sanskrit script, चिश्ती). The Guramukhī Punjabi spelling is Ciśatī (ਚਿਸ਼ਤੀ). The Kannaḍa spelling is Cisti (ಚಿಸ್ತಿ). The Telugu spelling is Ciṣti (చిష్తి). The Tamiḻ spelling is Cisṭi (சிஸ்டி). The Russian spelling is Chishti (Чишти). The Indonesian spelling is also Chishti. The Modern Turkish spelling is Çişti. The Malayaḷaṃ spelling is Ciśti (ചിശ്തി). The Gujarātī spelling is Cistī (ચિસ્તી). The Ōṛi⫯ā spelling is Ciśtī (ଚିଶ୍ତୀ). The Chinese spelling is Qí shén dì (Chinese, 奇什蒂). The Armenian spelling is Čʻištii (Չիշտիի). The Georgian spelling is Chisti (ჩისთი).
The Čištiyāṉ (ʾUrdū plural form, چِشتِیَاں) or Čištiyān (Persian plural form, چِشْتِیَان) are reportedly named, first, after the village in Afghanistan (see the glossary entry, ʾAfġānistān), named Čišt (Persian and ʾUrdū, چشت), where the order began and, second, after Muʿīn ʾad-Dīn-i Čištī (see glossary entry). The Čištiyān of South Asia (see glossary entry) became one of the important ⫰Islāmic contributors to the culturally syncretistic Bhakti-Ṣūfiyy movement (see glossary entry).
In the early twentieth century, the Čištī order gave birth to the Universal Ṣūfism of Hazrat Inayat Khan (see the glossary entry, Ḥaḍrat ʿInāyat H̱‎an).

See also the glossary entries, Ḥaḍraẗ Šayẖ H̱awāǧ Siyyid Muḥammad Niẓām ʾad-Dīn ʾAwliyāʾ, Maẖdūm ʾal-ʿĀlim Ḥaḍraẗ Aʿlāˁ ʾad-Dīn ʿAliyy ⫯Aḥmad, and Siyyid Muḥammad-i Ḥusaynī.

Citta maruttuvam (Tamiḻ, சித்த மருத்துவம்) is "proven medicine." Cita (Tamiḻ, சித்த) is related to the Sanskrit word siddha (Dēvanāgarī Sanskrit script, सिद्ध), "fact" or "proven."
Čīz (Persian,

چِیز

) Čīza (ʾUrdū,

چِیزَ

), and cīza (Dēvanāgarī Hiṃdī/Sanskrit script, चीज़) is "thing." This term, perhaps via ʾUrdū, is the origin of the English-language expression, "big cheese."
Cosmotheandrism is composed of three Greek words (describing a trinity): kósmos (κόσμος) for order or world, Theós (Θεός) for God, and ánthrōpos (άνθρωπος) for man. This nondual and trinitarian (or triadic) form of realism was developed by the Spanish Roman Catholic priest, Raimon Panikkar (1918-2010), during his spiritual pilgrimage to India. He was expelled from the conservative Roman Catholic organization, Opus Dei (Latin, opus deī, work divine or

divine work

). The common Malayaḷaṃ name and title, Paṇikkar‍ (പണിക്കര്‍), is from the Sanskrit, pariṇāyaka (Dēvanāgarī Sanskrit script, परिणायक), leader, guide, or husband. Panikkar wrote:

See also the glossary entries, Advaita, Veda, and ʾal-Wāqiʿiyyaẗ ʾAllꞌah w-ʾal-kawn w-ʾal-⫯insān.

Cymraeg is "Welsh" (both the noun and the adjective) in the Welsh language. The Arabic term is ʾal-Waylziyy (الْوَيْلْزِيّ).
Dāḇāriyʾēl hā-Mạləʾāḵə (Hebrew, דָּבָרִיאֵל הָמַלְאָךְ), Word of God the Angel, is Dabriel (or Dabariel) the Angel, possibly among the Guardian Angels (see the glossary entries, ʾal-Ḥafaẓaẗ and ʾal-Malāk ʾal-Ḥāris) residing in the World of Dreams (see the glossary entry, ʾal-ʿĀlam ʾal-⫯Ahlām). hā-Dāḇār (Hebrew,

הָדָּבָר

) is the word or the speech. Kalimaẗ ʾAllꞌah ʾal-Malāk (

كَلِمَة الله الْمَلَاك

), Word of God the Angel, is my Arabic-language translation. Ángelos Dabriḗl (Greek, Ἄγγελος Δαβριήλ) is a Greek (or Hellenized) spelling. Ángelos Lógos Theós (Koinḗ, or Common, Greek, Ἄγγελος Λόγος Θεός), Angel Word God, is my Greek translation. Compare with the glossary entry, Dāḇār hā-Mạləʾāḵə.
Dāḇār hā-Mạləʾāḵə (Hebrew, דָּבָר הָמַלְאָךְ), Word (or Speech) the Angel, is Dabria the Angel, possibly among the Guardian Angels (see the glossary entries, ʾal-Ḥafaẓaẗ and ʾal-Malāk ʾal-Ḥāris) residing in the World of Dreams (see the glossary entry, ʾal-ʿĀlam ʾal-⫯Ahlām). Qawl ʾal-Malāk (

قَوْل الْمَلَاك

), Speech the Angel, is my Arabic-language translation. Ángelos Dabría (Koinḗ, or Common, Greek, Ἄγγελος Δαβρία) is a Greek (or Hellenized) spelling. Ángelos Omilía (Greek, Ἄγγελος Ομιλία), Angel Speech, is my Greek translation. Compare with the glossary entry, Dāḇāriyʾēl hā-Mạləʾāḵə.
ʾal-Dabbūs ʾal-bāb (

الْدَبُّوس الْبَاب

), the pin of the door, is the "door pin" (German, Türpin). ʾal-Dabābīs fī ʾal-bāb (

الدَبَابِيس فِي البَاب

), pins in the door, is my Arabic-language translation of "door pins" (German, Türpins).
ʾal-Dabbūs ʾal-ṭabʿaẗ (

الدَبُّوس الطَبْعَة

), the pin of printing, is the thumbtack. ʾal-Dabābīs ʾal-ṭabʿaẗ (

الدَبَابِيس الطَبْعَة

), the pins of printing, is my Arabic-language translation of thumbtacks.
Dādū Dayāl (Dēvanāgarī Hiṃdī/Sanskrit script, दादू दयाल), 1544–1603, was a great Hindu representative of the South Asian Bhakti-Ṣūfiyy movement (see glossary entry). He lived in India. Dādū (Dēvanāgarī Hiṃdī/Sanskrit script, दादू) is "mendicant" or "beggar." "Dayāl" (Dēvanāgarī Hiṃdī/Sanskrit script, दयाल) is "compassionate

one

." The movement he started is called the Dādū Paṃtha (Dēvanāgarī Hiṃdī/Sanskrit script, दादू पंथ), the beggar's path. A member of the movement was a Dādū Paṃthī (Dēvanāgarī Hiṃdī/Sanskrit script, दादू पंथी). See the glossary entry, Paṇṭhan.
Dāʾḡiyʾēl hā-Mạləʾāḵə (Hebrew, דָּאגִיאֵל הָמַלְאָךְ), Fish of ʾĔlōhiym (see glossary entry) the Angel, is Dagiel (alternatively, Daghiel or Daiel) the Angel, possibly among the Guardian Angels (see the glossary entries, ʾal-Ḥafaẓaẗ and ʾal-Malāk ʾal-Ḥāris) residing in the World of Dreams (see the glossary entry, ʾal-ʿĀlam ʾal-⫯Ahlām). hā-Dāʾḡ (Hebrew,

הָדָּאג

) and hā-dāḡ (Hebrew,

הָדָג

) translate as the fish. Dāġī⫯īl ʾal-Malāk (

دَاغِيئِيل الْمَلَاك

) is my Arabization. Ángelos Dagiḗl (Greek, Ἄγγελος Δαγιήλ) is a Greek (or Hellenized) spelling.
ʾal-Daǧǧāl (الدَجَّال) is the deceiver, the false one, or the imposter. Thus, ʾal-masīḥ ʾal-daǧǧāl (

المَسِيح الدَجَّال

) is the false messiah.
Dāḡōn hā-Mạləʾāḵə (Biblical Hebrew, דָּגוֹן הָמַלְאָךְ), Dāǧūn ʾal-Malāk (دَاجُون الْمَلَاك), Ḍaygūn Farištah (ʾUrdū ڈَیگُون فَرِشْتَہ), Dāǧūn Farištah (Persian, دَاجُون فَرِشْتَه), or Ángelos Dagon (Greek, Ἄγγελος Δαγον), Grain (Samaritan) the Angel, is Dagon the Angel, possibly among the Guardian Angels (see the glossary entries, ʾal-Ḥafaẓaẗ and ʾal-Malāk ʾal-Ḥāris) residing in the World of Dreams (see the glossary entry, ʾal-ʿĀlam ʾal-⫯Ahlām). Compare with the glossary entry, ʾŌʾānnẹs hā-Mạləʾāḵə.
ʾal-Dāhišiyyaẗ (

الداهشيَّة

) is Daheshism. In 1942, it was founded by ʾal-Duktūr Dāhiš or

Dr. Dahesh

(

الدُكْتُور دَاهِش

). He lived 1909-1984. Dr. Danesh was born Salīm Mūsaỳ ʿAššī (

سليم موسى عشّي

) in Jerusalem (see the glossary entry, Yərūšālạyim) in 1909. He died in New York City, while in self-proclaimed exile, in 1984.
ʾal-Ḍāḥiyaẗ (الضاحِيَة), with ʾal-ḍāḥiyāt (الضاحِيَات) as the plural form, is the suburb.
ʾal-Ḍaḥk ʾal-muqaddasaẗ (

الضَحْك المُقَدَّسَة

), laughter holy, is holy laughter. It is an activity within certain sectors of the Charismatic movement (see the glossary entry, ʾal-Ḥarakaẗ ʾal-Kārīzmiyyaẗ).
Daímōn (Ancient Greek, δαίμων), or daímōnes (Ancient Greek, δαίμωνες) as the plural form, is the source of the word "demon," but the original connotation of daímōn is

not

synonymous with "demon" (a supposed evil spirit). Daímōn is Ancient Greek for a

benevolent nature

spirit.
ʾal-Dā⫯iraẗ ʾal-maḥāṣīlaẗ (

الدَائِرَة المَحَاصِيلَة

), the circle of the crops, is crop circle (tense modified from the original). ʾal-Duw⫯ir ʾal-maḥāṣīlaẗ (

الدوائر المَحَاصِيلَة

), the circles of the crops, is the plural form (tense modified form the original). The English-language term, "crop circle," was coined by Colin Andrews (

كولن اندروز

, Kūlin ʾAndrūz), born in 1946. In my opinion, the

non-hoaxed

crop circles are a type of contact emancipation (see the glossary entry, ʾal-Taḥrīr fī ʾal-ʾitiṣāl). For my own preferred term for crop circles and similar phenomena, see the glossary entry, ʾal-Kitābaẗ ʾal-ṣawwara ʾal-malā⫯ikiyy. See also the glossary entry, ʾal-ʿilmu ʾal-dā⫯iraẗ ʾal-maḥāṣīlaẗ.
Ḍākṭara (Dēvanāgarī Hiṃdī/Sanskrit script, डाक्टर) is Anglicized Hiṃdī or "Hinglish" for doctor. The Guramukhī Punjabi form is ḍākaṭara (ਡਾਕਟਰ). The Šāh Mukhī Punjabi and ʾUrdū word is ḋākṫar (Šāh Mukhī Punǧ°ābī script, ڈاﮐﭩﺮ, and the slightly different ʾUrdū spelling, ڈاکٹر). The Persian form is daktar (دکتر). The Telugu and Malayaḷaṃ convention is ḍākṭar (Telugu, డాక్టర్, and Malayaḷaṃ, ഡാക്ടര്). The Tamiḻ spelling is ṭākṭar (டாக்டர்). The Gujarātī form is ḍōkṭara (ડોક્ટર). See the glossary entry, Śrī Viśva Vijñāna Vidyā Ādhyātmika Pīṭham.
Dālạqiyʾēl hā-Mạləʾāḵə (Hebrew, דָּלַקִיאֵל הָמַלְאָךְ), To Burn in ʾĔlōhiym (see glossary entry) the Angel, is Dalaquiel the Angel, possibly among the Guardian Angels (see the glossary entries, ʾal-Ḥafaẓaẗ and ʾal-Malāk ʾal-Ḥāris) residing in the World of Dreams (see the glossary entry, ʾal-ʿĀlam ʾal-⫯Ahlām). Dālạq (Hebrew,

דָּלַק

) is the verb, to burn (i.e., burning). Ḥarraqa fī ʾAllah ʾal-Malāk (

حَرَّقَ فِي الله الْمَلَاك

), To Burn in God the Angel, is my Arabic-language translation.
Ḏạmēḇēyāh hā-Mạləʾāḵə (Hebrew, דַמֵבֵיָה הָמַלְאָךְ), YHWH (see glossary entry) the Source of Wisdom the Angel, is Damabiah (or Damabiath) the Angel, possibly among the Guardian Angels (see the glossary entries, ʾal-Ḥafaẓaẗ and ʾal-Malāk ʾal-Ḥāris) residing in the World of Dreams (see the glossary entry, ʾal-ʿĀlam ʾal-⫯Ahlām). Ḏāmībiyāh ʾal-Malāk (

ذَامِيبِيَاه الْمَلَاك

) is my Arabization. Compare with the glossary entry, Ḥọḵəmāhʾēl hā-Mạləʾāḵə.
ʾal-Dam w-ʾal-balġam w-ʾal-sawdāˁ w-ʾal-ṣafrāˁ (

الدَم والبَلْغَم والسَوْداء والصَفْراء

), blood and phlegm (alternatively, mucus or sputum) and "the black" (i.e., black bile) and "the yellow" (i.e., yellow bile), are blood, phlegm, black bile, and yellow bile. These four humors (see the glossary entry, ʾal-Mizāǧāt al-⫯arbaʿaẗ) were associated with the some premodern approaches to medicine (see the glossary entry, ʾal-Ṭṭibbu). See also the glossary entries, ʾal-Maḏhabu ʾal-⫯aẖlāṭ and ʾal-Naẓariyyaẗ ʾal-mustanqaʿ.
ʾal-Ḍamīr w-ʾal-wiǧdān (

الضَمِير وَالوِجْدَان

) are terms for the conscience.
Dāmiyʾēl hā-Mạləʾāḵə (Hebrew, דָּמִיאֵל הָמַלְאָךְ), Blood of ʾĔlōhiym (see glossary entry) the Angel, is Damiel (or Dameal) the Angel, possibly among the Guardian Angels (see the glossary entries, ʾal-Ḥafaẓaẗ and ʾal-Malāk ʾal-Ḥāris) residing in the World of Dreams (see the glossary entry, ʾal-ʿĀlam ʾal-⫯Ahlām). With three cognates, Dam ʾAllꞌah ʾal-Malāk (دَم الله الْمَلَاك), Blood of God the Angel, is my Arabic-language rendering. hā-Dām (Hebrew,

הָדָּם

) and ʾal-dam (الدَم) translate as "blood."

I have speculatively ascribed the name "Damiel" to an Angel Who may have appeared to the Báb (see the glossary entry, ʾal-Bāb). Damiel might have been the Báb's Preceptor Angel (see the glossary entry, ʾal-Muʿallim) or Ministering Angel (see the glossary entry, ʾal-Malāk ʾal-Yusʿif).
"In one of His [the Báb's] writings revealed in the year '60 A.H. [1260 A.H.], the Báb declares the following: 'The spirit of prayer which animates My soul is the direct consequence of a dream which I had in the year before the declaration of My Mission. In My vision I saw the head of the Imám Ḥusayn, the Siyyidu'

sh

-

Sh

uhada', which was hanging upon a tree. Drops of blood dripped profusely from His lacerated throat. With feelings of unsurpassed delight, I approached that tree and, stretching forth My hands, gathered a few drops of that sacred blood, and drank them devoutly. When I awoke, I felt that the Spirit of God had permeated and taken possession of My soul. My heart was thrilled with the joy of His Divine presence, and the mysteries of His Revelation were unfolded before My eyes in all their glory.'" (The Dawn-Breakers)

Dạnəwənəṭāriyy-ʾĀwəwāṭʾạr (or Dạnəvənəṭāriyy-ʾĀvəvāṭʾạr) hā-Mạləʾāḵə (Hebrew, דָּנְוְוָנְטָרִיּ־אָוְוָטְאַר הָמַלְאָךְ) or Dānfāntāriyy-⫯Afātār ʾal-Malāk (دَانْفَانْتَارِيّ ـ أَفَاتَارَ الْمَلَاك), Descent of One Moving in a Curve (Sanskrit) the Angel, is Dhanvantari (or Dhanwantari) Avatar the Angel, possibly among the Guardian Angels (see the glossary entries, ʾal-Ḥafaẓaẗ and ʾal-Malāk ʾal-Ḥāris) residing in the World of Dreams (see the glossary entry, ʾal-ʿĀlam ʾal-⫯Ahlām). My added Hebrew vowel-points are only approximations. Dhanvantari (Dēvanāgarī Sanskrit script, धन्वन्तरि) is moving in a curve. See also the glossary entry, Avatāra.
Đảng Cộng sản Việt Nam (Việtnamese) is the Communist Party of Việtnam, a Marxist-Leninist party.
Dāniyyēʾl (Hebrew,

דָּנִיֵּאל

), Dāniyāl (دَانِيَال), Ḍaynyal (ʾUrdū, ڈینیل), Dānyal (Persian, دانیل), or Daniḗl (Koinḗ, or Common, Greek, Ἄγγελος) is Daniel (as in the holy Prophet and the book of the Bible). His name translates, from the Hebrew, as "my divine Judge" or "my Judge

is

God." Dān (Hebrew,

דָּנ

), judge, is a cognate with the Arabic-language word, dīn (see the glossary entry, ʾad-Dīn). Compare with the glossary entry, Ḏānūyōʾēl hā-Mạləʾāḵə.
Dansk is the Danish language. It is written in a modified Roman alphabet.
Dānū hā-Mạləʾāḵə (Hebrew, דָּנוּ הָמַלְאָךְ), Dānū ʾal-Malāk (دَانُو الْمَلَاك), or Dānū Farištah (ʾUrdū, دَانُو فَرِشْتَہ), Dewdrop (Sanskrit) the Angel, is Danu the Angel, possibly among the Guardian Angels (see the glossary entries, ʾal-Ḥafaẓaẗ and ʾal-Malāk ʾal-Ḥāris) residing in the World of Dreams (see the glossary entry, ʾal-ʿĀlam ʾal-⫯Ahlām). My added Hebrew vowel-points are only approximations. Dānu (Dēvanāgarī Sanskrit script, दानु) is dewdrop.
Ḏānūyōʾēl hā-Mạləʾāḵə (Hebrew,

דַנֻיֹאֵל הָמַלְאָךְ

), Dāniyāl ʾal-Malāk (

دَانِيَال الْمَلَاك

), or Ángelos Daniḗl (Koinḗ, or Common, Greek, Ἄγγελος Δανιήλ) is Daniel the Angel (compare with the glossary entry, Dāniyyēʾl), Judgment of ʾĔlōhiym (see glossary entry) the Angel. Ḏānūyōʾēl (Hebrew,

דַנֻיֹאֵל

) is a variant spelling of the name Dāniyyēʾl (Hebrew,

דָּנִיֵּאל

). This Angel, Who was blessedly given the divine Name of a Holy Prophet, might be a Resident of the World of Dreams (see the glossary entry, ʾal-ʿĀlam ʾal-Bāṭin) and its Archangels (see the glossary entry, ʾal-Malā⫯ikaẗ ʿAllaỳ).
Dāqəšāh hā-Mạləʾāḵə (Hebrew, דָּקְשָׁה הָמַלְאָךְ), Dākšā ʾal-Malāk (دَاكْشَا الْمَلَاك), Dākšā Farištah (Persian, دَاكْشَا فَرِشْتَه), or Tenshi-Dakusha (Japanese, 天使ダクシャ), Skillful (Sanskrit) the Angel, is Daksha the Angel, possibly among the Guardian Angels (see the glossary entries, ʾal-Ḥafaẓaẗ and ʾal-Malāk ʾal-Ḥāris) residing in the World of Dreams (see the glossary entry, ʾal-ʿĀlam ʾal-⫯Ahlām). My added Hebrew vowel-points are only approximations. Dakṣa (Dēvanāgarī Sanskrit script, दक्ष) is skillful.
Dàojiào (Chinese, 道教, teachings of Dào) is Daoism or Taoism. The Arabic spelling is ʾal-Ṭāwiyyat (الطاويَّة) with ʾal-Ṭāwiyy (الطاويّ) as the possessive or an appurtenance ("Taoist"). The Dào (Chinese, 道), dāo (Dēvanāgarī Hiṃdī/Sanskrit script, ताओ), or Tā⫯u (ʾUrdū, تاؤ) is the way. The most important holy book of Dàojiào is the Dàodéjīng or

Tao Te Ching

(Traditional Chinese, 道德經, or Simplified Chinese, 道德经), the Classic

Text

on the Way to Virtue. Its reported author, in approximately the sixth century B.C., was Lǎozi or, commonly,

Lao Tse

(Chinese, 老子), Old Man. See also the glossary entries, Lāʾō-Dəzēh hā-Mạləʾāḵə, Lāū Tsayy, and Tàijítú.
ʾal-Daraǧaẗ (الدَرَجَة), with ʾal-daraǧāt (الدَرَجَات) as the plural form, is the degree. For examples, see the glossary listings below.
ʾal-Daraǧaẗ ʾal-⫯asās (

الدَرَجَة الأَسَاس

), degree foundation (alternatively, basis, fundamental, cornerstone, or rudiment), is the foundation degree (in the United Kingdom). It is somewhat comparable to the associate's degree (see the glossary entry, ʾal-Daraǧaẗ ʾal-zamīlaẗ).
ʾal-Daraǧaẗ ʾal-bakālūriyūs (

الدَرَجَة البَكَالُورْيُوس

), the degree baccalaureate, is the bachelor's degree.
ʾal-Daraǧaẗ ʾal-dduktūrāh (

الدَرَجَة الدُّكْتُورَاه

), the degree doctoral (or doctorate), is the doctoral degree.
ʾal-Daraǧaẗ ʾal-dduktūrāh fī ʾal-qānūn (

الدَرَجَة الدُّكْتُورَاه فِي القَانُون

), the degree doctoral (or doctorate) in law, is my Arabic-language translation of the juris doctor (JD) degree, i.e., the juris doctorate.
ʾal-Daraǧaẗ ʾal-māǧistīr (

الدَرَجَة المَاجِسْتِير

), the degree of the master, is the master's degree.
ʾal-Daraǧaẗ ʾal-mutaẖaṣṣiṣ (

الدَرَجَة المُتَخَصِّص

), the degree of the specialist, is the specialist degree. It is an intermediate degree between the master's degree (see the glossary entry, ʾal-Daraǧaẗ ʾal-māǧistīr) and the doctoral degree (see the glossary entry, ʾal-Daraǧaẗ ʾal-dduktūrāh).
ʾal-Daraǧaẗ ʾal-zamīlaẗ (

الدَرَجَة الزَمِيلة

), the degree of the associate, is the associate's degree (offered in the U.S., Canada, the United Kingdom, Australia, and the Netherlands). In the UK, the associate's degree is somewhat comparable to the British "foundation degree" (see the glossary entry, ʾal-Daraǧaẗ ʾal-⫯asās). Side by side, the foundation degree is more widely offered in the UK than the associate's degree.
ʾal-Daran (الدَرَن) is tuberculosis.
ʾal-Dardašaẗ ʾal-tarḥīl ʾal-⫯Intirnit (

الدَرْدَشَة التَرْحِيل الإِنْتِرْنِت

), chatting relay Internet, is Internet Relay Chat (IRC).
Dạrədạriyʾēl hā-Mạləʾāḵə (Hebrew, דַּרְדַּרִיאֵל הָמַלְאָךְ), Thistle (or Thorn) of ʾĔlōhiym (see glossary entry) the Angel, is Dardariel the Angel, possibly among the Guardian Angels (see the glossary entries, ʾal-Ḥafaẓaẗ and ʾal-Malāk ʾal-Ḥāris) residing in the World of Dreams (see the glossary entry, ʾal-ʿĀlam ʾal-⫯Ahlām). hā-Dạrədạr (Hebrew,

הָדַּרְדַּר

) is the thistle or the thorn. Ššawk ʾAllꞌah ʾal-Malāk (شَّوْك الله الْمَلَاك), Thistle (or Thorn) of God the Angel, is my Arabic-language translation. ʾal-⫯Ašwāk (أَشْوَاك) are thistles or thorns.
Dargāh (Persian, درگاه‎, or the slightly different ʾUrdū spelling, درگاہ) is a

heavenly

gateway, threshold, or portal. This originally Persian term is used for a mausoleum, shrine, tomb, or sepulcher constructed around the burial site or grave of a Ṣūfiyy leader or holy figure. Compare with the glossary entry, ʾal-Mazār. See also the glossary entries, Dargāh-i Bābā Bulhē Šāh, Mawḍiʿ-i Sulṭān Ḥaqq Bāhū, H̱ānaqāh, Qawālī, and ʾal-ʿUrs.
Dargāh-i Bābā Bulhē Šāh (ʾUrdū with ʾUrdūized Arabic and Persian,

درگاہِ بابا بلہے شاہ

) is the mausoleum or shrine of Bābā Bulhē Šāh-i Qādrī Šaṭṭārī (see glossary entry). The mausoleum is located in Qaṣūr (Persian and ʾUrdū, قصُور, and Šāh Mukhī Punjabi, قصور, Qaṣūr; or Guramukhī Punjabi, ਕਸُਵਰ, Kasav́ara), a city in the (now Pākistānī) Punjab. Bābā Bulhē Šāh-i Qādrī Šaṭṭārī died in the city of Qaṣūr. The words ʾal-qaṣūr (القصُور) and qaṣūr (Persianized and ʾUrdūized Arabic, قصُور, or Šāh Mukhī Punjabized Arabic, قصور) translate as fault, failure, guilt, or insufficiency. See also the glossary entries, ʾUwč Šarīf, Pākistāna, and Panǧāba.

ʾal-Dāriǧ (الدَارِج), the colloquial, is slang.
ʾal-Dar ʾal-⫯Islām (الدار الإسْلام) is the house, abode, or home of ʾal-⫯Islām (see glossary entry). The term refers to nations or jurisdictions in which Muslims can practice their religion (see the glossary entry, ʾad-Dīn) without fear of persecution.
Dạriyʾēl hā-Mạləʾāḵə (Hebrew, דַּרִיאֵל הָמַלְאָךְ), Mother-of-Pearl of ʾĔlōhiym (see glossary entry) the Angel, is Dariel (or Dahariel) the Angel, possibly among the Guardian Angels (see the glossary entries, ʾal-Ḥafaẓaẗ and ʾal-Malāk ʾal-Ḥāris) residing in the World of Dreams (see the glossary entry, ʾal-ʿĀlam ʾal-⫯Ahlām). hā-Dạr (Hebrew,

הָדַּר

) is mother-of-pearl. ʿIrq-ʾal-L⫯ul⫯u ʾAllꞌah ʾal-Malāk (

عِرْق ـ اللُؤْلُؤ ـ الله الْمَلَاك

), Mother (literally, Root or Ancestry) of the Pearl of God the Angel, is my Arabic-language translation. Ángelos Dariḗl (Greek, Ἄγγελος Δαριήλ) is a Greek (or Hellenized) spelling.
Darśan (Dēvanāgarī Hiṃdī/Sanskrit script, दर्शन) is

inner or spiritual

sight or vision. Receiving darśan refers to spiritually witnessing the presence, emanation, outpouring, or effulgence of God or one's guru (see glossary entry), as a theophany or hierophany (see the glossary entry, Theophany and hierophany). Through darśan, the devotee draws close to the object of her or his devotion.
ʾal-Dārwīniyyaẗ ʾal-ʾiǧtimāʿiyyaẗ (

الدَارْوِينِيَّة الاجْتِمَاعِيَّة

), Darwinism social, is social Darwinism. Unfortunately, the perspective is incorrectly named. Charles Darwin (see the glossary entry, ʾal-Naẓariyyaẗ ʾal-Dārwīn) rejected it. Herbert Spencer (see the glossary entry, Hirbirt Sbinsir) was not much of a social Darwinist either. The term might, however, be applied to certain segments of the contemporary right wing (see the glossary entry, ʾal-Yamīniyyaẗ) in the United States and elsewhere.
ʾal-Darwīš (الدَرْوِيش‎), or ʾal-darāwīš (التَنْوِير‎) in the plural form, is derived, through Turkish, from the Persian and ʾUrdū (i.e., Indo-European) darvīš (دَرْوِیش), the needy

one

or the mendicant. The Modern Turkish spelling is derviş with dervişler as the Turkish plural form. The prohibition against begging and giving to beggars appears to refer, historically, to this class of individuals (similar to monks or friars who have taken vows of poverty), not to the poor people to whom ʽAbdu'l-Bahá gave coins during His journeys through the West. The Hiṃdī version of the word is daravēśa (Dēvanāgarī Hiṃdī/Sanskrit script, दरवेश). For rough Hindu approximations, see the glossary entries, Sādhu and sādhvī.
ʾal-Dāˁ ʾal-manqūl ǧinsiyyaṇā (

الدَاء المَنْقُول جِنْسِيًّا

), the disease (alternatively, the malady or the illness) transmitted (or transported) sexually, is the sexually transmitted disease (SID).
ʾal-Dāˁ ʾal-ṣarʿ (

الدَاء الصَرْع

), the disease (alternatively, the malady or the illness) of falling or, simply, ʾal-ṣarʿ (الصَرْع), "falling," is epilepsy.

ʾal-Nūbaẗ ʾal-ṣarʿ (

النُوبَة الصَرْع

), fit (alternatively, seizure or convulsion) of falling (or epilepsy), is epileptic fit (alternatively, epileptic seizure or epileptic convulsion). ʾal-Nūbāt ʾal-ṣarʿ (

النُوبَات الصَرْع

), fits (alternatively, seizures or convulsions) of falling (or epilepsy), is the plural form.
ʾal-Muṣāb bi-ʾal-ṣarʿ (

المُصَابُ بالصَرْع

) is the victim of epilepsy (the epileptic). ʾal-Muṣābūn bi-ʾal-ṣarʿ (

المُصَابُون بالصَرْع

) is the victims in epilepsy (the epileptics).
ʾal-Ṣarʿ ʾal-faṣṣ ʾal-ṣudġī (

الصَرْع اَلْفَصّ الصدغي

), falling lobe temporal, is temporal-lobe epilepsy. A common medication is phenytoin (

الفنيتويين

, ʾal-finītūyīn). Dilantin (

الديلانْتين

, ʾal-Daylāntīn) is the original trade name.

For some types of epileptic convulsions, see the glossary entries, ʾal-Nūbāt ʾal-ǧuzy⫯yyaẗ ʾal-basīṭaẗ, ʾal-Nūbāt ʾal-ḥissiyyaẗ, and ʾal-Nūbāt ʾal-munašiyyaṭ ʾal-ʾirtiǧāǧiyyaẗ.

Daśa Avatārāḥ (Dēvanāgarī Sanskrit script, दश अवताराः) is "

the system of

ten Avatars." Daśa (Dēvanāgarī Sanskrit script, दश) is ten (Dēvanāgarī Sanskrit script, १०, 10).

See also the glossary entries, Avatāra and Balarāma.

Dāsa Dharama (Guramukhī Pajābī script, ਦਾਸ ਧਰਮ) and Saca Khaḍa Nānaka Dharama (Guramukhī Pajābī script, ਸਚ ਖੰਡ ਨਾਨਕ ਧਰਮ) are two branches of a neo-Sikh religion started by Darśana Dāsa (Dēvanāgarī Hiṃdī/Sanskrit script, दर्शन दास, or Guramukhī Pajābī script, ਦਰ੍ਸ਼ਨ ਦਾਸ), 1953-1987. Darśana Dāsa claimed to receive a divine revelation on August 15, 1971. He was shot to death by two Sikhs in 1987. Dāsa (Dēvanāgarī Sanskrit script, दास) is an originally Sanskrit word for slave or servant. See also the glossary entries, Darśan, Dharma, Gurū Nānaka, Sach Khaṇḍ, and Sikhī.
ʾal-Ḏākir (الذَاكِر) is the practitioner of the Ṣūfiyy remembrance of God (see the glossary entry, ʾal-Ḏikr). It is pronounced, approximately, like äl-ză-kĭr or äl-dă-kĭr (given the many regional variations).
ʾal-Ḏāt (الذَات), or ʾal-ḏawāt (الذَوَات) in the plural form, is essence, personal self, or being. The term can also be used for isism, namely, a realistic picture of that which exists. Isism can be contrasted with shouldism (see the glossary entry, ʾal-Ẓann). Both concepts were formulated by the psychiatrist Frederick "Fritz" Salomon Perls (see the glossary entry, ʾal-ʿIlāǧ ʾal-Ǧišṭālt). To my understanding, the unifying essence (or unity) of each thing, in this world, is an Guardian Angel. Essences are Beings, not idealizations (Platonic ideal forms).
Dạṭəṭərẹyʾāh-ʾĀwəwāṭʾạr (or Dạṭəṭərẹyʾāh-ʾĀvəvāṭʾạr) hā-Mạləʾāḵə (Hebrew, דַּטְטְרֶיאָה־אָוְוָטְאַר הָמַלְאָךְ), Dāttātrayā-⫯Afātār ʾal-Malāk (دَاتَّاتْرَيَا ـ أَفَاتَارَ الْمَلَاك), or Ángelos Dattatreiach Ábatar (Greek, Ἄγγελος Δαττατρειαχ Άβαταρ), Descent of That which is Given by the Prosperous One (Sanskrit) the Angel, is Dattatreya Avatar the Angel, possibly among the Guardian Angels (see the glossary entries, ʾal-Ḥafaẓaẗ and ʾal-Malāk ʾal-Ḥāris) residing in the World of Dreams (see the glossary entry, ʾal-ʿĀlam ʾal-⫯Ahlām). My added Hebrew vowel-points are only approximations. Dattātrēya (Dēvanāgarī Sanskrit script, दत्तात्रेय) is given by the Properous One. See also the glossary entry, Avatāra.
ʾal-Ḏātiyyaẗ (الذاتِيَّة) is subjectivity. Contrast with the glossary entry, ʾal-Mūḍūʿiyyaẗ.
ʾal-Daʿwaẗ (الدَعْوَة), with ʾal-daʿwāt (الدَعْوَات) in the plural form, is the call, the referral, or the invitation (as in the invitation to become Muslims). The term often connotes preaching. For cognates, see the glossary entries, ʾal-Duʿā and ʾal-Mu⫯aḏḏin.
ʾal-Daʿwaẗ ʾal-ḏātiyyaẗ (

الدَعْوَة الذاتِيَّة

), the call (or the invitation) of subjectivity (or identity), is self-advocacy. It is an important concept among many disabled populations (see the glossary entry, ʾal-⫯Iʿāqaẗ).
ʾal-Daʿwaẗ ʾal-⫯inǧīliyyaẗ (

الدَعْوَة الْإِنْجِيليَّة

), the call (or the invitation) of evangelism, is evangelism. Compare with the glossary entry, ʾal-Tablīġ.
ʾal-Dawāwīniyyaẗ (الدَوَاوِينيّة) can be translated as either "bureaucracy" or "bureaucratic." ʾal-Dawāwīniyy (الدَوَاوِينيّ), the possessive or an appurtenance, is "bureaucrat." For the Indo-European loanword, see the glossary entry, ʾal-Bīrūqrāṣiyyaẗ.
ʾal-Ḍawḍāˁ (

الضَوْضَاء

) is noise.
ʾal-Ḍawḍāˁ ʾal-bayḍāˁ (

الضَوْضَاء البَيْضَاء

), the noise white, is white noise.
ʾal-Ḍawˁ ʾal-flūrisant (

الضَوْء الفْلُورِسَنْت

), light fluorescent, is fluorescent light. ʾal-⫯Aḍwāˁ ʾal-flūrisant (

الأَضْواء الفْلُورِسَنْت

), lights fluorescent, are fluorescent lights.
Dāwiḏ hā-Mạləʾāḵə (Hebrew, דָּוִד הָמַלְאָךְ), Dāwūd ʾal-Malāk (دَاووُد الله الْمَلَاك), Dāvūd Farištah (Persian, دَاووُد فَرِشْتَه, and ʾUrdū, دَاووُد فَرِشْتَہ), Ángelos Dabíd (Greek, Ἄγγελος Δαβίδ), Dā⫯ūda Fariśtā (Dēvanāgarī Hiṃdī/Sanskrit script, दाऊद फ़रिश्ता), or Tenshi-Deibiddo (Japanese, 天使デイビッド), Beloved (Hebrew) the Angel, is David the Angel, possibly among the Guardian Angels (see the glossary entries, ʾal-Ḥafaẓaẗ and ʾal-Malāk ʾal-Ḥāris) residing in the World of Dreams (see the glossary entry, ʾal-ʿĀlam ʾal-⫯Ahlām). This Angelic Being was blessed with the divine Name of a Holy Prophet.
ʾal-Dāwiyyaẗ w-ʾal-Ṭāwiyyaẗ (

الدَاوِيَّة وَالطَاوِيَّة

) are alternate terms for Daoism (or Taoism).
ʾal-Dawlaẗ ʾal-dīmūqrāṭiyyaẗ (

الدَوْلَة الدِيمُوقرَاطِيَّة

), state democratic (or country democratic), is democratic state (or democratic country). ʾal-Duwwila ʾal-dīmūqrāṭiyyaẗ (

الدُوِّلَ الدِيمُوقرَاطِيَّة

), states democratic (or countries democratic), are democratic states (or democratic countries).
ʾal-Dawlaẗ Filasṭīn (

الدَوْلَة فِلَسْطِين‎

) or hā-Məḏiynāh P̄ālạsəṭiyn (Hebrew,

הָמְדִינָה פָלַסְטִין

) is the State (or the Country) of Palestine.
ʾal-Dawlaẗ ʾal-mustaqillaẗ (

الدَوْلَة المُسْتَقِلَّة

), country independent, is independent country (or independent state). ʾal-Duwwila ʾal-mustaqillaẗ (

الدُوِّلَ المُسْتَقِلَّة

), countries independent, are independent countries (or independent states).
ʾal-Dawlaẗ ʾal-⫯Islāmiyyaẗ (

الدَوْلَة الإِسْلَامِيَّة

), the state ⫰Islāmic, is the ⫰Islāmic State.

See also the glossary entry, ʾal-Bilād.

ʾal-Dawr (الدَوْر), with ʾal-⫯adwār (الأَدْوَار) as the plural form, is the role (the common sociological and anthropological concept). Contrast with the glossary entry, ʾal-Fiʿl. See also the glossary entries, al-⫯Anā w-ʾal-nī, ʾal-Qā⫯imaẗ Bīm ʾal-⫯adwār ʾal-ǧinsiyyaẗ, and ʾal-Waḍʿ ʾal-ʾiǧtimāʿiyy.
ʾal-Dawraẗ (الدَوْرَة), with ʾal-dawrāt (الدَوْرَات) as the plural form, is the cycle, the spin, the rotation, or the course.
Dawraẗ fī ʾal-Muʿǧiẓāt (

دَوْرَة فِي المُعْجِزات

) is, in order, (A) Course in Miracles or, as commonly abbreviated, ACIM. (There are no indefinite articles in Arabic.) The book was written by Helen Schucman (

هيلين شوكمان

, Hīlīn Šūkmān), 1909-1981 A.D. See also the glossary entry, ʾal-Muʿǧiẓaẗ.
ʾal-Dawraẗ ʾal-miyāh (

الدَوْرَة المِيَاه

), the cycle (or the revolution) of the water (or the waters), is the bathroom.
ʾal-Dawraẗ al-tunāsuẖ (

الدَوْرَة التَنَاسُخ

) is the cycle of reincarnation (literally, the cycle of sequence or succession).
ʾal-Dawwāmaẗ (الدَوَّامَة), with ʾal-dawwāmāt (الدَوَّامَات) as the plural form, is the swirl, the whirlpool, vortex, whirl, or eddy. See also the glossary entries, ʾal-Dawwāmaẗ ʾal-ḥaqīraẗ and ʾal-Dawwāmaẗ ʾal-ẖayl.
ʾal-Dawwāmaẗ ʾal-ḥaqīraẗ (

الدَوَّامَة الحَقِيرَة

), the vortex vile (or despicable), is my Arabic-language translation of the vile vortex. ʾal-Dawwāmāt ʾal-ḥaqīraẗ (

الدَوَّامَات الحَقِيرَة

), the vortices vile (or despicable), my Arabic-language translation of the vile vortices. The concept is related to electronic fog (see the glossary entry, ʾal-Ḍḍabāb ʾal-⫯iliktrūniyyaẗ). See also the glossary entry, ʾal-Dawwāmaẗ.
ʾal-Dawwāmaẗ ʾal-ẖayl (

الدَوّامَة الخَيْل

), the whirl (alternatively, the vortex or the whirlpool) of the horse, is the merry-go-round or carousel. ʾal-Dawwāmāt min ʾal-ẖayl (

الدَوَّامَات مِنْ الخَيْل

), the whirls (alternatively, the vorties or the whirlpools) of the horse, is my Arabic-language translations of the merry-go-rounds or carousels. Compare with the glossary entry, ʾal-⫯Urǧūḥaẗ al-ǧawlāt. See also the glossary entry, ʾal-Dawwāmaẗ.
Dạyāḡ-hā-Gāḏōl hā-Mạləʾāḵə (Hebrew, דַּיָּג־הָגָּדוֹל הָמַלְאָךְ) or Ṣayyād-ʾal-Kabīr ʾal-Malāk (صَيَّاد ـ الكَبِير الْمَلَاك), Fisher (or Fisherman) Great the Angel, is Great Fisher the Angel, possibly among the Guardian Angels (see the glossary entries, ʾal-Ḥafaẓaẗ and ʾal-Malāk ʾal-Ḥāris) residing in the World of Dreams (see the glossary entry, ʾal-ʿĀlam ʾal-⫯Ahlām). This Being allegedly appeared among the Ojibway and Algonquin First-Nations North Americans.
ʾal-Dayāliktīk (الديالكتيك) is Arabized Indo-European for the dialectic. Ultimately, the source of both words is the Ancient Greek dialektikḗ (διαλεκτική) for logical discussion, conversation, or discourse. From a sociological perspective, the concept relates to the contradictions of domination (oppressing and being oppressed). The dialectic is an aspect of dualism, demireality, or disunity. See also the glossary entries, ʾal-⫯Aṭarūḥaẗ, w-ʾal-naqīḍ, w-ʾal-tawlīf, ʾal-Ǧadaliyyaẗ, ʾal-Ḥuḍūr w-ʾal-ġaybaẗ, Kyrarchy, Lumpenproletariat, ʾal-Mārksiyyaẗu, and ʾal-Šiqāq.
Dāyēq hā-Mạləʾāḵə (Hebrew, דָּיֵק הָמַלְאָךְ), Dayk ʾal-Malāk (دَيك الْمَلَاك), or Ángelos Díkē (Ancient Greek, Ἄγγελος Δίκη), Justice (Ancient Greek) the Angel, is Dike the Angel, possibly among the Guardian Angels (see the glossary entries, ʾal-Ḥafaẓaẗ and ʾal-Malāk ʾal-Ḥāris) residing in the World of Dreams (see the glossary entry, ʾal-ʿĀlam ʾal-Bāṭin).
Dāyəwəwiyy-Qəʾānəyāh-Qūməʾāriyy (or Dāyəvəviyy-Qəʾānəyāh-Qūməʾāriyy) hā-Mạləʾāḵə (Hebrew, דָּיְוְוִיּ־קְאַנְיָה־קוּמְאָרִיּ הָמַלְאָךְ), Dayfiyy-Kānyākūmāriyy ʾal-Malāk (دَيْفِيّ ـ كَانْيَاكُومَارِيّ الْمَلَاك), Divī Kānyākūmārī Farištah (Persian, دِوِی کَانْیَاکُومَارِی فَرِشْتَه), Dayvī Kanyā Kumārī Farištah (ʾUrdū, دَیوِی کَنیَا کُمَارِی فَرِشْتَہ), Dayvī Kanyā Kumārī Farišatah (Šāh Mukhī Punǧ°ābī script, دَیوِی کَنیِا کُمَارِی فَرِشَتَہ), Dēvī Kanyā Kumārī Fariśtā (Dēvanāgarī Hiṃdī/Sanskrit script, देवी कन्या कुमारी फ़रिश्ता), Dēvī Kani⫯ā Kumārī Fariśatā (Guramukhī Pajābī script, ਦੇਵੀ ਕੰਨਿਆ ਕੁਮਾਰੀ ਫ਼ਰਿਸ਼ਤਾ), or Tēvi Kaṉyā Kumāri Tēvatai (Tamiḻ, தேவி கன்யா குமாரி தேவதை), Goddess Girl the Virgin (Sanskrit) the Angel, is Devi Kanya Kumari (Dēvanāgarī Sanskrit script, देवी कन्या कुमारी, Dēvī Kanyā Kumārī) the Angel, possibly among the Guardian Angels (see the glossary entries, ʾal-Ḥafaẓaẗ and ʾal-Malāk ʾal-Ḥāris) residing in the World of Dreams (see the glossary entry, ʾal-ʿĀlam ʾal-⫯Ahlām). My added Hebrew vowel-points are only approximations.
ʾal-Daykārtiyyaẗ (

الدَيْكَارْتِيَّة

) is Cartesianism (French, «le Cartésianisme»). It is associated with René Descartes (

رِنَاي دَيْكَارْت

, Rināy Daykārt), 1596-1650 A.D. See also the glossary entry, ⫯Anā ⫯ufakkir, ⫯iḏāṇ ⫯anā.
Dạynāh hā-Mạləʾāḵə (Hebrew, דַּינָה הָמַלְאָךְ), Dāynā ʾal-Malāk (داينا الْمَلَاك), or Ángelos Dána (Ancient Greek, Ἄγγελος Δάνα) is Dana (or Danu) the Angel, possibly among the Guardian Angels (see the glossary entries, ʾal-Ḥafaẓaẗ and ʾal-Malāk ʾal-Ḥāris) residing in the World of Dreams (see the glossary entry, ʾal-ʿĀlam ʾal-⫯Ahlām). My added Hebrew vowel-points are only approximations. The etymology of the Irish, Dana (or Danu), is uncertain.
ʾal-Daynāmiyyāt ʾal-duwwāmaẗ (

الدَيْنَامِيَّات الدُوَّامَة

), the dynamics of the vortex (alternatively, whirlpool, swirl, eddy, spinning, or maelstrom), is spiral dynamics. However, my own Arabic-language translation of spiral dynamics is ʾal-ḥarakiyyāt ʾal-lawlabiyyaẗ (

الحَرَكِيَّات اللَوْلَبِيّة

), the dynamics (or kinetics) of the spiral. As a model of human development, spiral dynamics was developed by Don Beck (

دُون بِيك

, Dūn Bīk), born in 1937, and Chris Cowan (

كْرِيس كُوَان

, Krīs Kuwān). ʾal-Daynāmiyy (

الدَيْنَامِيّ

) is the dynamic.
ʾal-Ḍḍabāb ʾal-⫯iliktrūniyyaẗ (

الضَّبَاب الْإِلِكْتُرُونِيَّة

), fog electronic, is electronic fog. It is an explanation sometimes given for the Bermuda triangle (see the glossary entry, ʾal-Muṯallaṯ ʾal-Birmūdā), the Formosa triangle (see the glossary entry, ʾal-Muṯallaṯ ʾal-Furmūzā), the Lake Michigan Triangle (see the glossary entry, ʾal-Muṯallaṯ ʾal-Buḥayraẗ ʾal-Mīšīġān), and other alleged vile vortices (see the glossary entry, ʾal-Dawwāmaẗ ʾal-ḥaqīraẗ.
ʾal-Ḍḍawˁu (الضَّوْءُ), with ʾal-⫯aḍḍwāˁu (الأَضّْواءُ) as the plural form, is the: light, illumination, illuminator, glow, afterglow, limelight, or spotlight.
ʾal-Ddifāʿ ʾal-⫯aṭarūḥaẗ (

الدِّفَاع الأَطَرُوحَة

), the defense of the dissertation (or thesis), is the dissertation defense (or defending the dissertation).
ʾal-Ddīnu ʾAllꞌah (

الدّيْنُ الله

) is the Religion (i.e., the Judgment) of God.
ʾal-Ddīnu ʾal-ḥanīf (

الدّيْنُ الحَنِيف

), the religion (i.e., the judgment) true, is the true religion.
ʾal-Ddīnu ʾal-⫯Islāmiyy (

الدّيْنُ الإِسْلامِيّ

), the religion (i.e., the judgment) ⫰Islāmic, is the ⫰Islāmic religion.
ʾal-Ddirāsaẗ (الدِّرَاسَة), with ʾal-ddirāsāt (الدِّرَاسات) as the plural form, is the study.
ʾal-Ddirāsāt ʿabara ʾal-ṯaqāfāt (

الدِّرَاسات عَبَرَ الثَقَافَات

), studies across cultures, are cross-cultural studies.
ʾal-Ddirāsāt ʾal-ʾAġusṭīnūs (الدِّرَاسات اغُسطِينُوس), studies of Augustine, are Augustinian studies. ʾal-Qiddīsi ʾal-ʾAġusṭīnūs (القِدِّيسِ اغُسطِينُوس), Saint Augustine (Latin, Sānctī Augustīnī), lived from 354-430 A.D.
ʾal-Ddirāsāt ʾal-ʿalīl (

الدِّرَاسات العَلِيل

), studies of queerness, are queer studies. See also the glossary entries, ʾal-Hūmūfūbiyā, ʾal-Ġilmān, and ʾal-Ruhāb ʾal-miṯliyaẗ.
ʾal-Ddirāsāt ʾal-⫯Amīrkiyyaẗ ʾal-⫯Afrīqiyyaẗ (

الدِّرَاسات الأميركيَّة الْأَفْرِيقِيَّة

), studies American African, are African American studies.
ʾal-Ddirāsaẗ ʾal-ʾÂrṯur (

الدِّرَاسَة آرْثُر

), studies of Arthur, are Arthurian studies.
ʾal-Ddirāsaẗ ʾal-⫯Asmāˁ (

الدِّرَاسَة الْأَسْمَاء

), the study of names, is my Arabic-language translation of onomastics.
ʾal-Ddirāsāt ʾal-Bahā⫯iyyaẗ (

الدِّرَاسات البهائيّة

), studies Bahā⫯iy (or studies Bahā⫯iyy), are Bahá'í studies.
ʾal-Ddirāsāt ʾal-bāṭiniyyaẗ (

الدِّرَاسات البَاطِنيَّة

), studies of the esoteric (or the inner), are esoteric studies.
ʾal-Ddirāsāt ʾad-dīniyyaẗ (

الدِّرَاسات الدِينِيَّة

), studies religious, are religious studies. See also the glossary entry, ʾal-ʿIlmu ʾal-⫯iǧtimāʿa ʾad-dīn.
ʾal-Ddirāsāt Ǧīǧik (

الدِّرَاسَات جِيجِك

), the studies of Žižek, are Žižek studies. See also the glossary entry, ʾal-Madrasaẗ ʾal-taḥlīl ʾal-nafsiyy Liyūbliyānā.
ʾal-Ddirāsāt ʾal-ǧinsāniyyaẗ (

الدِّرَاسات الجِنسَانِيَّة

), studies of gender (or sexuality), are gender studies.
ʾal-Ddirāsaẗ ʾal-ḥayyāẗ wa-maḏhab ʾal-bābāwāt (

الدِّرَاسَة الحَيَّاة ومَذْهَب البَابَاوَات

), the study of the life and doctrine of the fathers, is patristics. ʾal-Mutaʿalliq bi-ʾal-bābāwāt (

المُتَعَلِّق بالبَابَاوَات

), concerning (alternatively, regarding or related to) in the fathers (i.e., concerning the fathers), is patristic. Compare with the glossary entry, ʾal-ʾÂbāˁ ʾal-kanīsaẗ.
ʾal-Ddirāsāt ʾal-hībhūb الدِّرَاسات الهِيبْهُوب), the studies of hip hop, is my Arabic-language rendering of hip hop studies.
ʾal-Ddirāsāt ʾal-⫯idmān (

الدِّرَاسات الإِدْمان

), the studies of addiction, are addiction studies. Compare with the glossary entry, ʾal-ʿIlmu ʾal-⫯idmān. See also the glossary entry, ʾal-⫯Idmān.
ʾal-Ddirāsāt ʾal-⫯Islāmiyyaẗ (

الدِّرَاسات الإسْلاميّة

), studies ⫰Islāmic, are ⫰Islāmic studies.
ʾal-Ddirāsāt ʾal-Lātīniyyaẗ (

الدِّرَاسات لاتينيّة

), the studies Latino, are Latino studies.
ʾal-Ddirāsaẗ Laynǧ (

الدِّرَاسات لَيْنْج

), Studies of Laing, is my Arabic-language rendering of Laingian studies, i.e., Ronald David "R. D." Laing (

رُونَالْد دَاوُد "ر د" لَيْنْج

, Rūnāld Dāwud Laynǧ). He lived 1927-1989 A.D.
ʾal-Ddirāsaẗ ʾal-malā⫯ikaẗ w-ʾal-dirāsaẗ ʾal-šayātīn (

الدِّرَاسَة الملائكة والدِرَاسَة الشَيَاطِين

), the study of angels and the study of demons, are angelology and demonology. Compare with the glossary entry, ʾal-Tanẓīm ʾal-malā⫯ikaẗ w-ʾal-tanẓīm ʾal-šayātīn.
ʾal-Ddirāsāt ʾal-malā⫯ikiyyaẗ (

الدِّرَاسَات المَلَائِكِيَّة

), studies angelic, are angelic studies.
ʾal-Ddirāsaẗ ʾal-maʿānī ʾal-⫯aʿdād (

الدِّرَاسَة المَعَانِي الْأعْدَاد

), the study of the meanings of numbers, is a term for numerology. Compare with the glossary entries, ʾal-⫯Abǧad and ʾal-ʿIlmu ʾal-⫯aʿdād.
ʾal-Ddirāsāt ʾal-mar⫯aẗ (

الدِّرَاسات المَرْأَة

), studies of women, are women's studies.
ʾal-Ddirāsāt ʾal-muqāwamaẗ (

الدِّرَاسات المُقَاوَمَة

), the studies of resistance, are resistance studies.
ʾal-Ddirāsāt ʾal-mustaqbaliyaẗ (

الدِّرَاسات المُسْتَقْبَلية

), studies of the future, are futures studies. The field is also known as futurism or, in Arabic, ʾal-mustaqbaliyaẗ (

المُسْتَقْبَلية

). In addition, the field is referred to as futurology or, in Arabic, ʾal-ʿilmu ʾal-mustaqbal (

العِلْمُ المُسْتَقْبَل

), the knowledge of the future.
ʾal-Ddirāsāt mutaʿaddidaẗ ʾal-taẖaṣṣuṣāt (

الدِّرَاسات مُتَعَدِّدة التَخَصُّصات

), studies of multiple specializations, are multidisciplinary studies. ʾal-Taẖaṣṣuṣ (التَخَصُّص) is the specialization.
ʾal-Ddirāsāt ʾal-Šarqiyyaẗ (

الدِّرَاسات الشَرْقِيَّة

), studies oriental, are Oriental studies. Contrast with the glossary entry, ʾal-Mustašriq.
ʾal-Ddirāsāt Šiksbīr (

الدِّرَاسَات شِكْسبِير

), the studies of Shakespeare, are Shakespearean studies, i.e., relating to William Shakespeare (

وِيلْيَام شِكْسبِير

, Wīlyām Šiksbīr), 1564-1616 A.D.
ʾal-Ddirāsāt ʾal-Slāfiyyaẗ (

الدِّرَاسَات السلَافِيَّة

), studies Slavonic, are Slavonic studies. ʾal-Slāfiyyaẗ (السلَافِيَّة) is Slavonic or Slavic.
ʾal-Ddirāsāt ʾal-ssukkān ʾal-⫯aṣliyyīn (

الدِّرَاسات السُّكَّان الأَصْلِيِّين

), the studies of the population indigenous (or native), are indigenous studies.
ʾal-Ddirāsāt ʾal-ṯānawiyyaẗ (

الدِّرَاسات الثانَويّة

), studies of the subaltern (or the secondary), is my Arabic-language translation of subaltern studies.
ʾal-Ddirāsāt ʾal-ṯṯaqāfiyyaẗ (

الدِّرَاسات الثَّقَافِيَّة

), studies cultural, are cultural studies. The term refers to an interdisciplinary version of cultural Marxism. See the glossary entry, ʾal-Mārksiyyaẗu ʾal-ṯṯaqāfiyyaẗ.
ʾal-Ddirāsāt ʾal-Tūlkīn (

الدِّرَاسات تُولكِين

), the studies of Tolkien, are Tolkien studies. The field focuses upon the study of author J. R. R. Tolkien's works. See also the glossary entries, Mythopoiía and ʾal-Ṣunʿ ʾal-⫯usṭūraẗ.
ʾal-Ddirāsāt ʾal-Ttawaḥḥud (

الدِّرَاسات التَّوَحُّد

), studies of Autism, are Autism studies.
ʾal-Ddirāsāt ʾal-Yahūdiyyaẗ (

الدِّرَاسات اليَهُودِيَّة

), studies Jewish, are Jewish studies.
ʾal-Ddirāsāt warāˁa ʾal-šaẖṣiyyaẗ (

الدِّرَاسات وَرَاءَ الشَخْصِيَّة

), studies beyond the personal, is my own Arabic-language translation of transpersonal studies. This field is an example of the social idealist paradigm (see the glossary entry, ʾal-Miṯāliyyaẗ ʾal-ʾiǧtimāʿiyyaẗ).
ʾal-Ddirāsaẗ ʾal-ẓẓawāhiru ʾal-mawt (

الدِّرَاسَة الظَّوَاهِرُ المَوْت

), the study of the phenomena of death, is thanatology. Compare with the glossary entry, ʾal-ʿIlmu ʾal-mawt.
ʾal-Ddiwal ʾal-⫯Uwlaỳ (

الدِّوَل الأُولَى

), nations (or states) first, are the First Nations, a term for indigenous people (see the glossary entry, ʾal-Sukkān ʾal-⫯aṣliyyīna).
Ddiynāʾ hā-Mạləʾāḵə (Hebrew, דִּינָא הָמַלְאָךְ), Judgment the Angel, is Dina the Angel. This possible Preceptor of Moses (see the glossary entry, Mōšẹh) might be a Resident of the World of Dreams (see the glossary entry, ʾal-ʿĀlam ʾal-Bāṭin) and its Archangels (see the glossary entry, ʾal-Malā⫯ikaẗ ʿAllaỳ). Ddiynāʾ (Hebrew,

דִּינָא

) is a form of ddiyn (Hebrew,

דִּין

), judgment (see the glossary entry, ad-Dīn). With two cognates, Ddīnu ʾal-Malāk (

دّيْنُ الْمَلَاك

), Judgment the Angel, is my Arabic-language translation. Compare with the glossary entry, Ddiyniyʾēl hā-Mạləʾāḵə.
Ddiyniyʾēl hā-Mạləʾāḵə (Hebrew, דִּינִיאֵל הָמַלְאָךְ), Judgment of ʾĔlōhiym (see glossary entry) the Angel, is Diniel the Angel, possibly among the Guardian Angels (see the glossary entries, ʾal-Ḥafaẓaẗ and ʾal-Malāk ʾal-Ḥāris) residing in the World of Dreams (see the glossary entry, ʾal-ʿĀlam ʾal-⫯Ahlām). hā-Ddiyn (Hebrew,

הָדִּין

) is judgment. With three cognates, Ddīn ʾAllꞌah ʾal-Malāk (

دِّيْن الله الْمَلَاك

), Judgment of God the Angel, is my Arabic-language translation. Ángelos Diniḗl (Greek, Ἄγγελος Δινιήλ) is a Greek (or Hellenized) spelling. Compare with the glossary entry, Ddiynāʾ hā-Mạləʾāḵə. See also the glossary entry, ad-Dīn.
ʾal-Dduktūrāh (الدُّكْتُورَاه) is a collective (or group) noun for the doctorate, doctorates, or, as an adjective, doctoral.
ʾal-Dduktūrāh ʾal-falsafaẗ (الدُّكْتُورَاه الفَلْسَفَة), with two obvious cognates, is doctorate (or doctor) of philosophy (Ph.D.).
ʾal-Dduktūrāh fī ʾal-ʿamal ʾal-ʾiǧtimāʿiyy (

الدُّكْتُورَاه فِي العَمَل الاِجْتِمَاعِيّ

), the doctorate in work social, is the doctorate (or doctor) of social work (DSW).
ʾal-Dduktūrāh fī ʾal-baṣariyyāt (

الدُّكْتُورَاه فِي البَصَرِيّات

) is the doctorate in optics.
ʾal-Dduktūrāh fī ʾal-faḥṣ ʾal-naẓar (

الدُّكْتُورَاه فِي الفَحْص النَظَر

), the doctorate in the examination of seeing, the doctorate of optometry.
ʾal-Dduktūrāh fī ʾal-ʿilāǧ ʾal-ṭabīʿiyy (

الدُّكْتُورَاه فِي العِلَاج الطَبِيعِيّ

), doctorate in therapy physical, is the doctorate (or doctor) of physical therapy (DPT).
ʾal-Dduktūrāh fī ʾal-ʿilmu ʾal-samʿ (الدُّكْتُورَاه فِي العِلمُ السَمْع), doctorate in the

scientific

knowledge of hearing, is the doctorate (or doctor) of audiology (Au.D.).
ʾal-Dduktūrāh fī ʾal-lāhūt (

الدُّكْتُورَاه فِي اللَاهُوت

), doctorate in divinity (or theology), is the doctorate (or doctor) of theology (Th.D.) or the doctorate (or doctor) of divinity (D.Div.).
ʾal-Dduktūrāh fī ʾal-mumārasaẗ ʾal-tamrīḍ (الدُّكْتُورَاه فِي المُمَارَسَة التَمْرِيض), the doctorate in the practice of nursing, is the doctorate (or doctor) of nursing practice (DPN).
ʾal-Dduktūrāh fī ʾal-taʿlīm w-ʾal-dduktūrāh fī ʾal-tarbiyāt (الدُّكْتُورَاه فِي التَعْلِيم وَالدُّكْتُورَاه فِي التَرْبِيَة), doctorate in education (or teaching) and doctorate in education (alternatively, pedagogy or breeding), are two terms for the doctorate (or doctor) of education (Ed.D.)
ʾal-Dduktūrāh fī ʾal-ṭṭibbu ʾal-taqwīmī (الدُّكْتُورَاه فِي الطِّبُّ التَقْوِيمِي), doctorate in medicine osteopathic (or corrective), is the doctorate (or doctor) of osteopathic medicine (D.O.).
ʾal-Dduktūrāh ʾal-ṣaydalaẗ (الدُّكْتُورَاه الصَيْدَلَة), doctorate of pharmaceutics (or pharmacology), is the doctorate (or doctor) of pharmacy (Pharm.D.).
Dəʾāw hā-Mạləʾāḵə (Hebrew, דְּאָו הָמַלְאָךְ), Dāw ʾal-Malāk (دَاو الْمَلَاك), Dāw Farištah (دَاو فَرِشْتَه), or Ángelos Táo (Greek, Ἄγγελος Τάο), Way (Chinese) the Angel, is Dao or Tao (Chinese, 道, Dào) the Angel, possibly among the Guardian Angels (see the glossary entries, ʾal-Ḥafaẓaẗ and ʾal-Malāk ʾal-Ḥāris) residing in the World of Dreams (see the glossary entry, ʾal-ʿĀlam ʾal-⫯Ahlām). My added Hebrew vowel-points are only approximations.
Dəʾāyqōqūtēn hā-Mạləʾāḵə (Hebrew, דְּאָיקוֹקוּטֵן הָמַלְאָךְ), Dāykūkūtayn ʾal-Malāk (دَايكُوكُوتَين الْمَلَاك), Dāykūkūtin Farištah (Persian, دَایکُوکُوتِن فَرِشْتَه), or Daikokuten Tenshi (Japanese, 大黒天 天使), God of Great Darkness (Japanese) the Angel, is Daikokuten (or Daikoku-ten) the Angel, possibly among the Guardian Angels (see the glossary entries, ʾal-Ḥafaẓaẗ and ʾal-Malāk ʾal-Ḥāris) residing in the World of Dreams (see the glossary entry, ʾal-ʿĀlam ʾal-⫯Ahlām). My added Hebrew vowel-points are only approximations.
Dəʾānəgūn-Wəʾānəggōm hā-Mạləʾāḵə (Hebrew, דְּאָנְגּוּן־וְאָנְגּוֹם הָמַלְאָךְ), Dānġun-Wānġġūm ʾal-Malāk (دَانْغُن ـ وَانْغُّوم الْمَلَاك), or Dāngūn Wānggūm Farištah (Persian, دَانْگُّون وَانْگُوم فَرِشْتَه), Stage Country King Sword (Korean) the Angel, is Dangun-Wanggeom or Tan'gun-Wanggŏm (Korean, 단군왕검 or 檀君王儉) the Angel, possibly among the Guardian Angels (see the glossary entries, ʾal-Ḥafaẓaẗ and ʾal-Malāk ʾal-Ḥāris) residing in the World of Dreams (see the glossary entry, ʾal-ʿĀlam ʾal-⫯Ahlām). The second part of the Hebrew-language spelling and all of the Hebrew vowel-points are my own.
Dəʾạrāh hā-Mạləʾāḵə (Hebrew, דְּאַרָה הָמַלְאָךְ), Dhārā ʾal-Malāk (دْهَارَا الْمَلَاك), Dhārā Farištah (Persian, دْهَارَا فَرِشْتَه), Dharā Farištah (ʾUrdū, دْھَرَا فَرِشْتَہ), Dhariyā Farišatah (Šāh Mukhī Punǧ°ābī script, دْھَرِیَا فَرِشَتَہ), Dharā Fariśtā (Dēvanāgarī Hiṃdī/Sanskrit script, धरा फ़रिश्ता), or Dhari⫯ā Fariśatā (Guramukhī Pajābī script, ਧਰਿਆ ਫ਼ਰਿਸ਼ਤਾ), Support (Sanskrit) the Angel, is Dhara (Dēvanāgarī Sanskrit script, धरा, Dharā) the Angel, possibly among the Guardian Angels (see the glossary entries, ʾal-Ḥafaẓaẗ and ʾal-Malāk ʾal-Ḥāris) residing in the World of Dreams (see the glossary entry, ʾal-ʿĀlam ʾal-⫯Ahlām). My added Hebrew vowel-points are only approximations.
Dəḇōrāh hā-Mạləʾāḵə (Hebrew, דְּבוֹרָה הָמַלְאָךְ), Dabūraẗ ʾal-Malāk (دَبُورَة الْمَلَاك), Dabūrā Farištah (Persian, دَبُورَا فَرِشْتَه, ʾUrdū, دَبُورَا فَرِشْتَہ), or Ángelos Debṓra (Greek, Ἄγγελος Δεβώρα), Bee (Hebrew) the Angel, is Deborah the Angel, possibly among the Guardian Angels (see the glossary entries, ʾal-Ḥafaẓaẗ and ʾal-Malāk ʾal-Ḥāris) residing in the World of Dreams (see the glossary entry, ʾal-ʿĀlam ʾal-⫯Ahlām). The Hebrew-language spelling, including the vowel-points, is unaltered from the original. On the morning of July 15ᵗʰ, 2015, She came to me in a dream, looking like Rachel Madow, along with Angel Theresa (see the glossary entry, Tẹrēzāh hā-Mạləʾāḵə).
Dẹḡẹliyʾēl hā-Mạləʾāḵə (Hebrew, דֶּ֫גֶלִיאֵל הָמַלְאָךְ), Standard (or Banner) of ʾĔlōhiym (see glossary entry) the Angel, is Dageliel (or Dageliel) the Angel, possibly among the Guardian Angels (see the glossary entries, ʾal-Ḥafaẓaẗ and ʾal-Malāk ʾal-Ḥāris) residing in the World of Dreams (see the glossary entry, ʾal-ʿĀlam ʾal-⫯Ahlām). hā-Dẹḡẹl ((Hebrew,

הָדֶּ֫גֶל

) is the standard or the banner. Rāyaẗ ʾAllꞌah ʾal-Malāk (

رَايَة الله الْمَلَاك

), Banner of God the Angel, is my Arabic-language translation. Compare with the glossary entry, Nēsiyʾēl hā-Mạləʾāḵə.
Dəḡ′ūwāl-Qəhūl hā-Mạləʾāḵə (Hebrew, דְּג׳וּוָל־קְהוּל הָמַלְאָךְ), Dǧūhāl-H̱ūl ʾal-Malāk (دْجُوهَال ـ خُول الْمَلَاك), Ǧuwāl Kūl Farištah (Persian, جُوَال کُول فَرِشْتَه), or Ángelos Tzbal Koul (Greek, Ἄγγελος Τζβαλ Κουλ) is Djwal Khul (or Djwhal Khul) the Angel, possibly among the Guardian Angels (see the glossary entries, ʾal-Ḥafaẓaẗ and ʾal-Malāk ʾal-Ḥāris) residing in the World of Dreams (see the glossary entry, ʾal-ʿĀlam ʾal-⫯Ahlām). My added Hebrew vowel-points are only approximations.
Dəhārạnāh hā-Mạləʾāḵə (Hebrew, דְּהָרַנָה הָמַלְאָךְ), Dārānā ʾal-Malāk (دَارَانَا الْمَلَاك), or Ángelos Darana (Ancient Greek, Ἄγγελος Δαρανα), Maintaining (Sanskrit) the Angel, is Dharana the Angel, possibly among the Guardian Angels (see the glossary entries, ʾal-Ḥafaẓaẗ and ʾal-Malāk ʾal-Ḥāris) residing in the World of Dreams (see the glossary entry, ʾal-ʿĀlam ʾal-⫯Ahlām). My added Hebrew vowel-points are only approximations. In Sikhism (see the glossary entry, Sikhī), Dhāranā (Guramukhī Pajābī script, ਧਾਰਨਾ), taken from the Sanskrit Dhāraṇā (Dēvanāgarī Sanskrit script, धारणा), is the name given to the seven-headed snake, a protector.
Dəhārəmạqəʾyāh hā-Mạləʾāḵə (Hebrew, דְּהָרְמַקְאיָה הָמַלְאָךְ), Dhārmākāyā ʾal-Malāk (دْهَارْمَاكَايَا الْمَلَاك), Dhārmākāyā Farištah (Persian, دْهَارْمَاكَایَا فَرِشْتَه), Ángelos Ntarmakágia (Greek, Ἄγγελος Νταρμακάγια), Form of Religion (Sanskrit) the Angel, is Dharmakaya (Dēvanāgarī Sanskrit script, धर्मकाय, Dharmakāya) the Angel, possibly among the Guardian Angels (see the glossary entries, ʾal-Ḥafaẓaẗ and ʾal-Malāk ʾal-Ḥāris) residing in the World of Dreams (see the glossary entry, ʾal-ʿĀlam ʾal-⫯Ahlām). My added Hebrew vowel-points are only approximations. Compare with the glossary entry, Wŏnbulgyo.
Dəhāṭəriyy hā-Mạləʾāḵə (Hebrew, דְּהָטְרִיּ הָמַלְאָךְ) or Dātriyy ʾal-Malāk (دَاتْرِيّ الْمَلَاك), Earth (Sanskrit) the Angel, is Datri (or Dhatri) the Angel, possibly among the Guardian Angels (see the glossary entries, ʾal-Ḥafaẓaẗ and ʾal-Malāk ʾal-Ḥāris) residing in the World of Dreams (see the glossary entry, ʾal-ʿĀlam ʾal-⫯Ahlām). My added Hebrew vowel-points are only approximations. Dhātṛ (Dēvanāgarī Sanskrit script, धातृ), Earth, is a solar Deity and a God of health and domestic tranquility.
Dəhəʾānəʾạdāh hā-Mạləʾāḵə (Hebrew,

דְּהְאָנְאַדָּה הָמַלְאָךְ

), Dhānādā ʾal-Malāk (

دْهَانَادَا الْمَلَاك

), Dhānādā Farištah (Persian, دْهَانَادَا فَرِشْتَه), Dhanadā Farištah (ʾUrdū, دْھَنَدَا فَرِشْتَہ), Dhanadā Farišatah (Šāh Mukhī Punǧ°ābī script, دْھَنَدَا فَرِشَتَہ), Dhanadā Fariśtā (Dēvanāgarī Hiṃdī/Sanskrit script, धनदा फ़रिश्ता), or Dhanadā Fariśatā (Guramukhī Pajābī script, ਧਨਦਾ ਫ਼ਰਿਸ਼ਤਾ), Wealth Bestowing (Sanskrit) the Angel, is Dhanada (Dēvanāgarī Sanskrit script, धनदा, Dhanadā) the Angel, possibly among the Guardian Angels (see the glossary entries, ʾal-Ḥafaẓaẗ and ʾal-Malāk ʾal-Ḥāris) residing in the World of Dreams (see the glossary entry, ʾal-ʿĀlam ʾal-⫯Ahlām). The Hebrew-language and Arabic-language spellings are my own.
Dəhəʾạrəməʾāṣə′ʾạqərāh hā-Mạləʾāḵə (Hebrew,

דְּהְאַרְמְאָצְ׳אַקְרָה הָמַלְאָךְ

), Dhārmātšākrā ʾal-Malāk (دْهَارْمَاتشَاكْرَا الْمَلَاك), Dārmāčākrā Farištah (Persian, دَارْمَاچَاکرَا فَرِشْتَه), Dharma Čakra Farištah (ʾUrdū, دْھَرْمَ چَکْرَ فَرِشْتَہ), Dharamačakara Farišatah (Šāh Mukhī Punǧ°ābī script, دْھَرَمَچَکَرَ فَرِشَتَہ), Dharmacakra Fariśtā (Dēvanāgarī Hiṃdī/Sanskrit script, धर्मचक्र फ़रिश्ता), or Dharamacakara Fariśatā (Guramukhī Pajābī script, ਧਰਮਚਕਰ ਫ਼ਰਿਸ਼ਤਾ), Wheel of Natural Law (Sanskrit) the Angel, is Dharmachakra (Dēvanāgarī Sanskrit script, धर्मचक्र, Dharmacakra) the Angel, possibly among the Guardian Angels (see the glossary entries, ʾal-Ḥafaẓaẗ and ʾal-Malāk ʾal-Ḥāris) residing in the World of Dreams (see the glossary entry, ʾal-ʿĀlam ʾal-⫯Ahlām). The Hebrew-language spelling, including the vowel-points, is my own.
Dəhəʾārəmēš hā-Mạləʾāḵə (Hebrew, דְּהְאָרְמֵשׁ הָמַלְאָךְ), Dhārmayš ʾal-Malāk (دْهَارْمَيْش الْمَلَاك), Dhārmiš Farištah (Persian, دْهارْمِش فَرِشْتَه), Dharmayša Farištah (ʾUrdū, دْھَرمَیْشَ فَرِشْتَہ), Dharamayša Farišatah (Šāh Mukhī Punǧ°ābī script,